Nay Pyi Taw July 14
Commander-in-Chief of Defence Services Senior General Min Aung Hlaing, accompanied by his wife Daw Kyu Kyu Hla, Union Minister for Border Affairs Lt-Gen Ye Aung and wife, senior military officers of the Office of the Commander-in-Chief, Commander of Eastern Command Maj-Gen Lin Aung and party, met local ethnic people of Hsinnetchaun Village, Ywangan Township, Danu Self-Administered Zone this afternoon, and presented books and periodicals for the village library, and COVID-19 containment, prevention and treatment aids and a TV and a Skynet receiver donated by the Senior General and wife and family.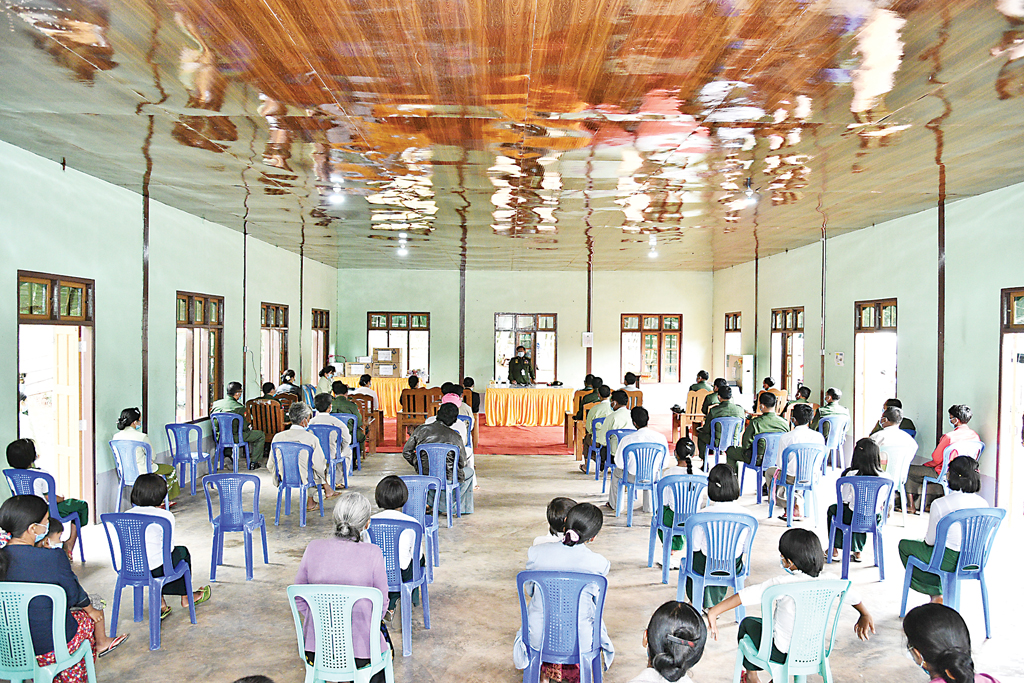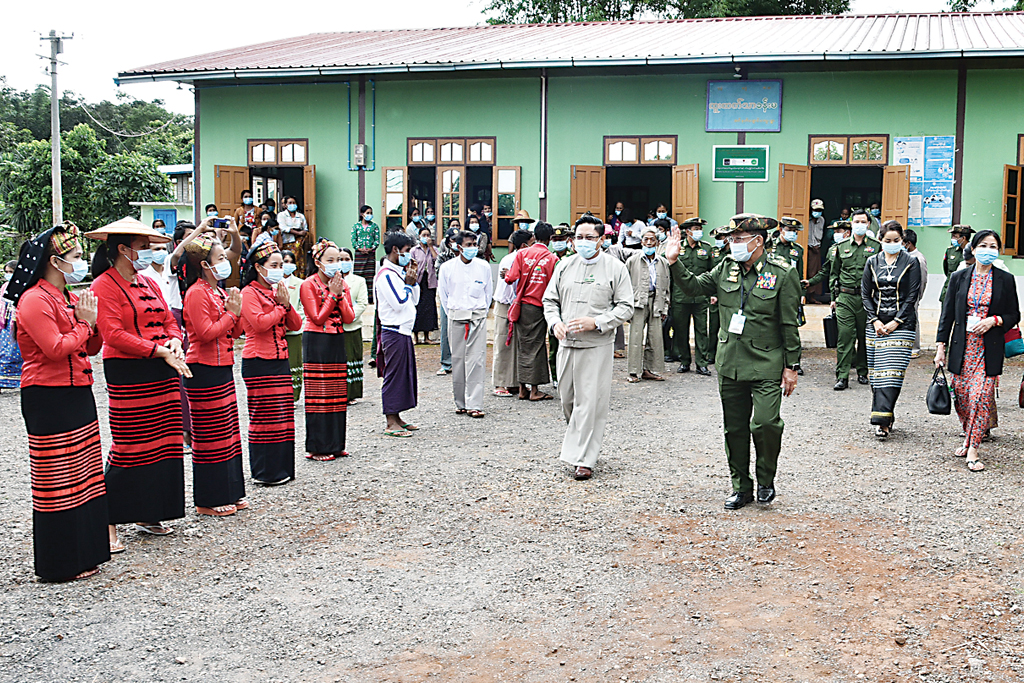 First, the Senior General and party arrived at Hsinnetchaun Village, Kyaukkubyin village-tract, Ywangan Township, Danu Self-Administered Zone, and were warmly welcomed by U Arkar Lin, chairman of the Danu Self-Administered Zone Leading Body, U Lay Lay Maung, administrator of Kyaukkubyin village-tract, local elders, and native ethnic people by presenting Hsinnetmaung traditional dances.
At the Htoohtettha Hall of the village, U Taing Lwin, chairman of the village social welfare society, presented the brief history of the village, regional development undertakings and farming.
The Senior General in explaining the purpose of the donations and in giving advice for regional develop-ment recounted the appearance of a news report about the Hsinnet-chaun Village nearly ten days ago. The interesting news report says that the model village of the Ywangan area is drug-free, neat and tidy and pleasant, he said, and explained that the visit to the village is made during the trip to Taunggyi. As it is read in the news report, Hsinnet-chaun Village is really neat and tidy and looks pleasant with trees. The visit was made in honour of the village that is free from drugs, he said.
The problem of narcotic drugs should be controlled through individual awareness. The Tatmadaw is also launching the antinarcotics drive with might and main. It is a pleasure that Hsinnetchaun Village is free from drugs because of the individual awareness in combating the menace. Education should be encouraged. Seventy percent of the country's population lives in rural areas, and their main job is agriculture.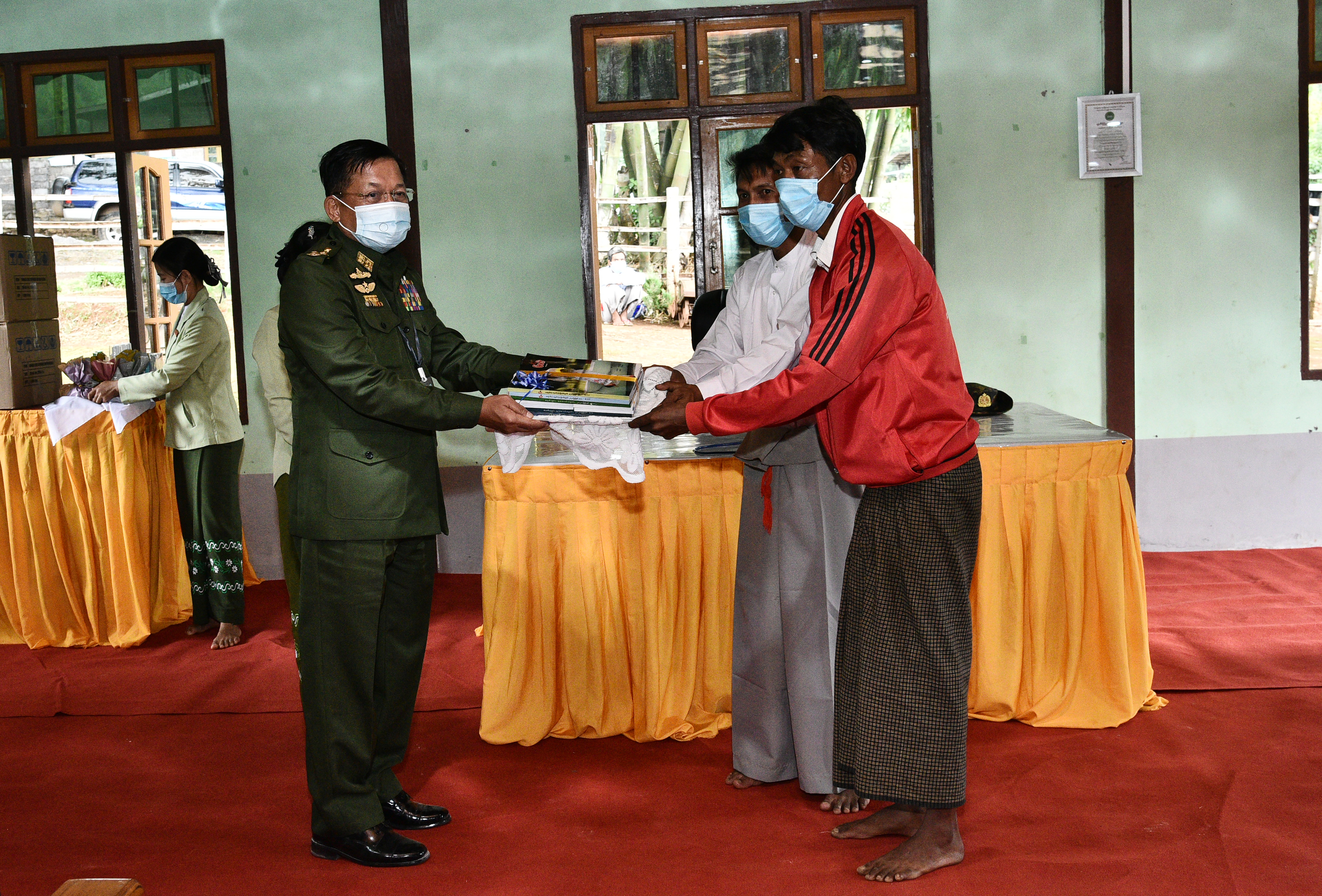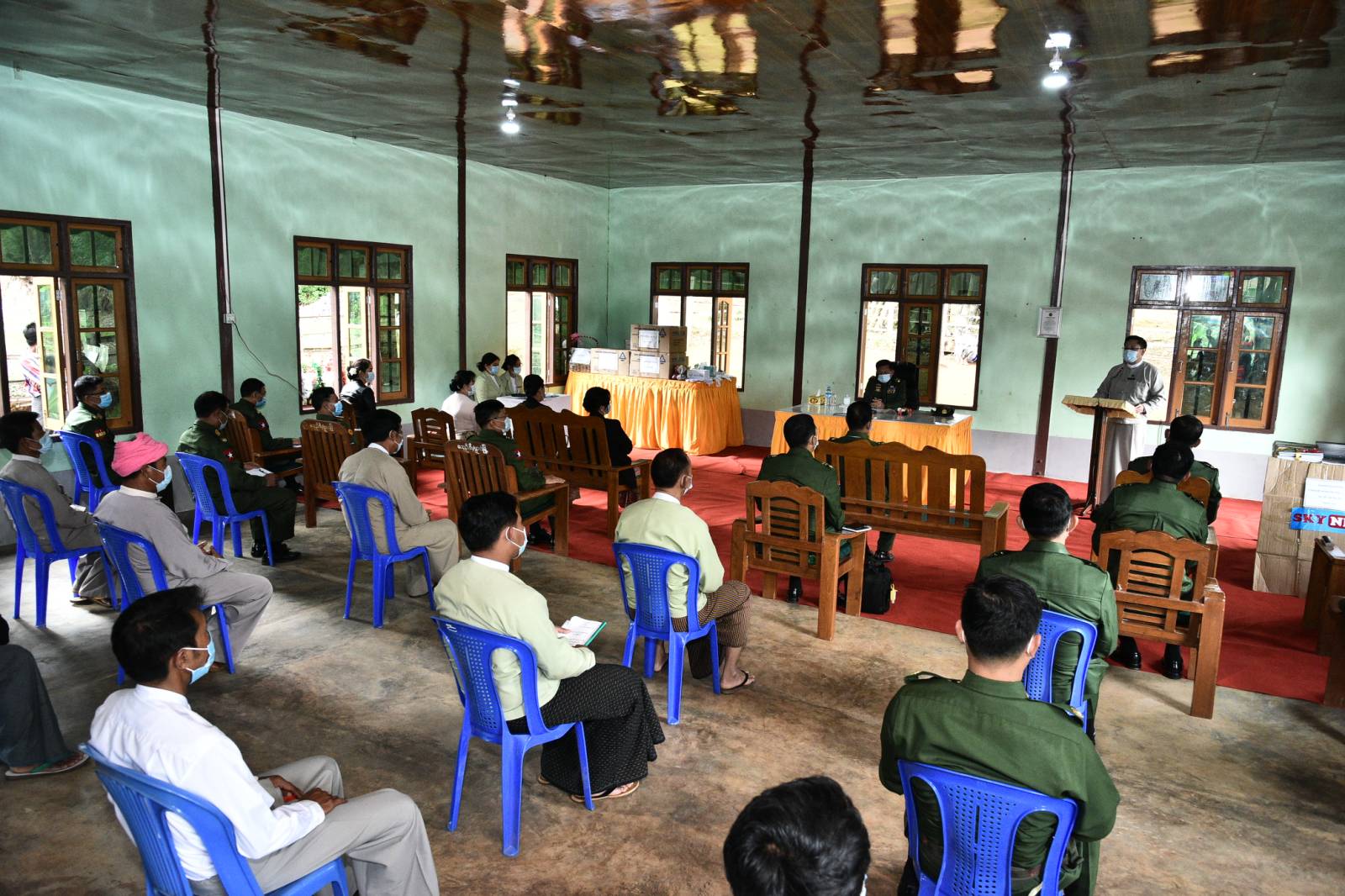 But, farming needs technology and techniques to enjoy the benefits well. So, they must complete the school education, and based on the knowledge they must develop the technologies that are suitable for the area. Locals should not be contented with traditional ways. Their region will be developed only if they can apply better agro and production technologies, he said, and expressed belief that the village can strive to be model also in education, farming and production, apart from standing as a drug-free model village.
The Senior General said he had seen with his own eyes that Hsinnetchaun Village is stable and peaceful. The country needs peace and stability since independence. There will be development only when there is safety and political stability. As Hsinnetchaun is drug-free, the village will not have crimes that otherwise would happen as a result of drug abuse. Based on this foundation of Hsinnetchaun as a drug-free village, we have to work to build drug-free Ywangan, then drug-free Danu Self-Administered Zone and finally the drug-free Myanmar. All the villagers must work together to maintain its current reputation as a stable and peaceful village.
People must take care of their health during COVID-19 crisis. Health is important for everyone. If one suffers from poor health, not only he suffers, but also his family members will have to shoulder his burden. Poor health means not being able to work or study, and will only bring losses. The medical supplies donated today are not worth much, but would contribute to an extent. To have good health, people must live a healthy lifestyle and do regular exercise. Hsinnetchaun Village has great potential for development. Villagers must work harder with greater unity in order to hand down sound foundations for stability and development to younger generations.
The Senior General then presented fiction and non-fiction publications and a Skynet receiver and a television for the village library and 5,000 surgical masks, 100 hand gel bottles, and 100 hand sanitizer bottles to be used in COVID-19 prevention, control and treatment, as well as food through community elders. Union Minister for Border Affairs Lt-Gen Ye Aung presented cash contributions to village elders.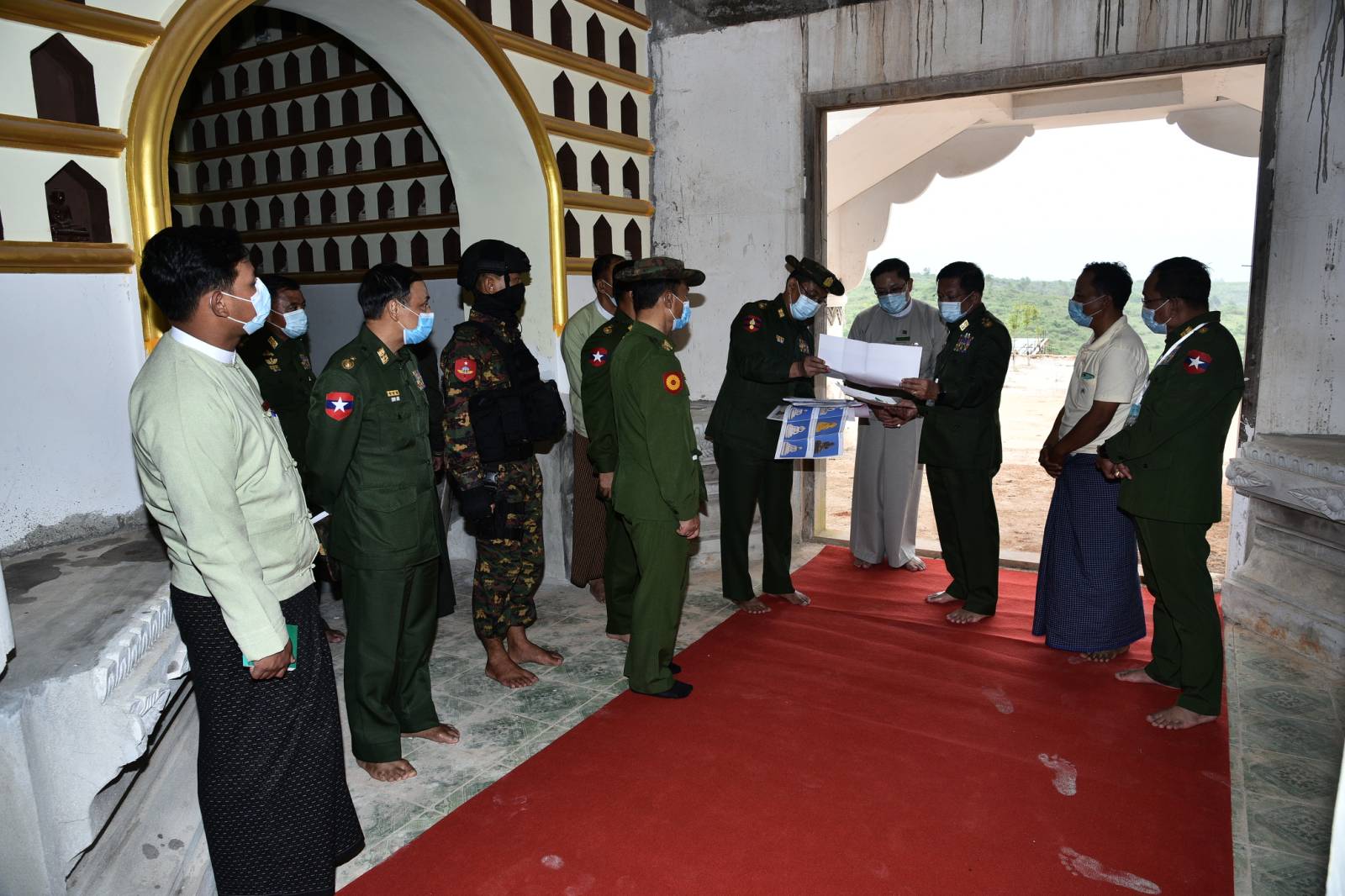 Chairman of the Leading Body of Danu Self-Administered Zone U Arkar Lin spoke words of thanks, saying that he felt honored that the Senior General visited Hsinnetchaun Village in the zone because the village is drug-free, clean and stable and peace and united. The practice of sharing sanitation works by ten households, which has proven successful in the village, will be adopted in other parts of the zone. 83.4 percent of the population in the zone are growers and seasonal crops are grown mostly in the southern part of Ywangan. All the national brethren in the region are deeply grateful to the Senior General and families of Tatmadaw (Army, Navy and Air) for donation of medical supplies and publications out of family spirit.
U Arkar Lin then presented local products to the Senior General and party.
The Senior General and party then cordially greeted the ethnic people present on the occasion.
They then visited the construction site of Anantazina Thambuddhe Pagoda and offered flowers, water and light to the pagoda.