Nay Pyi Taw September 18
As all national brethren live together under the umbrella of Myanmar, internal armed conflicts will only cause a loss to their owncountry. So peace must be achieved. And all need to consider how to march towards the goal of democracyin the long-term interests of the State by ignoring impossible political demands, said Commander-in-Chief of Defence Services Senior General Min Aung Hlaing at a meeting with members of the leading bodies of Kokang and Palaung Self-Administered Zones, local ethnic leaders and members of people's militia (local) at the hall of the Command Headquarters this afternoon.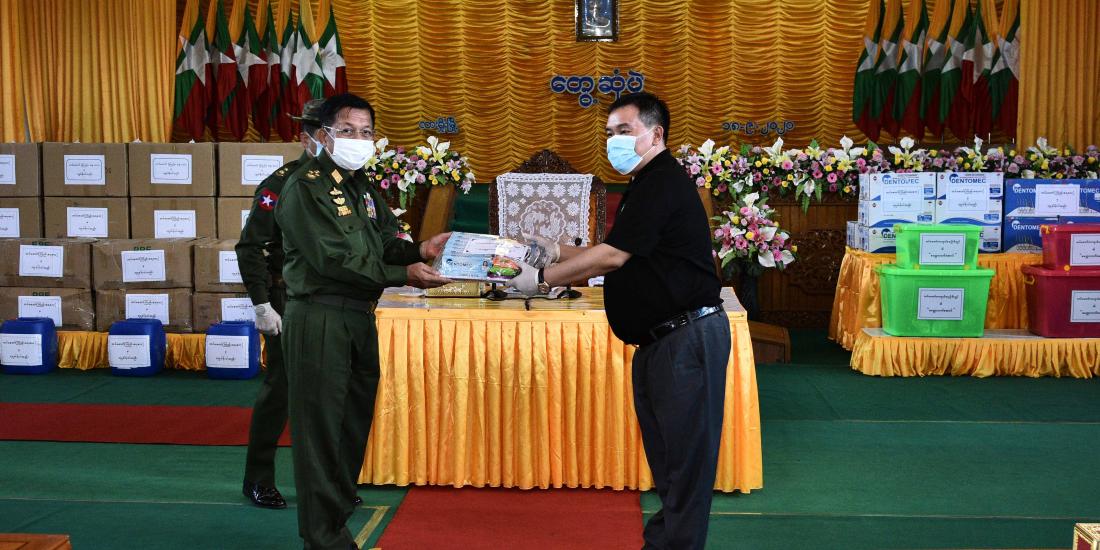 Also present at the meeting were Commander-in-Chief (Navy) Admiral Tin Aung San, Commander-in-Chief (Air) General Maung Maung Kyaw, senior military officers from the Office of the Commander-in-Chief(Army), North-East CommandCommander Maj-Gen Aung Zaw Aye, Kokang Self-Administered Zone Leading Body Chairman UKyauk Te Chan, Palaung Self- Administered Zone Leading Body member U Thein Zaw, Palaung ethnic leader U Aik Mone, Shan ethnic leader U Sai San Nyunt, Monewun (Bamar) ethnic leader U Myint Lwin, Kachin ethnic leaders U Naw Li, U Dee Khun and U ZongKhaw, Kholon Lishaw ethnic leader U Kyaw Myint and people's militia leaders and members from Hsinkyawt, Mangpan, Kutkai, Tamoenye, Peinhsa, Namabawda and Lashiogyi.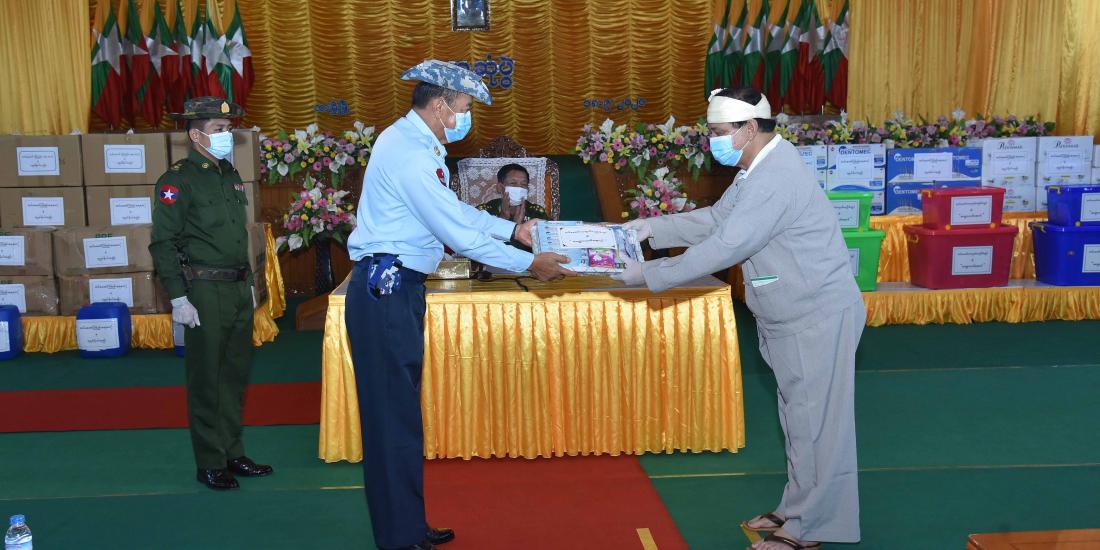 Speaking on the occasion, the Senior General said he paid a visit to Shan State (North) to present cash awards to Myanmar Police Force members for their outstanding efforts in seizing narcotic drugs, chemicals, arms and ammunitionand related accessories around Lwekham Village of Kaungkha Village-tract in Kutkai Township.
He also visited the parts of Shan State (East and South) to applaud the police forces for successfully busting narcotic drugs. Shan State (North) was notorious for drugsand anti-poppy operations like Moe Hein had to be conducted in the past. The drug menace is also unacceptable in the international community and the country hasbeen criticized for this issue. They are especially referring to Golden Triangle Region in the eastern part of the Thanlwin River sharing borders among Laos, Myanmar and Thailand. Although it was a delight to have seized large hauls of narcotics, it still shows that Myanmar has yet to become a drug-free country.
Myanmar Police Force, the Tatmadaw and administrative bodies mustwork together to eliminate narcotic drugs.
Currently, Myanmar is a track to multi-party democracy. Making demands through armed struggle line will provoke a loss to the country so efforts must be exerted to achieve peace. In order to further the process, Tatmadaw has issued ceasefire andeternal peace statements and announced ceasefire in all areas exceptthose declared by the State as terrorist areas. However, some armedorganizations have not seized the path to peace. The ceasefire has extended again until 30 September and effective peace talks must beheld for lasting peace. When the first ceasefire and eternal peace statement was issued, calls had been made to hold talks between theNational Reconciliation and Peace Center (NRPC) and the coordination team led by Lt-Gen Yar Pyae of the Tatmadaw. Without peace, there will be difficulties in achieving democracy goal and ensuring a free and fair election.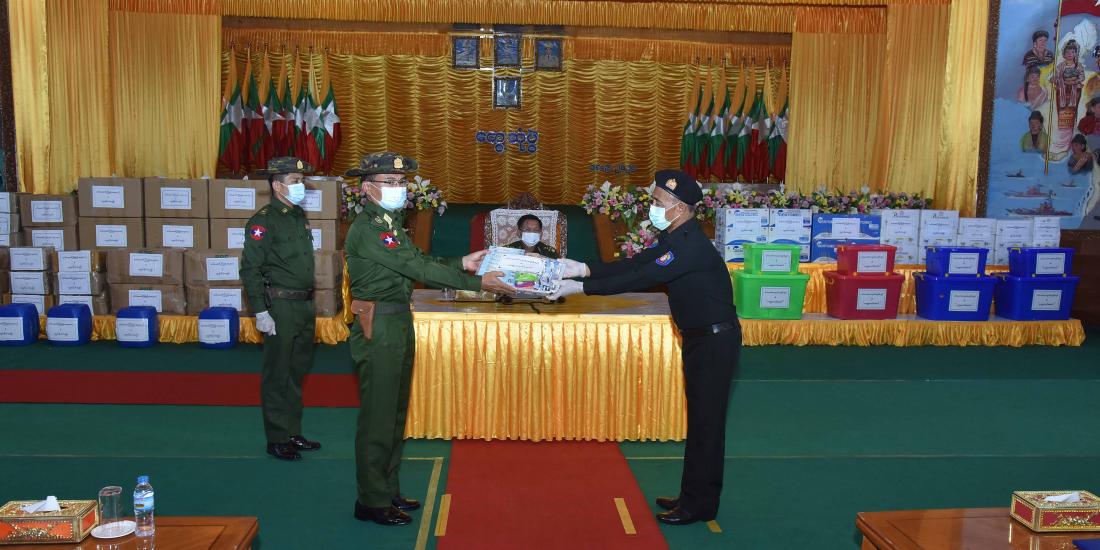 As for education, it is necessary to turn out intellectuals and intelligentsia required by the region and the country because this amounts to nurturing future youths and to bequeath good legacies by creating opportunities for turning out educated people.
As it is essential for one to be healthy to receive education, one must develop healthy lifestyles and healthcare services and favourableconditions must be provided. The Tatmadaw has been providing healthcare services in peaceful areasin respective military commands.
As for the regional development, it is vital for manufacturing quality products as Shan State (North) is endowed with sound foundations for agriculture and livestock breeding tasks. As the majority of the local residents are farmers and ranchers, it is important to apply technologies to agriculture and livestock breeding tasks. As respective military commands have carried out agriculture and livestock breeding tasks systematically, organizations of national races can observe the tasks and the Tatmadaw is ready to offer necessary assistance to enable organizations of national races to follow suit. The mass logging of forests for cultivation can result in deforestation; it is advisable to avoid mass clearing of forests and to carry out agriculture and livestock breeding tasks most beneficially and ethically without affecting forests and the region.
As for COVID-19, more than 30 million people have been infected with the virus across the world and above 4,000 people have beeninfected with COVID-19 in Myanmar until this morning. Hundreds of people are being infected with the virus and some of them died of the disease every day. As the disease cannot be seen, heard or smelt, it is of utmost importance to comply with advice, rules and regulations and to lead systematic lives for as a measure for self-protection.
Afterward, the Senior General attended to the needs on regional development and requirements reported by leaders of national races and members.
Then, the Senior General presented medical equipment for the prevention, control and treatment of COVID-19 including 20,000 surgical masks, 500 N95 masks, 250 face shields, six 25-L containers of sodium hypochloride, 1,000 pairs of examination gloves, 150 bottles of hand gel, 150 bottles of hand sanitizer, 300 sets of Personal Protective Equipment (PPE) , foodstuffs and household goods produced by factories of the Tatma-daw to Leading Body Chairman U Kyauk Te Chan and executive members U Wai San and U Khin Maung Lwin of Kokang Self-Administered Zone.
Afterward, the Commander-in- Chief (Navy), the Commander-in- Chief (Air), the adjutant generaland quartermaster general presented medical equipment for prevention, control and treatment of COVID-19 and foodstuffs and household goods produced by factories of the Tatmadaw to Palaung ethnic leader U Aik Mone, Leading Body member of Palaung Self-Administered Zone U Thein Zaw, leader U Lwe Maung of Hsinkyawt People's Militia Group (Local), member U Aik Kha of Palaung Self-Administered Zone, leader U Khun Phone of Kutkai Myoma People's Militia Group(Local) and leader U Sai Mon of Manpang People's Militia Group (Local).
After the ceremony, the Senior General and party cordially greeted the members of the leading bodies of Kokang and Palaung Self-Administered Zones, local national races leaders and people's militia groups.