Nay Pyi Taw November 17
Commander-in-Chief of Defence Services Senior General Min Aung Hlaing received officials of UWSA (Wa) group at Kyaukse Yeiktha in Monghsat Station of Triangle Region Command this afternoon.
Also present were senior military officers from the Office of the Commander-in-Chief (Army), Commander of Triangle Region Command Maj-Gen Khin Hlaing, and U Nyi Kat, with the rank of deputy commissar, and members of UWSA (Wa) group.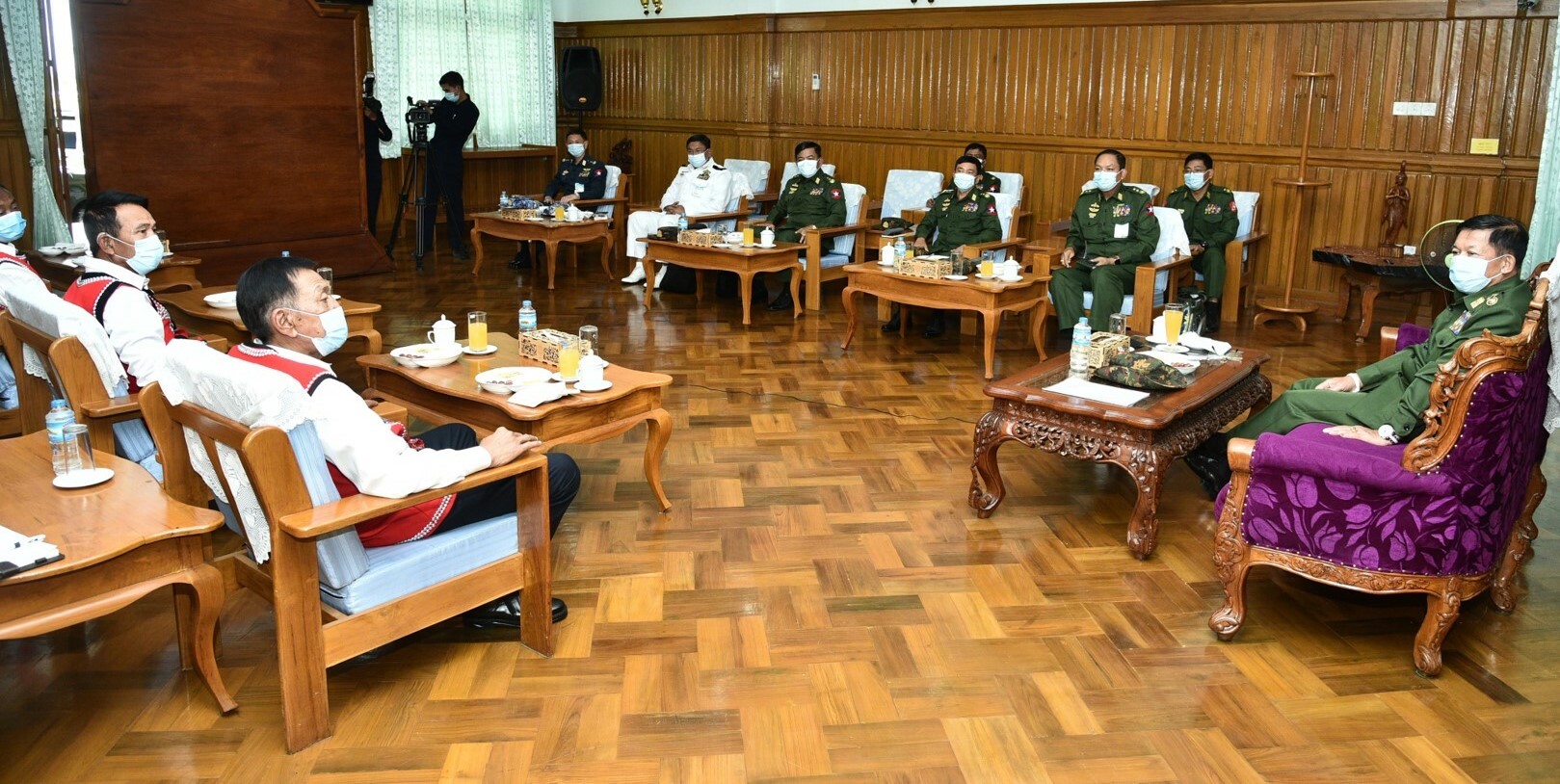 At the meeting, the Senior General said during the visit to Tachilek in September this year, medical equipment for COVID-19 prevention was donated for UWSA (Wa) area and Tatmadaw medical team mem-bers were sent to provide necessary healthcare there. Good health is the most important requirement of human life, and the socio-economic development and progress can be achieved only through good health. The Senior General said he has been to Wanhong area during his service as the military command commander in Shan State (East). The Tatmadaw medical teams were sent to the area to provide healthcare and health awareness as weakness in the health sectors was noticed. The Tatmadaw will make utmost efforts for the develop-ment of local health and education sectors as all are the citizens of the Union living on the same land and relying on the same source of water. There can be limits in socio-economic development undertakings because of the delays, caused by various reasons, in the process of peace dialogue. So, all must follow the correct NCA path for regional development.
All endeavours must be through the long-term view to ensure peace and progress of the country after achieving the socio-economic progress for the new generation children and restoring eternal peace.
U Nyi Kat, with the rank of deputy commissar, and members of the UWSA (Wa) group expressed pleasure for the information about the Tatmadaw's ongoing cooperation in the health sector and continued assistance of the Tatmadaw medical team. They said they are also striving for the success of the peace process, adding that they will continue their cooperation with the Tatmadaw in regional development and health and education undertakings.
Afterwards, the Senior General presented food and foodstuff and personal items manufactured by the factories of the Tatmadaw. U Nyi Kat and members accepted the donations and presented back local gifts.
After the meeting, the Senior General and party cordially greeted U Nyi Kat and members of UWSA (Wa) group.