Nay Pyi Taw April 27
Commander-in-Chief of Defence Services Senior General Min Aung Hlaing, together with Commander-in-Chief (Air) General Maung Maung Kyaw, senior military officers of the Office of the Commander-in- Chief, the commander of Central Command, and senior military offi cers of PyinOoLwin Station, met coffee growers in Shwe Pu Zun Coffee Field.
For their economic development, countries must have particular products saleable on the international market, and coffee is one of such products, said the Senior General. He explained his purpose of meeting with coffee growers and invited suggestions from growers in order to set necessary information of exporting quality coffee to foreign markets.
The chairman of Myanmar Coffee Growers Association and coffee growers explained coffee production, challenges facing coffee industry and presented their suggestions. In response, the Senior General stressed the importance of maintaining the existing quality, and called for increased production.
He also called for competitiveness in terms of quality and price. He urged the growers to use suitable agricultural inputs such as strains, technology, soil and water in coffee production. He also discouraged them from using chemicals and urged them to continue organic growing.
He praised PyinOoLwin as a town wellknown for perennial crops. Previously, damson, avocado, coffee, carrot and aster fl owers are well-known agricultural produce of the town, said the Senior General, who urged the growers to make research and regrow those agricultural produce with better quality. A wide variety of fl owers are grown in Pinlaung, Kalaw-Aungban, PyinOoLwin and Lashio in Myanmar, but the prices of locally grown fl owers have declined because of the import of different varieties of fl owers from foreign countries. He suggested making research into fl ower growing in order to improve their appearance and scents.
The Senior General and party then visited PyinOoLwin Nan Myaing Coffee Factory of Myanmar Economic Corporation. The factory manager explained coffee production, sale volumes, and machinery used in coffee production.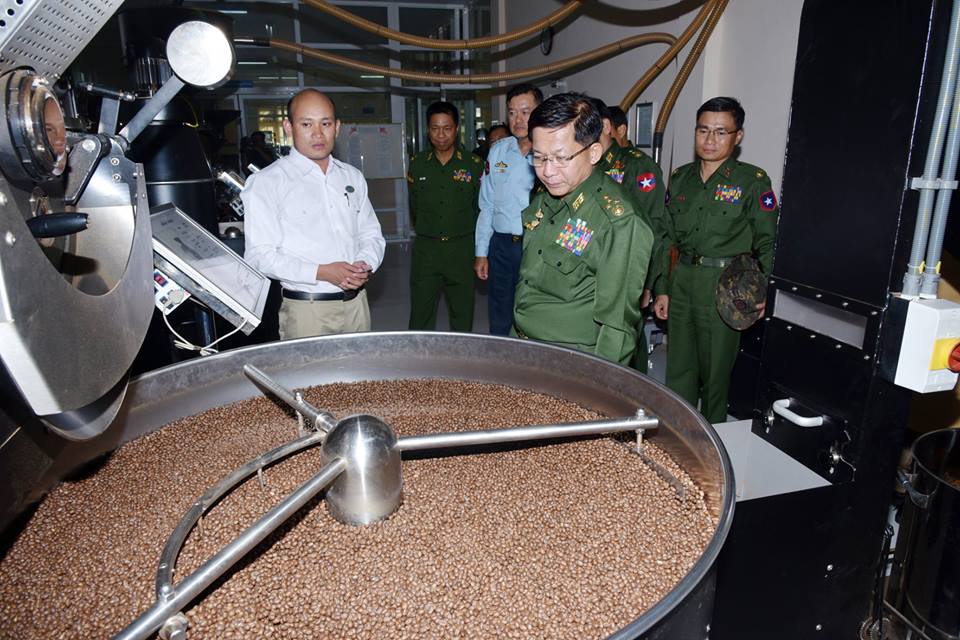 While the factory mainly supplies its products to the Tatmadaw, it should also sell its products to the general public at low prices in order to facilitate the country's economy, said the Senior General. He also called for maintaining the quality of products, and continuously monitoring the market and adjusting the products according to market demands.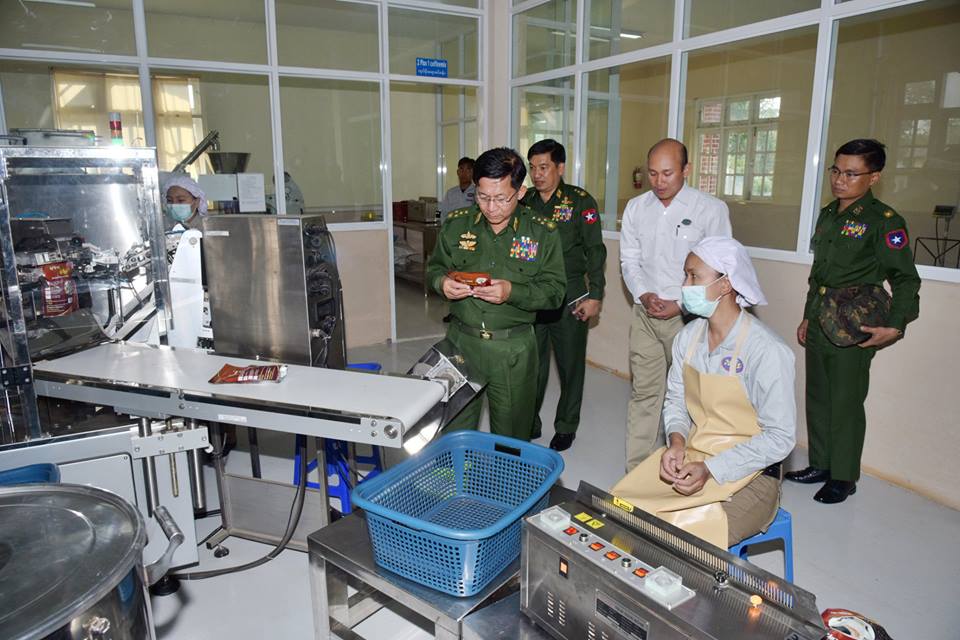 The Senior General and party viewed coffee production at the factory, and factory offi cers explained the process. The PyinOoLwin Nan Myaing Coffee Factory produces fresh, quality coffee and supplies to the Tatmadaw as well as distributes them to local and foreign markets at low prices.