Nay Pyi Taw, November 20
Commander-in-Chief of Defence Services Senior General Min Aung Hlaing,accompanied by Commander-in-Chief (Navy) Admiral Tin Aung San, Commander-in-Chief (Air) General Maung Maung Kyaw, senior military officers of the Office of the Commander-in-Chief(Army), Commander of Central Command Brig-Gen Kyaw Swa Lin, and officials, visited hospitalized service personnel and their family members at the local medical battalion in ancient Mandalay royal city, cordially comforting individual patients and giving them foodstuffs.
The commandant of the hospital reported on provision of healthcare services to service personnel and local people and general staff,adjutant and quartermaster functions. The Senior General stressed the needs and fulfi lled the requirements.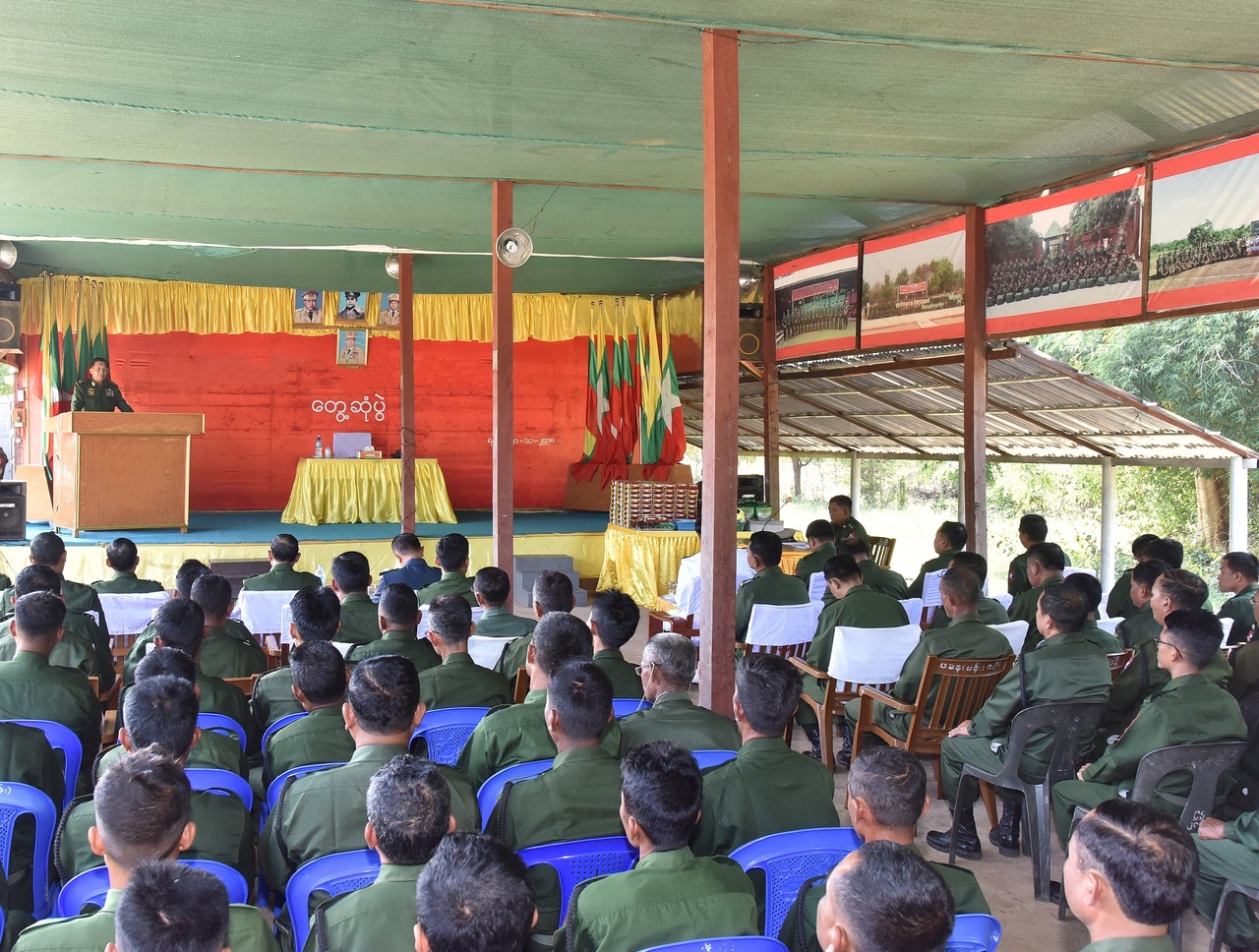 In meeting with officers and other ranks of the local battalion based in Han Myint Moh of Kyaukse Station, the Senior General said that Tatmadaw is being transformed into a Standard Army capable of fighting conventional warfare.For that purpose, emphasis has been placed on promoting the educational qualifications of service personnel while human capital required is being amassed continuously.Tatmadaw is making as much efforts as possible to broaden the intellectual horizons not only of service personnel but also of their families. Moreover,battalions are encouraged to engage in agricultural and livestock farming for the welfare of service personnel and their family members,and meat, fish, vegetables and eggs produced are supplied at reasonable prices. He urged them not to be spendthrifts,but to keep a balanced personal accounts income and expenditure. He also urged them to avoid drinking,smoking and chewing betel.
Then, he urged them to follow the disciplines adopted by Tatmadaw with professionalism and accomplish their concerned duties. He encouraged them to engage in life-long reading of fiction and non-fiction books so that they can expand their knowledge.He said publications have been provided to libraries of battalions and troops for their reading.
After the meeting, the Senior General presented foodstuffs for officers and other ranks to an official. The Commander-in-Chief (Navy) presented fiction and non-fiction books and the Commander-in-Chief (Air) presented sports equipment to officials respectively.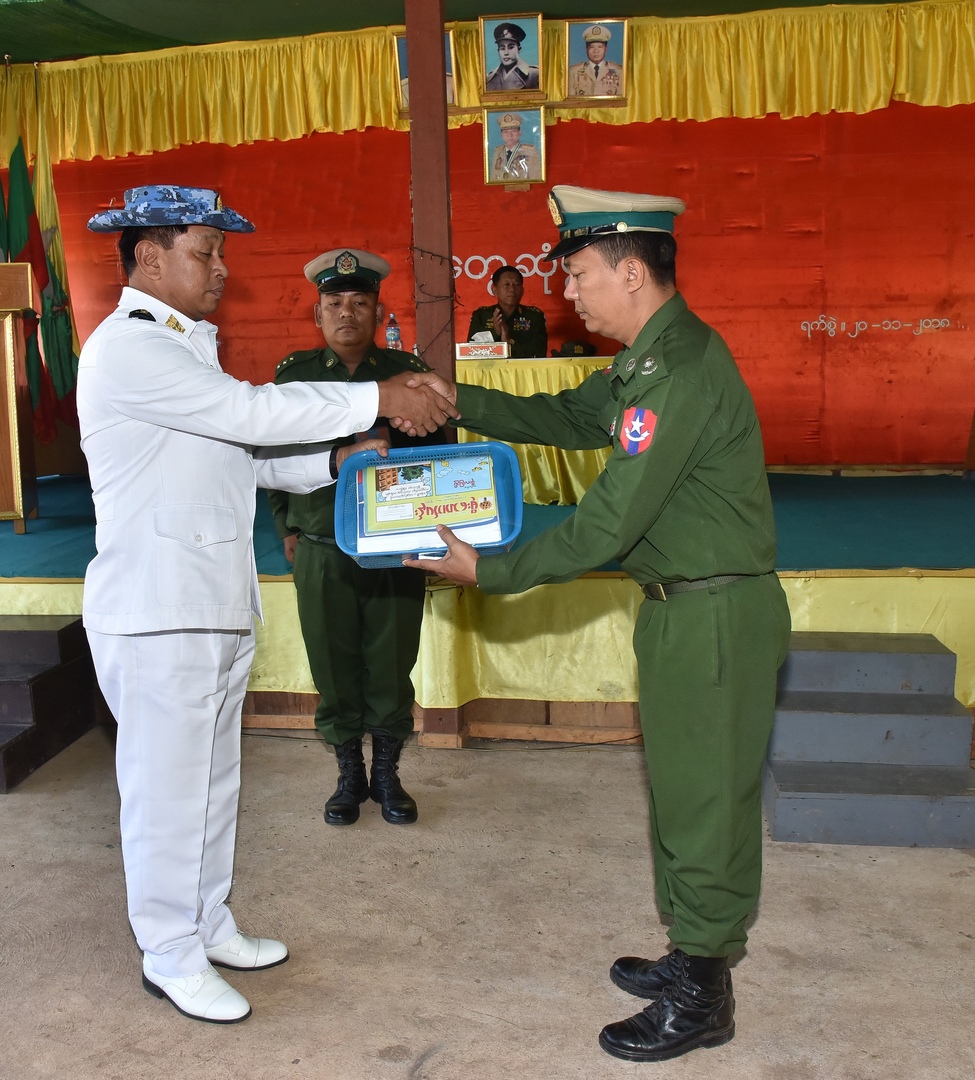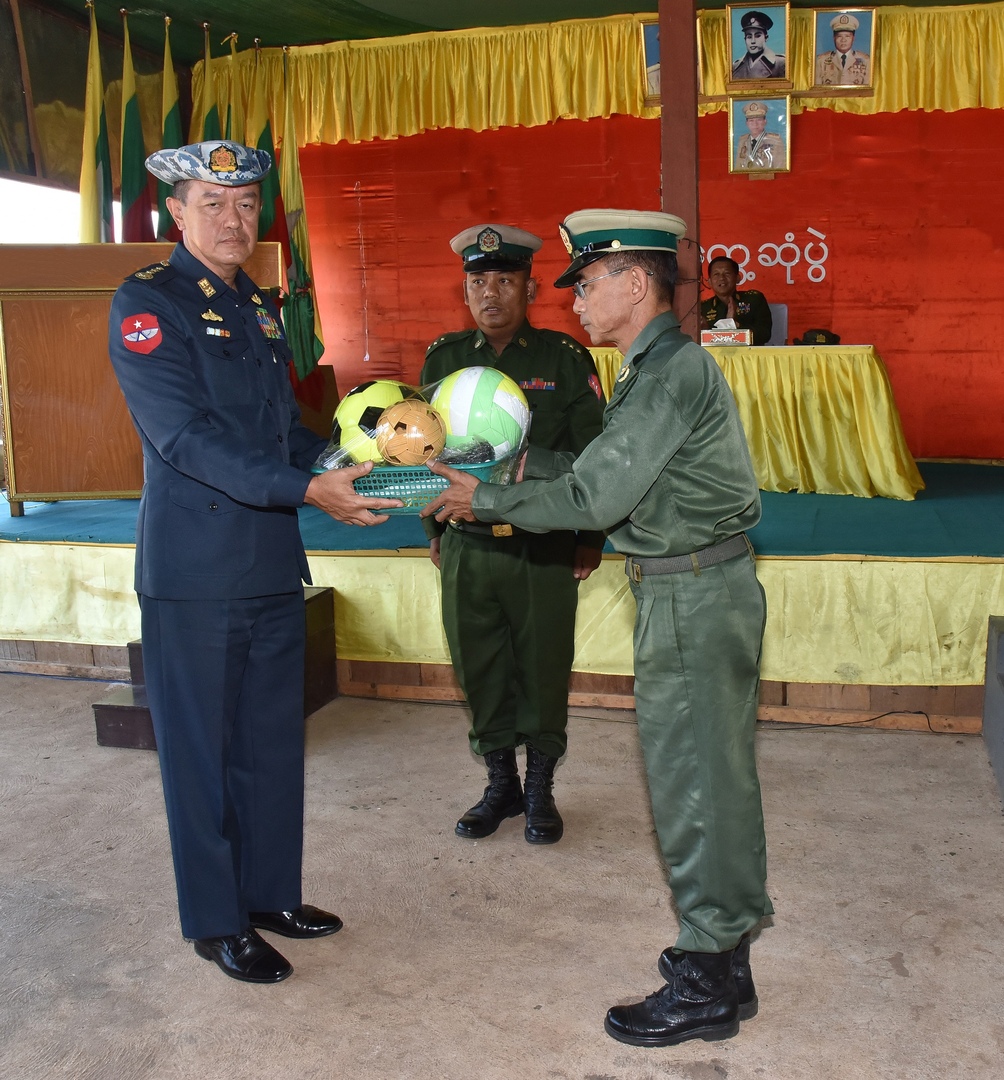 On arrival at Nucleus Farm in Kalamataung Village,Patheingyi Township, the Senior General and party heard reports by breeder U Tin Win on breeding of pedigree dairy cows with the use of modern technology and production of milk and dairy products. In response, the Senior General said Myanmar has to annually import condensed milk and dairy products by spending a large sum of foreign currency. With import-substitute products and breeding of dairy cows with the use of modern technology plus sound geographical conditions, it is necessary to extend breeding of dairy cows. Meanwhile, the Tatmadaw is helping meet the requirements of milk and dairy products in the country. He said he encourages the efforts to achieve more success in breeding Shwe Oh dairy cows.The Senior General then raised questions and gave necessary advice.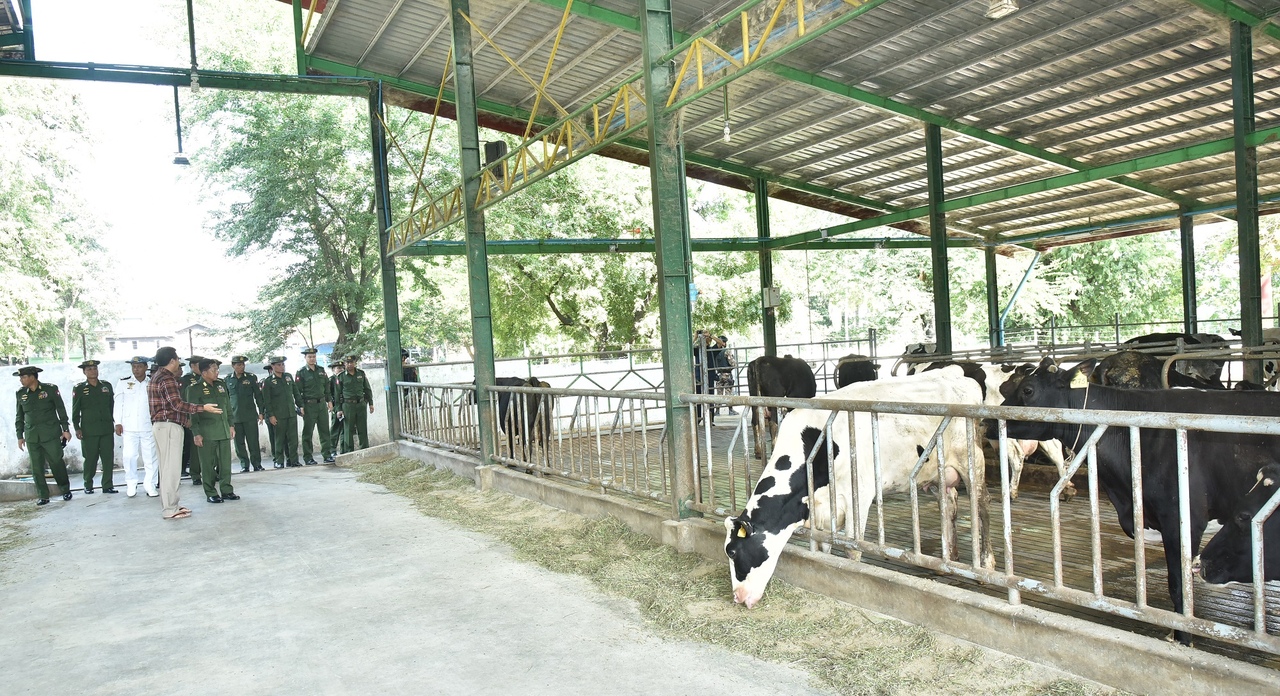 Shwe Oh dairy cow breeding started in 2003 with six dairy cows. Under a friendship programme between Myanmar and New Zealand in 2014, a modern dairy cow breeding system was adopted with technological aid from New Zealand.In the farm, there are about 220 dairy cows. Of them, 64 cows can produce milk and one can produce up to 15 viss of milk or seven viss on average. Currently, under brand name of Shwe Oh, pure milk,yoghurt and cheese are available on a wholesale and retail basis.