Nay Pyi Taw  December  10 
Commander-in-Chief of Defence Services Senior General Min Aung Hlaing, accompanied by Commander-in-Chief (Navy) Admiral Tin Aung San, Commander-in-Chief (Air) General Maung Maung Kyaw, senior military officers from the Office of the Commander-in-Chief (Army), Commander of Eastern Command Maj-Gen Lin Aung and officials, inspected the Livestock Breeding and Training Battalion in Bahtoo Station of  Eastern Com-mand this morning. 
At the meeting hall of the battalion, the Senior General heard the report presented by Maj-Gen Zaw Lwin Oo, Director of Directorate of Supply and Transport, on the establishment of model agricultural and livestock breeding zone, the breeding of broiler and layer, pig, goat and milk and meat cows, the selling of meat, fish and vegetables to Tatmadaw families and depart-mental organizations at the cheap prices and the breeding of horses and asses.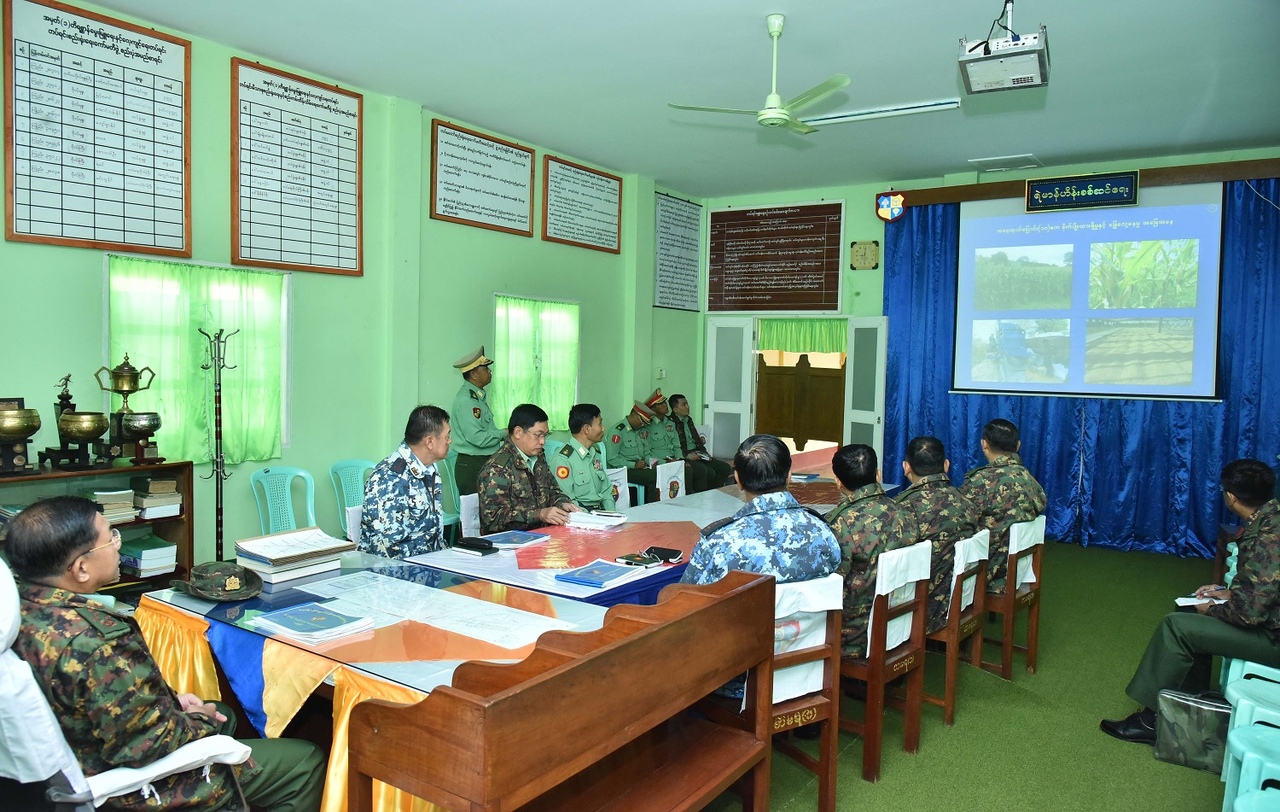 After hearing the report, the Senior General said the model agricultural and breeding zone should be a good example for trainees. Chicken, pork, mutton, beef and fish are main stable meals in Myanmar. It needs to operate systematic breeding of those animals with regeneration for each animal, identification of layer, broiler, dairy cows and genders, and nurturing of small animals. Moreover, the Senior General instructed them to carry out good sanitation system at the breeding farms, seek help of technicians and experts to get pedigree strains and reduce hormone and chemicals in feedstuffs to be able to avoid side effects for animals and human beings. It is necessary to seek better ways in comparison between battery cage system and traditional farming
for breeding of poultry farms. Depending on nature of animals, it needs to divide breeding zones for cage system and traditional breeding system. 
Then, the Senior General and party inspected the site chosen for construction of the model agricultural and livestock breeding zone and attended to the needs submitted by officials. Afterwards, the Senior General and party inspected breeding of horses, asses and donkeys through artificial insemination method and instructed officials to develop breeding of donkeys and horses for supply and transport services of the Tatmadaw.