Nay Pyi Taw January 2
Commander-in-Chief of Defence Services Senior General Maha Thray Sithu Min Aung Hlaing attended the Passing out Parade of 16th Intake of the Defence Services Institute of Nursing and Paramedical Sciences (DSINPS)and the 3rd Intake of Lady Nursing Sciences held at the parade-ground of Defence Services Medical Academy in Yangon this morning.
Also present were wife of the Senior General, Daw Kyu Kyu Hla, Commander-in-Chief (Navy) Admiral Zeya Kyawhtin Tin Aung San, Commander-in-Chief (Air)General Zeya Kyawhtin Maung Maung Kyaw,senior military officers from the Office of the Commander-in-Chief, the commander of Yangon Command, the commandant of the DSINPS, senior offi cers of Yangon Station,invited persons and parents and relatives of the trainees.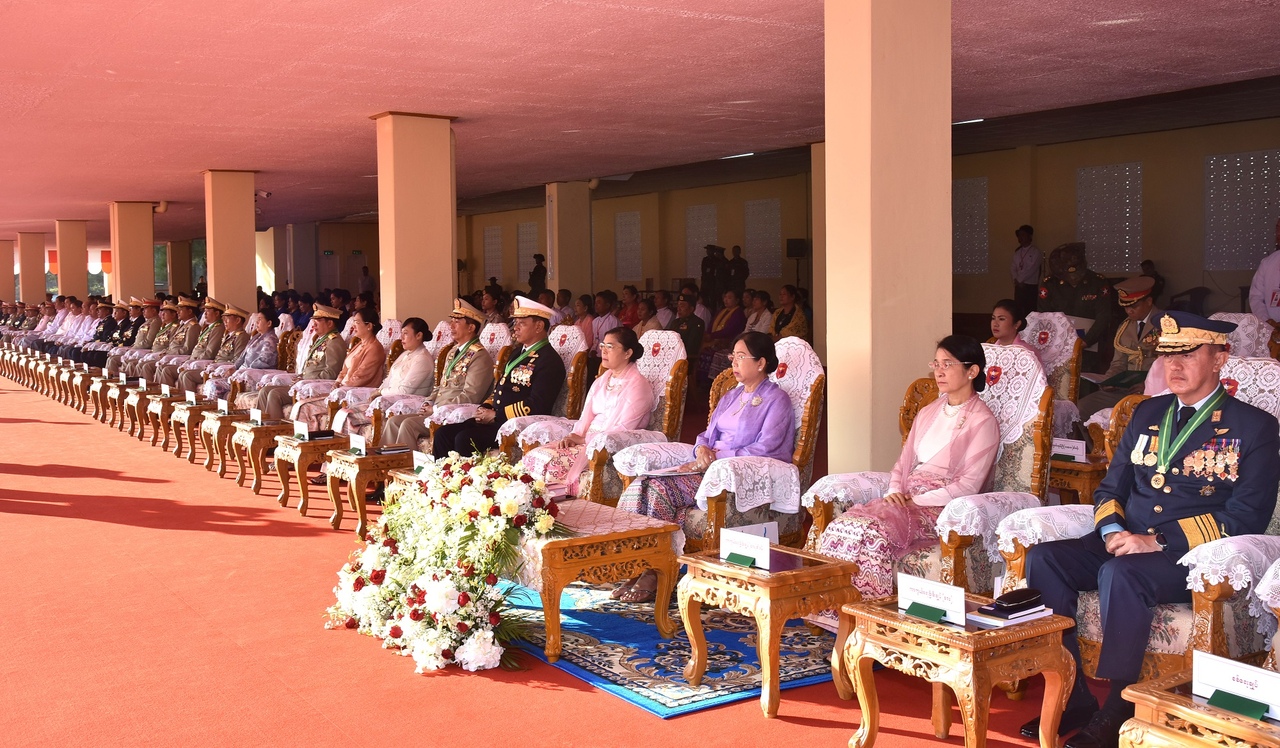 First, Commander-in-Chief of Defence Services Senior General Maha Thray Sithu Min Aung Hlaing took the salute of the trainee companies and inspected them. Next,trainee companies saluted the Senior General in slow march-past and quick march-past.
Afterwards, the Senior General presented Best Trainee Award to No. 3843 Trainee Pyae Phyo Aung, Excellent Award in Training to No. 3875 Trainee Aung Hein Htet and Excellent Award in Studies to No. 3845 trainee Phyo Han Kyaw of the 16th Intake of DSINPS.
Next, the Senior General presented Best Trainee Award to No. 173 Trainee Su Thet Paing, Excellent Award in Training to No. 177 Trainee Su Le Naing and Excellent Award in Studies to No. 200 Trainee Yi Wai Oo of the 3rd Intake of Lady Nursing Sciences.
Speaking about the turning out of nurses and paramedics in medical corps, the Senior General said: Upholding the 12 noble traditions of the Tatmadaw, medical corps are realizing their objective "To provide enough healthcare for Tatmadaw members and families regardless of place, time and rank". DSINPS is turning out "medical soldiers who are skilled and helpful" so that they can take measures such as healthcare providing, screening, disease prevention, health standard promotion and rehabilitation and drug production. The institute has produced 13 doctoral degree holders in nursing, 362 master's degree holders in nursing, 39 master's degree holders in pharmacy, 106 master's degree holders in paramedical technology,188 diploma holders in medical education,3,045 bachelor's degree holders in nursing,204 pharmaceutical bachelor's degree holders, 573 bachelor's degree holders in paramedical technology and 98 bachelor's degree holders in nursing (bridge). In the medical corps field, the skills of nurses and paramedics have increased. Nursing corps who previously discharged their duties at hospitals and military units only are now able to provide battlefield medical protection in a skilful manner. Nursing crops also play an active role in mobile medical teams responsible for providing healthcare to ethnic people.
As for giving training to those to be able to keep abreast with their international counterparts,the Senior General said: Advanced paramedical subjects are being taught by conducting post-graduate diploma courses,master's degree courses and doctoral nursing courses for those who have completed basic courses meeting the set qualifications. For the skill promotion of military nurses and instructors from the DSINPS and nursing corps, they are sent to the University of Nursing, the University of Pharmacy and the University of Paramedical Technology for further studies. Moreover, they are sent abroad to be able to study internationalstandard medical branches. And some have obtained doctoral and master's degrees in nursing from international universities. As nursing and paramedical corps receive training to catch up with their counterparts from the international community, the trainees from the DSINPS are also urged to study more advanced braches based on the subjects they have been taught.
As regards to making contributions to defence power, the Senior General said:The aim of nursing others means ensuring better health, better treatment and preventing diseases and protecting the disabled. Nursing and paramedical help is a core part of the Tatmadaw trying to promote defence power.Appling what they have learned, they must provide adequate healthcare and treatment for those injured in battlefield or for other causes and ailing Tatmadaw members and their families. In this context, they need to use and provide modern healthcare services.In giving medical protection also, there must be sound management and monitoring in the process of nursing. Records on the facts about the public must be compiled. Nutrition as to the patients must be extensively cared, said Senior General Min Aung Hlaing.
Regarding the spirit a nurse should have,Senior General Min Aung Hlaing said:Nursing is an important service in the health sector. All must try to be the ones blessed with such characteristics as compassion,sympathy, kindness, sacrifice, good attitude and tiredness. The behavior of a nurse can give motivational strength. The cadets ought to have full spirit of nursing to be effective in medical treatment while performing the duties. To have strong nursing spirit, nurses must have basic principles namely "hobby,sympathy, kindness, emotional suffering and example." The main factor of the nursing spirit represents the good condition of physical and mental suffering of the patient. Those who are not in good health must be supposed as own relatives and medical treatment must be given to them regardless of race and religion.Moreover, those who are full of nursing spirit are happy with their profession and they can serve the duties assigned anywhere. All must always try and cultivate to equip with mature nursing spirit."
With regard to the requirement of medical experts who can support the medical services,Senior General Min Aung Hlaing said:whatever Western medicine or traditional medicine, medical experts are needed in producing and using pharmaceuticals. Nowadays,some drugs illegally imported from foreign countries can harm national health.For that reason, all must safeguard Tatmadaw and the people by using drug production and drug potency analysis. Furthermore,concerning the medical technology, it is necessary to conduct medical analysis from different angles in the medical treatment. If not so, medical treatment can be ineffective,moreover, time and money can be lost and the patient may be dead. The pharmaceutical graduates (medical laboratory science) can perform to diagnose diseases as to bacteria through biochemical techniques. Diseases can be diagnosed through blood test. They can also support the medical treatment of skillful doctors. X-ray can be made by using basic radiology and special X-ray can be made.Latest modern diagnosis equipment can be   efficiently handled and they can contribute to the medical treatment services. Therefore,paramedical technological cadets regarding radiology and image technology are being nurtured. Special medical treatments are needed to nurse the disabled soldiers who are injured in the battles. So as to nurse disabled children, it is necessary to treat the disabled patients to be able to stand on their feet without getting help from others. To prevent against follow-up health problems,medical treatment can be given by using magnetic waves, warm water, cold water and other cures. Body strength technology is of great importance and so it is some kind of medical science every country takes notice."
With regard to the Tatmadaw that is serving not only the defence duties but also the security duties of the people, Senior General Min Aung Hlaing said: the Tatmadaw is an only organization that is formed with all different national races born from the people and it is safeguarding life and property of the people.The Tatmadaw is carrying out the tasks to safeguard the security of daily life of the people from all angles. Tatmadaw medical mobile teams are constantly performing free health care services in all parts of the country regardless of nationality and religion.Tatmadaw medical mobile teams carried out health care services for 5,522 times from 2012 to 2018 December, medical treatments could be given to 2,296,073 patients free of charge and 21,640 patients who need further medical treatment can be hospitalized at Tatmadaw hospitals.
Tatmadaw mobile medical teams are providing health care services the length and breadth of the country including ethnic regions and border and remote areas, which is performing one of the main tasks of Tatmadaw—public welfare—with a sense of duty and goodwill.In other words, as Tatmadaw paramedical forces provide free health services with their medical knowledge to save the lives of people, it is also performing another State defence duty of protecting the public service.Wherever the Tatmadaw mobile medical teams arrive, local people who receive the health care services welcome them with joy and anticipation. Similarly, the expertise,kindness and sympathy of Tatmadaw mobile medical teams can also be seen. The love and goodwill of Tatmadaw toward the people foster the friendship between Tatmadaw and civilians, and increase the public reliance on the Tatmadaw. Moreover, the provision of healthcare services by mobile medical teams across the country directly contributes to locals and contributes a great deal to health and fitness of the entire nation. The Senior General urged the graduates to perform their assigned duties with might and main in providing Tatmadaw mobile medical services.
The Senior General then took the salute of graduates and left the parade ground.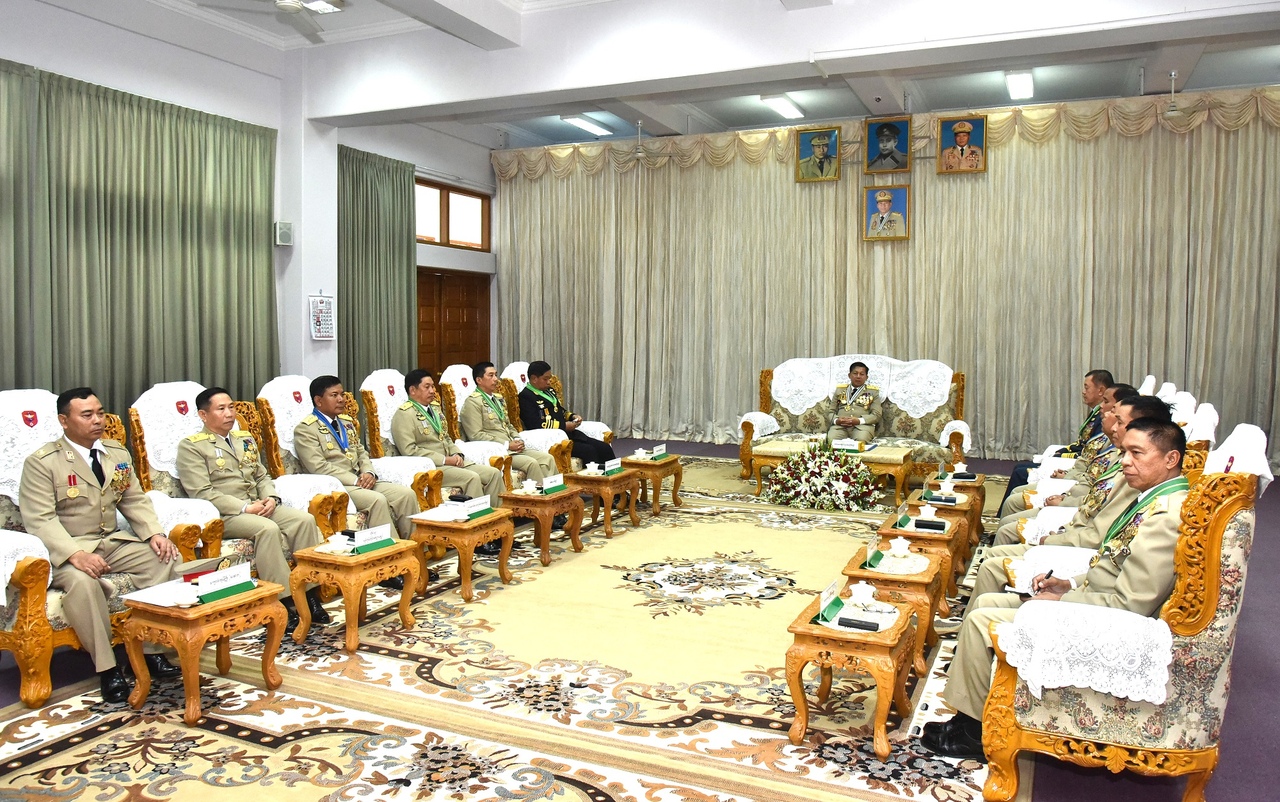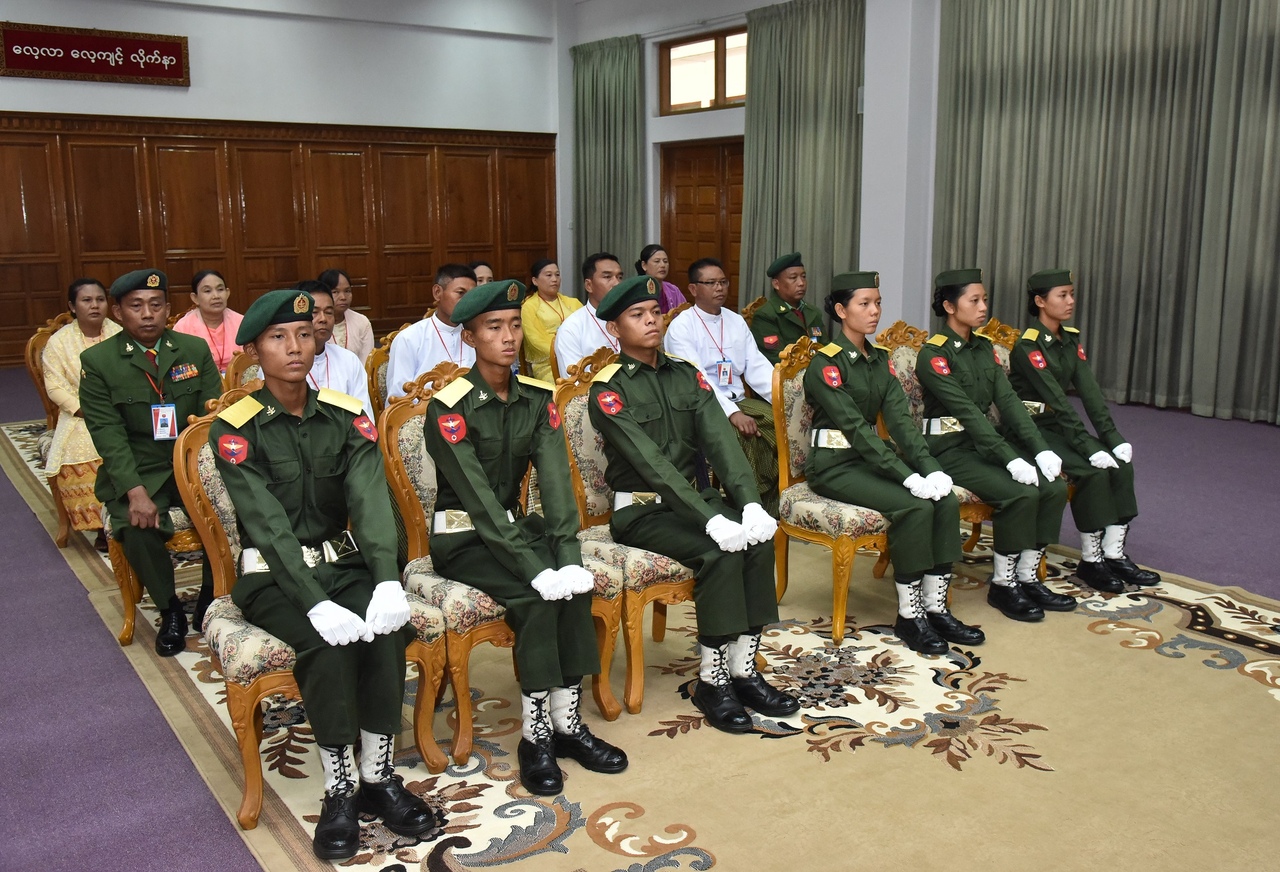 After the parade, the Senior General met outstanding graduates and their parents at the parlour of the Defence Services Medical Academy and spoke words of encouragement to them.