Nay Pyi Taw February 5
Commander-in-Chief of Defence Services Senior General Min Aung Hlaing met Christian religious leaders in Kachin State's Myitkyina this morning and discussed stability and development of the region.
Also present on the occasion were Commander-in-Chief (Navy) Admiral Tin Aung San, Commander-in-Chief (Air) General Maung Maung Kyaw, senior military officers from the Office of the Commander-in-Chief(Army), Commander of Northern Command Maj-Gen Teza Kyaw, Secretary of Myitkyina-based Kachin Baptist Convention Rev.Tu Mai and members, priest Francis Dowtan and other priests of Roman Catholic Association.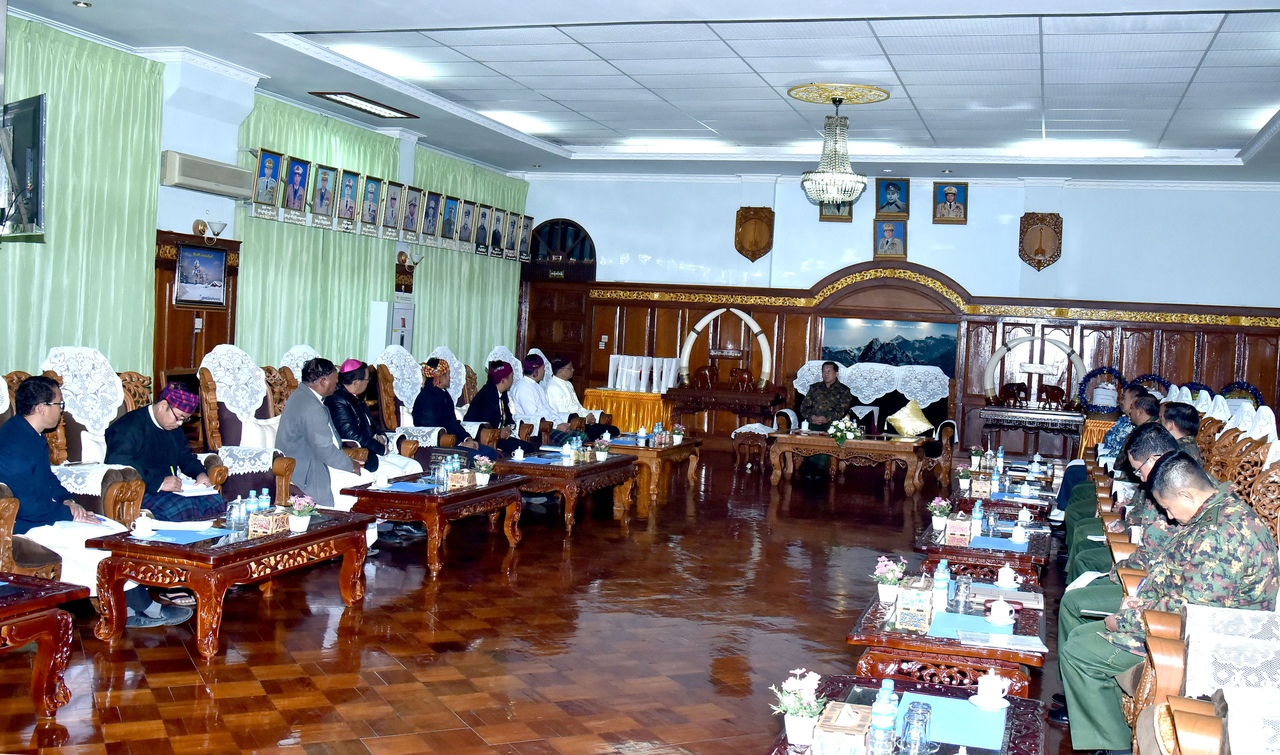 The Senior General said that he was glad to see that Kachin State has developed compared to the past despite hardship and crisis. It is important for the national brethren to maintain amity and trust as they live on the same land and share the same river. Everyone wants to lead a peaceful life with wealth. Similarly, it is important that everyone joins hands and strive for national development.The main duty of Tatmadaw is State defence,and is engaging in the national politics for national interests. Not only Tatmadaw,but each and every citizen should engage in national politics and work for national interests with love for their motherland but without dogmatism. Tatmadaw is a part of the nation, and Tatmadawmen are the part of the people born by the ordinary people. It is important that there is a sense of belongingness between Tatmadaw and people, and between Tatmadawmen and the country. And Tatmadaw therefore is taking steps to improve its public relations. Rather than pointing a finger at the past, all should try in collaboration to learn lessons from the past and find answers to build a better future. Now, the country is on the path of multi-party democracy chosen by the people,and Tatmadaw is helping the country to walk stably on that path. Tatmadaw is helping in various regions for national development,and is also rendering health care services. As stated in its declaration on 21 December 2018, Tatmadaw has made ceasefire. And Tatmadaw hopes that displaced persons taking shelter in camps could come back to their homes as soon as possible and engage in the previous livelihoods with peace of mind. It is important to exercise restraint in order not to cause burden on ethnic people.And it is important that talks are held as soon as possible during the truce. Ethnic armed groups can individually hold talks with either the National Reconciliation and Peace Center or Tatmadaw negotiation team. Only when there is stability, efforts can be made for regional development. And in working for regional development, it is important to act with rationality, awareness and advertency in order to benefit the region, country and people as the whole.
The two sides exchanged frank views on the need for collaborative efforts to enable displaced persons to return home, support for the Tatmadaw's ceasefire declaration on December 21, 2018, the need for inclusive approach to achieve peace, and cooperation of Christian religious leaders in Kachin State for peace, and Tatmadaw's assistance for development of Kachin State.
The Kachin Roman Catholic Association said that it opposed the Myitsone Dam Project and called for its termination. The Senior General replied that it would be hard to go against the wishes of the people regarding the project, and that he would negotiate to get the best possible answer.
The Senior General, after the meeting,presented gifts to priests of Kachin Baptist Convention and Catholic Association, and posed for documentary photo.