Nay Pyi Taw February 25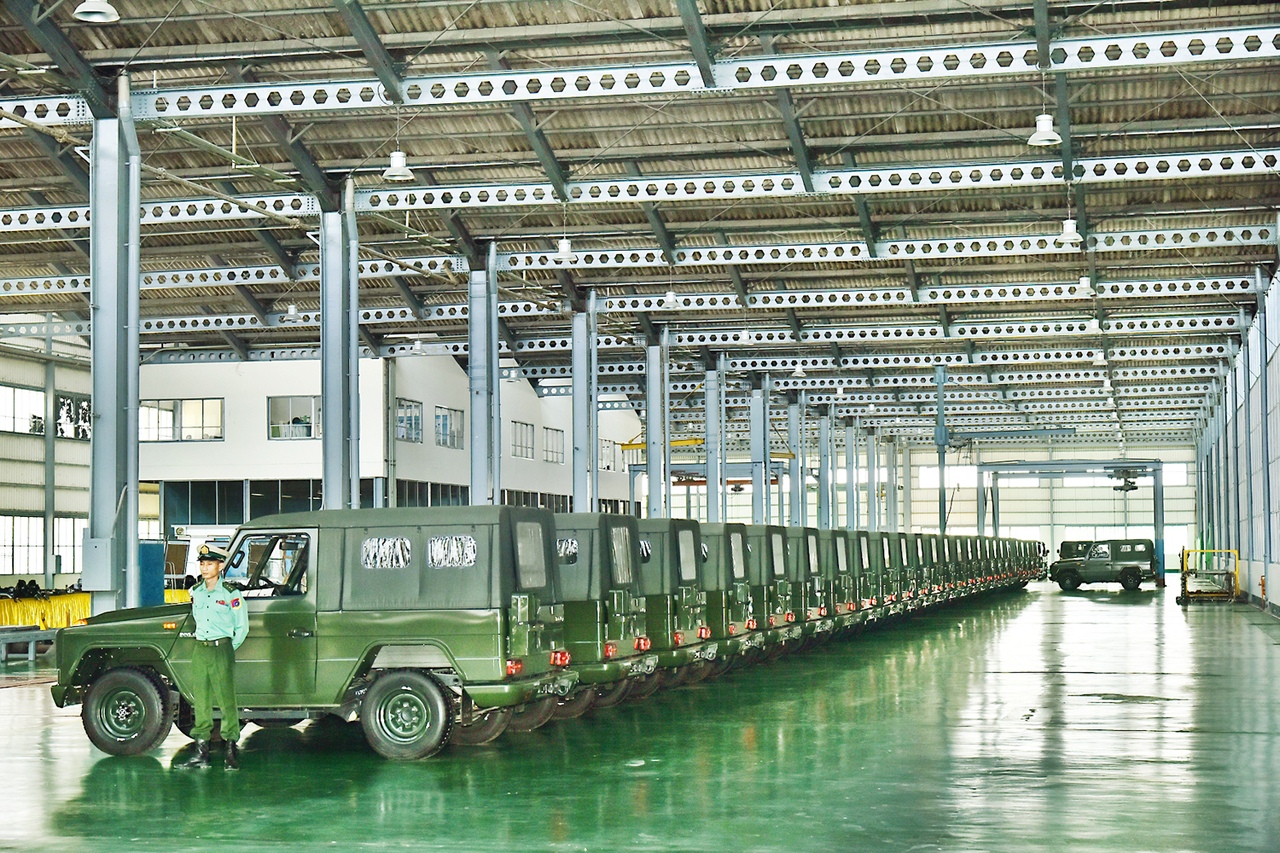 Commander-in-Chief of Defence Services Senior General Min Aung Hlaing, accompanied by Commander-in-Chief (Navy) Admiral Tin Aung San, Commander-in-Chief (Air) General Maung Maung Kyaw, senior military officers from the Office of the Commander-in-Chief (Army), the commander of Southern Command and officials, inspected the Tatmadaw Heavy Industry in Htonbo this afternoon.
At the meeting hall of the industry, the industry manager and officials reported to the Senior General on manufacturing of vehicles and machine parts. The Senior General fulfi lled the requirements after giving necessary instructions.
The Senior General and party inspected progress in production of necessary parts for vehicles, assembling of vehicles, and machine parts in the line of engine production in Machine Shop and Diesel Engine Manufacturing Plant. The Senior General attended to the needs reported by offi cials after giving instructions. In meeting with staff and workers of the industry, the Senior General said efforts were made to resume manufacturing of vehicles and engine parts after the industry was handed over to the Tatmadaw in 2016, and at present, the industry is manufacturing vehicles. The Senior General honoured them for their performance of manufacturing the 100th vehicle as the industry started production of vehicles with own designs in Myanmar. The Senior General stressed the need to uplift the prestige of the industry by manufacturing the quality vehicles through collaboration of experienced workers with the use of existing machines and modern technologies. They need to have greater progress in vehicle production. The Senior General urged them to abide by prescribed disciplines in their workplaces with family spirit, loyalty, happiness and exactness.
Next, the Senior General presented cash awards to the staff of the industry. Tatmadaw Heavy Industry (Htonbo) under the Ministry of Industry 2 in the past manufactured Mazada Jeep, B-600 and T-2000. In 2016, Tatmadaw took over the Heavy Industry and now continues assembling and manufacturing autos. During this fi scal year, 200 INLAY Jeeps will be manufactured. Plans are underway to keep on manufacturing up to 1,000 autos every year. The old machines made in Japan from 1964 to 1978 used in the industry—OSAKA KOSAKUSHO, HITACHI SEIKI, MITSUBISHI, OKUMA, SHOUN, OKK, SEIKOSHA, ROKU ROKU SANGVO, YOSHIDA, TOKUSHU KOKI SEISA KUSHO, TSOGAMI and TOYOKOGVO— were overhauled to produce of autos, engines and spare parts, aimed to substitute import for the country and reduce the expenditure of foreign currency.
Afterwards, the Senior General and party arrived at the airport located in the ancient city of Sri Ksetra in Pyay where he met with departmental offi cials and gave instructions to continue maintaining the airport.