Nay Pyi Taw March 7
Commander-in-Chief of Defence Services Senior General Min Aung Hlaing attended the 16th ASEAN Chiefs of Defence Forces Meeting (16th ACDFM) held at the Royal Cliff Hotel in Pattaya, Thailand.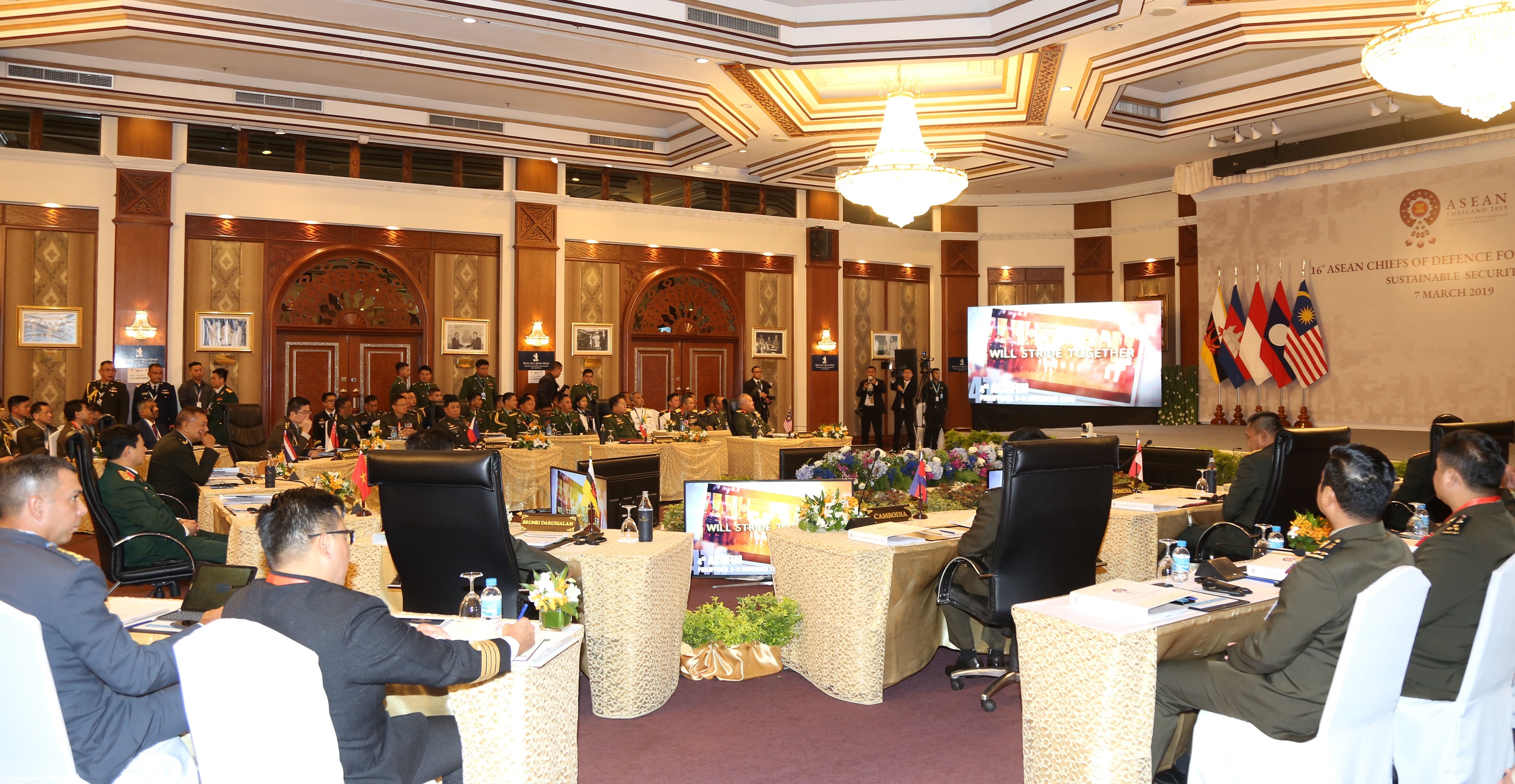 Present at the meeting were the Senior General and members of the Myanmar Tatmadaw delegation, chiefs of defence forces of ASEAN armed forces and members of delegations. First, Chief of Defence Forces of the Royal Thai Armed Forces General Ponpipaat Benyasri delivered the opening address, followed by a documentary photo session. Then a video documentary of the 16th informal ACDFM was screened.
Intelligence Chief of the Royal Thai Armed Forces Lieutenant General Nothapol Boonngam presented the results of 16th ASEAN Military Intelligence Informal Meeting, and Chief of Military Operations of the Royal Thai Armed Forces Lieutenant General Suphot Malaniyom presented the result of 9th ASEAN Military Operations Informal Meeting.
Led by General Ponpipaat Benyasri,military chiefs of the ASEAN countries took part in the discussions in country-wise alphabetical order.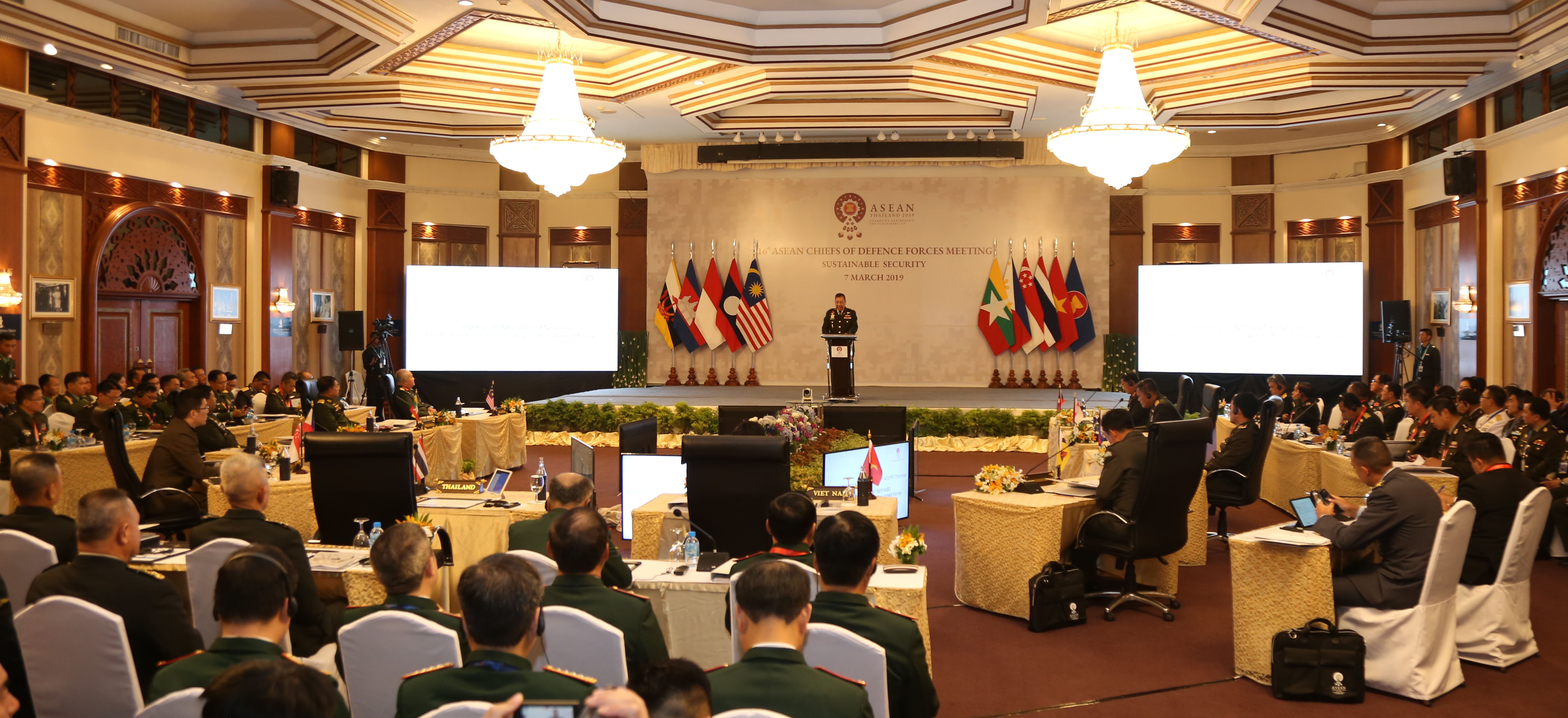 The Senior General took part in the discussions under the theme: Counterterrorism for the sustainable security of the ASEAN. The Senior General said although the sustainable security is mainly related to protracted forces that can threaten the global security such as climate change, competition for resources,global military built-up, terrorism remains the biggest challenges against the regional security. Terrorist attacks are connected with political, national or religious incitement.In addition to human resources, advanced technology and equipment are required to face and solve any kind of terrorism. Nowadays, freedom of assembly, freedom of speech, confi dentiality, media freedom,which are the essence of democracy, are like creating a favourable environment for terrorist groups to realize their goals. United stand against terrorism by countries through coordinated efforts will be more effective than the country-wise counterterrorist operations.
It can be seen that most of terrorist groups are religious fanatics. Moreover, there are instances in which the communities and security members fell victim to terrorism due to economic, social, religious and cultural clashes between the natives and the migrants resulting from cross-border migration caused by population explosion. Terrorist organizations did not emerge from a single country, and based on globalization process.They are penetrating deep into every part of the world and the human society. Their attacks usually target public places. For the past few years, terrorist organizations and religious extremists have been spreading religious extremism propaganda through internet media,recruiting troops, organizing and making contacts with ISIS. To monitor and expose them is a challenge even for the countries with technological superiority. Spreading news and information through social platform is a tool not only for those terrorist organizations but for their supporters. Although it is not possible to totally stop extreme ideologies and acts, such propaganda through media can be prevented through cooperation among government, military, security organizations and anti-terrorism troops. Currently, global terrorism is complicated and common. The ASEAN member countries are also faced with terrorism. As the threat of terrorism increases in the ASEAN region, news and information related to terrorism should be shared. Any country has raised concern over terrorism. As it is a common threat to the ASEAN countries, all need to collaborate with each other. In this regard, focus must be on prevention, intelligence sources and cooperation. There should also be cooperation in providing multilateral assistance and blocking terrorist routes. Terrorism becomes a significant threat in the 21st Century and terror attacks are carried out by groups or stateless organizations. Some terrorist organizations are not having links within a nation but they are having links with their counterparts in other countries and regions.Thus, cooperation of all ASEAN countries is essential in anti-terrorism efforts. Without cooperation, there will still be safe heavens for terrorists and their attacks will continue to spread across the globe.
Challenges of militants being currently faced are based on religious extremism. If the governments strictly solve problems of such religious extremism, those governments may be imposed pressure by international community as well as put under coercion by terrorist organizations with emphasizing human rights. It needs to strive for relieving international armed confl icts, racism and religious hatreds which make main difficulties in solving problems of terrorism and threats.Myanmar actively participates in regional meetings, workshops and conferences related to anti-terrorism issues while more effectively cooperates with ASEAN member countries and global countries in combating terrorism tasks. In order to respond to challenges related to terrorism, ASEAN countries need to enhance relations each other and further promote in defence and security measures for shaping their countries to have stable, peaceful, secure and developed trends. Coordination between the countries each other will make easier in solving     difficulties and will have cooperation in facing challenges. The Senior General urged ASEAN countries to create better relations among ASEAN countries to successfully implement counter-terrorism tasks.
The Myanmar Tatmadaw delegation led by the Senior General and wife attended the luncheon hosted by the Chief of Defence Forces of the Royal Thai Armed Forces.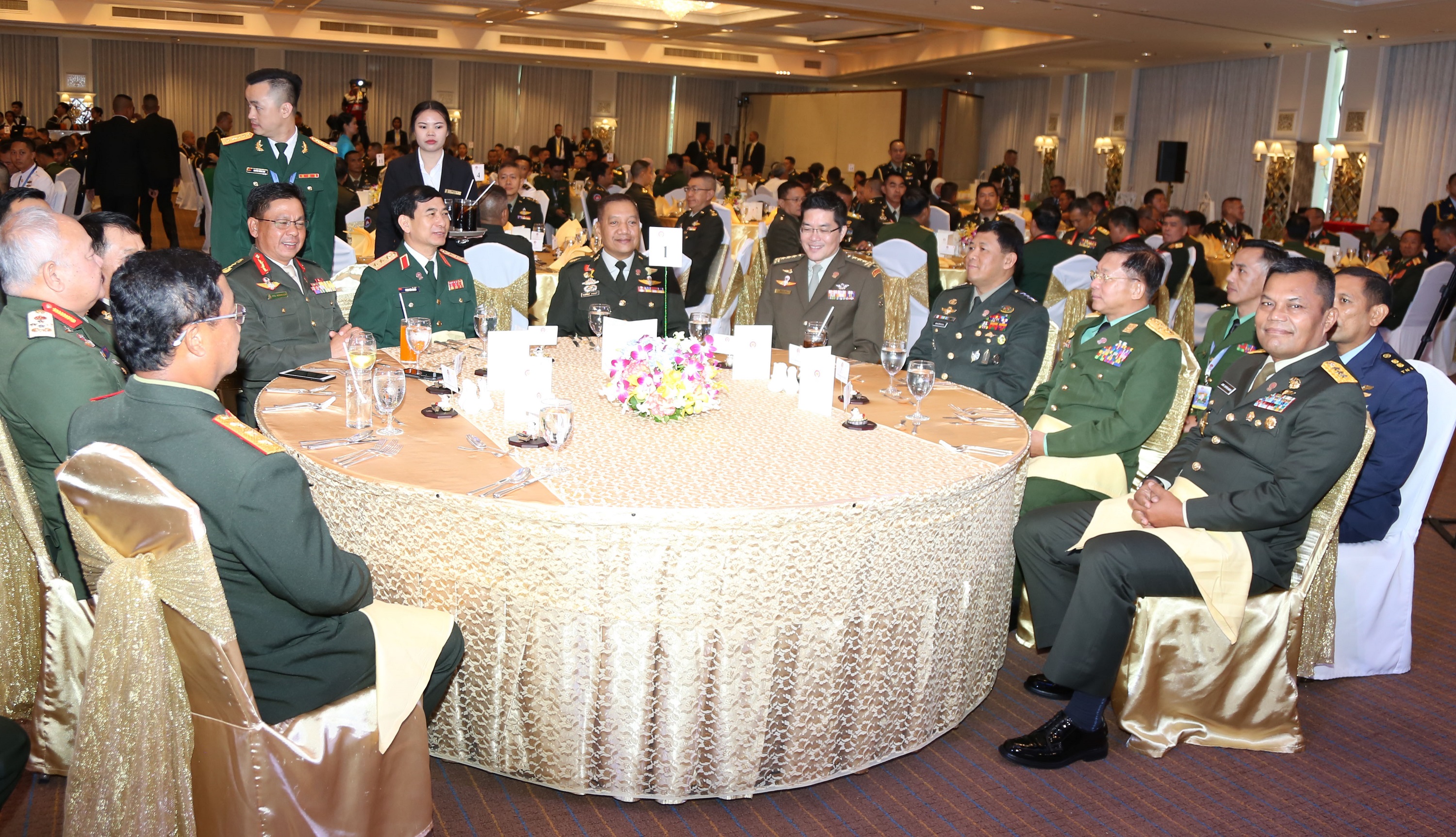 Next, the second session of the meeting followed. The meeting focused on the 2018-2019 two-year action plan of ASEAN armies and the joint statement of the 16th ACDFM was signed. The Chief of Defence Forces of the Royal Thai Armed Forces made a concluding remark and handed over the duty of 17th ACDFM to host Chief of General Staff Senior General Phan Van Giang of the Vietnam People's Army.
The Chief of General Staff of the Vietnam People's Army extended greetings and the meeting came to an end.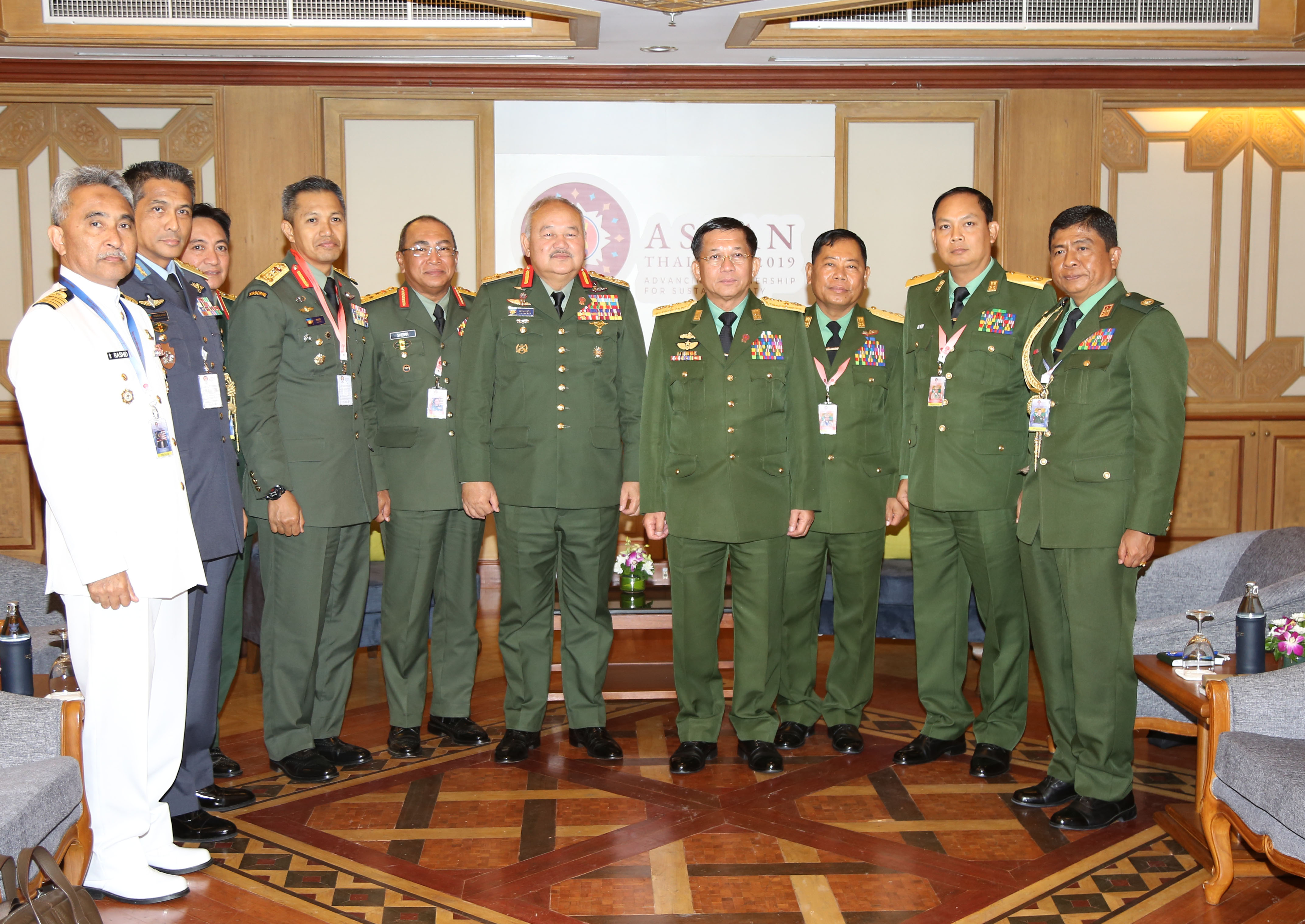 Senior General Min Aung Hlaing held meetings with Chief of Defence Forces General TAN SRI DATO' SERI PANGLIMA Hj Zulkifli Bin Hj Zainal Abidin of Malaysian Armed Forces, Chief of General Staff of Vietnam People's Army Senior General Phan Van Giang and Lao Deputy Minister of National Defence and Chief of General Staff of Lao People's Army Lieutenant General Souvone LEUANGBOUNMY separately.
At the meetings, they cordially discussed promotion of friendly relations between two armed forces of both countries, cooperation in training affairs, and exchange of goodwill visits at different levels.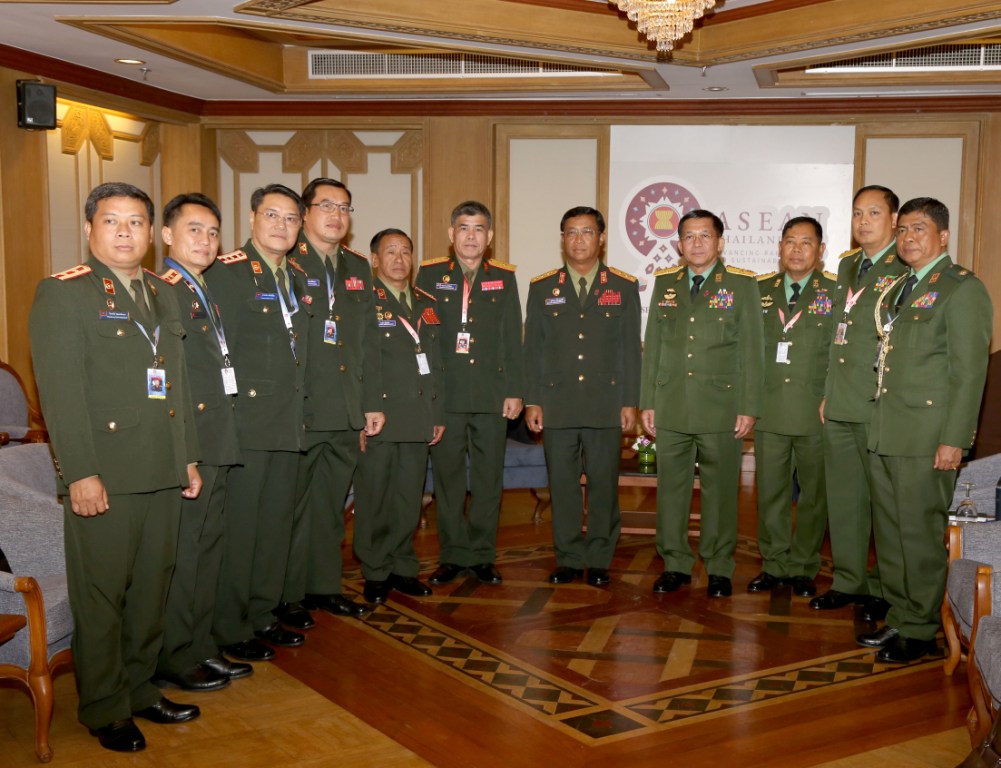 After the meetings, Senior General Min Aung Hlaing exchanged commemorative gifts with the Chief of Defence Forces of Malaysian Armed Forces, the Chief of General Staff of Vietnam People's Army and the Lao Deputy Minister of National Defence and Chief of General Staff of Lao People's Army and posed for documentary photos.