Nay Pyi Taw September 19
Commander-in-Chief of Defence Services Senior General Min Aung Hlaing accompanied by Union Minister for Home Affairs Lt-Gen Kyaw Swe, Union Minister for Border Affairs Lt-Gen Ye Aung, Commander-in-Chief (Air) General Khin Aung Myint and senior military officers of the Office of the Commander-in-Chief arrived in Sittway and was welcomed by Lt-Gen Aung Kyaw Zaw of the Office of the Commander-in-Chief (Army), the commander of Western Command, senior military officers, Secretary of Rakhine State government U Tin Maung Swe, Minister for Electricity, Industry and Transport U Aung Kyaw Zan and officials.
At the meeting hall of the Regional Operation Command Headquarters in Sittway, the command commander in recounting the terrorist attacks in Buthidaung/ Maungtaw region in August, explained the beefing up of security operations in northern Rakhine State after the occurrence of violent attacks in October 2016 and the gathering and training of men by extremist Bengali terrorists to launch terrorist attacks taking the reduce in the strength of security forces beginning February 2017 due to developing regional peace and security as an advantage, violence against local ethnic people in June, July and August in 2017, and organized attempts to disrupt the local administration, and reinforcement of security forces in response to those reports, and security operations along Mayu Mountain Range, engagements with terrorists from August 25 to September 5, figures concerning casualties of security forces and arrested terrorists, casualties and injuries inflicted to local ethnic people, number of missing local ethnic people, number of houses in villages and wards which came under arson attacks, and displacement of local ethnic people. He also explained measures to restore stability, and return of local ethnic people to their homes, indiscriminate provision of relief supplies, medical and healthcare services in villages in the region.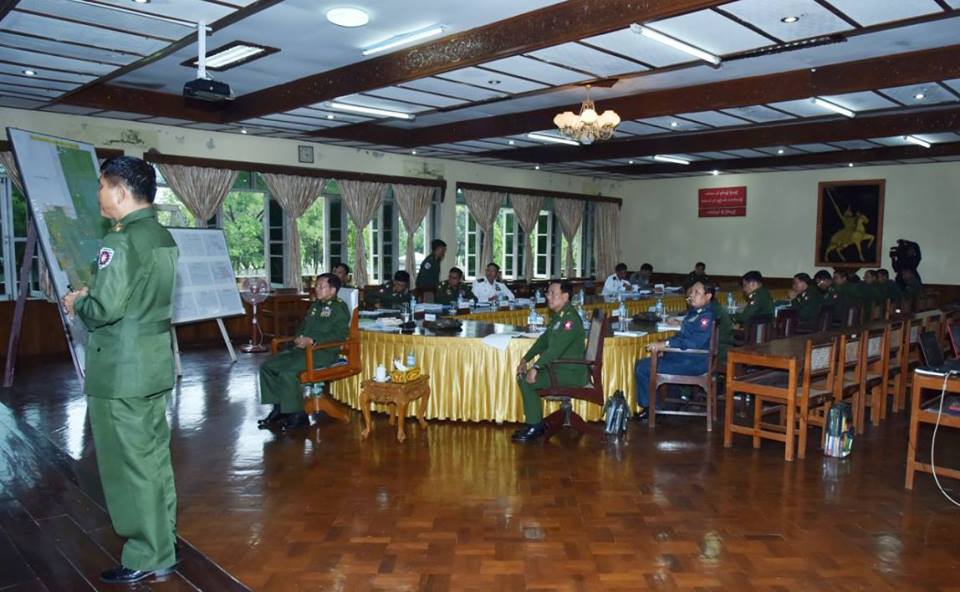 Next, the Director of Directorate of Military Engineering reported on progress in border fencing, and Director of Directorate of Defence Services Medical Services, provision of treatment to 4,503 local ethnic people, citizens and local residents by six Tatmadaw mobile healthcare teams in villages from September 2 to 18.
In response to the report, the Senior General gave instructions on getting timely information, close supervision by officials as there could not be any more mistakes with security affairs, cooperation in ensuring regional peace and stability, secure and firm border fencing, renovation of the fence for long lasting, setting up of new fences, systematic deployment of security forces and providing of meals, accommodation and healthcare as humanitarian aid for local ethnics, citizens and local people in Buthidaung/ Maungtaw region. The Senior General stressed the need for providing security with adequate strength and for following the law and disciplines. He then instructed the continued citizenship verification process for issuing NVCs to those living in the region.