Nay Pyi Taw June 15
Commander-in-Chief of Defence Services Senior General Min Aung Hlaing, accompanied by wife Daw Kyu Kyu Hla, Commander-in-Chief (Navy) Admiral Tin Aung San, Commander-in-Chief (Air) General Maung Maung Kyaw, senior military officers from the Office of the Commander-in-Chief (Army), Commander of Eastern Command Maj-Gen Lin Aung and officials, visited ancient historic Mwedaw Katku Pagoda in Taunggyi Township, southern Shan State this morning. On arrival at the pagoda, the Senior General, his wife and party were welcomed by Hluttaw representatives of Pa-O Self-Administered Zone, officials of the Leading Body and local people. The Senior General and wife paid homage to the ancient Buddha Image in the northern Prayer Hall and offered meals in the emerald bowl, flowers, water, lights and fruits.Then, the Senior General and party went around the pagoda. The Senior General closely inspected for renovation and maintenance, and spoke of the need to systematically preserve the pagoda and to keep its compound clean and pleasant.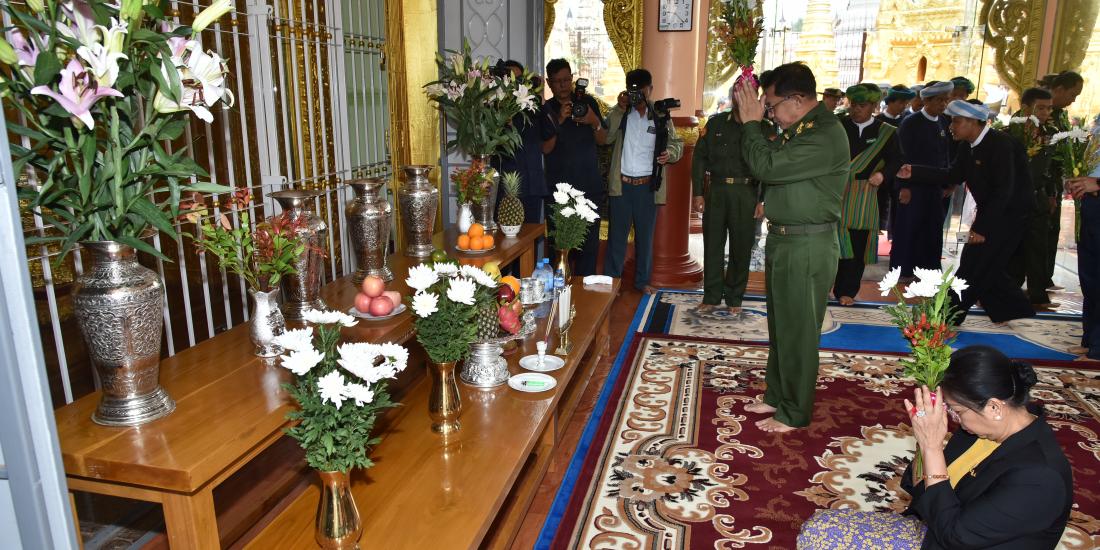 Afterwards, the Senior General cordially greeted Patron U Aung Hkam Hti of Pa-O Peace Group (PNO) Transformed Local People's Militia, and asked after his health. Then, mutual discussions were cordially made on regional development affairs. The Senior General presented bird nest tonic and foodstuff to him. At his meeting with the local people at Aung Hsu Hawbon Dhammayon,the Senior General focused on regional development. First, the administrator of Kyauktalongyi Town and an official of the Leading Body reported on salient points of the region, and requirements for health, education, agriculture and regional development. Speaking about regional development work, the Senior General said he wants all the ethnic regions to enjoy parallel development. In some regions, there is difficulty with measures for development. The Tatmadaw is always ready to help, give advice and cooperate for the development tasks in any region. Though national defence is its major duty, the Tatmadaw has been involved not only in national defence duties but also in national development undertakings. Under current circumstances of the country, the Tatmadaw has had experience in various fields such as construction, agriculture, livestock and State welfare. It has a lot of experts too. And this is for the benefit of the country. Formed with all national races from across the country, the Tatmadaw is a part of the people and a part of the State always upholding the spirit of working towards national development. Pa-O region was underdeveloped due to various reasons.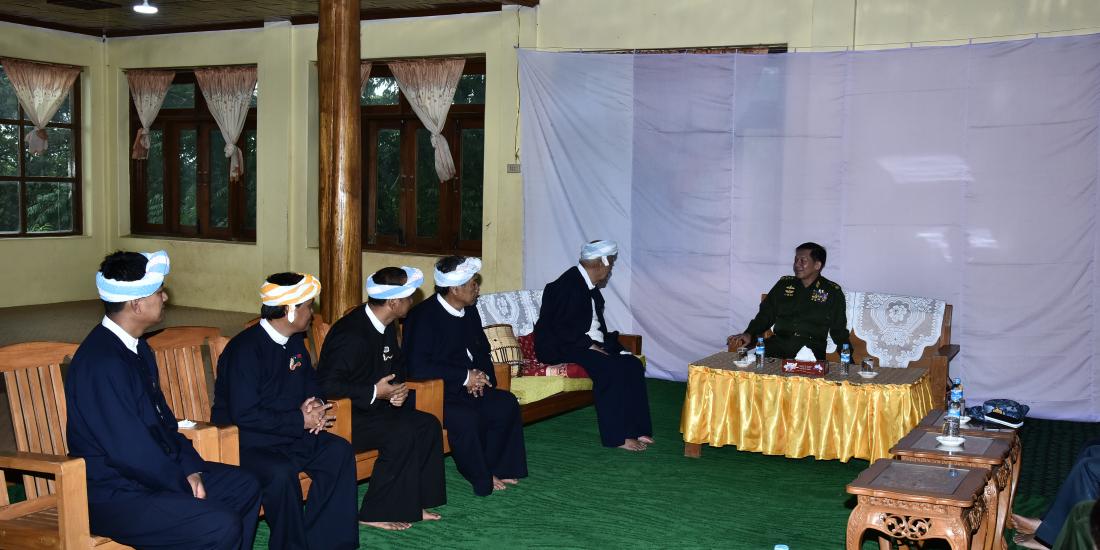 Both locals and those beyond the region need to render help for regional development. It is important that local people play a leading role in their regional interest. It is also best for them to have the right to decide their own fate, good or bad, in all sectors such as political, economic and social affairs. Once they are influenced by others, it is like they are losing their independence. And this is called national politics. Education must be encouraged as the country requires educated people to develop. As Taunggyi has the University of Medicine, Taunggyi University, the University of Computer Studies, the Education College and the Technological University in Ayethaya, local students can join them and education persons must be turned out. Just about 60 percent of students who started school complete primary education. The rest usually drops out. At middle level also, the number of students decrease.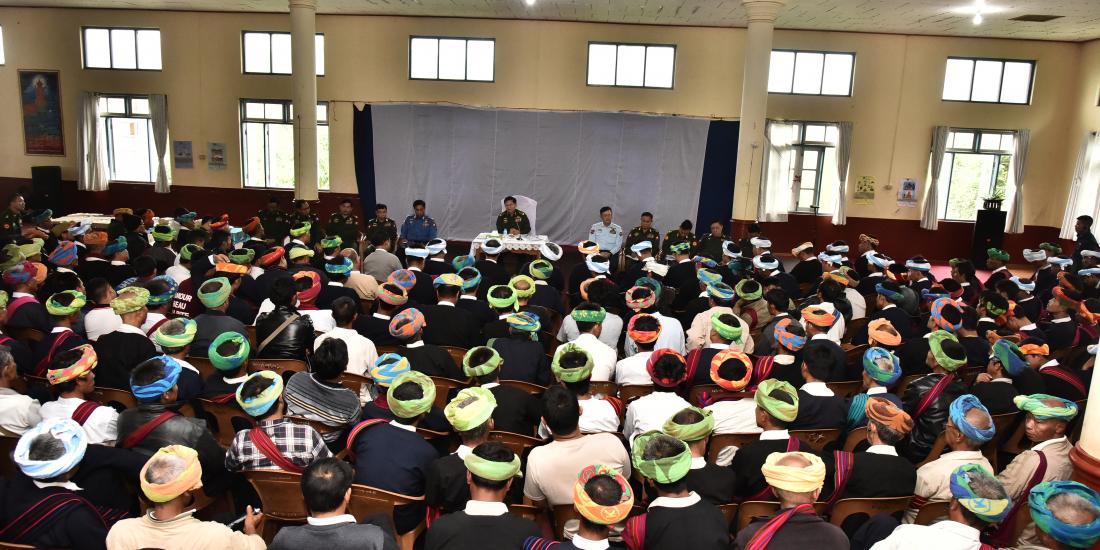 The rate of those who take matriculation exam reduces to just about 20 percent after they went through various levels starting from primary education. The pass rate of matriculation is just about 30 percent. So, the rate of those who passed matriculation exam is less than 10 percent when compared with the time when students started primary education. After many decades, the majority of those who have grown up in our country have only completed primary and middle school education. It is therefore necessary to consider that we have a very few numbers of people who completed university education. Pass rate of schools ranging from primary to grade 10 is nearly cent per cent. However, the number of matriculated student is little. Matriculation exam includes curriculum of grade 10. So it is necessary to consider if a student could not really complete grade 9 curriculum or if there is any other need. Parents need to encourage their offspring to actually have knowledge in learning education. All must be healthy in learning education and working. Hence, the Tatmadaw deploys mobile specialist medical teams to give health care services to local ethnic people.
The Senior General stressed the need for them to be healthy and control themselves from self-indulgence in alcohol and foodstuffs. He urged them with goodwill to avoid drinking alcohol, smoking and chewing betel quid as much as they can because the majority of cancer patients suffer from such disease due to aforesaid acts. The Senior General noted during his previous visit, he had urged all to carry out livestock breeding tasks suitable for the region in order to contribute to economic development of region. Now, the Tatmadaw is giving a helping hand to breeding pigs. Livestock breeding tasks should be carried out in a systematic way of breeding, feeding and preventing diseases. And, it needs to undertake agricultural tasks which are suitable for the region and potential for having success. As the region faces insufficiency of rice, if sown acreage for paddy cannot be extended for local food sufficiency, it needs to strive for increasing per-acre yield. If local people consume meat, fish, vegetables and rice produced from agricultural and livestock breeding farms from their region, it does not need to spend their money in other regions. Consequently, as demand of the region may increase, it may contribute to regional economy. The Senior General said the region grows soya bean. In addition to exportation, soya bean sauce, bean curds, soya milk, tohue, soya meat and other foodstuffs can be made with the use of soya bean. Hence, it needs to cultivate soya bean with good agricultural practices for increasing per-acre yield.
As Pa-O region includes some areas where tea plantations are successfully thriving, production of finished products of green tea, dried tea and processed tea will much benefit the region. Hence, it needs to grow tea plantations to have high per-acre yield successfully. If they successfully carry out agricultural and livestock breeding tasks and production in their region, number of those working abroad will decline. The Senior General stressed the need to seek ways and means for generating hydropower from creeks like Pun Creek for feeding agricultural and livestock breeding tasks. Run of River Type for generating hydropower can be applied at Pun Creek. Moreover, it is necessary to conserve environment not to lose water sources. As deforestation happens now, the local people need to reduce slash and burn farming works. Some 70 percent of the people in Pa-O region still use firewood and charcoal, the region will have firewood requirement. Hence, local people in groups should grow firewood plantations and shade and windbreak plantations in respective villages. Such cultivation will contribute towards climatic conditions as well as have chance of extracting firewood and charcoal for the villages. The Senior General urged local administrative bodies and townselders to control undisciplined cutting of trees.
The Senior General presented foodstuffs for local people through an official. On arrival at Aung Hsu Bwe agriculture and livestock farm of Pa-O Peace Organization (PNO) Transformed Local People's Militia being helped by the Tatmadaw, the Senior General and party heard a presentation on breeding of pigs and preparations for agricultural tasks and were conducted round by an official at breeding of pigs. The Senior General stressed the need to cultivate the crops including the crops which can be produced feed stuff for livestock breeding farms. He urged them to cooperate with experts and technicians in livestock breeding tasks. It is necessary to consider the best ways of agricultural and livestock breeding system with spending the least capital. He also urged them to seek ways and means for water and electricity for agricultural and livestock breeding tasks.