NAY PYI TAW June 18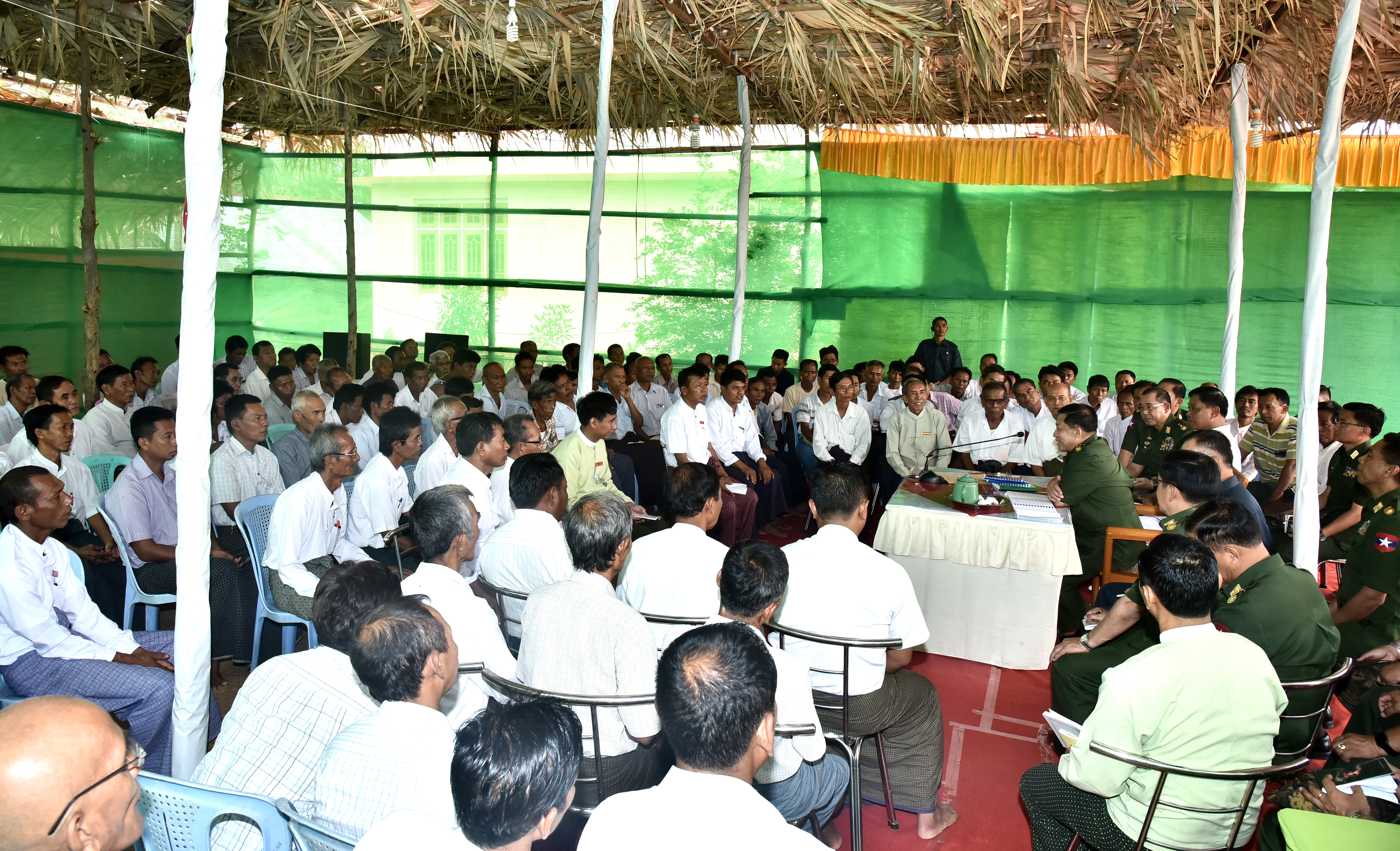 Commander-in-Chief of Defence Services Senior General Min Aung Hlaing encouraged a mobile Tatmadaw medical team providing healthcare for local people from Kaungbinsi Village and surrounding villages in NyaungU Township, Mandalay Region, this morning.The Senior General was accompanied by his wife Daw Kyu Kyu Hla, Commander-in-Chief (Navy) Admiral Tin Aung San, Commander-in-Chief (Air) General Maung Maung Kyaw, senior military officers from the Office of the Commander-in-Chief (Army), Central Command Commander Maj-Gen Kyaw Swar Lin and officials.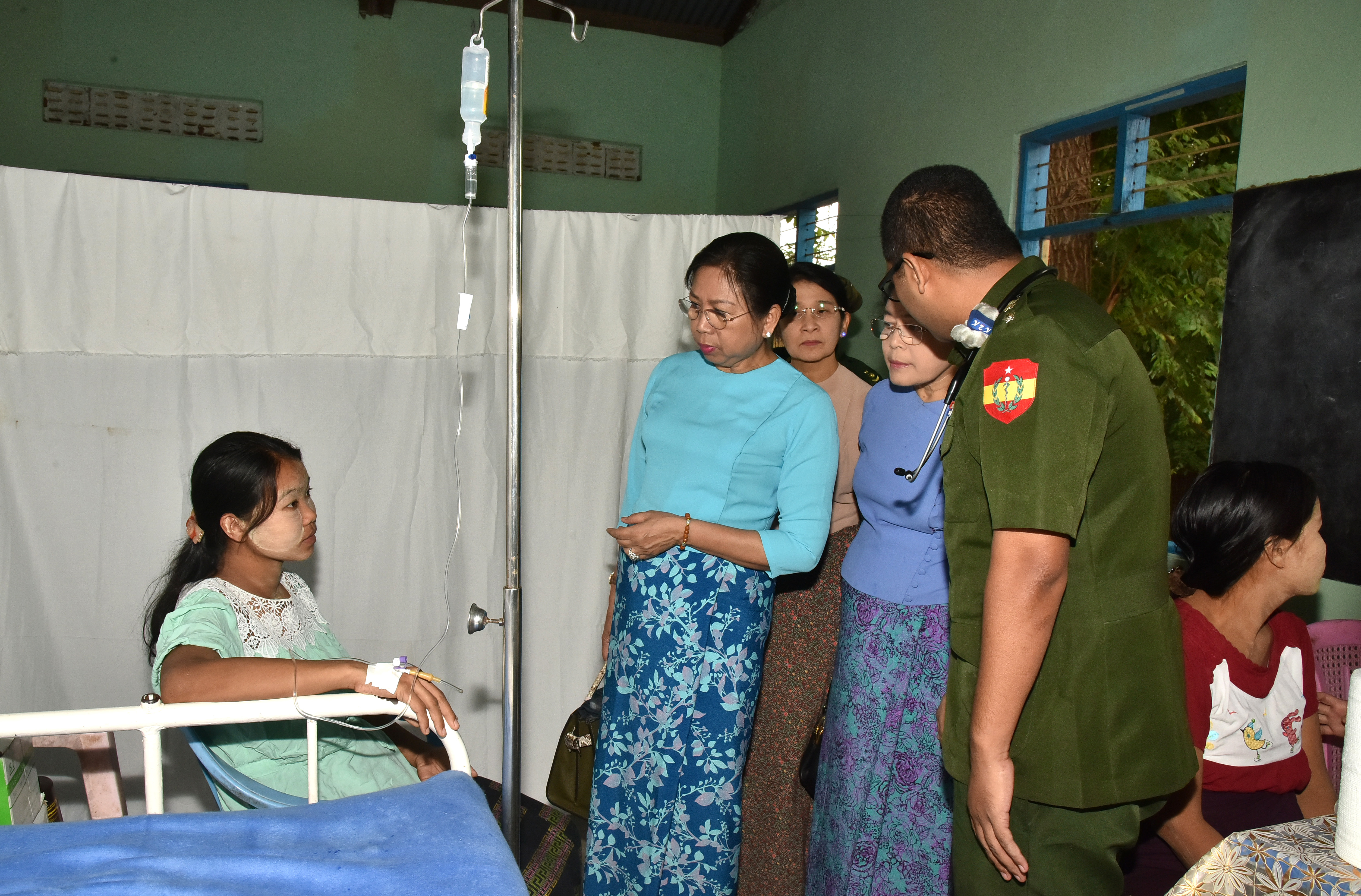 The Senior General and wife and party put sunglasses and glasses on a sick monk and local people individually and spoke words of encouragement. Next, the Senior General inspected preparations in the Tatmadaw operation theatre vehicle and gave necessary instructions. Then, the Senior General and party encouraged the mobile Tatmadaw medical team providing healthcare and presented foodstuffs to the local people.
The Senior General and party inspected the tube well donated by him and his wife in Kaungbinsi Village in 2014. Afterwards, the Senior General cordially met with local people from Taungzin Village-tract in NyaungU Township and discussed regional development work.
The township administrator reported on facts and data about the region and economic and agricultural matters and local people submitted regional requirements. The Senior General said the region has difficulty cultivating crops such as sesame and groundnut because of water shortages. There will be benefits if certain ways such as river water pumping system through solar power can be sought. The Tatmadaw will also seek ways. Agricultural undertakings need to be successful for local food sufficiency. Natural fertilizers like humus and cow dump should be used for cultivable land. Consumption of locally grown rice will reduce buying beyond the region and contribute to regional development. By breeding cows, dairy products can be manufactured. Production of fish, meat and vegetables in the region through corporate agriculture and livestock breeding will save money and improve income. As the saying that goes by the climatic conditions depend on forest, respective villages need to grow trees to contribute to the weather. The Tatmadaw is growing large numbers of trees by holding annul monsoon tree-growing ceremonies. The trees we have grown will produce a lot of benefits for the posterity.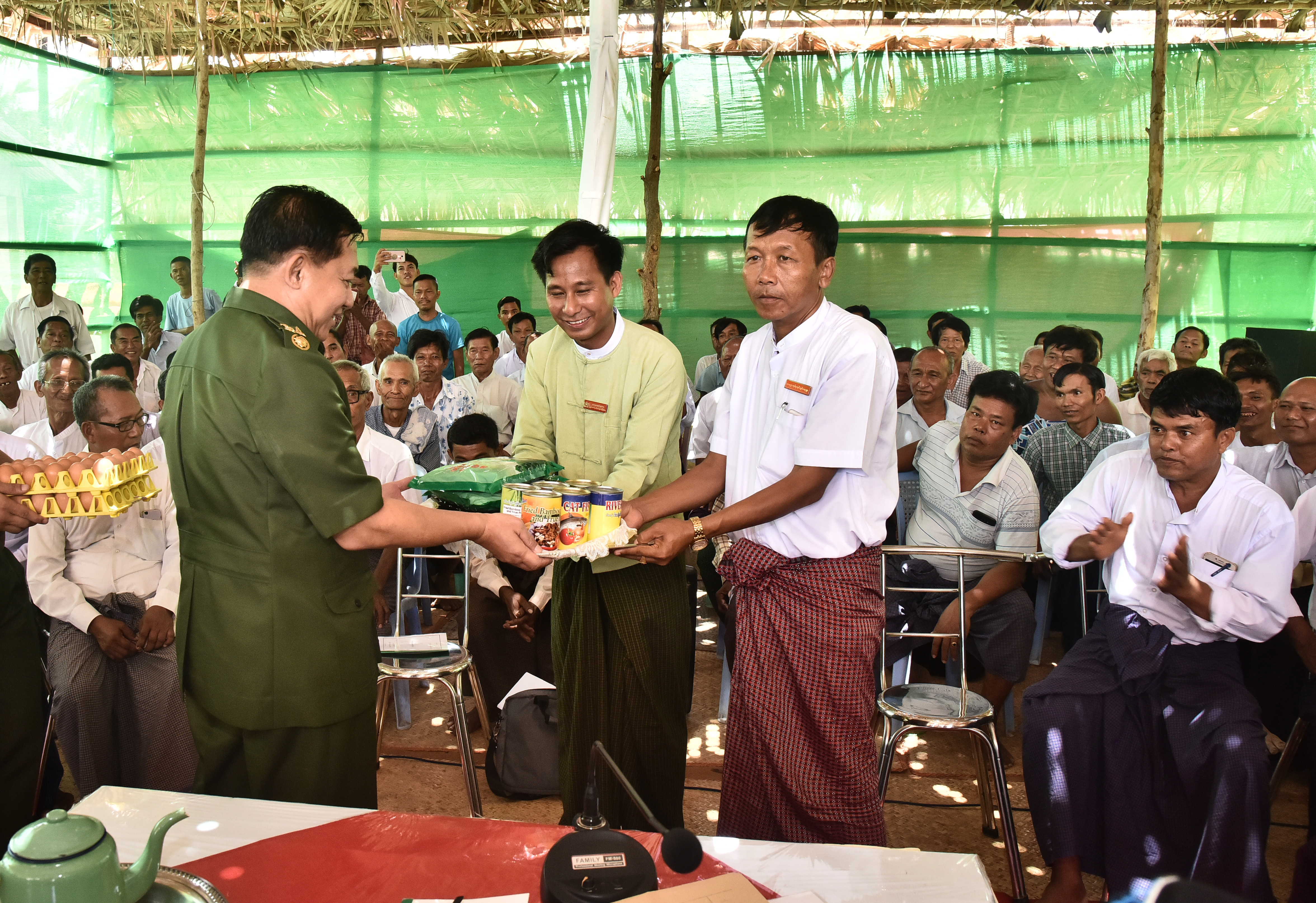 The Senior General called for value-added production of toddy palm products by using modern technologies with good packaging, saying that it would increase the income. He also suggested making other products that suit the region. He stressed the importance of providing higher-level education to local people so that they can contribute to the development of their region. As colleges and universities have been opened in Meiktila, Magway and Myingyan, parents must encourage their children to pass the matriculation examination, he said. Nationwide, over 1.2 million children attended the primary school in 2008; around 710,000 of them or 58 percent continued to the fifth grade; but only 430,000 or 42.5 percent of them continued to the ninth grade; and just 31.44 percent passed the matriculation examination in 2018-19 academic year. These figures suggested that only a small proportion of primary-level students could continue and complete the matriculation examination. In improving the educational standards of children, he said, there is a need for quadruple cooperation between students, teachers, parents and regional authorities. The educational standards must be improved with the hard work of students, support and encouragement of parents, lecturing of teachers, and assistance of administrative bodies. Collaborative efforts must be made to provide decent food and shelter for the teachers so that they can focus all of their attention on teaching. It is important to have good health in order to teach well and perform school tasks well. He also urged the locals to live a healthy lifestyle and refrain from smoking, drinking and chewing betel nuts and set a good example to their children. As health is vital in the socio-economic improvement of the people, Tatmadaw's special mobile medical teams have been providing health care services for national people throughout the country. And electricity is also important to enjoy better living standards. As there has been opposition to power supply projects due to environmental concerns and other excuses, there is a need to find alternatives to generate hydropower. Locals, if they have requirements for the development of their region, should submit their requests to concerned administrative bodies and Hluttaw representatives. And it is important that all the locals work with a sense of cooperation. Individuals are to strive for the development of their houses, communities and ultimately of their regions and the country with collective strength.
Stability is a must for national development, and it is important not to do illegal things, he said. He discouraged making unrealistic demands by holding arms, which is against democracy, as well as activities without consideration for the interests of the country and the general public.
The Senior General then presented foods for locals and made cash donations for building of Zina Yadana Pagoda.