NAY PYI TAW, June 24
Troops of the Tatmadaw (Army, Navy and Air) are protecting the nation's land, water and air territory like a fence. So constant training is required to maintain and repair the fence for its strength, durability and effectiveness. Steady efforts for the affairs and interest of the nation is the loyalty to the country, said Commander-in-Chief of Defence Services Senior General Min Aung Hlaing during his separate meetings with officer instructors, other ranks, officer and other rank trainees of advanced Tatma-daw training depots in Gyobyu and Kwinkauk stations today.
Also present at the meetings were Commander-in-Chief (Navy) Admiral Tin Aung San, Lt-Gen Myo Zaw Thein and senior military officers from the Office of the Commander-in-Chief (Army), the comman-der of Yangon Command, the commander of South-West Command, officer instructors, other ranks and officer and other rank trainees of the schools.
In his speech, the Senior General said the Tatmadaw is spending time and using financial and physical power in conducting rank-wise trainings for officers and other ranks to acquire indivi-dual and troop-wise capacity for it to become a Standard Army that meets the interna-tional level. Trainees should pay serious attention to the trainings, and study the lessons well and apply them in the practical field. School educa-tion cannot be disregarded. Military science and basic concepts must be applied in the practical field. Tatmadaw members should read books to have the knowledge of the ever changing technology, ideology and military informa-tion of the world, as all kinds of necessary publications have been distributed. Every literature that has not read yet is a new one. The Tatmadaw already has fine traditions. For example, "follow me" is a good tradition, highlighting the correct leadership and responsibility. The Senior General stressed the need to always maintain these good traditions.
All Tatmadaw members need to have health and fitness, skills and the brave as aims in training session. Health and fitness mean that the servicemen must endure plights in climatic conditions, food, living and other exhaus-tions and discharge duty and have fighting skills. They should always take the set physical training to meet the agewise standards and endu-rance skills. Arrangements of wet and dried rations and other kinds of rations with full of nutrition which will not be lower than the interna-tional standards have been made for servicemen to be able to be healthy and fit. The Senior General stressed the need to systematically maintain food and lifestyle of individuals for their health conditions. The Senior General urged them to avoid drinking and foodstuffs as well as alcohol, betel quid and cigarette which will be harmful to health conditions. Not only Tatma-daw servicemen but also anyone in sustainable health conditions will contribute to their lives.
Having skills mean that individuals and military units must have skills in handling arms and military equipment. Moreover, they must take training sessions in order to have skills in military arts, leadership skills and sector-wise functions. With regard to the brave, Tatmadaw servicemen do not actually fear the death, so they join the Tatmadaw to defend the State. In fighting the battles, they must have the fighting spirit with brave marching, brave combating and brave assaulting. As they have the strong spirit of defending the State, providing training on combat techniques, martial arts, boxing techniques and sports techniques enhances the correct fighting spirit and the gallant spirit. The Senior General urged them to take training to become a good Tatmadaw member with health and fitness, skills and the brave based on good spirit and disciplines.
The needs for food, clothing and shelter, transport, education and health are being fulfilled not only to Tatmadawmen but also to their families. Uniform wear of the organiza-tions including Tatmadaw is to enhance the spirit of pride in discharging their duties and therefore uniforms are being fully provided to be able to wear them in line with instructions from head to leg. Today is the knowledge age. Only if we have knowledge and skills, intellect and ideolo-gies can be developed. For that reason, the education of Tatmadawmen was enhanced in a systematic manner. A strong able modern patriotic Tatmadaw can be built prac-tically. Therefore, Tatmadaw-men must usefully spend their own leisure hours by reading in order to attain intellect and intelligence as well as knowledge.
Meat, fish, eggs and vege-tables produced from military-owned agriculture and live-stock breeding farms at reasonable prices that can contribute toward the welfare of Tatmadawmen. Individuals need to spend money wisely realizing the spending and the wasting to balance in salary, income and expenditure. Married Tatmadawmen are guardians of the families and they should try to become the ones who can lead their families through good morale and discipline. Tatmadawmen themselves must practise to be disciplined and systematic and they must supervise their subordinates to have good habits of saving money.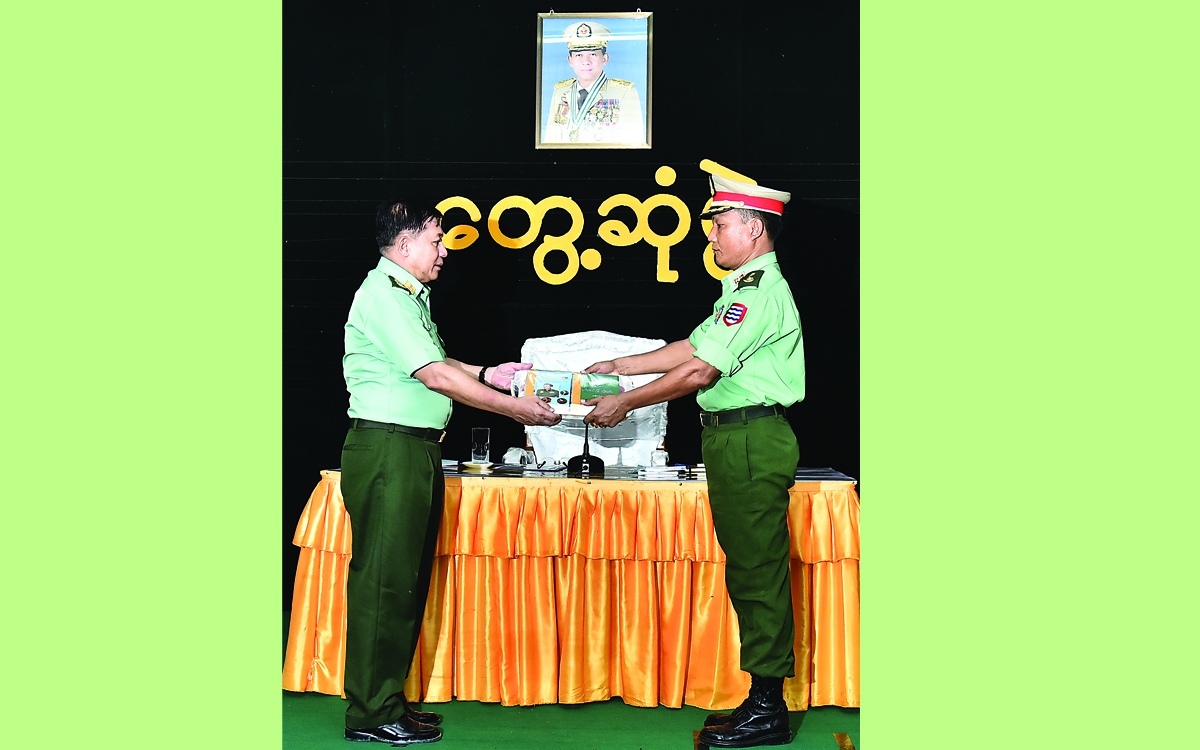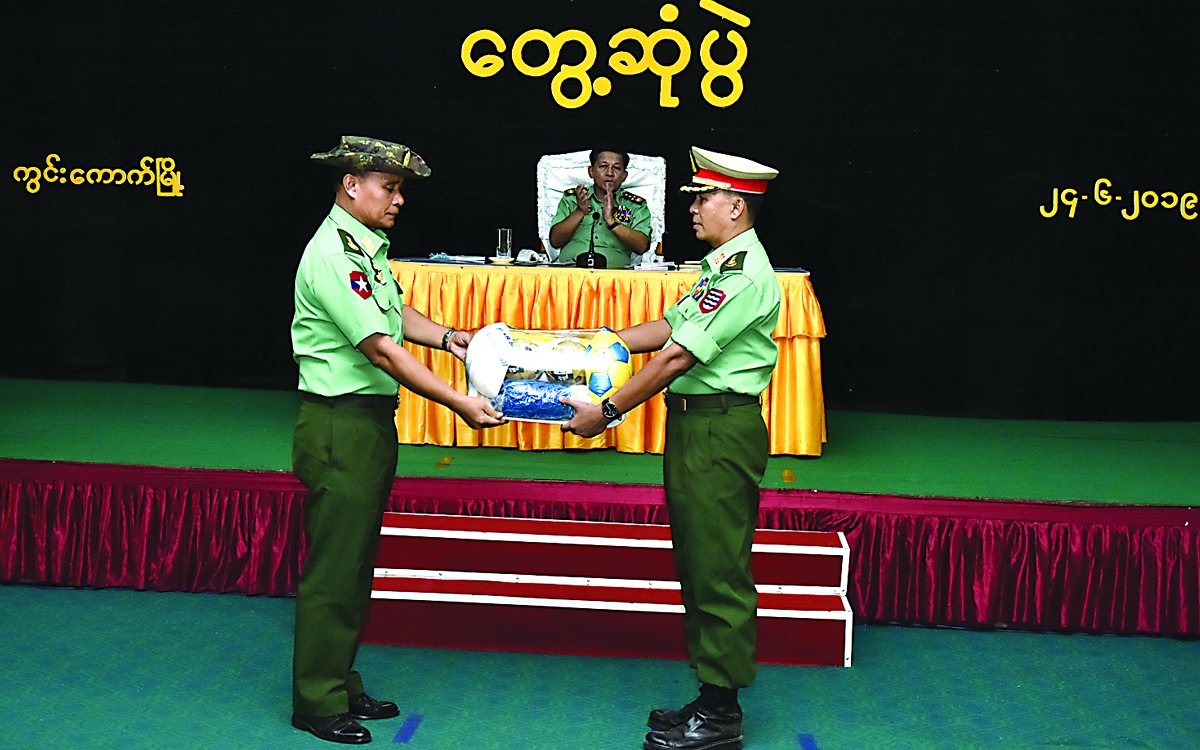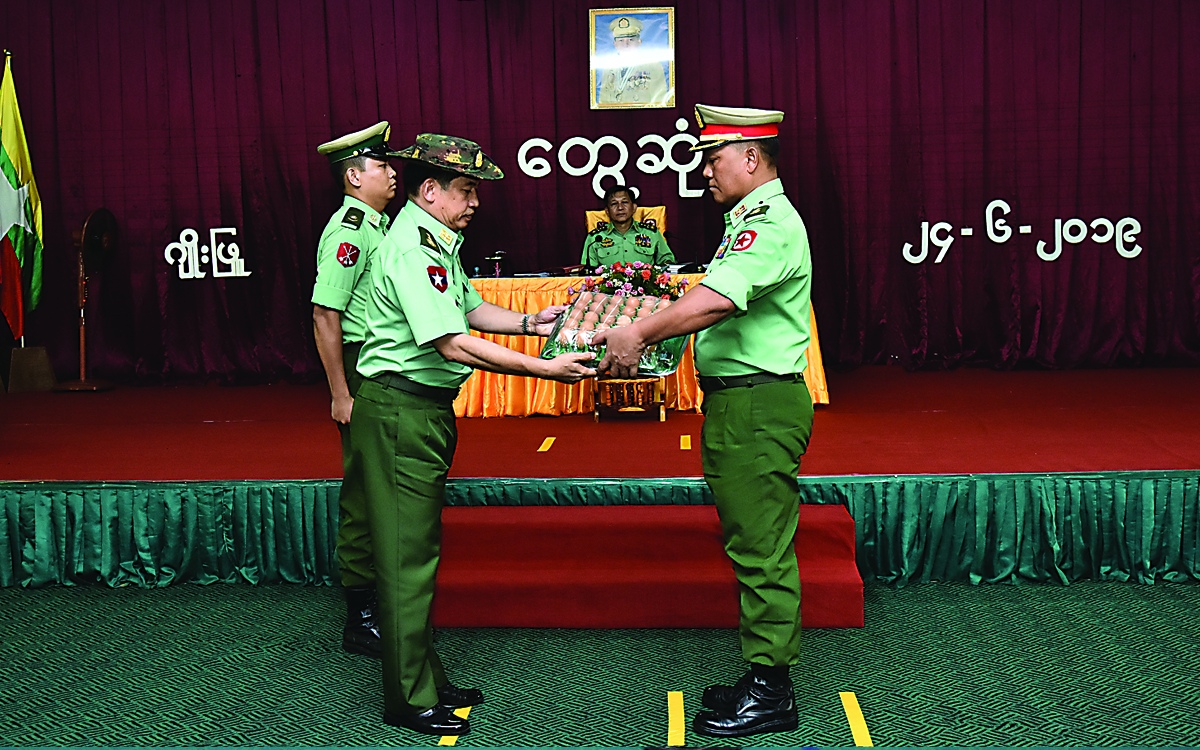 Next, the commandants of the depots received fiction and non-fiction books and foodstuffs presented by the Senior General for instructors and trainees from the training depots. Afterwards, the res-ponsible persons received sports gear and refreshments presented by senior military officers from the Office of the Commander-in-Chief (Army).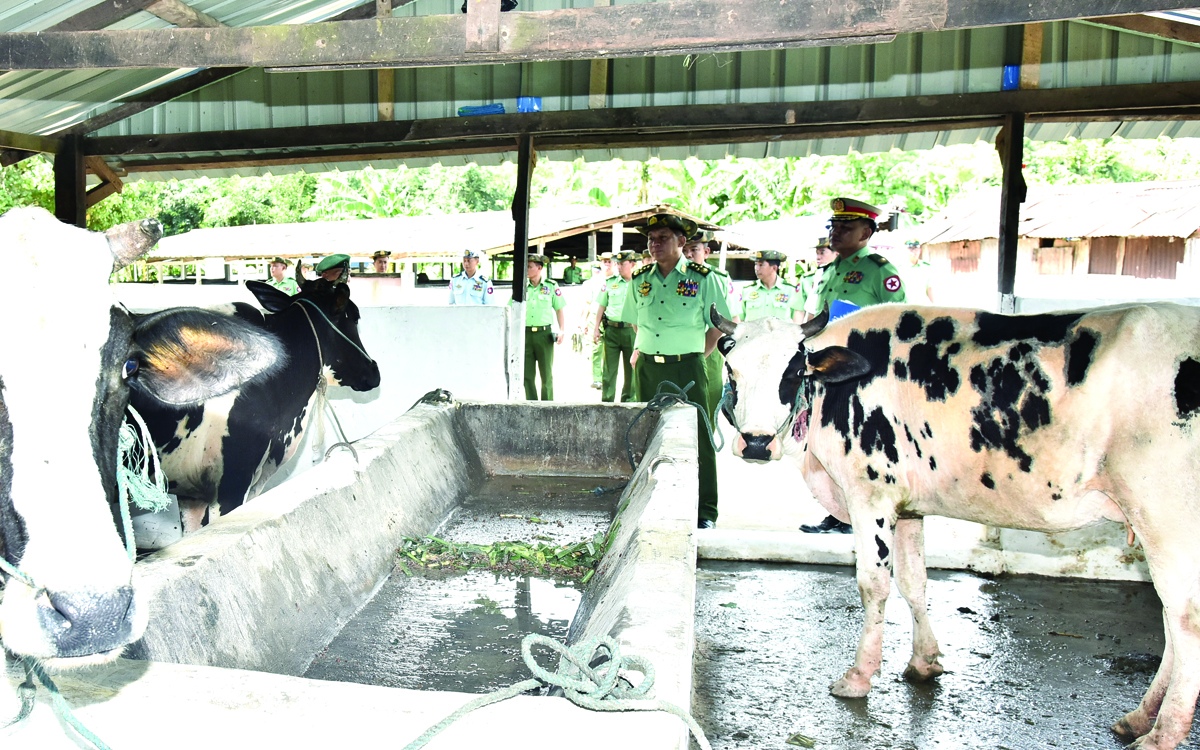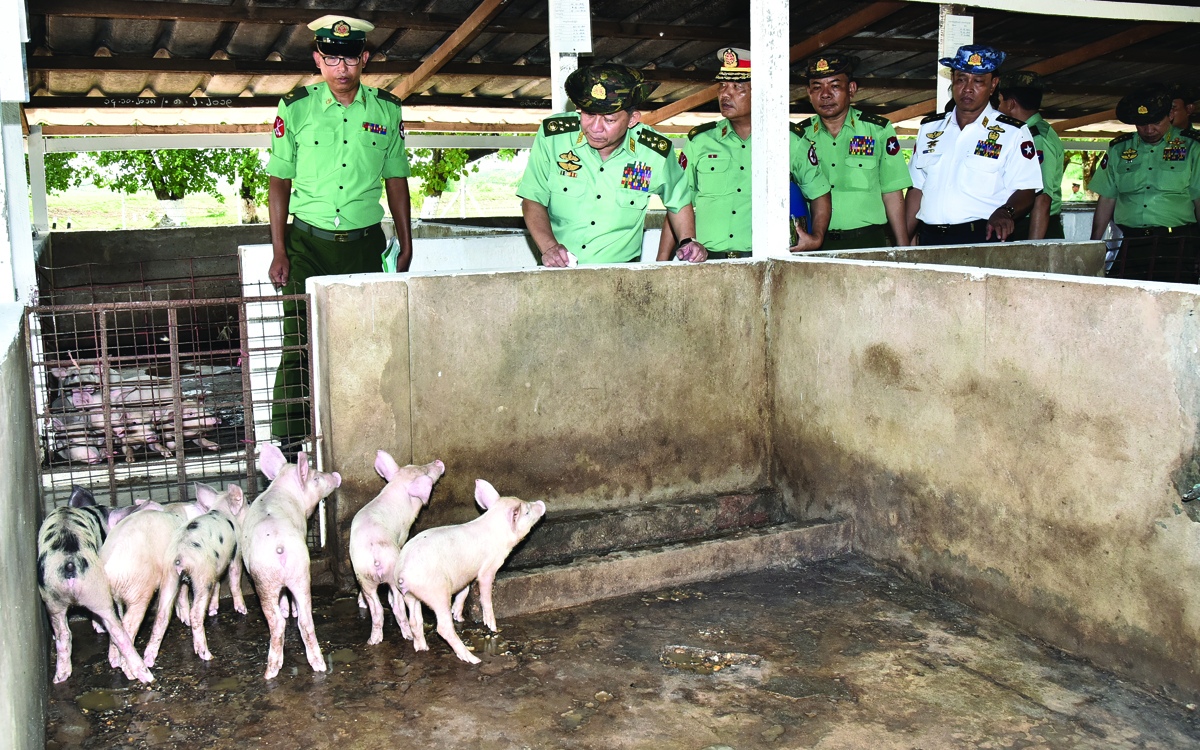 In the afternoon, the Senior General and party had lunch together with trainees at the trainee mess hall of Tatmadaw Advanced Training Depot in Kwinkauk Station. The Senior General inspected rising of layers and breeding of DYL pigs and dairy cows at the training depots. He fulfilled the requirements after leaving necessary in-structions.