NAY PYI TAW,   July  2
The Tatmadaw is systematically exercising democracy by permitting the presentation of individual reports on requirements and difficulties everyday and also at the durbars and through the correct response of the officials at all levels. The Tatmadaw is also maintaining its fine traditions – good discipline and spirit, said Commander-in-Chief of Defence Services Senior General Min Aung Hlaing at his meeting with officer instructors and officer and other rank trainees of the Army Combat Training School (Bayintnaung) and Warrant Officer and Sergeant Training School in Thandaunggyi Station this afternoon.
Also present were Commander-in-Chief (Navy) Admiral Tin Aung San, senior military officers of the Office of the Commander-in-Chief, Commander of Southern Command Maj-Gen Myo Win, commandants, officer instructors and officer and other rank trainees of the training schools of the station.
In his speech, the Senior General said the main task of the Tatmadaw is the national defence. The armed forces of global countries are defending their countries and armed forces of some powers are taking part in the international peacekeeping missions apart from national defence. Myanmar's defence policy is to protect itself, and not to invade others. The country has not achieved stability in the political and security sectors. Ethnic armed conflicts have not ended yet. The demands cannot be made through the armed struggle line on the road to multiparty democracy, chosen by the people.
As Tatmadawmen have joined the armed forces of their own volition with the good intention of defending the country, they have to reinforce their willingness to serve the country, said the Senior General. They have to perform their tasks with a sense of duty and must be loyal to the country. Tatmadaw provides various levels of military training starting from basic level in order to turn out strong soldiers, he said. Tatmadawmen have to carefully learn basic military knowledge, leadership knowledge and subject-wise knowledge at training sessions so that they can properly put them into practice. Leadership training is given at various levels so that officers at different levels can provide effective leadership to their subordinates. In accordance with the slogan of Tatmadaw about training "Learn, Train, Comply", Tatmadawmen have to continuously learn the changing military equipment, military technologies and military strategies, and continuously learn to be able to adapt them. Tatmadawmen have to always observe the military skills they have learnt. Moreover, they have to eat healthy diet to obtain adequate nourishment, and it is important that they have optimal fitness of their age. Training schools provide fitness training, and concerned headquarters have to ensure their soldiers engage in daily fitness exercises properly.
All the Tatmadawmen have to set good example in terms of morale and discipline. Tatmadawmen have to maintain the fine tradition of Tatmadaw with strong discipline and strong morale. They have to observe various regulations including the dress code in their daily lives as well as rule of engagement on battlefield. Tatmadawmen and all the family members have to live in unity with mutual respect with brotherly and family spirit.
Tatmadawmen have to be careful with their income and expenditures, and they will be able to save money only by using it economically. Only then, can they use the surplus money for their benefit. Tatmadaw also encourages battalions to engage in farming, and sell meat, fish, eggs and vegetables to Tatmadawmen and their families.
Foods and alcohol needs to be consumed with consideration. Education promotion tasks for Tatmadawmen are being carried out in building a standard army. Fiction and non-fiction books are being provided to the libraries of respective military headquarters for the skills and knowledge of individuals. So they need to always read such books and publications to help improve their life. They also need to spend their own time efficiently. As Thandaunggyi region has extreme weather patterns, they need to take care of themselves and do indoor sports and games.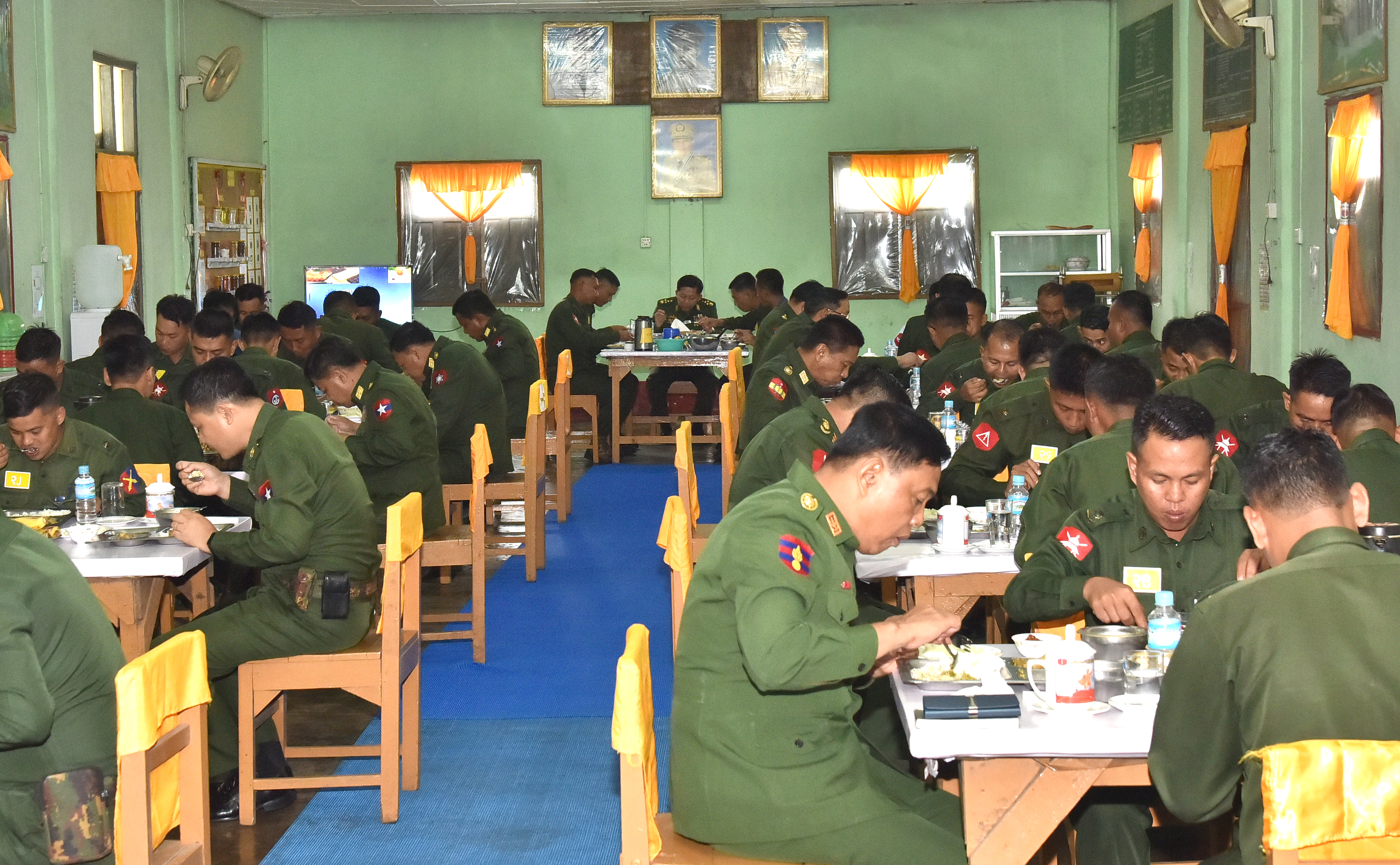 At the meeting hall, an official reported on training affairs, Tatma-daw-run agricultural and livestock undertakings and distribution of those products to Tatmadaw families at reduced prices. The Senior General gave instructions on giving of training in an effective manner, use of basic military skills taught during the course in practical field and other necessary things. At the mess hall, the Senior General and party had lunch together with the trainees.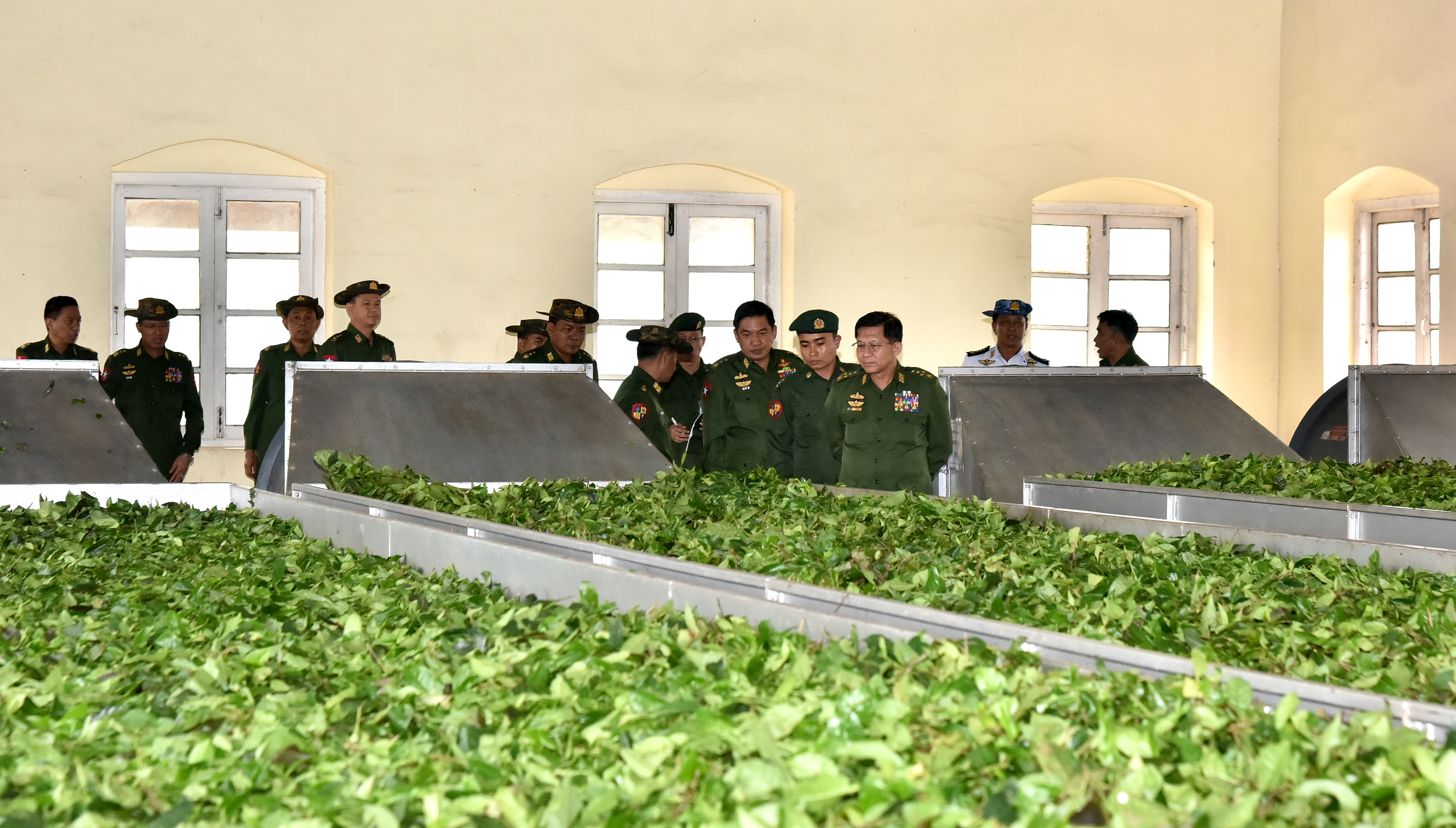 The Senior General and party went to the Tatmadaw dried tea factory (Thandaung). At the meeting hall, Director of Directorate of Supply and Transport of the Office of the Commander-in-Chief (Army) Maj-Gen Zaw Lwin Oo reported on the background history of the factory, upgrading of the factory, production of dried tea (black tea) and cultivation of tea. The Senior General called for systematic cul-tivation, operation of the factory at full capacity, extension of cultivation acreage, step by step developing of good strains and seeking of ways to produce quality tea.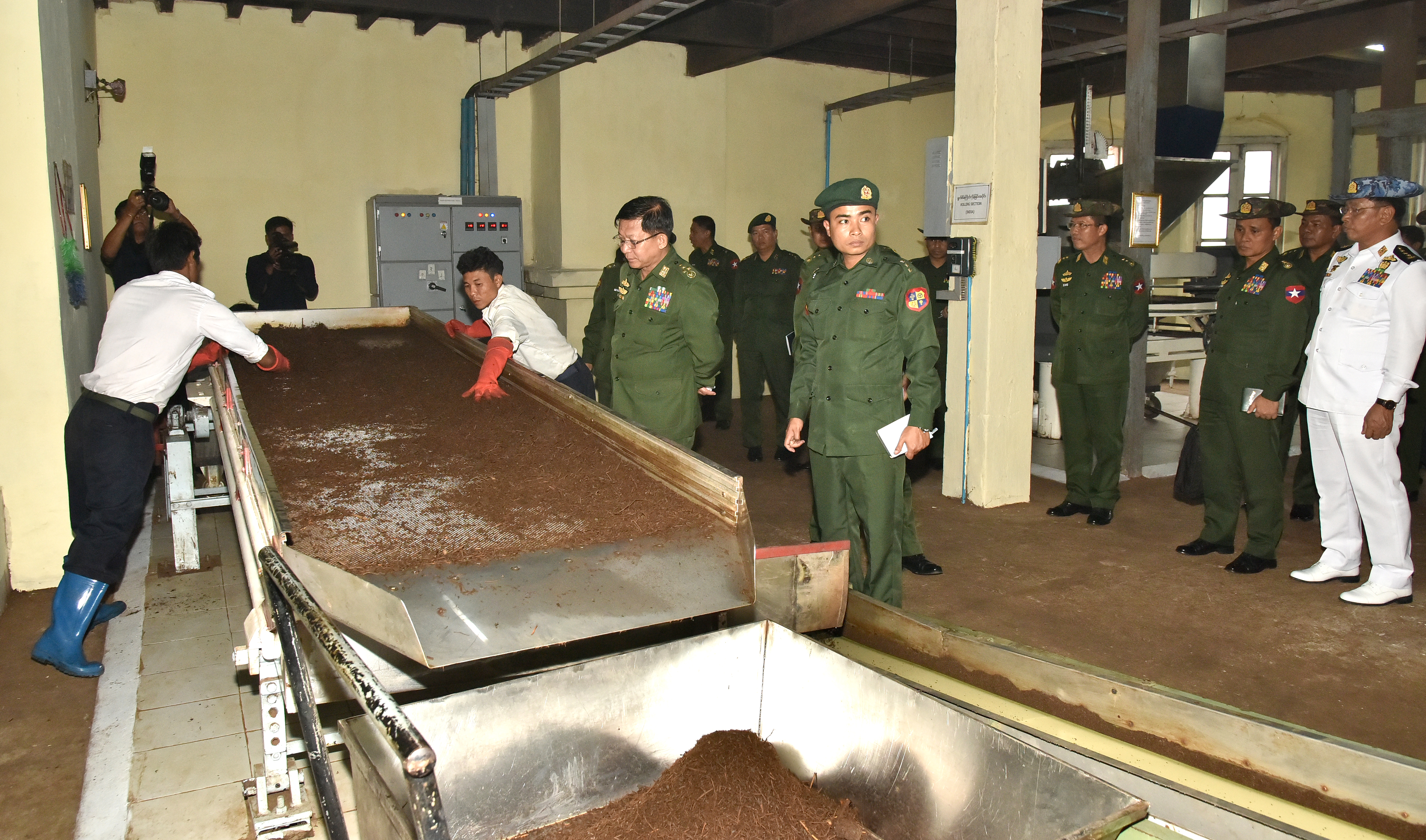 Later, the Senior General and party viewed production process and tea plantations and left necessary instructions. The Senior General presented cash awards to the factory staff.