NAY PYI TAW July 29
The Myanmar Tatmadaw goodwill delegation led by Commander-in-Chief of Defence Services Senior General Min Aung Hlaing,who is on a goodwill visit to the Republic of India visited Taj Mahal and Agra Fort in Agra City on the morning of 28 July.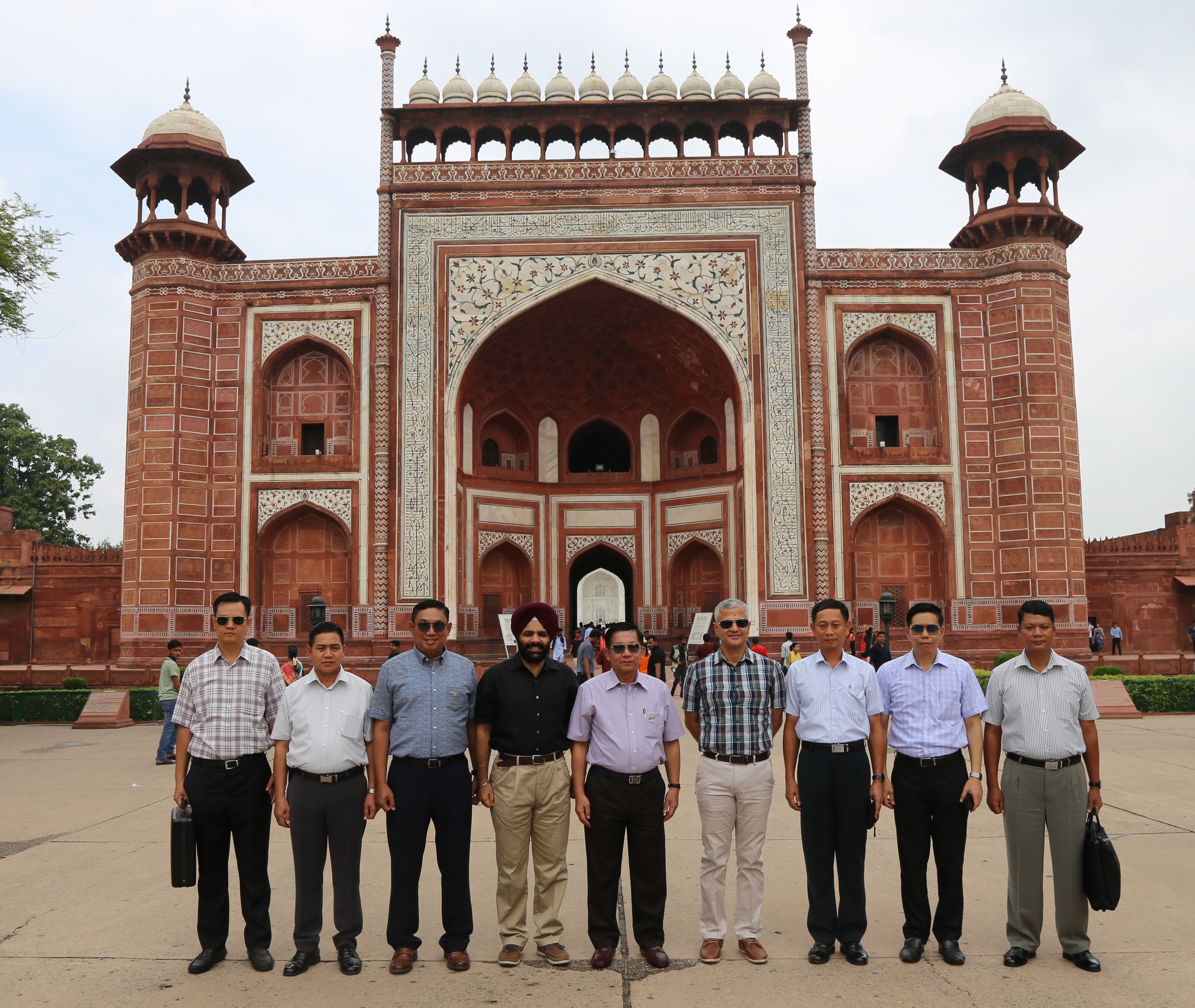 First, the Senior General and party viewed round Taj Mahal and took documentary group photos. Taj Mahal is located in a park, about one mile from Agra Fort and east of Agra. It is a mausoleum memorial for the demise of his spouse Mumtaz Mahal built on the bank of Yamuna River by Mughal emperor Shah Jahan. Emperor Shah Jahan started construction of Taj Mahal in 1632 and completed it in 1643 with its encircled buildings in 1648.It is a masterpiece of architectural building throughout the world. UNESCO set Taj Mahal on the list of World Heritage Sites in 1983. The about 190 feet high building was constructed as an octagonal structure decorated with ivory-white marble slabs.The ivory-white marble tomb of the spouse is placed in the centre of the mausoleum,walling with a stone curtain filled with 12 kinds of jewels. Some 25,000 to 45,000 local and foreign travellers pay visits to Taj Mahal on a daily basis. During the days of high season, some 100,000 travellers visit the mausoleum daily.
The Senior General and party then proceeded to Agra Fort, 2.5 kilometres northwest of Taj Mahal and posed for documentary photos.
Agra Fort is also one of the World Heritage Sites enlisted by UNESCO. It is a fort facilitated with moats and walls for taking security measures of the city and it was used in successive eras. In the past, Agra Fort was known as Badalgarh Fort. King Akbar started renovation of the fort with the use of red sand stones in 1565. Taking eight years, renovation tasks completed in 1573.The circular shaped Agra Fort located on 380,000 square metres of area (94 acres of land) and about 70 feet high was built on the bank of Yamuna River with natural barriers.
In the afternoon, the Senior General and party arrived at Air Force Station (Agra).An official reported on salient points of Air Force Station (Agra). The Senior General and party rose questions what they wanted to know and exchanged emblems. The Senior General and party visited Air Force Station in a motorcade. After viewing the ground parachute jumping training sessions of trainees from the Indian Air Force, the Senior General signed the visitors' book and posed for documentary group photos.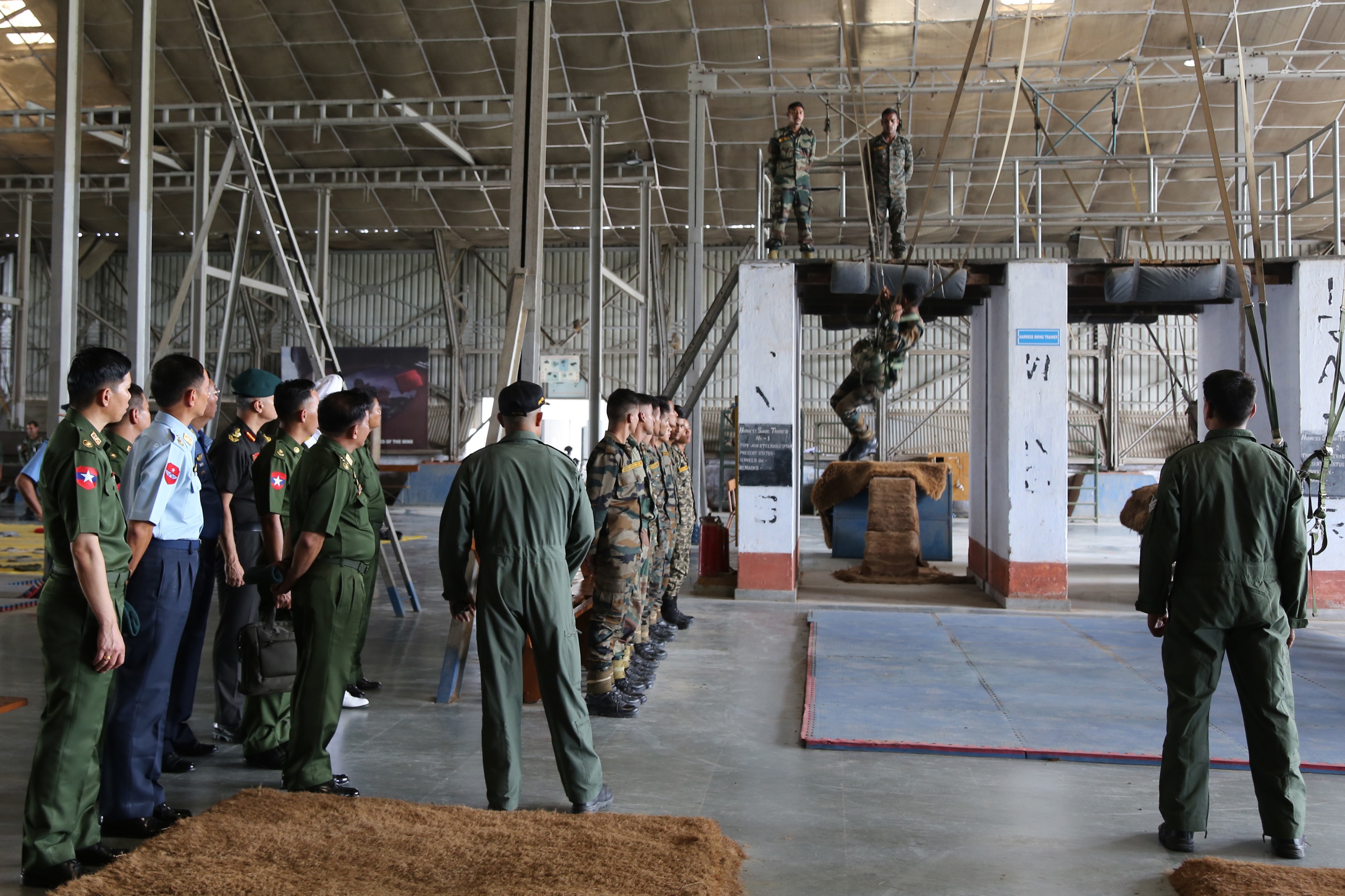 The Senior General and party left Agra for New Delhi by special aircraft of Indian Armed Forces. They were seen off by the Air Officer Commanding of Air Force Station(Agra) and officials. The Senior General and party arrived at New Delhi Airport at about 5 pm local standard time and were welcomed by officials of Indian Armed Forces and Myanmar Ambassador to the Republic of India U Moe Kyaw Aung.