NAY PYI TAW August 23
A person can work or pursue education only if he is healthy.Health is much important for everyone, and health will ensure success in carrying out social activities and business, earning a living and pursuing knowledge. So,good health is important. Drinking or eating habits hazardous to health should be avoided. Tobacco, alcohol and betel quid and daily food that contains harmful agents such as saturated cooking oil and sodium mono glutamate must also be avoided.As health is important for socioeconomic development, Tatmadaw mobile medical teams are providing public healthcare services in every part, said Commander-in-Chief of Defence Services Senior General Min Aung Hlaing at his meeting with the residents of Pwintbyu Township,Minbu District, Magway Region.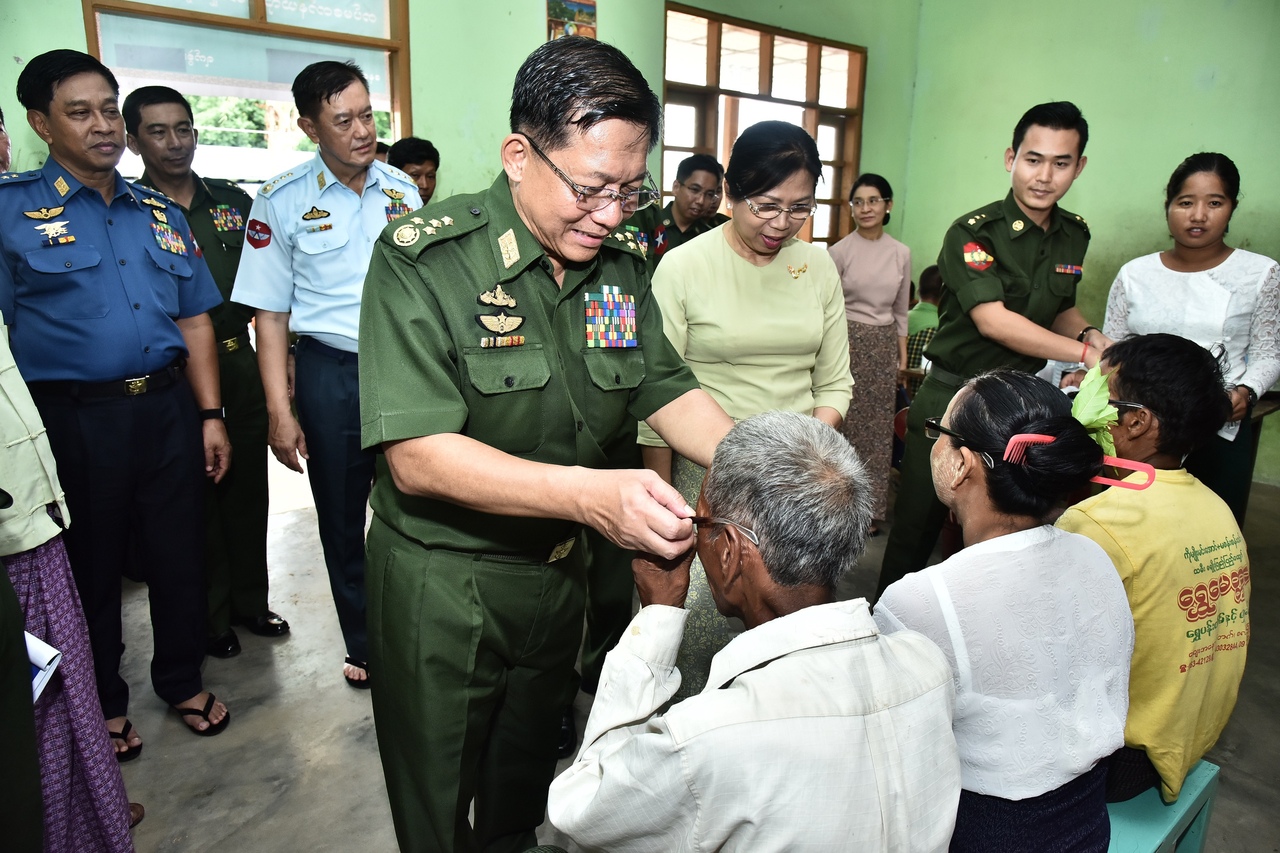 Accompanied by his wife Daw Kyu Kyu Hla, Commander-in-Chief (Navy) Admiral Tin Aung San, Commander-in-Chief (Air)General Maung Maung Kyaw and wife, senior military officers of the Office of the Commander-in-Chief(Army), and officials of the Central Command, the Senior General visited residents of Yaybokgyi village,Shweboywama Village, Shauktaw Village and surrounding villages of Pwintbyu Township, Minbu District,Magway Region who were receiving medical treatment provided by Tatmadaw mobile medical teams at the basic education middle school of Yaybokgyi Village and the compound of Pyilonchantha Monesettawya Tatiyapada Pagoda in Shweboywama Village this afternoon,and met with the local people.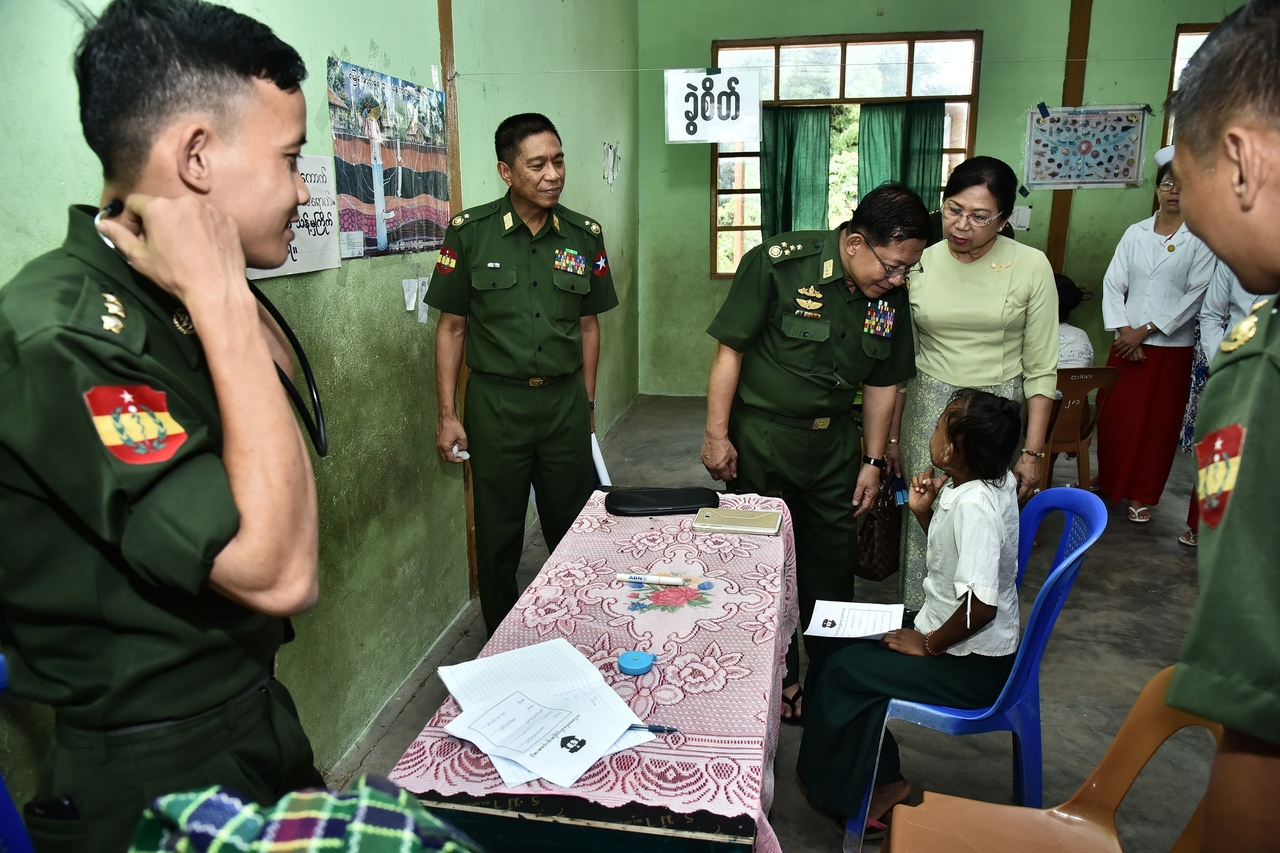 During the visit, the Senior General and wife wore the sunglasses and reading glasses to patients including two monks who had undergone eye surgery and cordially spoke words of encouragement. Then, the Senior General and party visited the local people receiving medical treatment of Tatmadaw special mobile medical teams.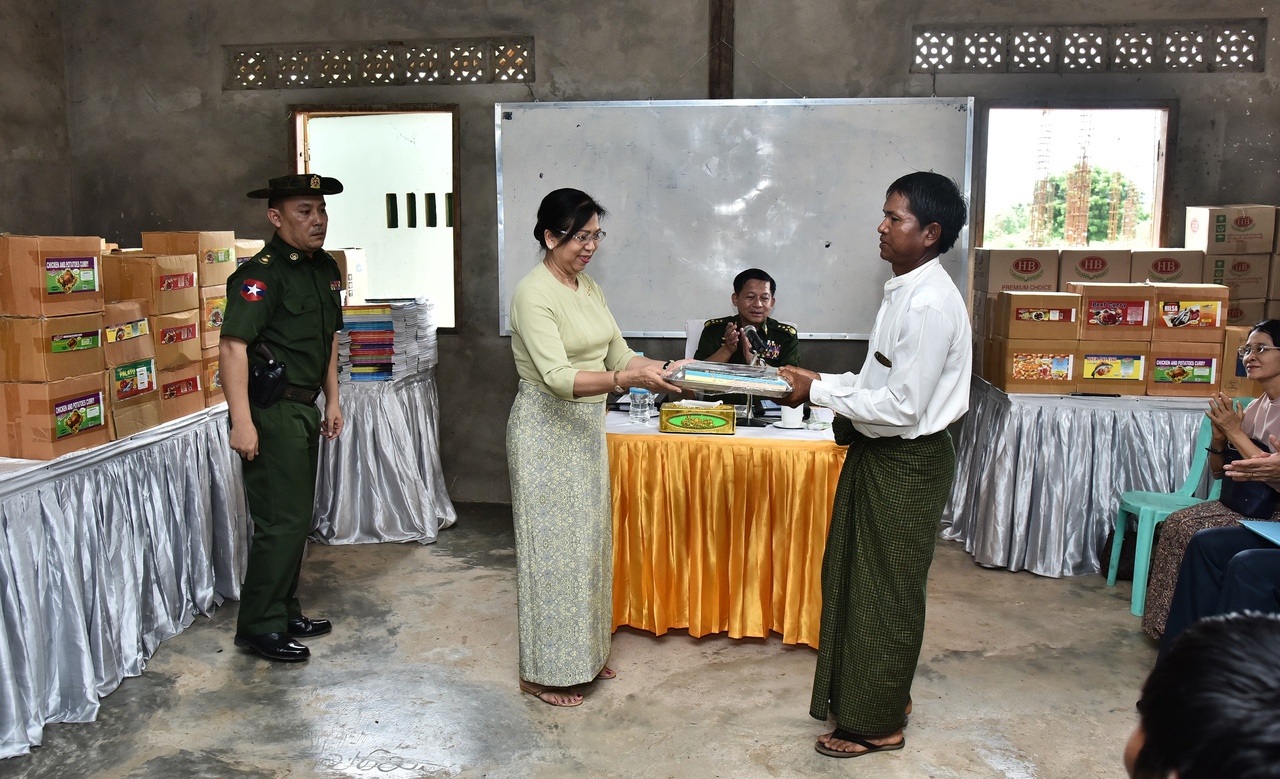 The Senior General cordially met local populace from Yaybokgyi, Shweboywama and Shauktaw villages and nearby villages at the Dhammayon of Pyilonchantha Monesettawya Tatiyapada Pagoda in Shweboywama Village receiving healthcare services, and discussed regional development tasks. The village administrators reported on regional data and economic situations and local people on regional requirements.The Senior General said the Tatmadaw would render as much assistance as it could and reported the matter to the State for its part. He said the Tatmadaw mobile medical team comprising specialists, medical officers and nurses provided medical treatment for over 10,000 local people from 13 to 22 August. The medical team has provided 14 rounds of healthcare services to more than 140,000 local people since 2012.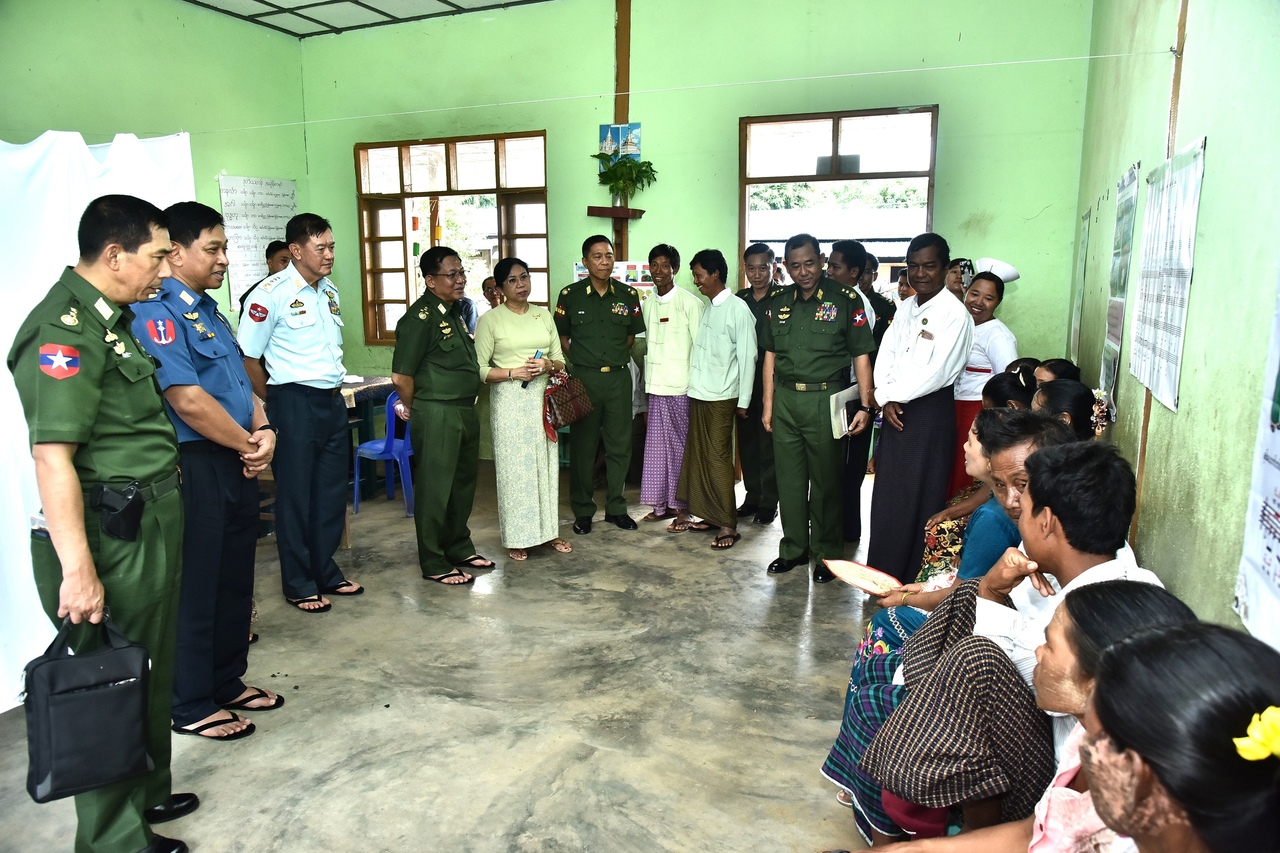 The Senior General promised to coordinate matters for regional development needs while the Tatmadaw will try its best to render assistance. He stressed the need for thriving crops cultivation to ensure development of the economy of local people who rely on agriculture, and for using natural fertilizers. He also called for getting quality strains, correct cultivation methods, enough irrigation water supply,systematic reclamation and use of natural and chemical fertilizers in a proportionate ratio.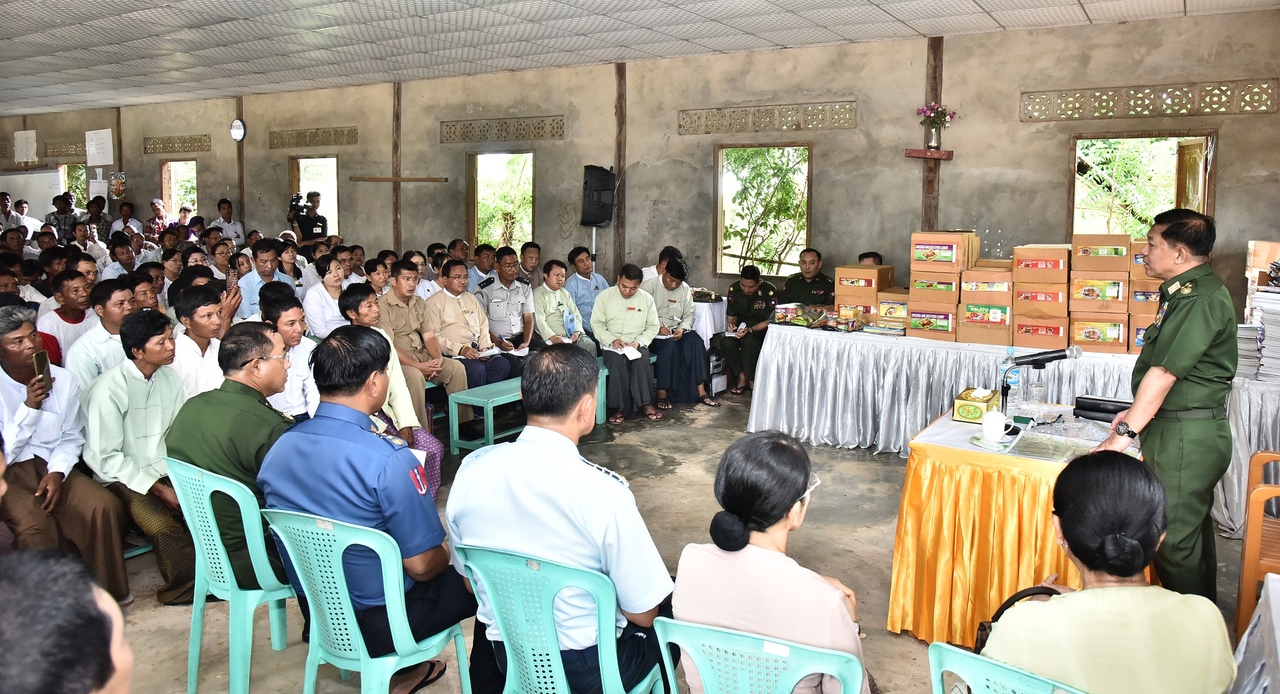 The Senior General said everyone is responsible for the development of their families, villages and townships in order to turn out intellectuals and intelligentsia capable of serving the interest of their own regions. Such development efforts require education as a priority. One should not stop education just after completion of primary education, and skills and knowledge will be acquired only if one can pursue middle and high school education and university education. In doing any business, success can be achieved through wisdom and high consideration. As regards to education across the country, there were 1.2 million kindergarten students in 2008. Of them, 710,000 continued fifth grade accounting for about 58 percent.Then, 560,000 of them reached ninth grade accounting for 42.5 percent. Those who took matriculation examination in 2018-2019 academic year was 31.44 percent. As the number of students able to pursue education from primary to matriculation is very small,education must be prioritized, he commented.
The Senior General said that supply of electricity and transport sector are important for development of socio-economic life.In meeting demand of electricity, as some objections show reason of environments and others, it needs to seek correct ways in cooperation with relevant government organizations for development of the region.It is necessary to focus on restoring peace and stability for development of the State,and it needs not to do misdeeds.
After the meetings, the Senior General presented foodstuffs for local people and his wife Daw Kyu Kyu Hla, fiction and non-fiction books. Village officials accepted them.
Admiral Tin Aung San and General Maung Maung Kyaw gave foodstuffs to village officials.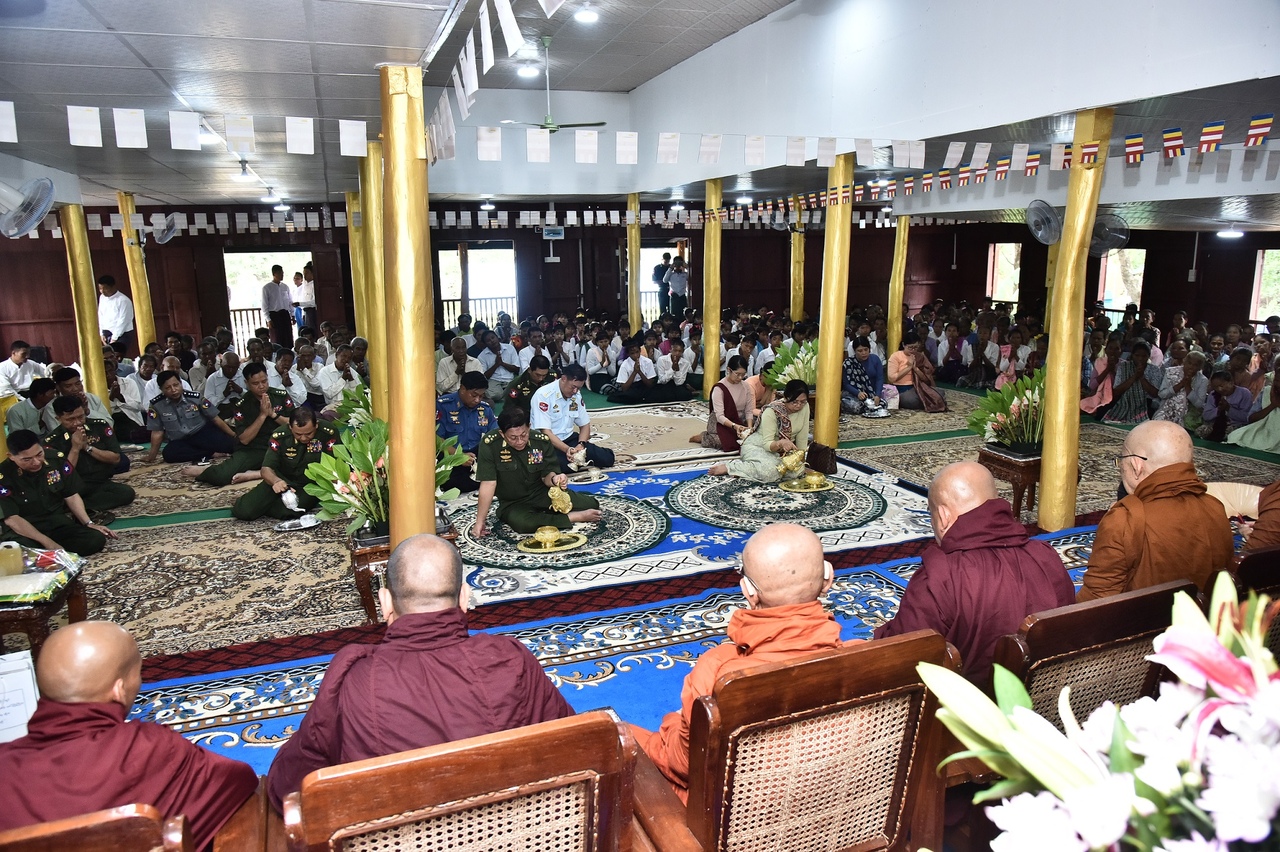 This morning, a ceremony to share merits gained for donations of all-round renovation of YwaU monastery took place at the venue in Yaybokgyi Village, Pwintbyu Township, Magway Region. It was attended by Chairman of Magway Region Sangha Nayaka Committee Presiding Nayaka of AungmyeYadana Pariyatti Monastery of Magway Agga Maha Pandita Bhaddanta Pandiccasara and members of the Sangha, Senior General Min Aung Hlaing,wife Daw Kyu Kyu Hla and party, officials of Central Command and local people.
The Senior General and those present took the Five Precepts from the Presiding Nayaka Abbot and listened to Metta Sutta recited by members of the Sangha.
Senior General Min Aung Hlaing and wife Daw Kyu Kyu Hla offered offerings to the Chairman Abbot and offertories and documentary photos on renovation of the monastery to Abbot of Yaybokgyi YwaU Monastery BhaddantaWunnissara. The Abbot of Yaybokgyi YwaU Monastery returned the certificate of honour.
Admiral Tin Aung San, General Maung Maung Kyaw and wife, and senior military officers donated alms to members of the Sangha respectively.
The Presiding Nayaka of Aungmye Yadana Pariyatti Monastery delivered a sermon, and those present at the ceremony shared merits gained. The ceremony ended with three-time recitation of Buddha Sasanam CiramTitthatu.
The Senior General and wife sprinkled scented water on the stone post and offered day meals to members of the Sangha led by the Presiding Nayaka of AungmyeYadana Pariyatti Monastery. Moreover, local people were presented foodstuffs and served with lunch.