NAYPYI TAW September 25
Commander-in-Chiefof Defence Services Senior General Min Aung Hlaing hosted a dinner in honour of the goodwill delegation led by Chief of the General Staff of the Vietnam People's Army Senior Lieutenant General Phan Van Giang at Kempinski Hotel this evening.
Present at the dinner together with the Senior General were Deputy Commander-in-Chief of Defence Services Commander-in-Chief(Army)Vice-Senior General Soe Win, Chief of the General Staff(Army, Navy and Air) General Mya Tun Oo, Commander-in-Chief(Navy) Admiral Tin Aung San,Commander-in-Chief(Air)General Maung Maung Kyaw,senior military officers of the Office the Commander-in-Chief(Army),the commander of Nay Pyi Taw Command, and Myanmar Military Attaché to Vietnam Brig-Gen Aung Zeya. The Vietnamese Chief of the General Staff was accompanied by Vietnamese Military Attaché to Myanmar Colonel Nguyen Due Giang and senior military officers of Vietnam Peopie's Army.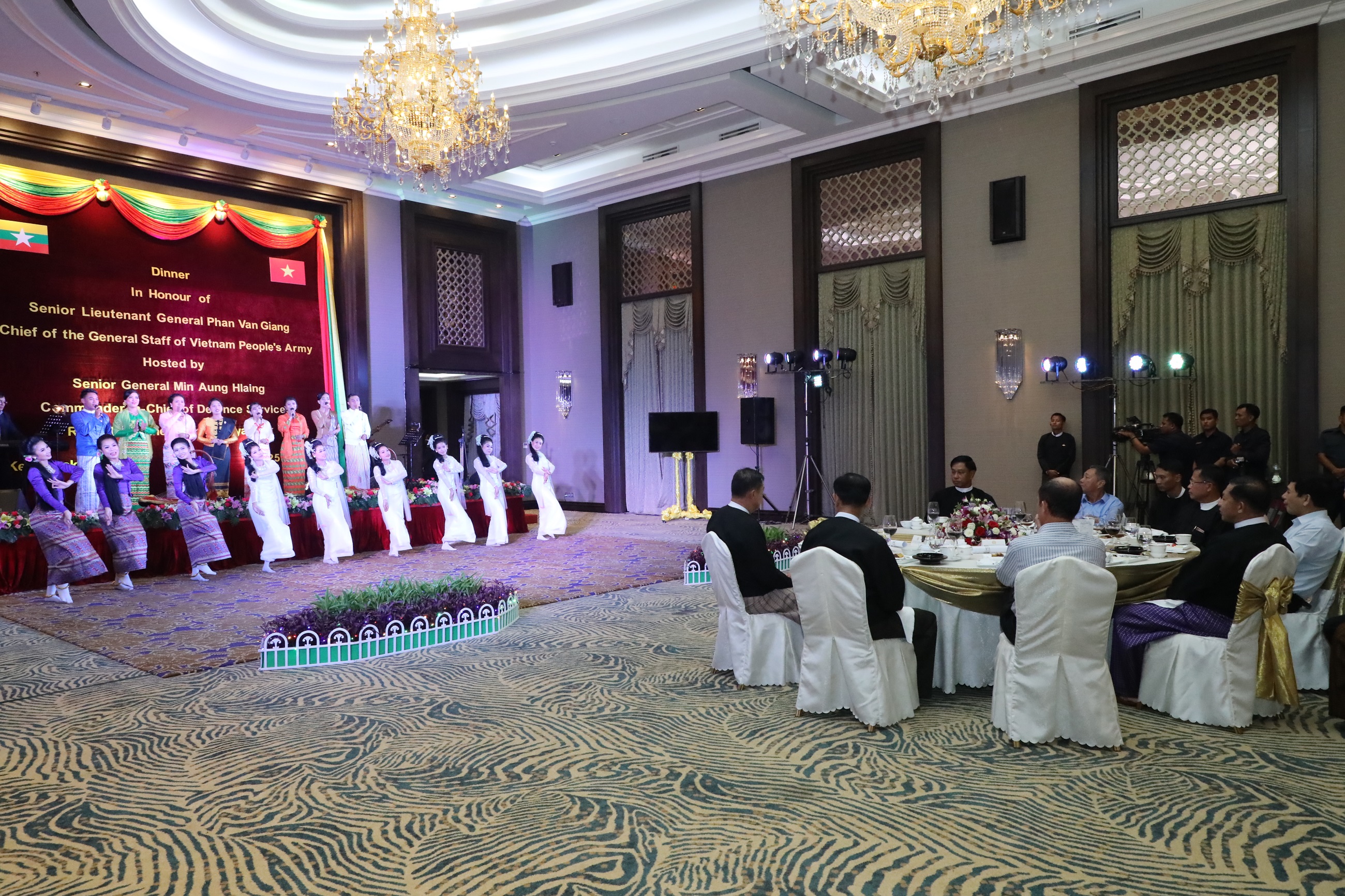 First, the Senior General and party welcomed the Vietnamese Chief of the General Staff and delegation. The Senior General and the Vietnamese Chief of the General Staff extended greetings at the dinner.
Myawady music troupe under the command of Directorate of Public Relations and Psychological Warfare performed songs of the two countries and variety of dances at the dinner. Commemorative gifts were exchanged after the dinner. Flower baskets were presented to the servicemen and servicewomen of the music troupe.Afterwards, documentary photos were taken.