NAY PYI TAW October 9
The relations between the two countries have started since the independence struggle of Myanmar.The role of Japanese armed forces cannot be left out in the history of the birth of Myanmar Tatmadaw. Myanmar thanks Japan as it stands by Myanmar in Rakhine issue. Japan is an old and good friend of Myanmar and vice versa, said Commander-in-Chief of Defence Services Senior General Min Aung Hlaing at his meeting with Prime Minister of Japan H.E. Mr.Shinzo ABE at the latter's office this afternoon.
Also present at the meeting together with the Senior General were Lt-Gen Nyo Saw and Lt-Gen Soe Htut from the Office of the Commander-in-Chief(Army),Myanmar Ambassador to Japan U Myint Thu and Myanmar Military Attaché (Army, Navy and Air) Col Tin Soe. The Japanese Prime Minister was accompanied by officials.
At the meeting, cordial talks were centred on promotion of bilateral relations between the two armed forces, the occurrence of terrorist acts in Rakhine State and the efforts of the Tatmadaw to control the situation in accord with the law, unilateral ceasefire made by the Tatmadaw for internal peace and development and the holding of peace negotiations,cooperation in regional peace and global peace, promotion of bilateral relations between the two countries,Japanese assistance for Myanmar Tatmadaw to become a Standard Army, and cementing of bilateral relations between the two armed forces which have a long history.
The Senior General and party proceeded to the Ministry of Foreign Affairs of Japan, and held talks with Minister for Foreign Affairs of Japan Mr. Toshimitsu MOTEGI.At the meeting, Japanese assistance in Rakhine issue and peace process with friendly spirit, the emergence of internal armed groups and their diverse backgrounds, efforts for the resettlement of displaced persons of the refugee camps at the respective places, perspectives in connection with the security of Indo Pacific regional security, dealing with regional threats and international cooperation in ensuring a world free from nuclear weapons and weapons of mass destruction, the cooperation of Tatmadaw in the works of independent investigation commission, the duty of the armed forces of all countries to fully protect the national security and property and lives of the people were cordially discussed.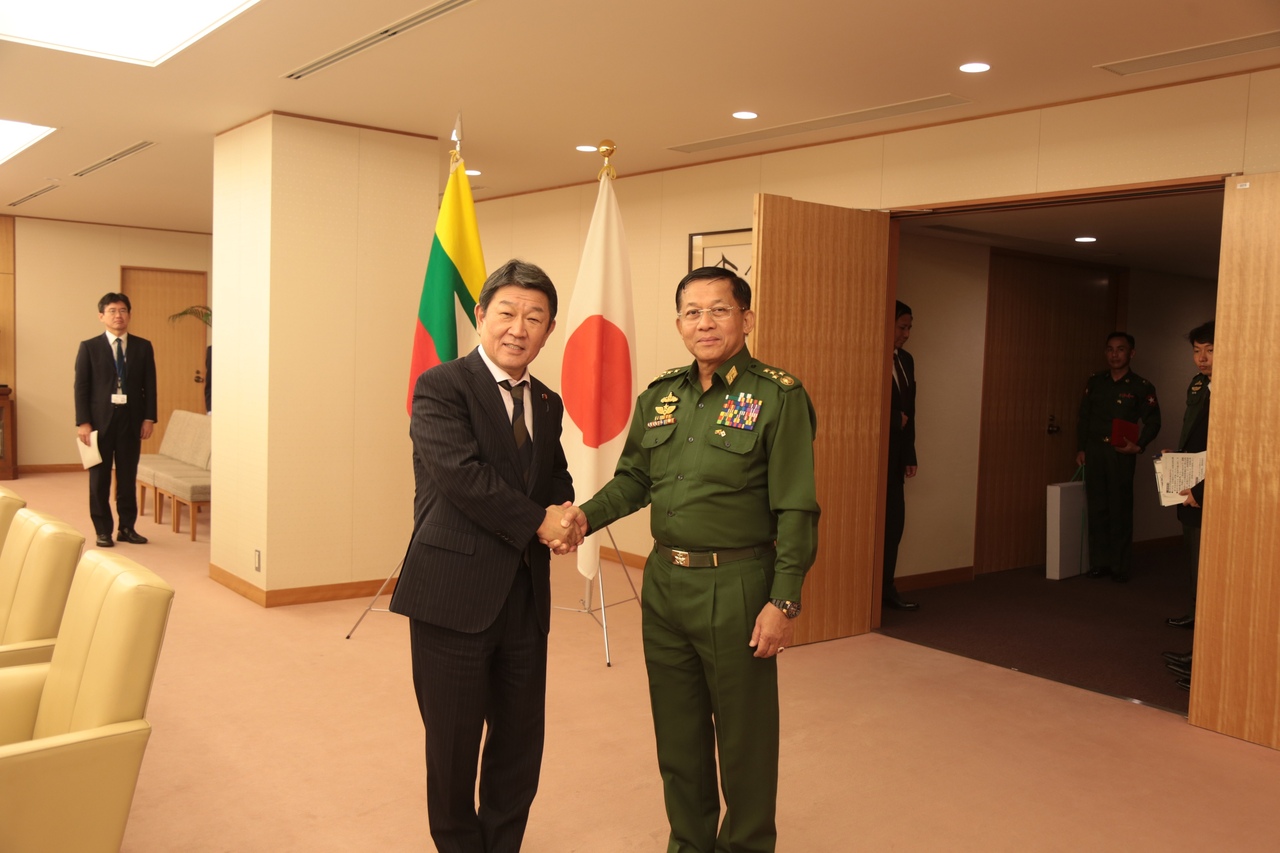 After the meeting, the Senior General presented commemorative emblem and gifts.