NAY PYI TAW, October 10
The Myanmar Tatmadaw good-will delegation in Japan led by Commander-in-Chief of Defence Services Senior General Min Aung Hlaing visited Tachikawa airbase and Jindaiji monastery in western Tokyo this morning.
On arrival at Tachikawa, a military base for natural disaster prevention under the Japan Self-Defence Forces, the Senior General and party were welcomed by Commandant Colonel YOSHIURA and members. At the briefing hall, the Senior General was briefed on the brief history of the base, security affairs and rescue and relief work in times of natural disasters. He asked about ways of training for disaster preparedness and prevention. The Senior General then viewed the Japan-made helicopters, a fleet of helicopters ready for rescue and relief efforts in times of natural disasters and air security measures. The Senior General and party flew from the airbase to YOKOHAMA Port by Japanese military helicopter for an aerial view.
Then, Colonel YOSHIURA hosted lunch to the Senior General and party at the mess hall. After lunch, they exchanged gifts at the parlour.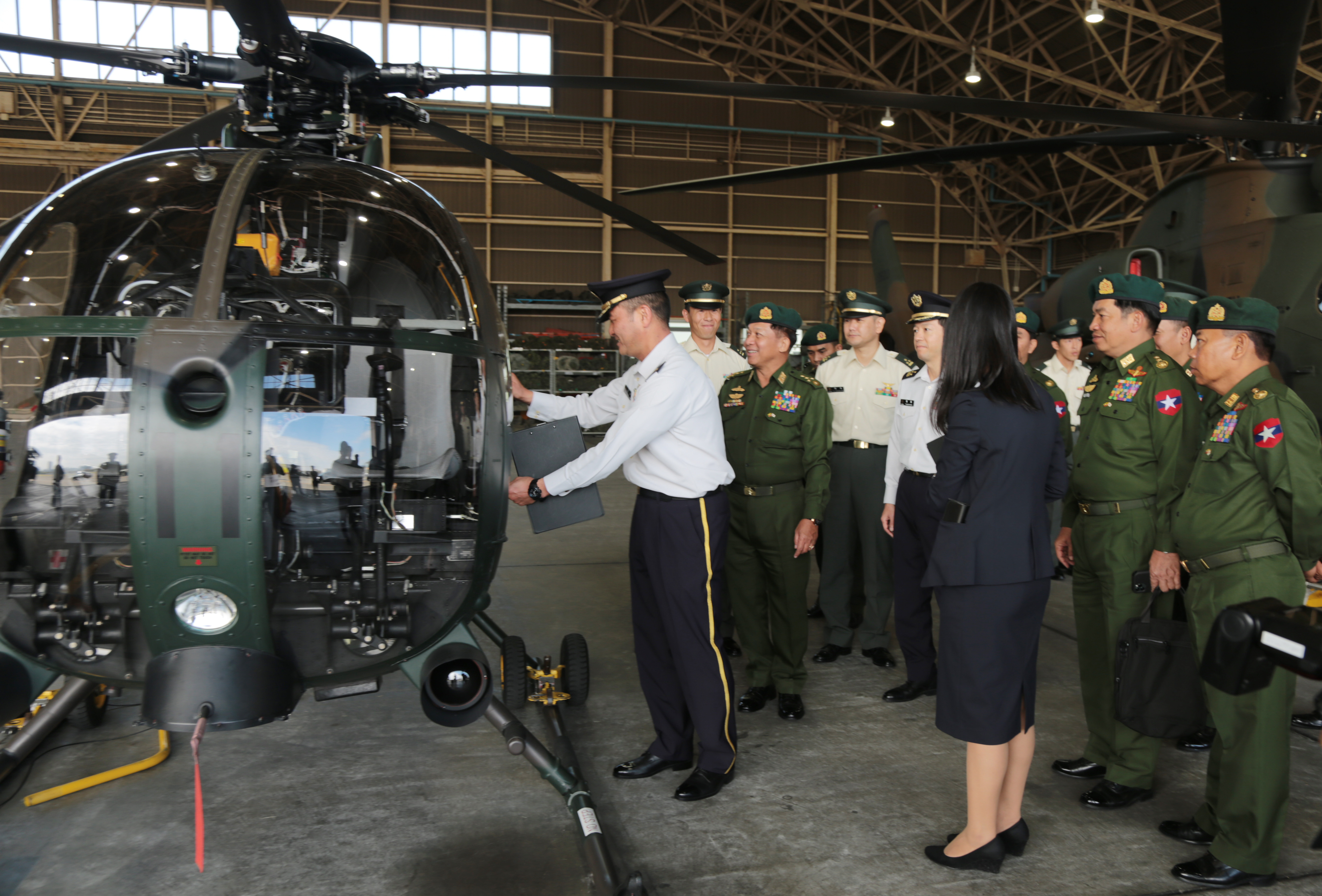 The Senior General and party went to Jindaiji Buddhist monastery which is one of historic temples in suburban area of Tokyo and viewed round the temple. The Buddhist monks from the monastery prayed for them, and the Senior General and party paid respects to the monks. Abbot Mr. Chodo Kanshun explained the brief history of the temple. The Senior General offered cash for nine prerequisites. After visiting the temple, the Senior General and party posed for documentary photos.
Jindaiji monastery is the second longest lasting temple in Tokyo. It had been built for about 1,300 years by monk Mankhoo Shonin in 733 AD, in commemoration of the thing that humans are heritage as well as treasure of the country. Ancient ShakaNyorai bronze Buddha image from the temple was designated as a national treasure of Jindaiji Buddha image in 2018. A Japanese film with the title of Myanmar's harp which was famous in Japan was cast at the temple. At present, films are often cast at the temple. The main building which was damaged in outbreak of fire in 1646 and 1865 was rebuilt in original works in 1919. Clean water is available at springs from the precinct of the temple, and these springs are pleasant with 150-year-old trees.
Traditional soba noodle is famous due to its delicious taste. Annual festivals are held in respective seasons. Beauty scenes with blossoming Cherry flowers can be seen there in the autumn. The temple is crowded with local and foreign travellers who wish to pay homage to the pagoda.