NAY PYI TAW December 2
As health is wealth, everyone wishes health and longevity. Only with good health there can be success in social and economic fields, food, accommodation and clothing and education. Members of Defence Services medical corps are honoured with pleasure as they are providing healthcare service for not only Tatmadaw families but also the national races. They should maintain and relay their fine traditions, said Commander-in-Chief of Defence Services Senior General Min Aung Hlaing in his address at the opening ceremony of cardiology ward of Military Hospital in Aungban this morning.
Also present at the ceremony together with the Senior General were Commander-in-Chief (Navy) Admiral Tin Aung San, Commander-in-Chief (Air) General Maung Maung Kyaw, senior military officers of the Office of the Commander-in-Chief (Army), the commander of Eastern Command, the comman-dant of the hospital and medical superintendents and commandants of civilian and military hospitals in Nay Pyi Taw Council Area, Yan-gon and Mandalay and cardiologists, specialists, local elders of Aungban and persons interested in medical profession.
First, the Senior General and party arrived at the venue of the ceremony, and were welcomed by the command commander, medical superintendents and commandants, cardiologists and specialists. Afterwards, the Senior General unveiled the signboard of the ward and viewed the displays of the medical companies. Then, the commandant of the hospital presented a report on the medical treatment at the meeting hall of ward.
Later, the Senior General discu-ssed health matters. He said everyone wishes health and longevity. Tatma-daw members should be healthy and fit. They can withstand hardship during the military operations only if they are healthy. There are two sectors – lifestyle and healthcare –for good health. One can work or pursue education only if he is healthy. So, the Tatmadaw is making strenuous efforts to reach this end. Ill health is followed by suffering. Then, it there will be a burden for family members who are caring the unhealthy person.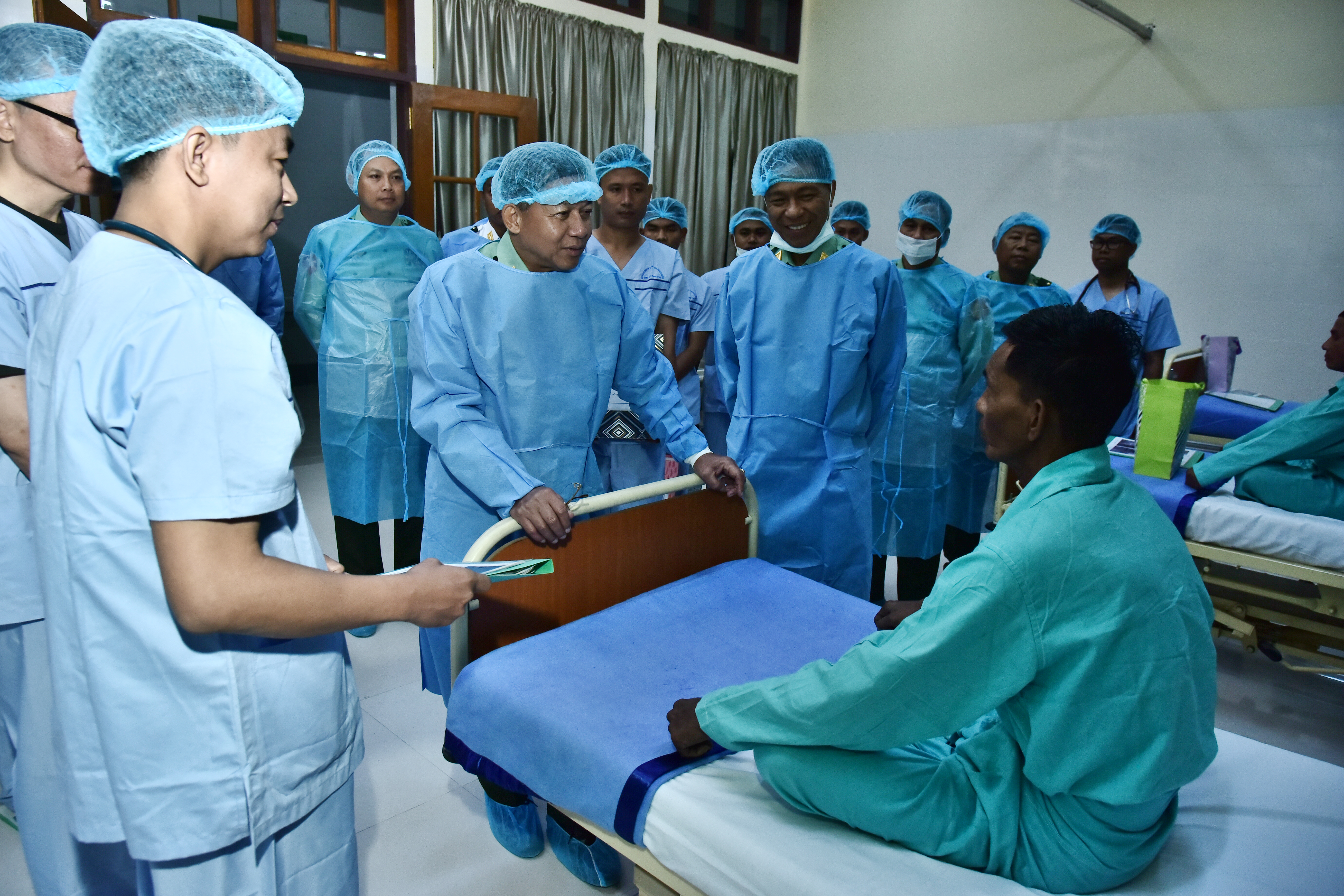 He then said heart disease is most common illness not only in Myanmar but also in the world. Coronary artery disease has a high mortality rate. Thanks to the installation of heart disease treatment at the hospital, heart patients of the Tatmadaw and region can be cured in time. Time matters as heart disorder may kill the patient in a short time. He has seen the death of heart patients due to lack of skilled physicians and advance equipment. Treatment should be provided through the combination of modern equipment and physicians skilled in operating
the machines operators. Just in-stalling machines and building hospitals is not enough but it needs to efficiently utilize these facilities. The Tatmadaw turned out human resources so as to emerge experts in medical arena. Although machines can be bought by money, turning out of human resources needs to take an adequate time. In the past, graduates from medical universities were appointed as military medical officers. Since its establishment, the Defence Services Medical Aca-demy has been teaching medical education to the trainees to be able to turn out human resources. So far, the academy has produced some 4,700 medical professionals and over 60 dentist professionals, in-cluding some 1,600 master degree holders and about 200 doctoral degree holders. They are now discharging duties at the respective sectors of the Tatmadaw's medical corps. Some of them were sent abroad to continue medical learning, to attend medical seminars and conferences. Likewise, those from foreign countries were invited to Myanmar to do similar activities. The medical officers were arranged to attend the medical education abroad. Among them, the academy has turned out 15 doctoral degree holders, 31 master degree holders and 125 diploma holders in addition to 240 certificate holders, totalling more than 400. The Senior General stressed the need for them to learn teaching and advice from the seniors so as to effectively give medical care services to the people.
Moreover, the Senior General continued that the Tatmadaw arranges assignments for mobile medical specialist teams comprising specia-lists, medical officers and nurses in mobile operation theatre vehicles to the remote regions in 2012 in order to give health care services to the people. So, local people heartily welcome them and thank them for their health care services. Everybody needs to follow themes of breathing, walking and drinking much water and reducing eating of sweetness, saltiness and fatty substances for their good health. They all need to avoid liquor, cigarette, betel quid, seasonal powder and red chilli powder which can harm their health con-ditions. Behavior of health staff is of great importance in medical treatment for the patients. Their smile and warmly kindness can create relief of patients from the sufferings. Bad behaviors may cause worse sufferings and me-lancholy to ailing persons. He expressed his delightedness and recognition for members of the medical services and took pride of them in successfully providing health care services not only to Tatmadaw families but also to ethnic people. As learning of me-dical education is difficult, it needs to systematically pursue such subject. Learners must interestingly pursue medical subjects to have high skills. As medical officers should not make mistake, they must be care in doing every-thing. And, they all need to hand down good traditions to new generations.
After visiting the cardiology ward, the Senior General and party cordially conversed with patients receiving medical treatments for heart diseases and presented gifts to them. Then, the Senior General inspected progress in construction of X-ray treatment ward and cancer surgical ward and left necessary instructions.