Nay Pyi Taw, December 6
 It can be seen that the role of leaders is important either in a country or in an organization. As any organization can make progress only when its leaders are competent and poor leadership will lead to failure, you, who will discharge as junior leaders, are required to give correct leadership to troops under your command. Leadership skills are qualities good leaders should possess. You are required to properly lead the troops under your command to success  and  progress  through correct leadership, lawful orders and fair judgments, said Commander-in-Chief  of   Defence Services Senior General Maha Thray Sithu  Min Aung Hlaing in his speech at the Passing out Parade of the 61st Intake of the Defence Services Academy this morning.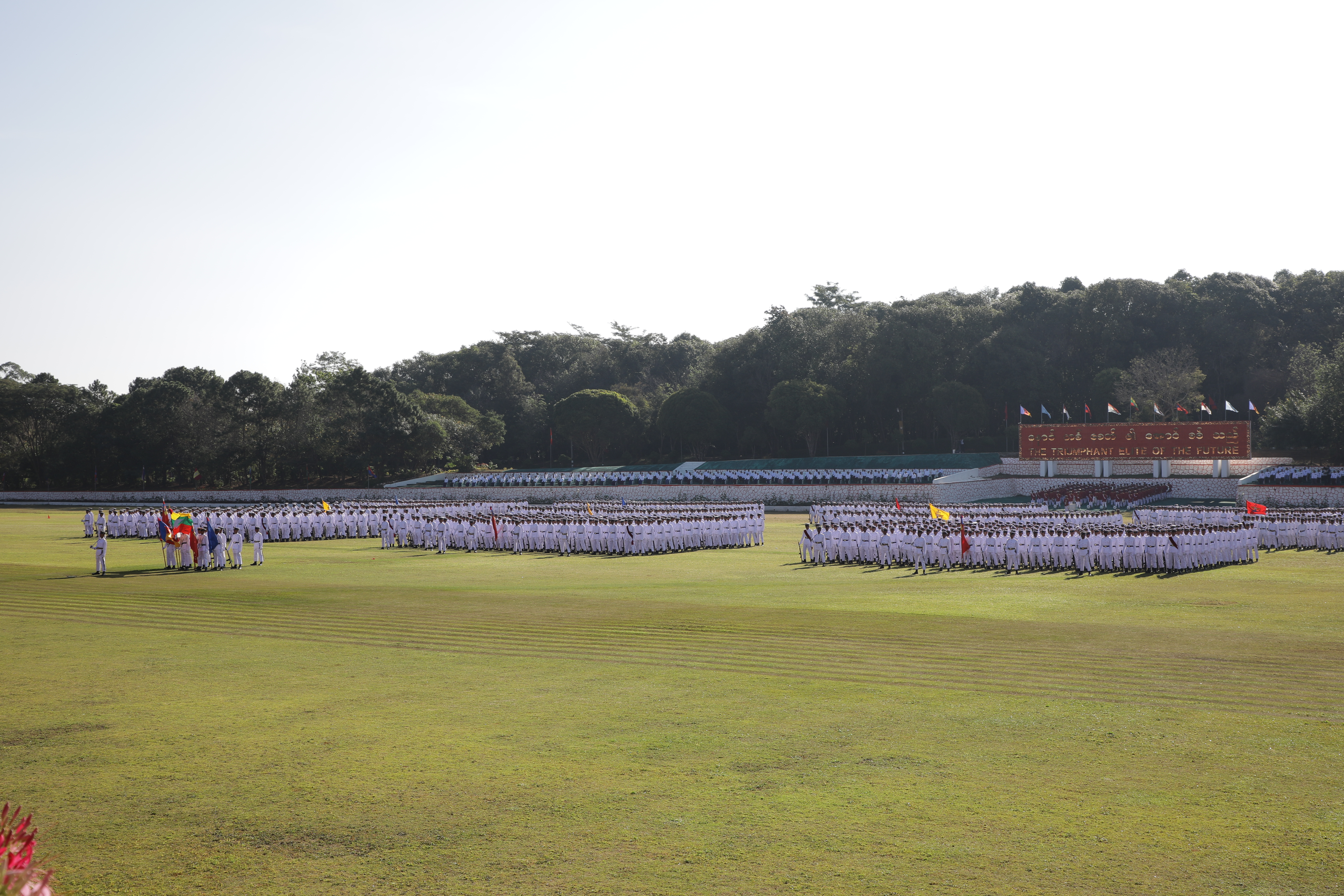 Also present at the ceremony were Daw Kyu Kyu Hla, wife of the Commander-in-Chief of Defence Services,  Union Minister for Home  Affairs  Lt-Gen Thiri Pyanchi Kyaw Swe and wife, Union Minister for Defence Lt-Gen Zeya Kyawhtin Sein Win  and  wife, Union Minister for Border Affairs Lt-Gen Thiri Pyanchi Ye Aung and wife, Chief of the General Staff (Army, Navy and Air)  General Zeya Kyawhtin Mya Tun Oo and wife, Commander-in-Chief (Navy) Admiral Zeya Kyawhtin Tin Aung San and wife,  Commander-in-Chief (Air) General Zeya Kyawhtin Maung Maung Kyaw and wife, senior military officers and their wives, the Command Commanders, the commandant of the DSA, senior military officers from Pyin Oo Lwin station, military attachés from foreign missions, invited guests and parents and relatives of the graduate cadets.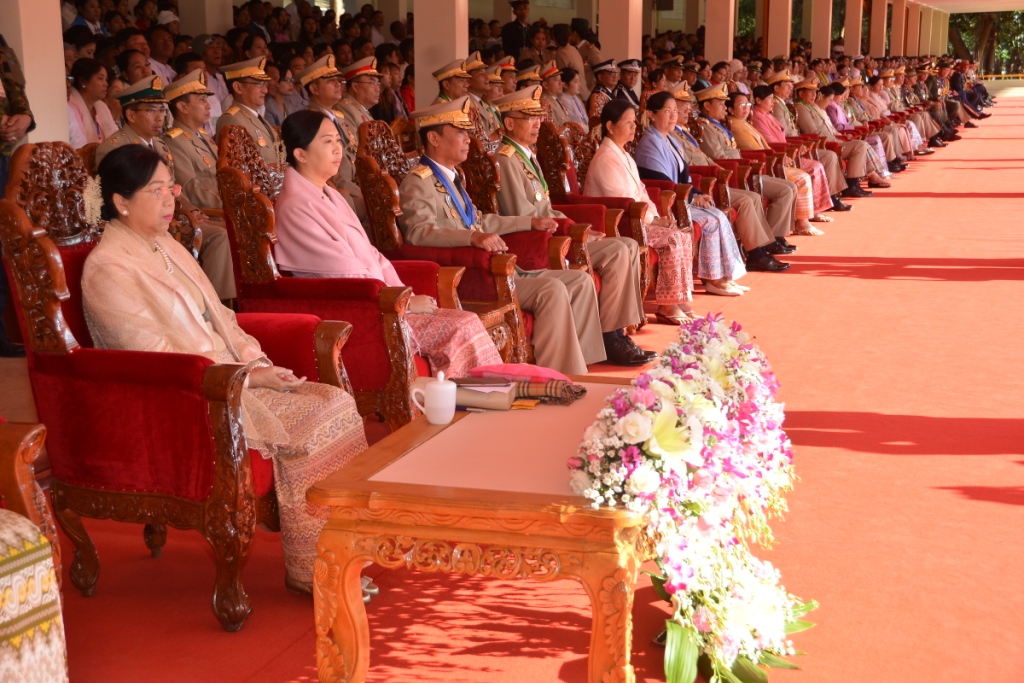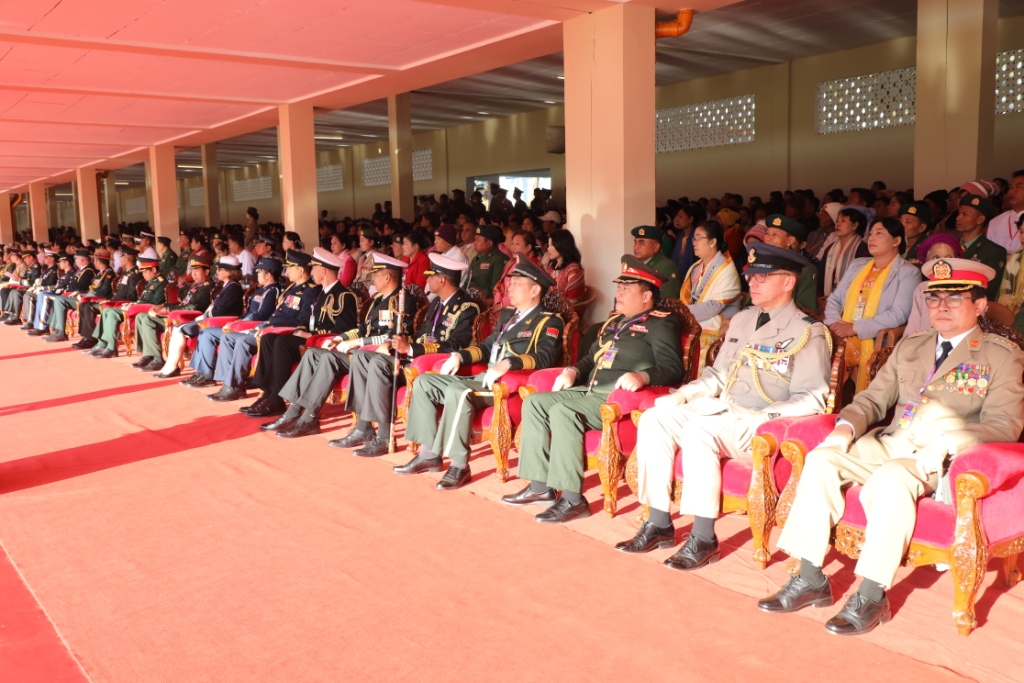 First, the Senior General took the salute of the cadet battalions and inspected them. Next, the cadet battalions saluted the Senior General with slow-march past and quick-march past. 
The Senior General then presented Best Cadet Award to Cadet No. 32923 Cadet Pyae Phyo Hlaing, Excellent  Award in Training to Cadet No. 32677 Cadet Soe Htet Myat Kyaw, Excellent Award in Studies (Arts) to Cadet No. 32878 Cadet Phyo Min Kyaw, Excellent Award in Studies (Science) to Cadet No. 33391 Cadet Aung Phyo Kyaw and Excellent Award in Studies (Computer) to Cadet No. 32929 Cadet Pyae Moe Shan.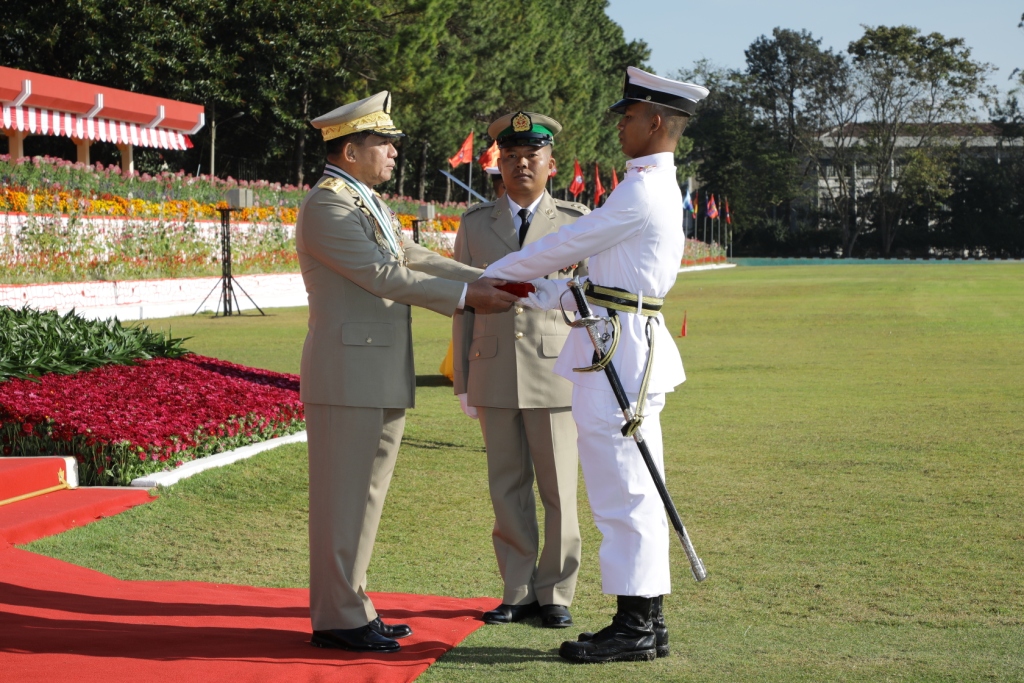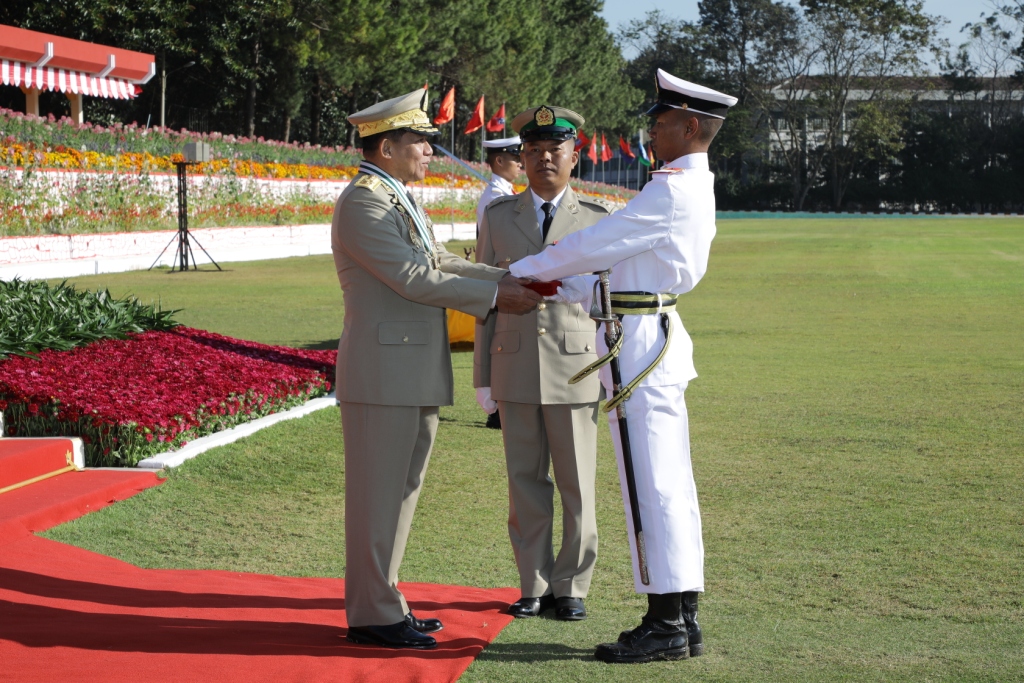 In his address, the Senior General said with the genuine aim of the Defence Services Academy; to produce well-rounded and calibred officers for Defence Services (Army, Navy and Air) you were imbued with its  ultimate  goal  as junior leaders. Comrades with profound impact are to preserve immense prestige of this Academy and to take part the responsibilities of Tatmadaw (Army, Navy and Air) as the full-fledged officers. 
The significant date on which our Tatmadaw hailed from a tryst with destiny for Independence in collaboration with people annihilated the colonials from the anti-imperialist, anti-fascist movements to Independence witnesses the armed forces day of 27th March 2020 referred to as the 75th Anniversary (Diamond Jubilee). Ever since the tempestuous period of striving for Independence, our Tatmadaw has been practised with successive terms of government, and Tatmadaw collaborated with people vanquished the internal and external destructive elements. I would like to urge you to know about the annals of history and keep long-standing the venerable tradition of our Tatmadaw hailed from people by embracing patriotism and good virtues. 
It can be seen that leadership plays a crucial role in each country or institution. The good leader makes a unity of strength. Leadership is not a sprint. Thus, a leader must be an example of subordinates and try to achieve trustworthiness. Consequently, comrades who will be the junior leaders are to lead with righteous to your cohesive forces as if the organisational success or failure relies on its leader. Leadership deserves the qualities of good leaders and testifies in deeds. It has to become not only an example of cohesive forces but also entrusted leaders. In doing so, the leader must be fully-fledged with knowledge and expertise. And you should lead to improving your cohesive forces with the high composition of rational thought and all-round education in act of virtuous leadership, justice and prudence. Likewise, leaders will have to inculcate the sense of responsibility (humility) in any profession and be thought that humility is contrary to magnanimity in leadership. And you have to accomplish the mission with the professional integrity; obedience, respect, trustworthiness and loyalty of the subordinates. Leaders will have to utilise the military tactics you have learnt. It has to have good leadership of what the company is organised to do. The leader should courageously lead with a range of measures. Likewise, I would like to say precisely that you will have to practise to be fulfilled the leadership qualities with the Sixteen Characteristics of Leadership enacted by Tatmadaw to prove your mettle and measure the values to be entrusted by an institution.
Our Tatmadaw serves the defence duty which is not obliged to be executed at one sitting and then well-preparations, as well as training, are quintessential. Comrades, you are endowed with military and academic qualifications to be wellgrounded as well as the advancement of capacity building through yourself and your forces need to be continued. Tatmadawmen must be fit, competent in their specialities and gallant in the battle-field and have to practise a reality for personal skills. To utilize the state-of-the-art military equipment and leapfrogging technology, you should practise constantly. Furthermore, I would like to ask you to try the following training motto; "Study, Practise and Comply". 
Our Tatmadaw is the institution which is pivoted on the motto; "Discipline is the backbone of the Tatmadaw". If the discipline and character are underprivileged, a country would be chaotic and unstable. Discipline, meanwhile, is a key to achievement. The result of being discipline and obedience is what makes our Tatmadaw stands strongly until now. Whatsoever our Tatmadaw has to take into account any course of action aligned with existing discipline. Duly promulgated rules and regulations bonded by law can be witnessed. To be a good soldier, everyone needs to strictly abide by the virtuous Sixty Codes of Conduct steadfastly. Thus, you will become the disciplined and entrusted soldiery of the country and people. The disciplined personnel are willing to accomplish the tasks given by their superiors and so I would like to focus that you who are to serve as junior officers must be an example in the inculcation of values to conduct close supervision on your subordinates. 
Tatmadawmen joined the Defence Forces with the sense of duty to safeguard the nation by its consent. If you retain your integrity, the life will be enhanced through the length of service. You must try to be conscious and an act of conscience.  Manage your time efficiently; read the  good literature onwards achieving knowledge and expertise to be the inculcation of values and enjoy your pastime sports as well. I would like to urge you to cultivate a lifetime reading habit for the enlightenment of knowledge and wisdom. For the sake of being developed a country, knowledge and expertise play a vital role. Knowledge enlightens the spirituality as well as expertise endeavours to keep abreast with the best of your life. Physical fitness is pivotal to catering supports. Likewise, fitness, perseverance, persistence and endeavour rejuvenated by sports can foster the spirit of bonhomie, invincibility and a prevailing attitude. Everyone has his goals in life and it is necessary to have self-determination while conforming to expectations. Through the professional career, you also need to refrain from the unwholesome actions and you should consider food choice. I would like to impart you to be self-esteem, be responsible and keep the value of Tatmadaw with self-consideration. 
Our Tatmadaw reveres our Three Main National Causes (Non-disintegration of the Union, Non-disintegration of the National Solidarity and Perpetuation of the Union Sovereignty) and its personnel who vowed to sacrifice their lives must accomplish their missions steadfastly. To strengthen the defence capability, three awareness; training awareness, military awareness and combat awareness have to be fulfilled. Through the annals of history and geopolitics of our country, the saying; "When Tatmadaw is strong, will the Nation be strong" remains constant. Therefore, our Tatmadaw is being transformed into a "Standard Army" which can engage in conventional warfare keeping abreast of international criteria. As the promulgated Chain of Command is obliged to accomplish the missions of our Tatmadaw, I would like to urge you to abide by the strict directives and make close supervision to subordinates. Since our Tatmadaw hails from people with the consolidation of multiethnic societies, it is needed to safeguard not only lives and property but  social  security  of people. 
Peace, in other words, is the invaluable shelter for every country and every race.  Only a serene shelter will underpin a peaceful and tranquil society and infrastructure development.  Unquestionably, our country is still in need of the resources for peace even though it is rich in resources. Only focusing on the nation and people interest, our country needs to terminate the successive armed conflicts and build a new modern develop democra-tic nation synchronised with the people's desperate desire. While implementing peace processes, Tatmadaw aims at achieving the everlasting peace-cum-defusing the dilemmas, not momentary. It is needed to implement the Nationwide Ceasefire Agreement (NCA) roadmap. The Nationwide Ceasefire Agreement (NCA) is to bridge a gap between armed conflicts and peace with true democracy based on the federal system. Therefore, Tatmadaw stands tall on NCA and conforms to have a peace process. Our country leads to democracy and federal system. Democracy is people centred. Our country was built in its nationwide strength collaborated with people. It is found that people denote suspiciously the term, 'Federal System'. Comrades should know that the "Federalism" is to live and work together in harmony. Here, I would like to impart you that our Tatmadaw undergoes the implementation of the peace process and tries to bring the everlasting peace to the hands of the people in 2020. 
All must be dutiful and trustworthy officers keeping up with the venerable tradition of the Alma Mater (DSA) as well as our Tatmadaw, learn the state-of-the-art military strategies, leapfrogging technology and knowledge based on the acquirements from Alma Mater, preserve the traditions of our Tatmadaw and lead your subordinates with the Sixteen Characteristics of Leadership to be efficient and united, enhance the prestige of Tatmadaw with great efforts establishing the internal and external organizational measures as well, leave no stone unturned to uphold the national duty titled "Our Three Main National Causes" and try to be confident leaders for our country and people. 
After taking salute of the cadet battalions, the Senior General left the parade ceremony. After the parade ceremony, the Senior General met with five cadets who won outstanding awards and their parents at the parlour of the headquarters of the Defence Services Academy and spoke words of honour.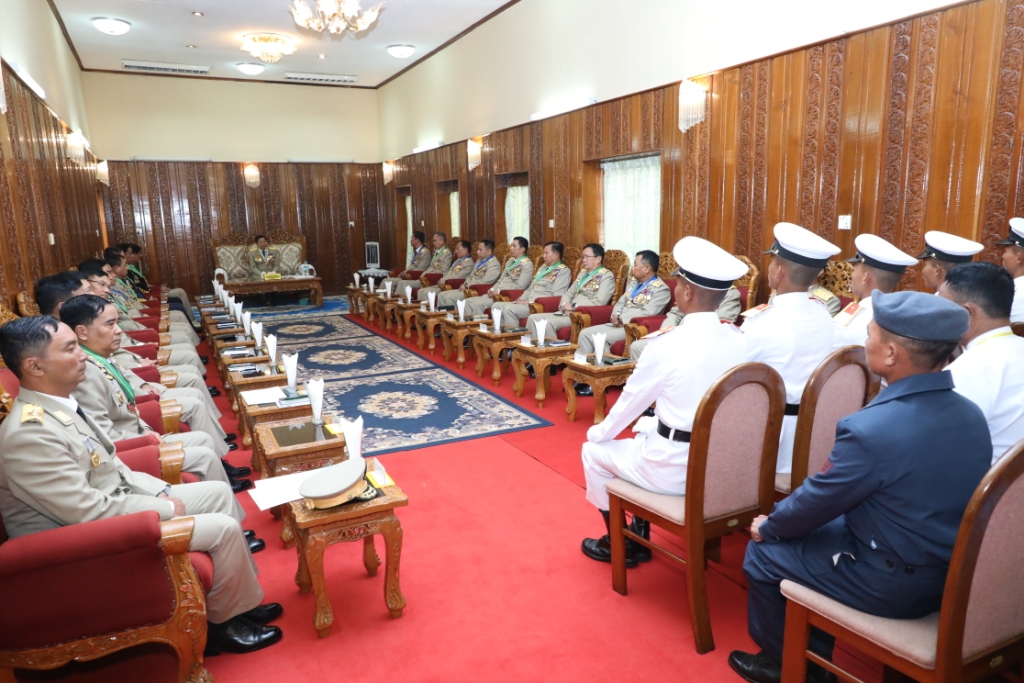 In his address, the Senior General said he took pride of those cadets winning the outstanding awards similar to their parents. Tatmadaw members are offspring born of people. So, they are responsible for serving and safeguarding the interest of the people in defending the State which is duty of the Tatmadaw. They need to acknowledge gratitude of parents who nurtured them and to give back them gratitude. Likewise, they need to be loyal to the Defence Services Academy and the Tatmadaw as their second mother. The Senior General stressed the need to make continuous efforts by controlling themselves so as to achieve success in their aims and not to lose aims of their families. The Senior General urged them to abide by four appropriations-to go to appropriate place only, to relate appropriate person only, to do appropriate works only and to say appropriate talk only-without indulgence.