NAY PYI TAW, December 12
You all should apply your studies for the benefit of the State and the Tatmadaw in accord with the motto of Defence Services Technological Academy (DSTA) "Honour, Creative, Capable" as the role of engineers plays a vital role in building a modern Tatmadaw. As the human resources with engineering knowledge, you should apply the engineering science in enhancing the prowess of the Tatmadaw in accord with the slogan engineering power is the strength of Tatmadaw, said Commander-in-Chief of Defence Services Senior General Maha Thray Sithu Min Aung Hlaing in his speech at the Passing-out Parade of the 21st Intake of the Defence Services Technological Academy in PyinOoLwin this morning.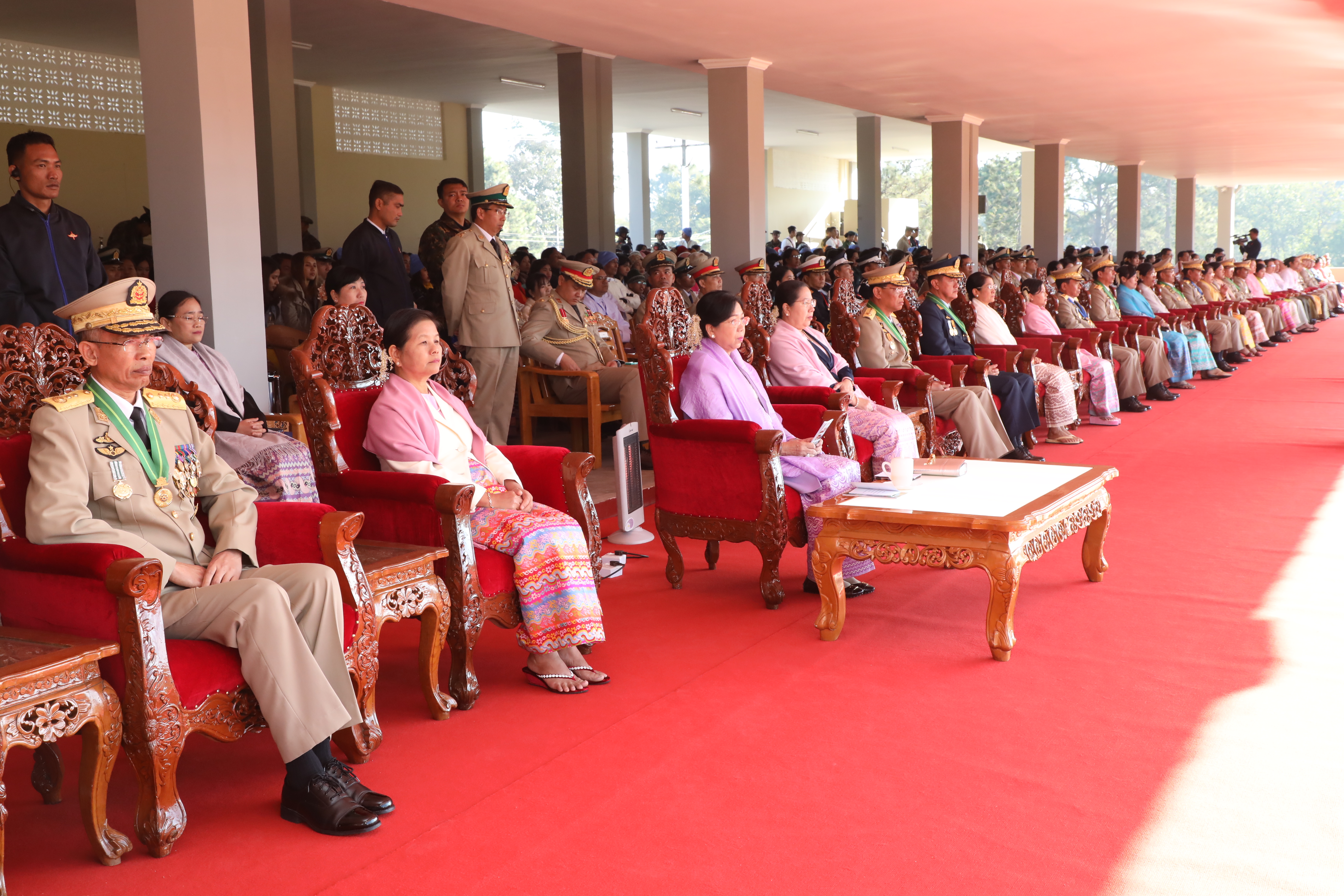 Also present at the ceremony were Daw Kyu Kyu Hla, wife of the Commander-in-Chief of Defence Services, Union Minister for Defence Lt-Gen Zeya Kyawhtin Sein Win and wife, Chief of the General Staff (Army, Navy and Air) General Zeya Kyawhtin Mya Tun Oo and wife, Commander-in-Chief (Navy) Admiral Zeya Kyawhtin Tin Aung San and wife, Commander-in-Chief (Air) General Zeya Kyawhtin Maung Maung Kyaw and wife, senior military officers and their wives, the commander of Central Command, the commandant of DSTA, senior military officers from PyinOoLwin station, invited guests, parents and relatives of the graduate cadets.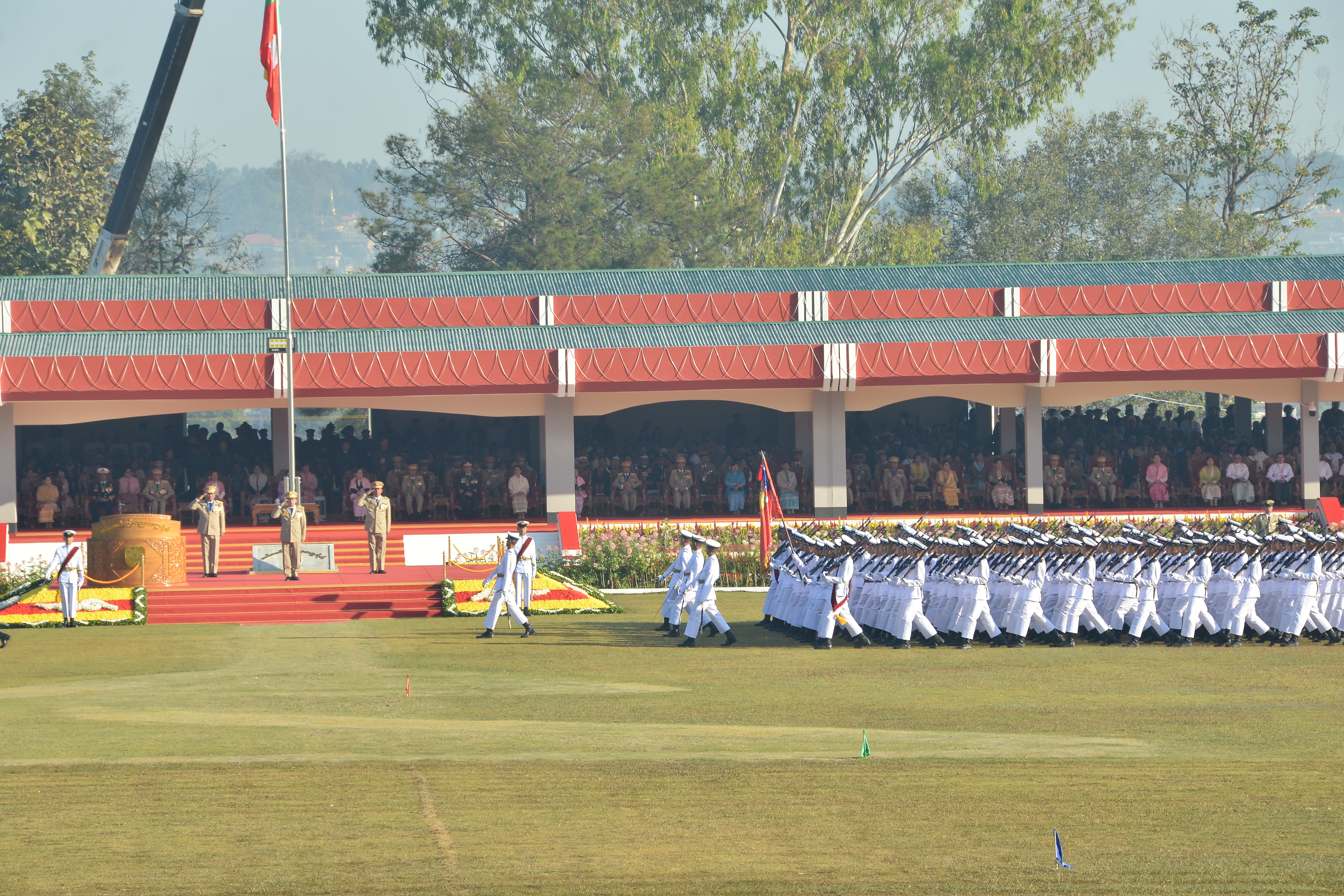 First, the Senior General took  the salute of the cadet companies and inspected the graduate cadet company. Next, the cadet companies saluted the Senior General with slow-march past and quick-march past.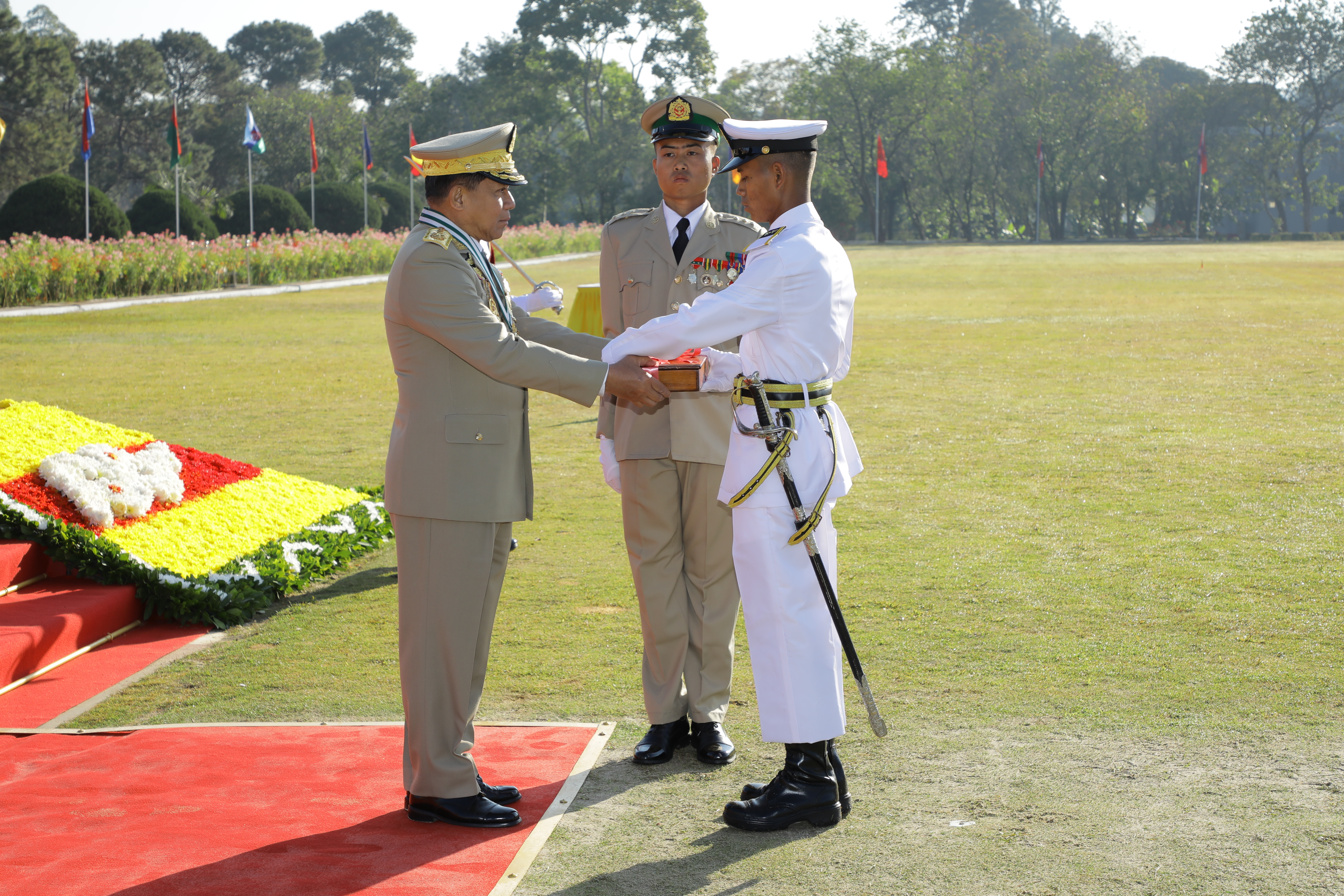 The Senior General then presented Best Cadet Award to Cadet No. 7532 Cadet Myat Kyaw, Excellent Award in Training to Cadet No. 7547 Cadet Yan Lin Aung and Excellent Award in Studies to Cadet No. 7537 Cadet Ye Yint Myat.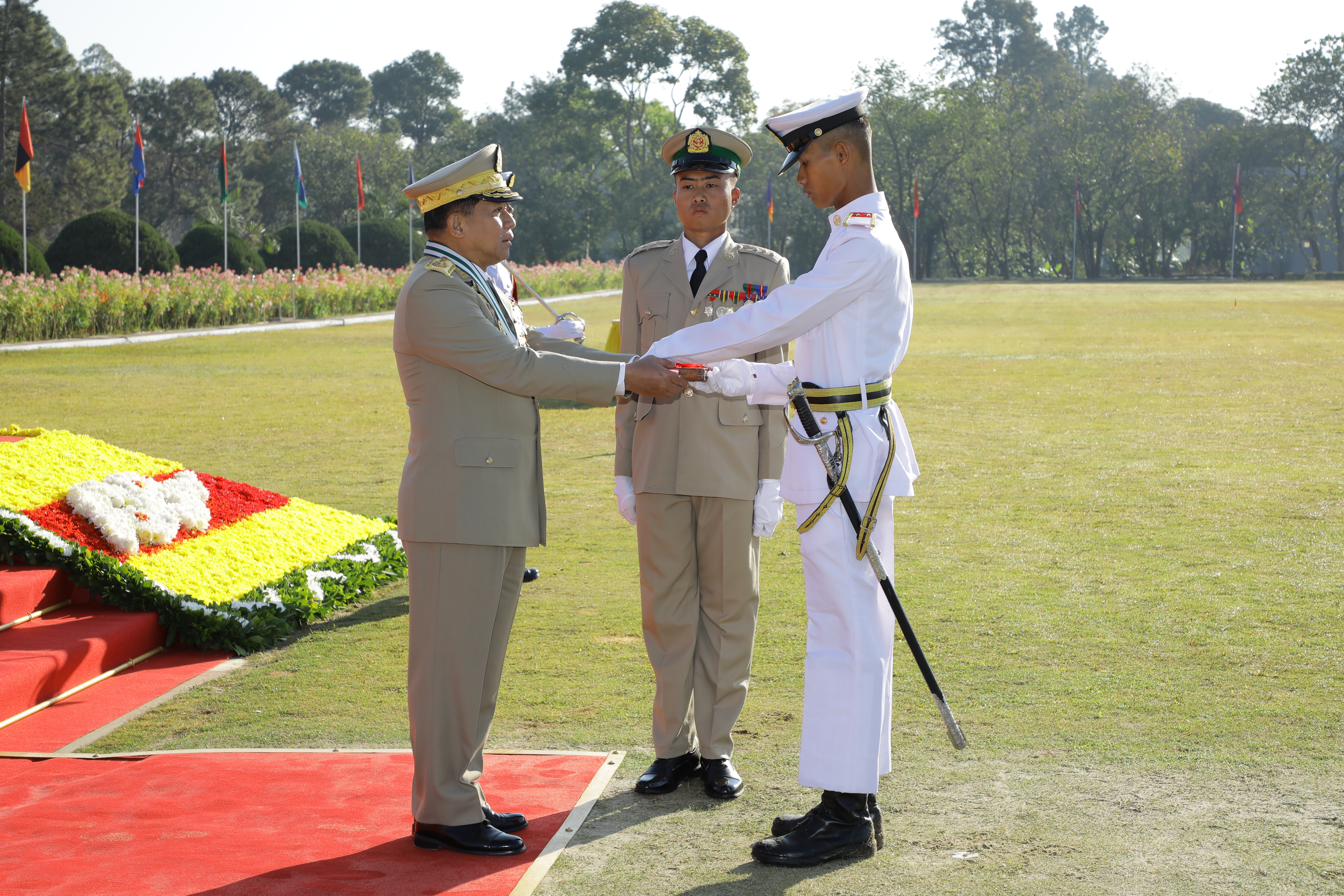 In his address, the Senior General said to produce worthy physically and intellectually capable engineering officers for national defence duties who will safeguard the sovereignty of the Republic of the Union of Myanmar, you all, Comrades, have been given training not only in engineering subjects but also in military science and leadership up to the infantry platoon commander level during the training period.
Noble tradition can be vividly  seen that Tatmadaw is taking responsibility to safeguard the interests  of the nation and nationalities through-out the history since its establishment. Our Tatmadaw, which has noble historic tradition of affording protection  to geographical territory, airspace and territorial waters of the Republic of the Union of Myanmar and safety of its nationalities, regarding  them as national defence duty by ultimate sacrifice, is dutifully taking responsibility for national politics duty of safeguarding Our Three Main National Causes and the State Constitution.
As our Tatmadaw is a part of the nation and Tatmadaw members are part of people, you all are obliged to  accomplish not only national defence duty at your posts regions but also national politics duties such as stability, peace, solidarity and social economics for the development of all national races after observing the necessity of the country and that of people. In order to safeguard our nation and races, national interest and sovereignty, building Defence Capacity and Defence Modernization are performed by upgrading it as a Standard Army.
Producing qualified technological human resources becomes the most basic necessity when military technology development is important in building modernTatmadaw.      
In order to do so,updated technological education and training systems must be applied. In modern age, outcome-based education system (OBE) is initiated in international universities as it is based on achieving predefined specific outcomes. Effective learning and assessment process which are based on adequate curricula must be implemented to accomplish this system. Quality assurance is a must in every phase of the education process which must follow criteria to accomplish accreditation.
As young military engineer leaders, you must try to improve your ability to become a reliable leader of the organization. Leader-ship does not depend on age but on decision making capabilities and deliberation. Since leaders play vital role in each and every organization, you must always try to improve your  abilities. Success or failure of an organization mostly depends on the leader, so you all have to continuously  pursue  education and knowledge and then strive for unity and improvement of your organizations. In order to do so, you have to manage systematically with good intention. Therefore, I would like to urge to be reliable leaders of your corps, your Tatmadaw and your nation by trying yourselves to be good.
To perform three main duties of Tatmadaw: national defence duty, training duty and the duty of serving for the interests of the people, the objectives of the training policies of  Tatmadaw: "Health and fitness, Skills and the Brave" must be implemented.
As you all are going to serve as junior engineer officers of Tatmadaw, you all need to learn to be more proficient in military general staff, adjutant and quartermaster duties for good administrative capability.
By doing so, welfare, morale and discipline will be more effective. In administrative capability, military discipline is the prime point for each and every Tatmadaw member to abide by. You all have to act in accordance with prescribed rules and regulations as these are controlled by law; therefore, you all must have responsibility and accountability. Being part of the people, Tatmadaw members have to abide not only by military regulations and laws but also by civilian laws. As individual behavior and action can have an  affect  upon the organization, disciplines must be obeyed individually to improve personal capability. It is essential to live together in unity with well discipline, obedience, mutual respect between superior and subordinate and good morale of Tatmadaw member.
I would like to say that you all will become junior leaders  of Tatmadaw. Unity inside and   outside the unit will be consolidated if you strictly follow the standing orders, dos and don'ts, principles in the sixty codes of conducts and fairness in administration. As we all soldiers were born from the people  and all nationalities, we have to safeguard the lives and properties of people and the safety of their daily life. I would like you to become reliable Tatmadaw members by participating and fulfilling in the tasks of regional development in education, health and social affairs and helping in the time of natural disaster.
After taking salute of the cadet companies, the Senior General left the parade ceremony.
After the parade ceremony, the Senior General met with three cadets who won outstanding awards and their parents at the parlour of the headquarters of the DSTA and spoke words of honour.
In his praise of the outstanding cadets, the Senior General said that he was as proud of as the parents of the outstanding cadets and because they were offspring of public service personnel. The Senior General said that they won the outstanding awards as they had tried very hard for the past six years and urged them to discharge their duties with good morale, rationale and conscientiousness and abide by disciplines after the graduation and to fulfill their responsibilities happily. The Senior General also said that they should abide  by four appropriateness such as going to places that they should do so, associating with people were whom they should do so, doing what they should and saying what they should without following their desires. Finally, the Senior General urged them to discharge their duties successfully through rationale.