NAY PYI TAW, December 15
Ten aircraft including two JF-17B multi-role fighter aircraft, six Yak-130 light fighter aircraft and two MI-35P fighter helicopters were commissioned into service to enhance the air prowess of the State and the Tatmadaw at the 72nd Anniversary of Tatmadaw (Air) of the Republic of the Union of Myanmar at the Flying Training Base in Meiktila Station this morning.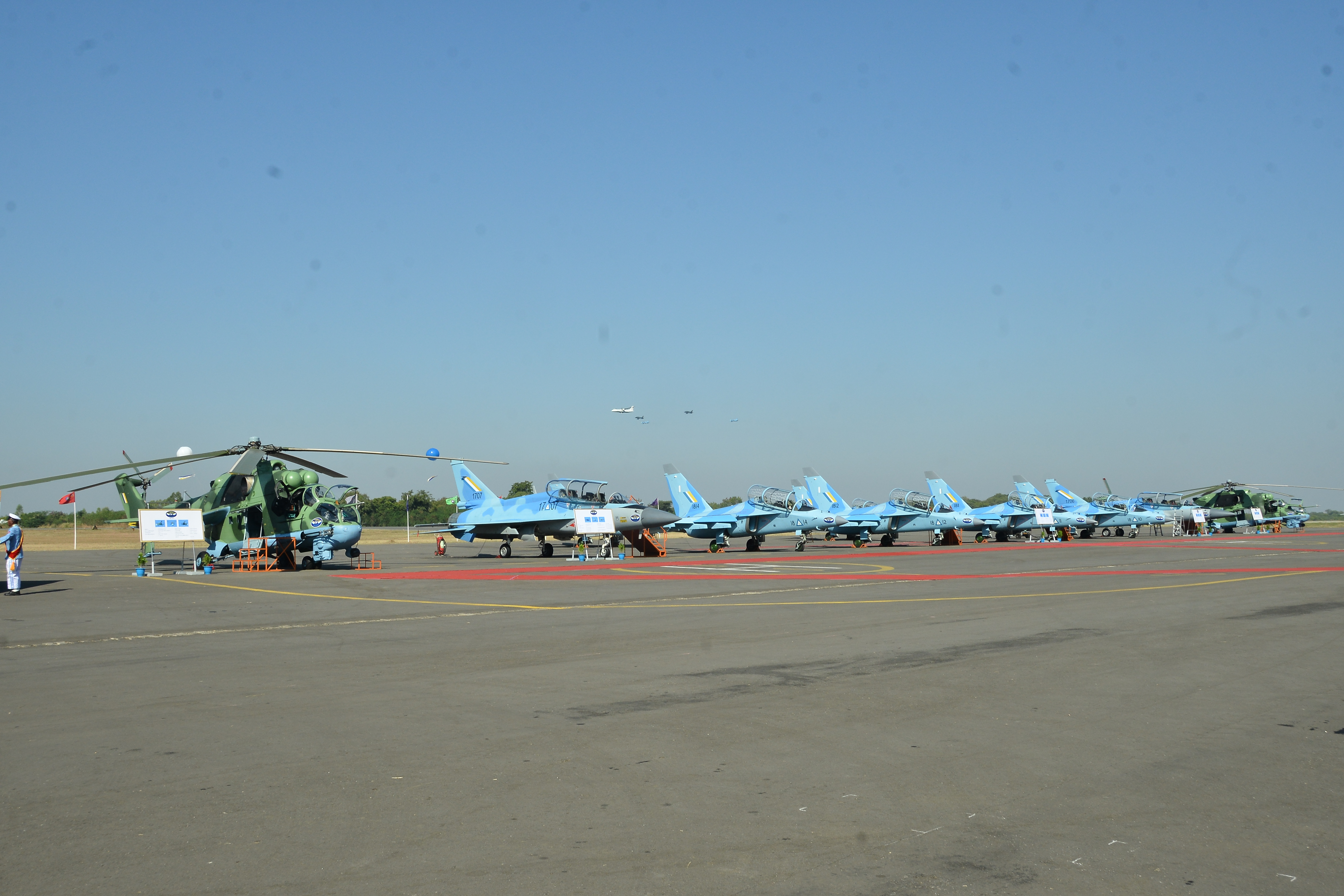 Present on the occasion were Commander-in-Chief of Defence Services Senior General Min Aung Hlaing and wife Daw Kyu Kyu Hla, Union Minister for Defence Lt-Gen Sein Win and wife, Commander-in-Chief (Navy) Admiral Tin Aung San and wife, Commander-in-Chief (Air) General Maung Maung Kyaw and wife, retired Commanders-in-Chief (Navy), retired Commanders-in-Chief (Air), senior military officers of the Office of the Commander-in-Chief, the commander of Central Command, airbase commanders, officers and other ranks and their families from Meiktila Station, teachers, students, members of War Veterans Organization from Tatmadaw (Air) and invited guests.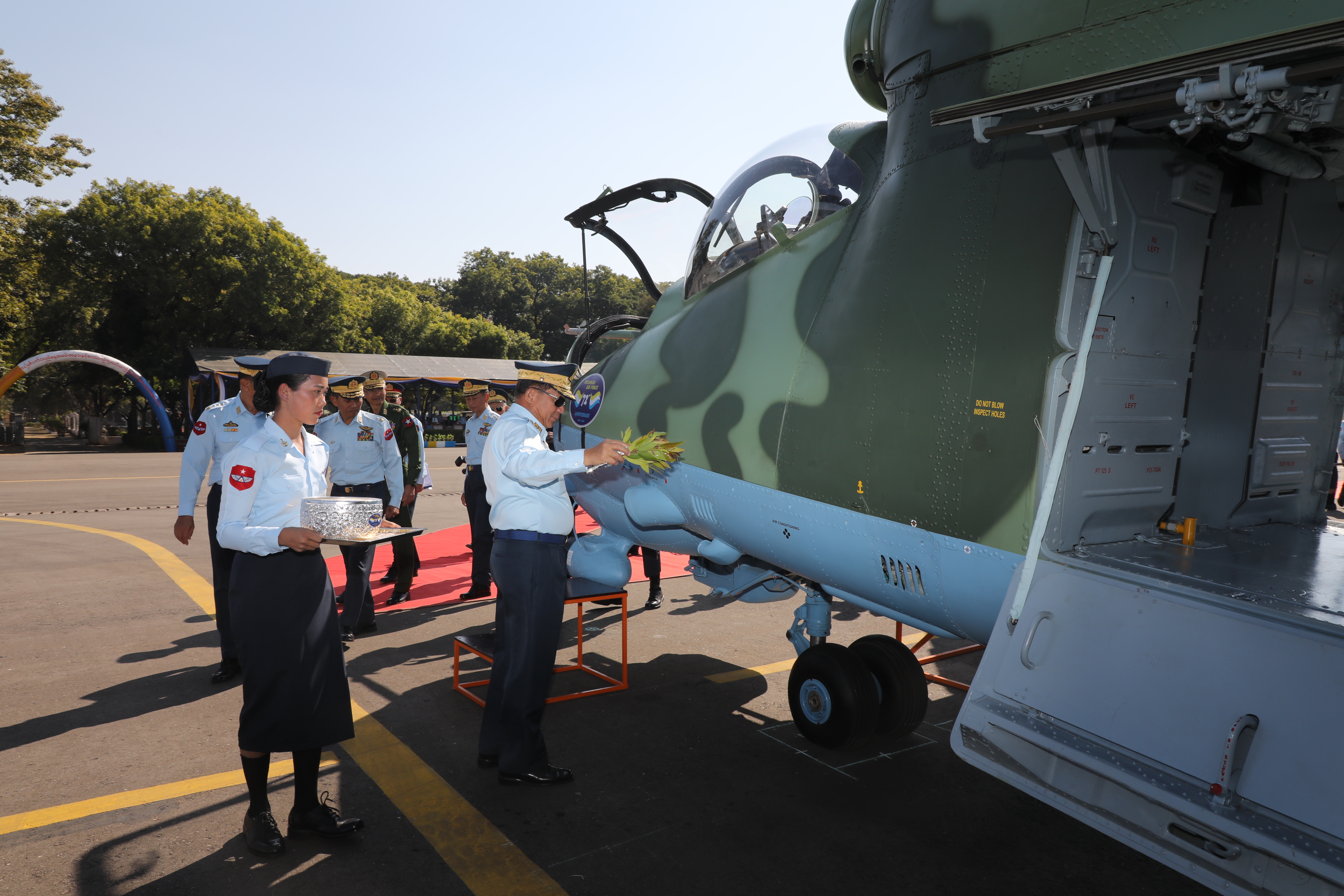 First, the Commander-in-Chief (Air) explained facts about the ceremony.
Senior General Min Aung Hlaing delivered a speech. He said the commissioning into service of the air craft and helicopters will help enhance morale of officials and other ranks of Tatmadaw (Air) and enhance its prowess.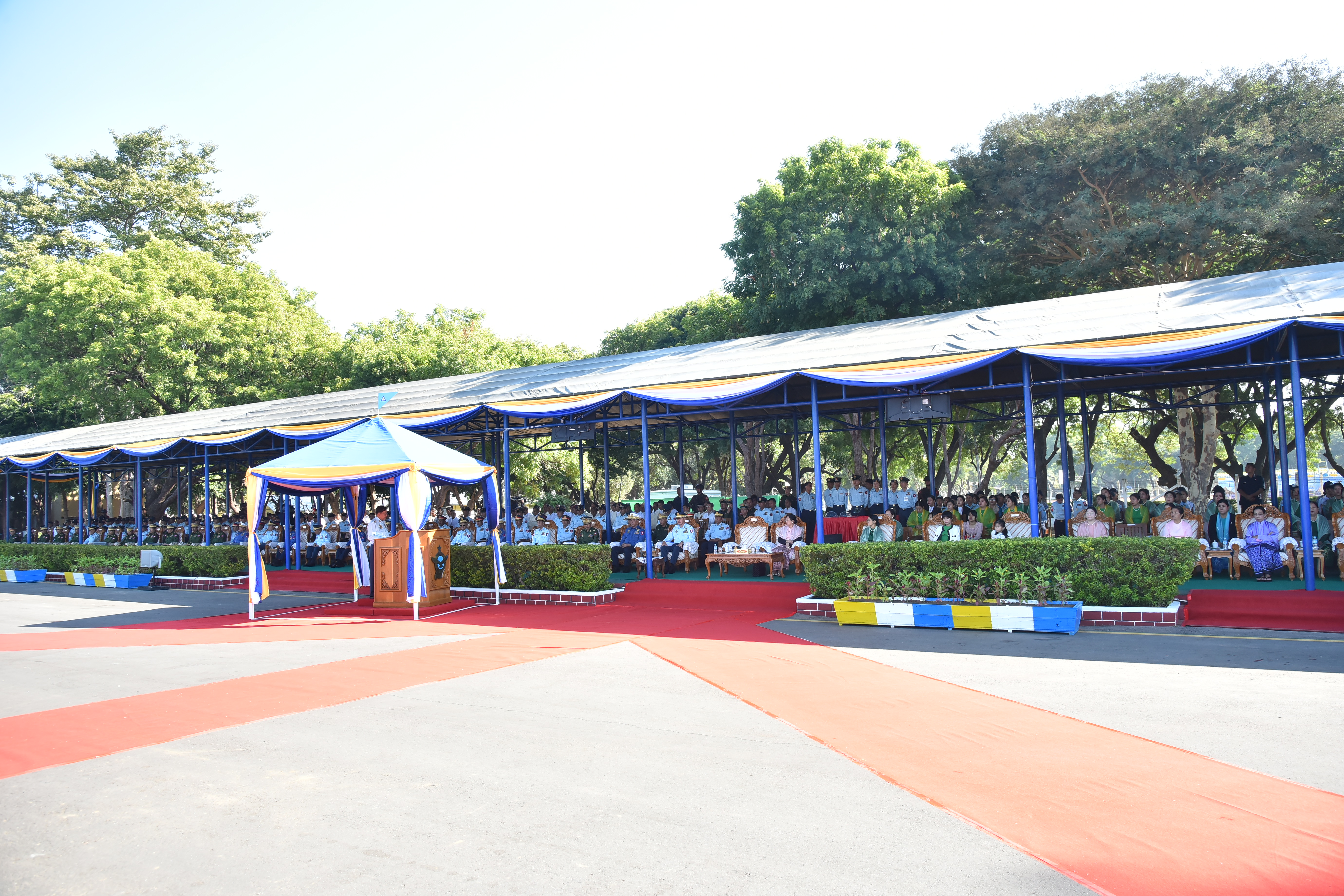 The global countries are modernizing and strengthening their Army, Navy and Air forces to protect their national interest. A powerful and capable Tatmadaw is essential for regional peace and stability and national defence. So, as in the global countries, the Myanmar Tatmadaw is being developed into a powerful modern patriotic Armed Forces to fully defend the nation. So, we are building the Tatmadaw (Air) into a powerful and advanced air force that possesses the strong aerial power. The ultimate aim is to establish a compact air force with high prowess that can stand shoulder to shoulder with regional air forces in overcoming the potential threats and challenges through air power and advanced aerospace technology.
Today, not only science and technology but also information and communication technology is rapidly developing. Accordingly, warfare technologies are changing. So, we need to study the changing military tactics and strategies to win a modern warfare. At the 21st Century battle field only the armed forces with higher technology will win. As the result of a military operation depends on training, the Tatmadaw (Air) needs systematic individual and team-wise combat trainings to become an air force with high combat efficiency and power.
Military planes were upgraded and advanced military planes were provided for establishing a powerful air force.
Aeromedical Centre is conduct-ing international level courses, pilot ability tests and research with the use of advanced equipment. Pilot production system is being conducted through pre-high level course and advanced course based on international curricular.      
The Tatmadaw has been able to purchase a range of aircraft from Tiger Moth, the first aircraft of the Tatmadaw (Air) to new generation modern aircraft and helicopters such as supersonic jet fighters, transport aircraft and fighter and transport helicopters. It is necessary to constantly study, practise comply to be professional and efficient individually or as teams in accordance with the motto of the Tatmadaw (Air) "Climb up to the top". Pilots are required to undergo training to maintain their skills and capacity and health and strength. In the same way as the Tatmadaw tries to be efficient as an organization, pilots are required to meet three criteria such as "Always practise", " Always raise Military awareness", and  "Be always combat-ready" to respond from any role assigned to any danger that will disturb Our Three Main National Causes.
The Tatmadaw is mainly respon-sible for defending the nation from internal and external dangers. Members of army, navy and air force are sacrificing lives, blood and sweat in performing their national defence duties in cooperation with the people. The air force has achieved many victories as it has launched attacks by bravely sacrificing lives in cooperation with army troops and navy troops. I would like to praise and document officers, troops and administrators on the ground that have exerted efforts to enable fighter pilots to achieve victories.
Currently, violent attacks on lives, property and interests of the people and unconventional challenges such as illegal weapons smuggling, drug trafficking, timber smuggling are posing a threat to peace and stability and the administrative mechanism of the government  and transportation  of the country. Natural disasters such as outbreaks of fire, floods, storms, thunders, earthquakes, tsunamis, landslides and droughts are also posing a threat to security of the public. The Tatmadaw has an advantage in offering humanitarian assistance and disaster relief operations as it is a systematically formed organization. Serving the interests of the people is one of the three major tasks of the Tatmadaw. The state constitution also stipulates that the Tatmadaw shall help the people when they are in danger. It can be seen that the air force has a lot of experience in serving the interests of the people, disaster relief, search and rescue operations and rehabilitation. As natural disasters can occur at any time, it is necessary for members of the Tatmadaw to constantly engage in joint exercises.
The Tatmadaw announced a unilateral ceasefire in five military commands for nine months, which is unprecedented in the history of Myanmar peace process, to fulfil the expectation for peace of local national races, to build greater trust of all organizations  participating in the peace process and to carry on negotiations with the National Reconciliation and Peace Center. In negotiations to find a solution, will the peace process work only when stakeholders negotiate with the "We are Myanmar" spirit of unity without taking my national race, my state, my region and my organization into consideration. It can be seen that our country lags behind others in the ASEAN as armed conflicts have undermined stability. It is time for the country to learn lessons from the past for development of the country instead of pointing a blaming finger to the past.
The Senior General said that JF-17 B multi-role fighter aircraft, Yak-130 light fighter aircraft and MI-35 P fighter helicopter commissioned into service contribute towards  enhancement of aviation power of the Tatmadaw (Air) as well as to help develop prowess of State defence sector of the Tatmadaw.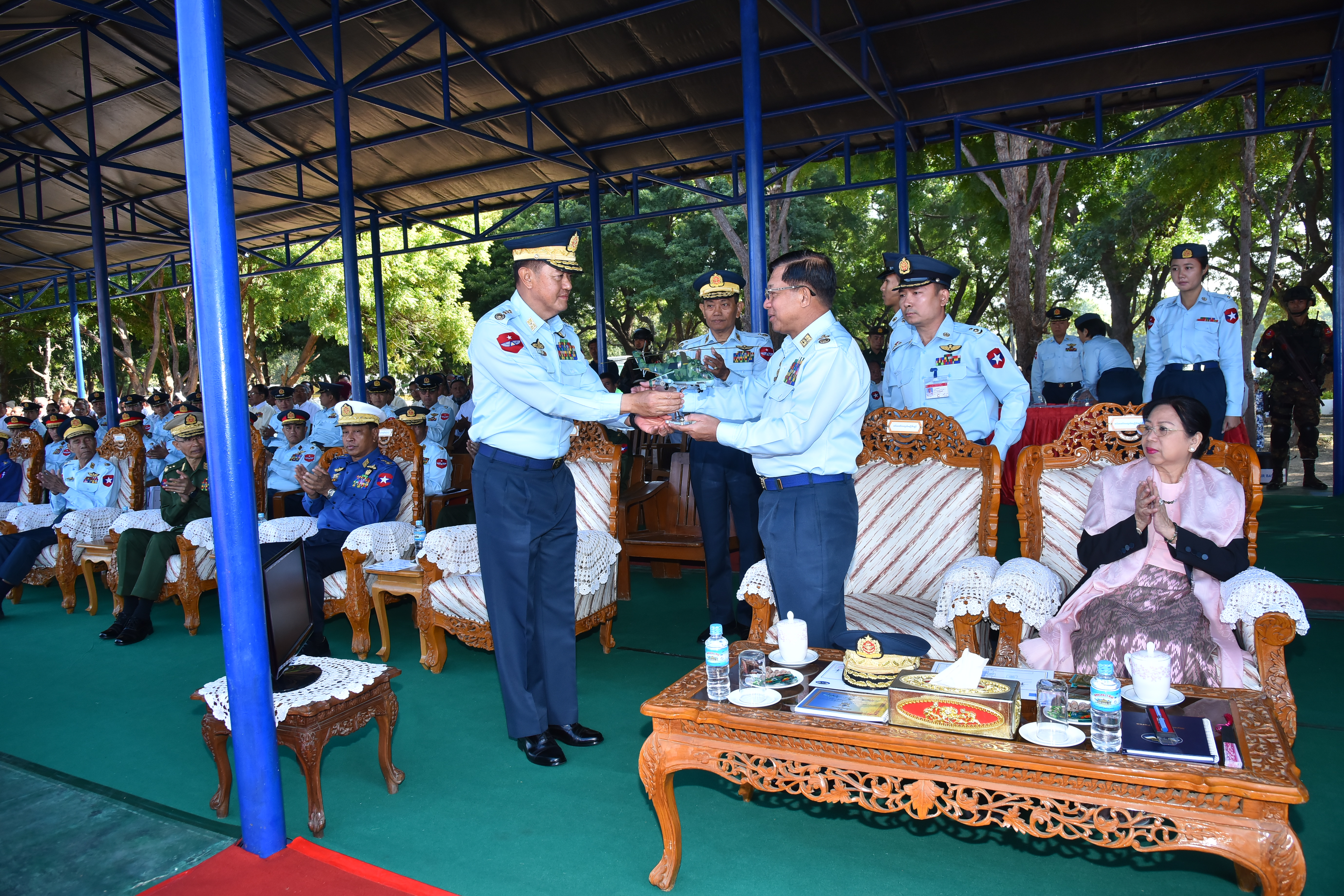 Chief of Staff (Air) Lt-Gen Tun Aung announced commissioning  of the aircraft. Commander-in-Chief (Air) General Maung Maung Kyaw  presented scale-models of airplane  and helicopter as gifts to comme-morate the ceremony to commission aircraft into service to Senior General Min Aung Hlaing.
Afterwards, airplanes and heli-copters performed skill demonstrations in saluting by flying in groups and acrobatics. The agenda on flying salute comprised flying of two fighter helicopters in group hanging State Flag and Tatmadaw Flag flanked by two fighter helicopters, flying of five helicopters in composite arrow head formation, three light transport airplanes and two helicopters in the composite arrow head formation, seven training airplanes in the arrow head formation, one medium transport airplane and four jet fighter airplanes in the composite arrow head formation, five training jet fighter airplanes in the arrow head formation with yellow, green and red smokes that symbolized  national flag and then in the fan break formation and the head-on pass flying, three multi-role  light jet fighter airplanes in the  Vic formation and the left echelon formation to salute the Senior General.
Then, the skill demonstrations included the right echelon formation, the dive and combat turn formation and the two ship break off formation. Two airplanes in the head-on pass formation performed vertical acrobats in the centre of the runway while shooting fireworks. Four multi-role jet fighter airplanes in the box formation showed off skills in 8-form flying demonstration, the combat turn, side turn, fan break and low fly past formations. 
The Senior General and party released 72 birds and sprinkled scented water on the aircraft commissioned into service. After viewing the commissioned aircraft, they posed for documentary photos.
The Senior General spoke words of honour to the pilots who participated in the skill demonstration of flying and presented cash awards.