Nay Pyi Taw December 17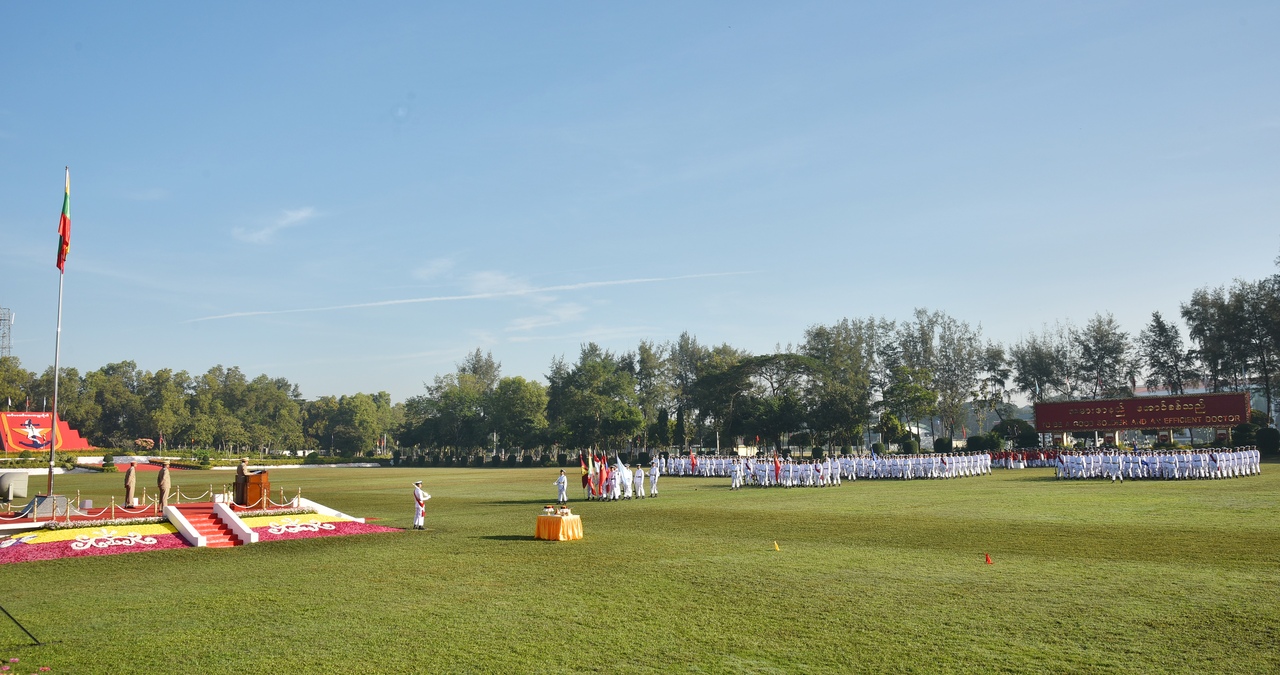 The Passing-out Parade of the 20th Intake of the Defence Services Medical Academy opened with the aim of bringing up physically and intellectually able medical science officers required by the Tatmadaw (Army, Navy and Air), was held at the DSMA in Yangon this morning.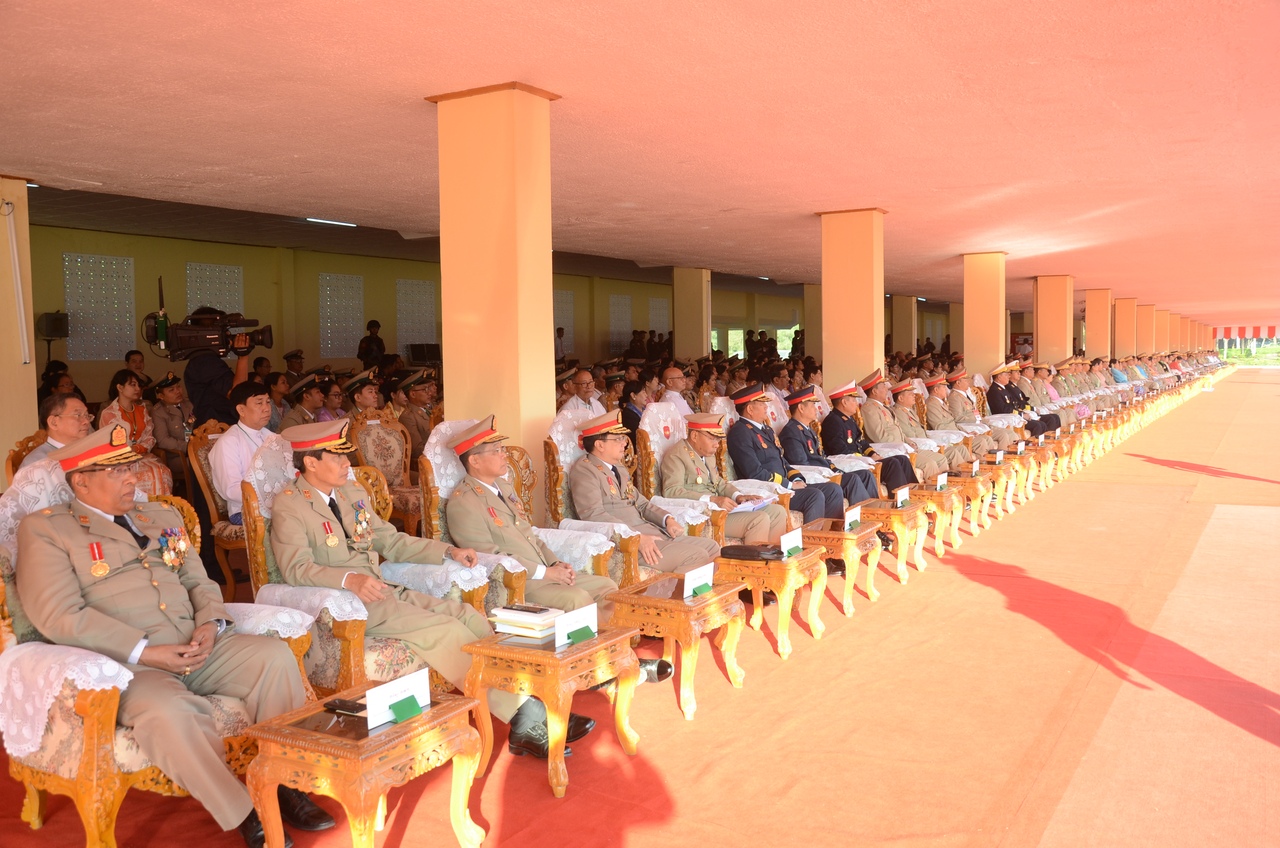 Commander-in-Chief of Defence Services Senior General Maha Thray Sithu Min Aung Hlaing delivered the address. Also present were Daw Kyu Kyu Hla, wife of the Commander-in-Chief of Defence Services, Commander-in-Chief (Navy) Admiral Zeya Kyawhtin Tin Aung San and wife, Commander-in-Chief (Air) General Zeya Kyawhtin Maung Maung Kyaw and wife, senior military officers of the Office of the Commander-in-Chief and their wives, the command commanders, the commandant of DSMA, senior military officers of Mingaladon Station, invited guests and parents and relatives of the graduate cadets.
First, the Senior General took the salute of the cadet companies and inspected the graduate cadet company. Next, the cadet companies saluted the Senior General with slow-march past and quick-march past.
The Senior General then presen-ted Best Cadet Award to Cadet No. 5439 Cadet Hein Min Khant, Excellent Award in Training to Cadet No. 5411 Cadet Zin Ko Ko Aung and Excellent Award in Studies to Cadet No.5431 Cadet Ye Kyaw Phyo.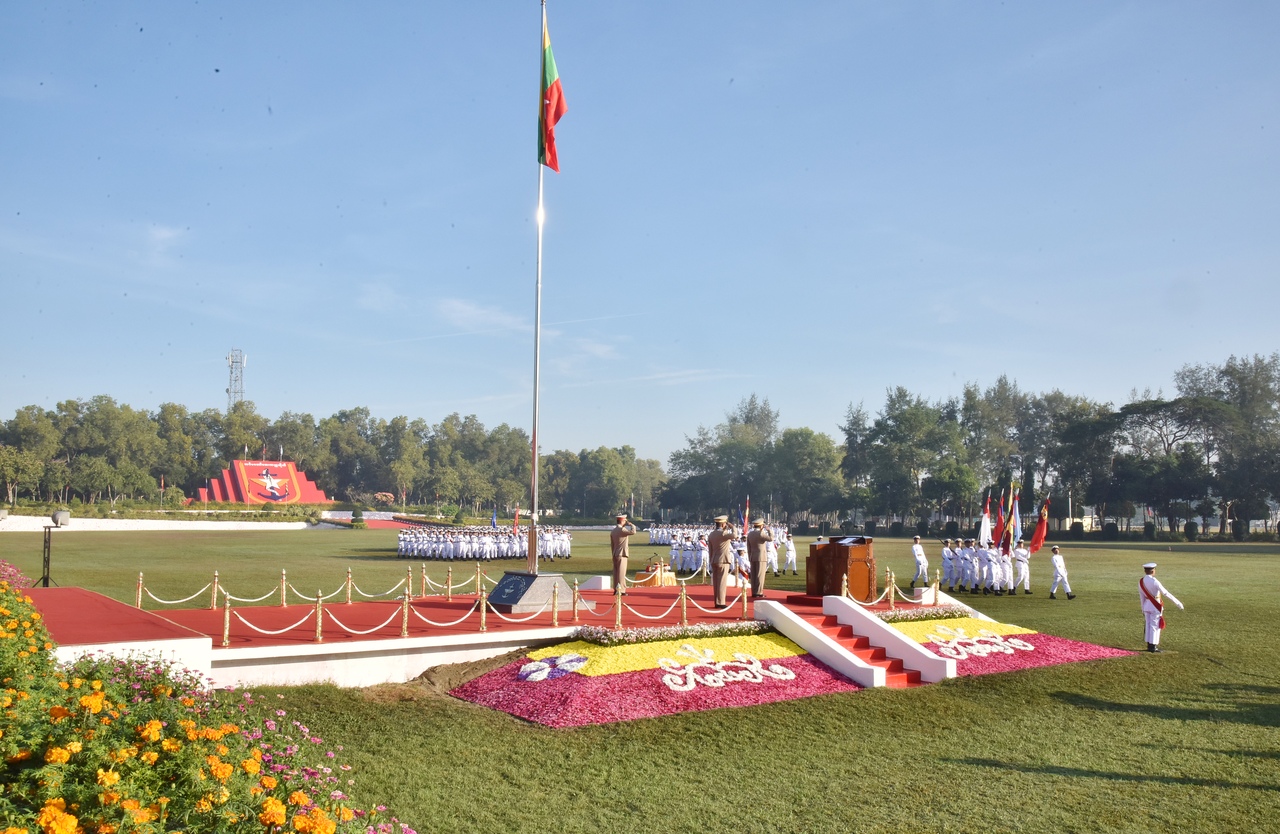 In his address, the Senior General explained the training and nurturing programs to produce good doctors. He said with the aim of bringing up physically and intellectually able medical science officers required by the Tatmadaw (Army, Navy and Air), Defence Services Medical Academy has produced over 4,000 military doctors. Among them, 2,136 officers holding master degrees, 138 officers holding doctorial degrees, 189 officers holding postgraduate medical diplomas, 207 officers holding medical education diplomas were trained and produced again so that it can be satisfactorily witnessed that they all are now earnestly providing health care services for the nation and the Tatmadaw in their assigned regions respectively.
In dealing with the health of soldiers, he said in accordance with the motto, "To provide health and fitness for combat duties", to be able to carry out health care services for military persons successfully, the nation and the Tatmadaw have spent a large amount of money and time on bringing up all of you to become military doctors who are efficient in advanced medical subjects. Your efficiency and health care services are greatly important duties for health and fitness of all military men which is also the basic need for the Tatmadaw to get strengthened. Therefore, it is really necessary for you to understand that your efficiency and health care services are indirectly supporting to boost the defence power of the nation. Being military doctors, it is essential for you to be loyal to the nation and the Tatmadaw and to be obedient. Moreover, to become good military personnel, you must strictly abide basic military ethics. It is vital for you to be able to apply successfully your proficient medical skills in the health care services in accordance with the motto of the medical corps, "the sincerity, sympathy and safety". Being medical doctors, I'd strongly advise all of you to always keep the 9 medical oaths in your hearts in accordance with medical ethics, ethics for medical doctors as well as civics.
As regards the production of physically and intellectually able medical science officers, the Senior General said nowadays, as it is the information technology age, it can clearly be seen that the field of medical science is also getting advanced day by day. On one hand, there are modernized treatments and new medical devices coming up and so also on the other hand, strange and peculiar illnesses become great challenges for the medical world. In order to come through these things, you all must
keep on studying medical science subjects in order to keep abreast with the international medical scientists. To be able to do this, I'd like to suggest you to study advanced subjects continuously based on what you have learnt in Defence Services Medical Academy.
As regards the efforts to extend master's degree courses on science, the Senior General said Defence Services Medical Academy has already received the recognized certificate of World Federation for Medical Education – WFME and also it is moving forward in accordance with the policy of Myanmar Medical Council Accreditation Committee – MMCAC as well as making sure of Quality Medical Education.
Workshops and paper reading sessions are held properly together with civilian medical institutes or international medical corps. Moreover, paper reading sessions and poster presentation sessions are continuously there at the military medical conference annually. On the teaching side, starting from 2017, integrated curriculum has been used as a change and for undergraduate and postgraduate courses, there are also some changes and modifications in the curriculum and assessment in order to upgrade the standard of medical education. As these curricula are problem-based learning, which is student-centered, it helps students have a good habit of solving problems with critical thinking since young. In this way, it becomes a good foundation for their future to be well-conducted after learning the ethics of a medical doctor as well as his rules and regulations.
In connection with the richness of human resources, the most basic need for national development, the Senior General said today, in the 21st century, science and technology, which makes world-wide changes, has speedy influence not only on the whole human society but also on an individual life of everyone. As wealthy richness and the development of a nation depend highly on exploiting new science and technological theories, educational upgrade would be taking a great role in all parts of the world. For the development of a society, health is the basic need and it also helps people to become highly intelligent. Therefore, healthy fitness and great intelligence should be focused to get higher and higher one generation after another.
No matter how rich a country is in natural resources, it is impossible to have effective development of a nation without rich human resources. Therefore, it can clearly be seen that every nation in the world is trying her best to be rich in human resources by laying down tactics and strategies. Human resource means not only knowledge and profession but also health and fitness which is also as a part of it and it is also essential to be well-disciplined. It is noticeable that it is impossible to build a modern developed nation either with knowledge or profession. Moreover, it is hard to gain knowledge and profession if one is lack of health and fitness. Therefore, in the medical field, you must thoroughly try your best to gain the mixture of both knowledge and profession and also train yourselves to be healthy and fit so that it would be a great help to build a well-modernized and developed nation.
Regarding the need accelerate public healthcare activities, he said our Tatmadaw has been dutifully carried out the three main duties; the national defence duty, training duty and serving public welfare duty. As regards public welfare duty, the Military Mobile Medical Teams are giving free of charge health care service to every one of race and religion in all parts of the nation with the hope that every citizen is to be fit and healthy. Military mobile medical teams, giving free of charge health care to national ethnic groups, would be doing the duty of serving public welfare and at the same time, it is also doing the national defence duty as they are giving the health care services to the public.
Moreover, in some remote areas, there are insufficient numbers of health workers and also assigned doctors were not there. Therefore, as the second group, 44 military doctors volunteered to work in order to give health care services to local people there at the hospitals in Sagaing Region, Chin State and Nagha self-administered zone region. In the place where it is difficult to find a doctor holding just an ordinary M.B.B.S degree, local people war-mly welcome for getting treatment from military doctors who are specialists. Moreover, it can proudly be seen that in respective assigned regions, military doctors are not only giving health care services but also promoting education sector and regional development as well as upgrading the living standard of local people there.
When a person is healthy, he can work, study and upgrade his living standard. Therefore, I'd like to exhort you, being military doctors, to give health care services not only to military persons and their family members but also to local people there where you are assigned.
Then, the Senior General took the salute of cadet companies and left the parade ground.
After the parade, the Senior General met the outstanding cadets and their parents at the parlour of DSMA and gave a speech in honour of them.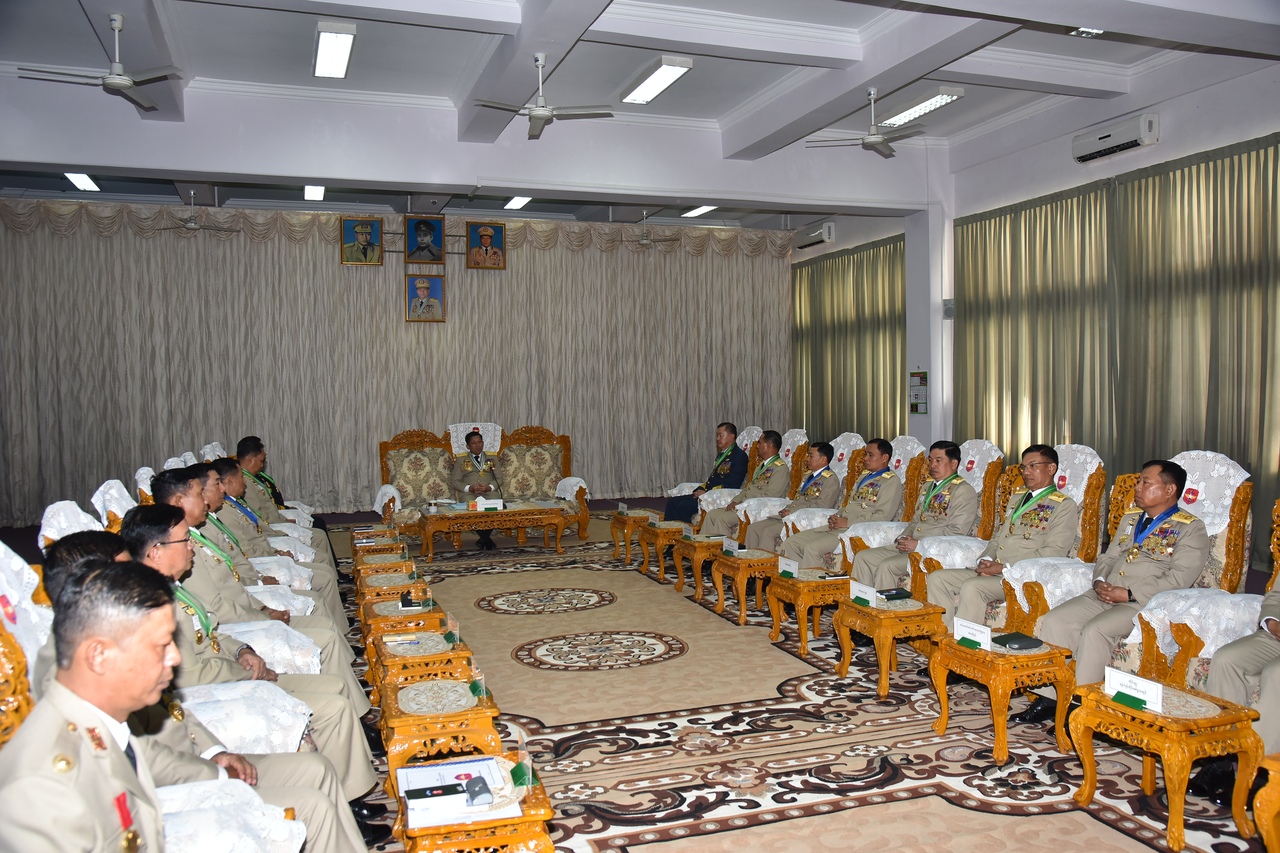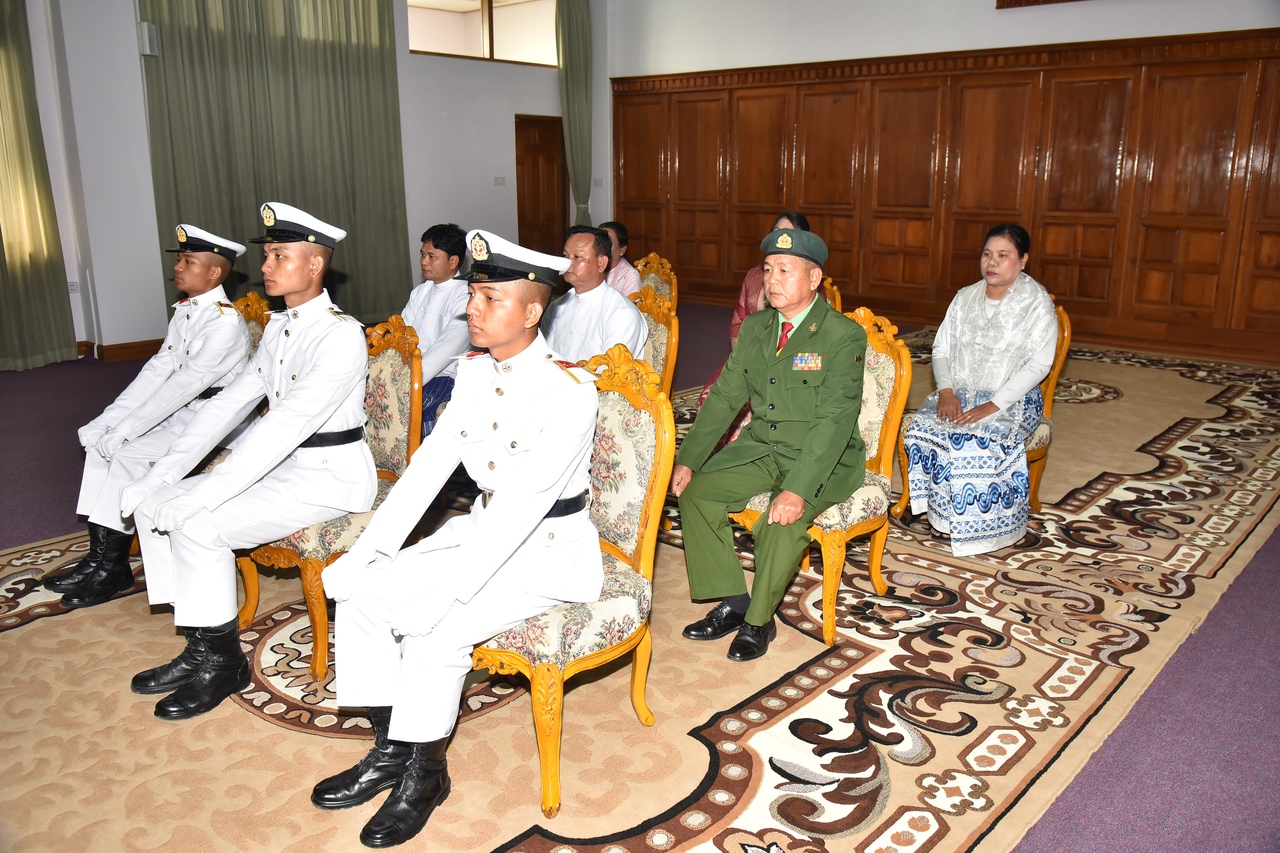 In his speech, praising the out-standing cadets, the Senior General said he is as proud of them as their parents. He urged the cadets to appreciate and repay the gratitude of their parents who have brought them up. He also urged them to have loyalty to the Tatmadaw and Defence Services Medical Academy that taught medical and military knowledge for seven years. He said cadets can repay the gratitude by improving themselves, so they should set goals and try hard to become outstanding doctors and be able to perform important tasks. For the cadets, in order not to disappoint the hopes of their families on him, they should abstain, with conscience, from over-indulgence in physical pleasure that can harm their lives. They should keep in mind to only go to appropriate places, associate with appropriate people, act appropriately, and speak appropriately; and try hard to become the pride for their families, country and Tatmadaw,he said.