Nay Pyi Taw December 23
Female (officers) are being turned out for enabling servicewomen to discharge State defence duty in the Republic of the Union of Myanmar. The Passing-out Parade of the 6th Intake of Graduate Female Cadet Course took place at Defence Services (Army) Officers Training School (Hmawby) in Yangon this morning, with an address delivered by Commander-in-Chief of Defence Services Maha Thray Sithu Min Aung Hlaing.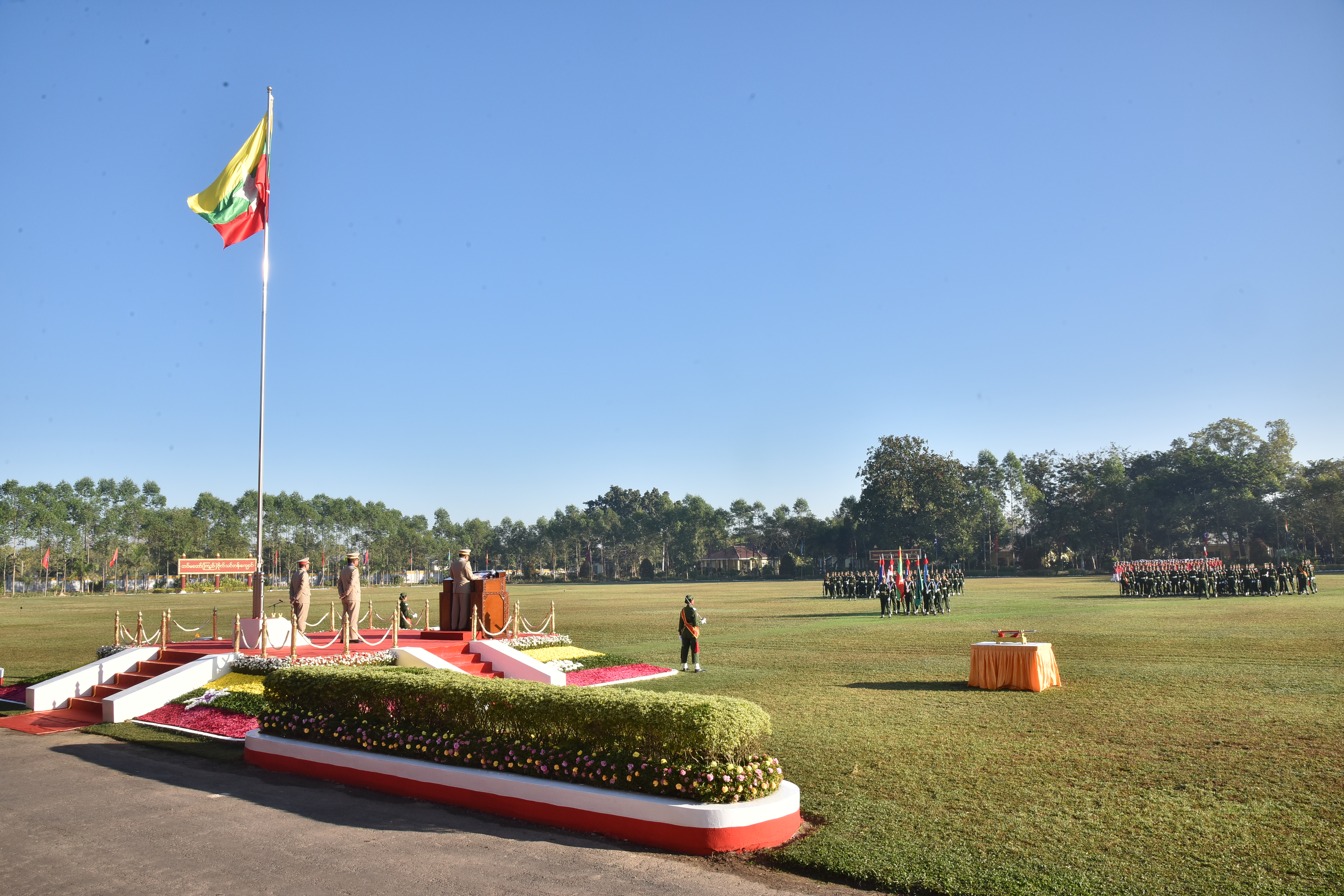 Also present at the Passing-out Parade were Daw Kyu Kyu Hla, wife of the Commander-in-Chief of Defence Services, Union Minister for Defence Lt-Gen Zeya Kyawhtin Sein Win and wife, Commander-in-Chief (Navy) Admiral Zeya Kyawhtin Tin Aung San and wife, Commander-in-Chief (Air) General Zeya Kyawhtin Maung Maung Kyaw and wife, senior military officers from the Office of the Commander-in-Chief and their wives, the commander of Yangon Command, the commandant of Defence Services (Army) Officers Training School (Hmawby), senior military officers from Yangon Station, guests, parents and relatives of the graduate female cadets.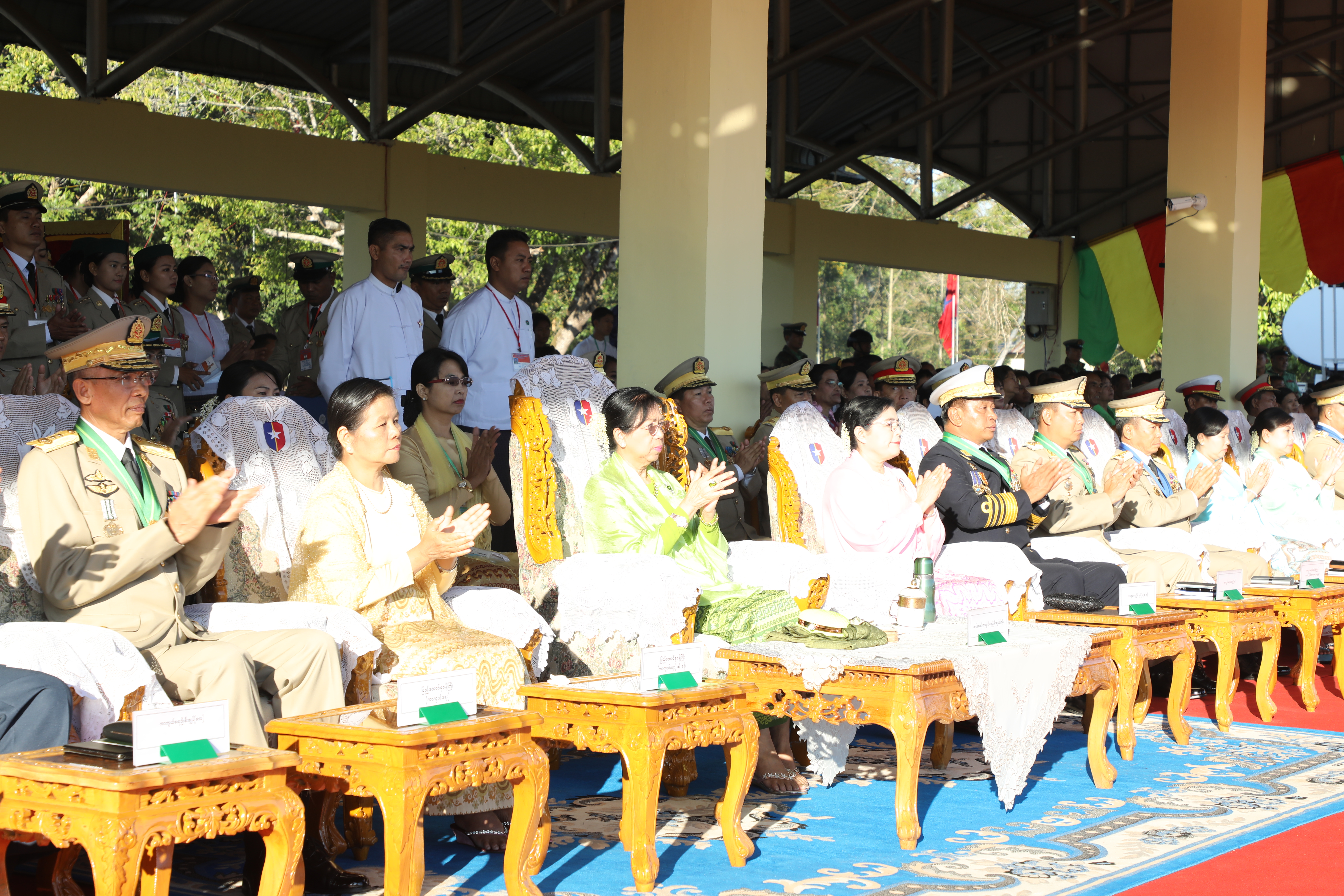 The Senior General took the salute of the cadet companies and inspected the cadet companies. Next, the cadet companies saluted the Senior General with slow-march past and quick-march past. Then, the Senior General presented the Best Cadet Award to Cadet No. 69 Cadet Yamin Inzali.
In his address, the Senior Gen-eral said with the virtuous aim of our Tatmadaw: "To produce servicewomen in the military (officers) for safeguarding the country in the way of generating the cohesive power", the female cadet course has been inaugurated as a byproduct of serving women in Tatmadaw (Army, Navy and Air) and Corps. To defend the nation is the national duty of all citizens residing in the country regardless of gender. Whilst performing to be capable and modern patriotic Tatmadaw, servicewomen are trained to serve defence duty drawing abreast of servicemen in Tatmadaw.
Back to the history of Myanmar Independence struggle, a large number of patriotic female warriors devoted all their efforts to assigned tasks as a part of national defence duty. As for Just War, not only servicewomen but also reservist forces (wives of soldiery) have been taking the responsibility of national duty by improvised weapons.
It is found that the role of women is very important in a successive period. At present, the cradle of women keeps abreast of men society in social, economic, political spheres and even in space science. It is obvious that the present role of women become a wider range than in the past. The 2008 Constitution of the Republic of the Union of Myanmar mandates Gender Equality in society whereas some countries still proclaim it. In our Constitution, it is prescribed that "Women shall be entitled to the same rights and salaries as that received by men in respect of similar work" and comrades can see that the proper conduct is assigned in the respective services without gender discrimination. I would like to urge you to be dutiful officers and to preserve the virtuous tradition of our Tatmadaw and country.
After the course, comrades shall be accomplished the designated missions integrating the acquired knowledge and the obligatory tasks whilst you are in the practical field. You were endowed with the mandatory military fieldcraft apart from the University specialisations. Soldiers who sacrifice their lives for national defence duty need to be well-disciplined as the saying goes "Discipline is the backbone of our Tatmadaw". Soldiers shall be obligated to abide by military law, discipline and civil panel code as well. Obedience, discipline and solidarity are the virtuous traditions of Our Tatmadaw. Tatmadaw born together with multiethnic people stands for a unified institution and it represents our motherland as it is bonded by discipline and directives. Therefore, Tatmadawmen need to know and abide by the promulgated military law and civil panel code.
There is no religious and ethnic discrimination in our unified institution (Tatmadaw), and promulgated rules and regulations remain con-stant. Under the supervision of Tatmadaw, everybody obliged to serve the national defence duty needs to be united. As our Tatmadaw is prerequisite for the national defence sector, comrades will have to serve in the sense of duty with obedience, discipline and mutual respect with the inculcation of esprit de corps. Tatmadawmen have to strictly abide by the virtuous Sixty Codes of Conduct.
As leadership plays a crucial role in every institution, comrades need to try the best and have to prove your mettle to be entrusted leader. Military leaders must be physically and mentally equipped, and lead your subordinates in act of virtuous leadership, justice and prudence for their deeds as in welfare and personal affairs: financial, social, health, education and security measures. I would like to urge you to cultivate your good habits and to foster the value onwards achieving your cohesive forces and yourself a reality. You also need to abstain from a way of magnanimity by yourself and subordinates. Comrades need to abide by Four Awareness: Be aware of right place, right person, right career and the right word.
Our Tatmadaw has already laid down Three Main Duties: Duty to defend the nation, Duty to undergo the training and Duty to serve the interests of the people. The national defence generally means to annihilate the internal and external destructive elements of the country. It is clear that all countries in the world expand their defence power to reach the level of international norms for safeguarding their national interests. As for geopolitics, Myanmar is a strategic arena in its region and contiguous with its neighbouring countries in terms of religious and racial affairs by historical context. For the sake of upholding the ethnicity and national interest, Tatmadaw has to keep abreast with international armed forces.
Not to dare encroach on the sovereignty and territorial integrity of our country by neighbouring countries and superpower countries, Tatmadaw, the core strength of national defence, has to be well-modernised and well-efficient. To be a modernised Tatmadaw, Three-Capability needs to be fulfiled by every soldiery. As for the professional institution imbued with personal integrity, individual training towards collective training and joint operation training are exercised. I would like to address that you need to implement the virtuous aim of Tatmadaw; "Be efficient combat power and capability to be a modernised Tatmadaw".
Graduate female cadets must try to exemplify the remarkable female soldiers in different positions or ranks who served steadfastly in Tatmadaw, abide by rules and regulations mandated by Tatmadaw, and act in the sense of the Sixty Codes of Conduct by embracing leadership quality, be able to perform whatever assigned tasks targeted for the ethnic people's interests in everywhere after the completion of your course, be a person of the duty of consciousness per Fourfold Unit Establishment and Three Main Tasks of Tatmadaw through upholding Our Three Main National Causes, and be confident female military officers for our country and Tatmadaw through the substantial learning on leadership skill and military administration system named General Staff Duty, Adjutant Staff Duty and Quartermaster Staff Duty (GAQ) acquired from the course.
The Senior General left the parade ceremony after taking salute of the cadet companies.
After the parade ceremony, the Senior General met Best Cadet Award winner Cadet Yamin Inzali and Best Shooting Award winner Cadet Aye Htet Htet Hlaing together with their parents at the parlour of Defence Services (Army) Officers Training School (Hmawby).
In his speech, the Senior General said he is as proud of them as their parents in securing outstanding awards. They secured the outstanding awards due to making utmost efforts along the training period. Hence, he urged them to foster the basic good spirit of making efforts along their lives. He noted that they have to individually set great ambitions and implement these ambitions along their lives. The role of female is of great importance not only across the world but also in Myanmar. They have to practise advice of parents who nurtured them and fulfill requirement of parents as much as possible so as to repay gratitude. Likewise, they need to be loyal to the gratitude of the Tatmadaw by improving themselves in disciplines. They should keep in mind Four Awareness: Be aware of right place, right person, right career and the right word. He urged them to dutifully carry out their assignments with faithfulness to themselves, their duties, the Tatmadaw and the State so as to achieve their goal.