Nay Pyi Taw, December 30 
In accord with the motto of the Defence Services Institute of Nursing and Paramedical Sciences (DSINPS) "To turn out physically and mentally strong Tatmadaw nurses, pharmacists and paramedics for the national armed forces who will protect Our Three Main National Causes, nurse and pharmacist soldiers equipped with quality and good codes of conduct are being turned out. And the Passing-out Parade of 17th Intake of the Defence Services Institute of Nursing and Paramedical Sciences (DSINPS) and the 4th Intake of Lady Nursing and Paramedical Sciences was held at the parade-ground of Defence Services Medical Academy in Yangon this morning, attended and addressed by Commander-in-Chief of Defence Services Senior General Maha Thray Sithu Min Aung Hlaing.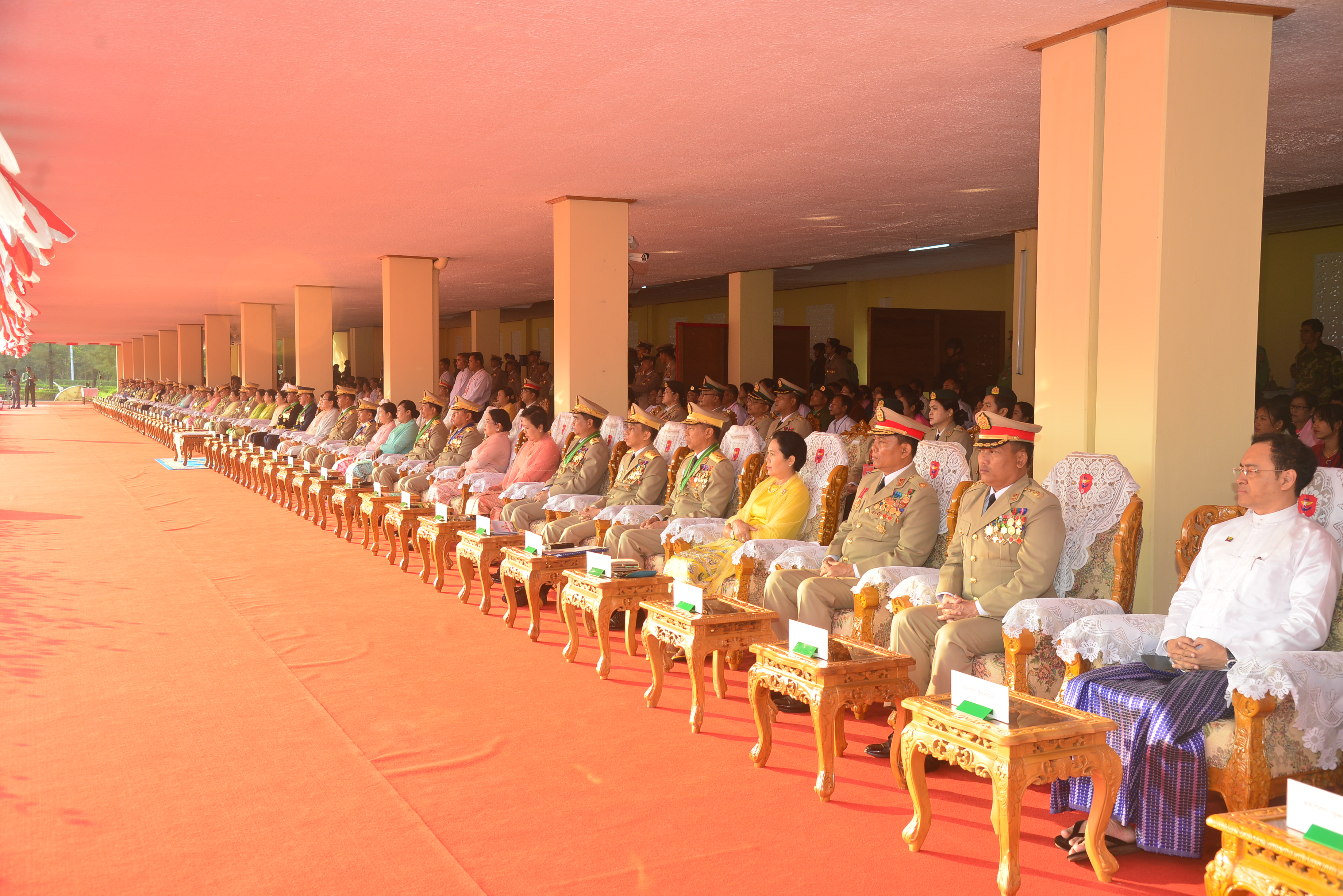 Also present were Daw Kyu Kyu Hla, wife of the Senior General, Union Minister for Defence Lt-Gen Zeya Kyawhtin Sein Win and wife, Union Minister for Border Affairs Lt-Gen Thiri Pyanchi Ye Aung and wife, Commander-in-Chief (Navy) Admiral Zeya Kyawhtin Tin Aung San, Commander-in-Chief (Air) General Zeya Kyawhtin Maung Maung Kyaw, senior military officers from the Office of the Commander-in-Chief, the commander of Yangon Command, the commandant of the DSINPS, senior officers of Yangon Station, invited persons and parents and relatives of nurses. 
First, Commander-in-Chief of Defence Services Senior General Maha Thray Sithu Min Aung Hlaing took the salute of the trainee companies and inspected them. Next,trainee companies saluted the Senior General in slow march-past and quick march-past. 
Afterwards, the Senior General presented Best Trainee Award to No. 3894 Trainee Myo Htet Aung, Excellent Award in Training to No. 3898 Trainee Myat Thu Kyaw and Excellent Award in Studies to No. 3901 Trainee Thant Hein Soe of the 17th Intake of DSINPS.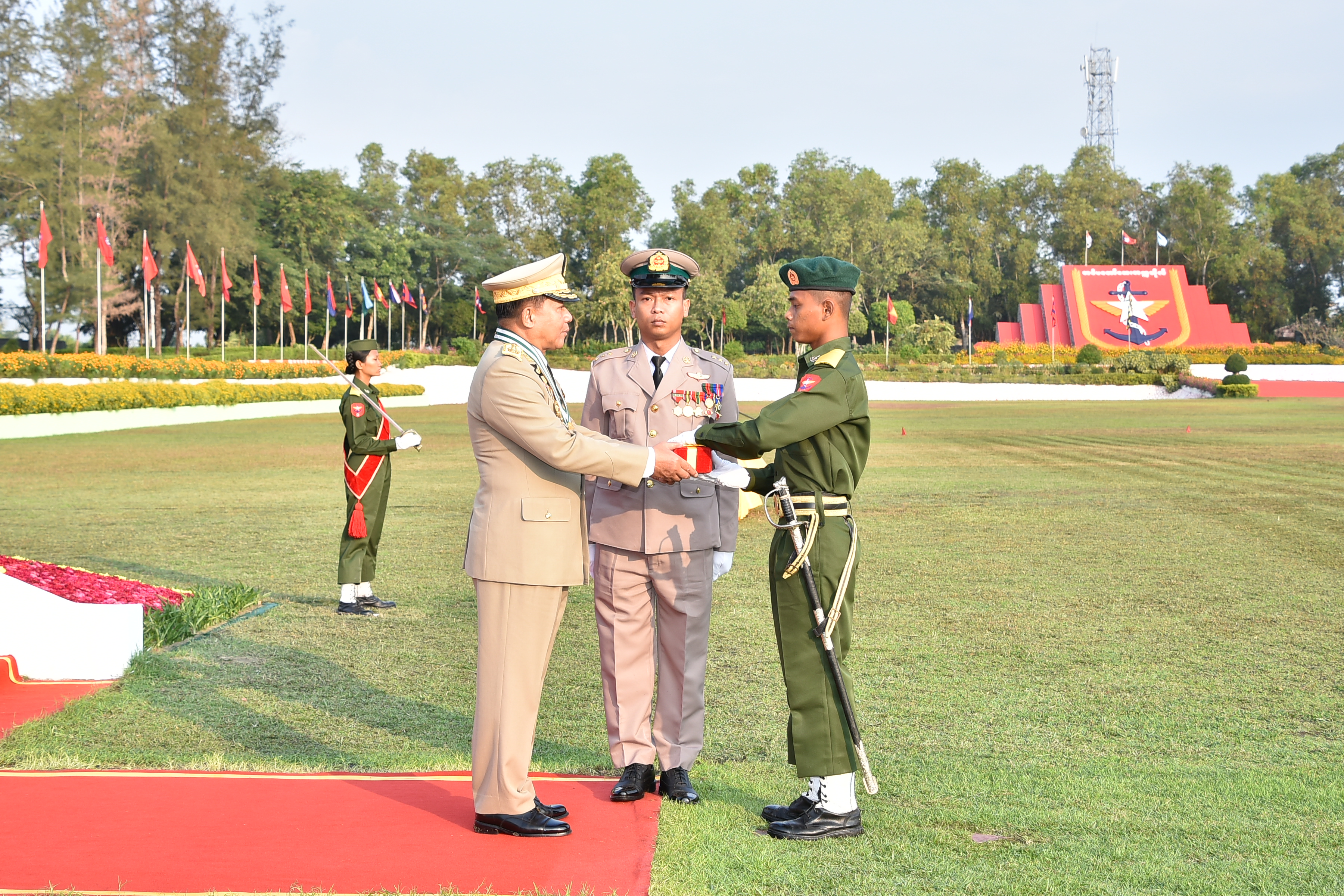 Next, the Senior General presented Best Trainee Award to No. 257 Trainee KyiKyi Nyein, Excellent Award in Training to No. 226 Trainee Khin Phyu Hnin and Excellent Award in Studies to No. 237 Trainee Thandar Aung of the 4th Intake of Lady Nursing and Paramedical Sciences.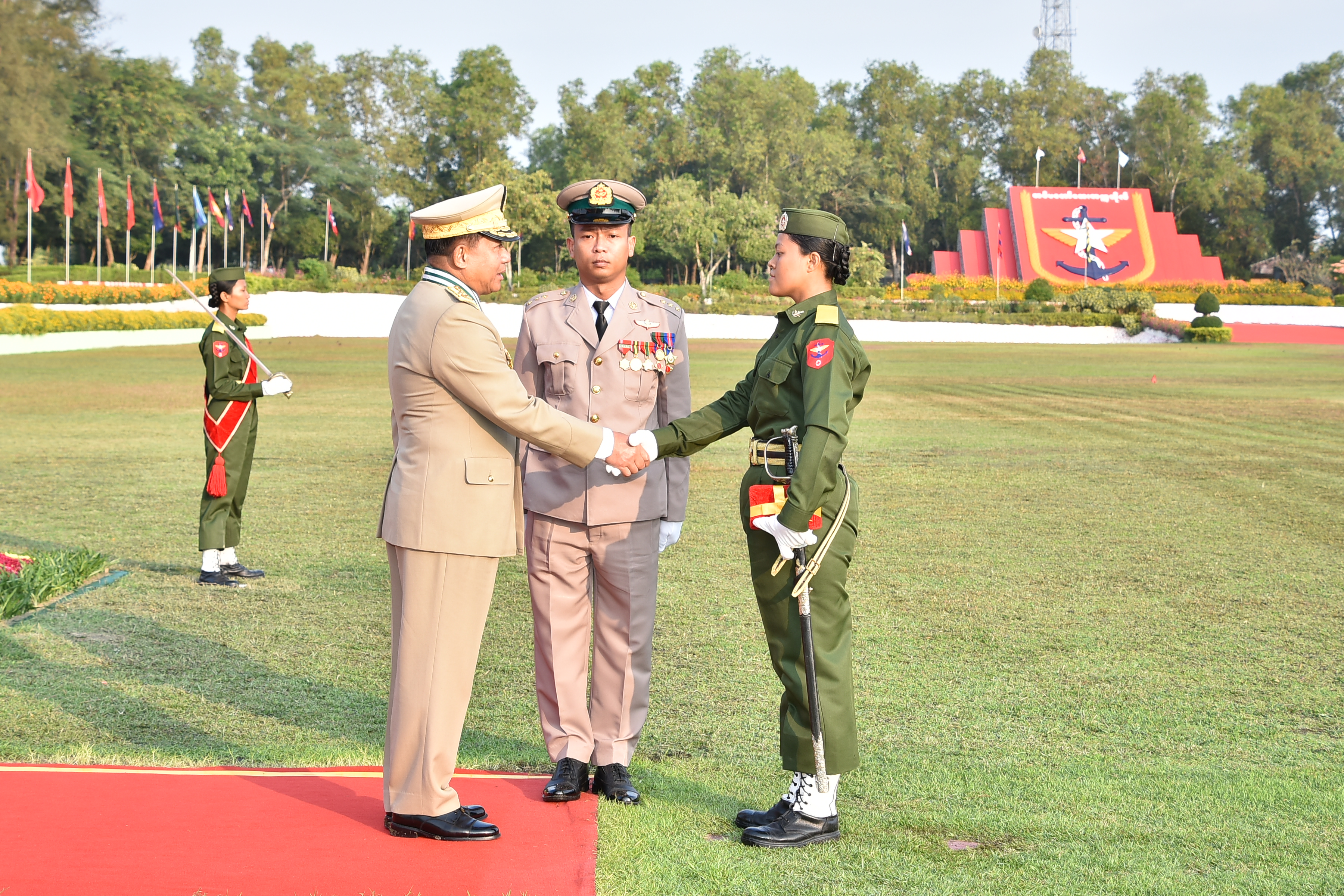 Senior General Min Aung Hlaing delivered the address. He said in the under-graduate four-year period, you have been trained all up to the platoon commander level in military field, and operational nursing and medical cover tasks were taught both practically and theoretically, I would like to encourage you all to keep up the 9 Pledges of Nurses, adhere to professional integrity in safeguarding the health of the Tatmadaw members and the people.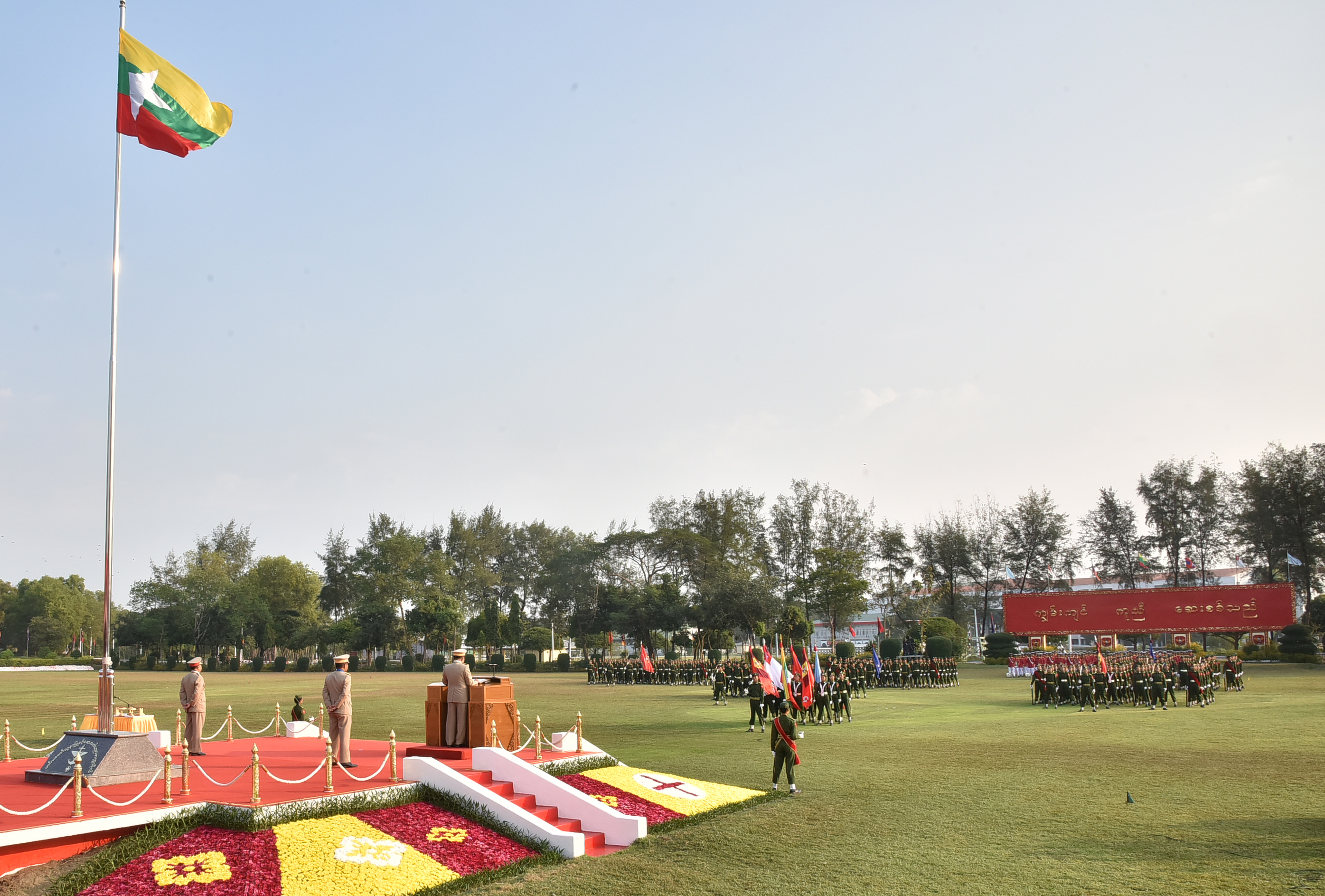 Looking back at the history of MINP, during the time of Nursing Training Wing, that of Bachelor of Nursing Sciences Course (female cadet) and that of Military Institute of Nursing could produce male and female nurses for providing health care. In 2002, Military Institute of Nursing was upgraded to Military Institute of Nursing and Paramedical Sciences and produced pharmacists, laboratory technologist, radiologist and physiotherapists, because of not only doctors and nurses are important for giving treatment, but also medical technologists and pharmacists are necessary for medical laboratories, pharmaceutical composition and rehabilitation. 
You have to implement effectively in your assigned professional domain practically, what you have learnt as trainees both in theory and practice. In doing so, you have to keep on studying always to be ready by yourselves or you will encounter failure if you lack skills. It can be seen that, for those who had fulfiled their duties as Tatmadaw Medical Corps throughout ages have been accomplishing their duties as Nurses, Paramedics to Asso-ciate Professor and Matron respectively. 
When the country has citizens who are healthy and embedded with knowledge and technology, the country's military, economy, politics and social affairs can be managed smoothly. In other words, the budget for health care system should be managed efficiently and effectively, and the health care system should be fine as well, for the status of health situation of a country directly reflect its development. It can clearly be seen that the development of human resources, health information system, and health care system must be on at par with international standards. 
You all nurses and technologists brought up by the Tatmadaw have to perform in vital role for caring health of individual or families and community to ensure the best quality of life in health care. Therefore, I would like to urge you all to maintain the Spirit of nursing and enhance your capability to become a qualified nurse. 
Moreover, nurses have the duties, to alleviate the suffering of patients, to give them treatment to recover within a short period, to treat them as close relatives, to give them health knowledge. For that purpose, give kind treatments and assistance to your patients with the spirit of a nurse based on the 5 nursing guidelines, because you will have to participate in the Health Care Activities as a nurse in various ways "Health Educator, Health Advisor and Health Assistant". 
In our armed forces, at the present time, military nurses are being assigned not only in the military hospitals but also in the operation areas together with combat forces. For that, it needs to realise that you, "comrades" play very important role to upgrade military capability. It is obvious that there were military personnel who sacrificed their lives and limbs in operation areas and some were honored with awards for their sacrifice and outstanding achievement. 
For that, I would like to exhort my comrades, "nurses and technicians" to carry out the health care activities including disease prevention, treatment, upgrading health and rehabilitation of our military personnel, their family members and our ethnic people with your nursing skills as much as you can in accordance with the motto, "Valour, Wisdom, Skill," at your respective assigned areas. Nowadays, it needs to be a modernized army and to strengthen the armed forces in order to protect the sovereignty and stability of smaller countries according to the current situation in the world. As soon as our armed forces disunite, our politics, economics and social affairs will be unstable and the national security will also decay. Then, the lives of our populace will also be lost and the threats to sovereignty and stability will also be encountered. 
For that, while Tatmadaw is serving the duties of national security and national defence in accordance with Our Three Main National Causes, the sovereignty of our country, national territory, natural resources and the lives of our populace are also being protected with the spirit of sacrifice. According to international ideology on security, it needs to be considered for individual security of our citizens or human security because the duties of national security are complicated with the influence of politics, military, economic, social and diplomatic affairs. 
While implementing human security, it also needs to implement the security in the 7 areas of economics, food safety, healthcare, natural disaster management, individual security, security for human society and national security. It needs to take care of the tasks for disaster risk management because the climate change highly effects on human security. In our country, only our military personnel can also implement the process of emergency search and rescue in an effective way within a short period whenever the disasters have been encountered. Why our armed forces can effectively implement the natural disaster risk management within a short period is that our Armed Forces is well-trained, composed of good ability in transportation and administration, well-experienced in supervision and management, ready to implement any task within a short period, able to implement in unity in accordance with its implementation plan. 
As Tatmadaw members who are to protect and safeguard the life and property of the people, we need to be perpetual, and diligently trained for immediate response to any disaster including the natural ones that might fall upon the masses. Thus, my words of advice would be to apply your medical knowledge at wherever you are posted to protect the people there in time of natural disasters. In protecting and safeguarding the people we would strictly abide by the 10 codes of conduct from among the 60 codes of conduct of the Tatmadaw meant for dealing with the public. Adhering to the 10 codes of conduct for dealing with the public would enhance the Tatmadaw's public relations, and thus, you could, as a decent soldier, promote the Tatmadaw's prestige. 
The Senior General then took the salute of trainee companies and left the parade ground. 
After the parade, the Senior General met the outstanding trainees of 17th Intake of DSINPS and the 4th Intake of Lady Nursing and Para-medical Sciences and gave an honorary speech. 
In his speech, the Senior General said he, as a Tatmadaw leader, was glad and took pride of the outstanding trainees.Their parents will also take pride of them because they are ordinary farmers and service personnel. United strength will help improve an organization and the betterment of all organizations will also contribute to the country. As nurses belong to a significant group of skilled and educated people, they will become gazetted officers when they complete their training courses. As the duty of a staff officer is wide and more tremendous, he needs to employ skills and knowledge with his own consideration and experience. After four years of their both theoretical and practical study plus good discipline and hard work, they achieved good grades and became outstanding. Such good practices must be further maintained throughout their life. Good morality and discipline is a vehicle to success in life. Exerting orders and duties from superiors out of goodwill will yield fruits. Listening to their parents and fulfilling their needs mean paying gratitude to their parents who brought them up. It is also their loyalty to the State and the Tatmadaw if they follow the prescribed ethics and live in discipline. Then, the Senior General urged them to continue to achieve their goals by being loyal to their work, Tatmadaw and country and doing their jobs in a correct manner.