NAY PYI TAW, February 7
Tatmadaw members should be imbued with military prowess, organization prowess and administration prowess as the Tatmadaw's main duty is the national defence. The relevant training schools are providing training in accordance with the level of school education and vocational education for promoting individual efficiency. Hence, Tatmadaw members must undergo effective and systemic trainings to be healthy, fit, efficient and courageous in overcoming dangers. Their training must be centred on discipline and obedience, said Commander-in-Chief of Defence Services Senior General Min Aung Hlaing in his meeting with officers and other ranks and trainees of Defence Services Advanced Training Depot in Taikkyi Station of Yangon Command this morning.
Also present at the meeting were Commander-in-Chief (Navy) Admiral Tin Aung San, Commander-in-Chief (Air) General Maung Maung Kyaw, senior military officers from the Office of the Commander-in-Chief (Army), Commander of Yangon Command Maj-Gen Thet Pon, and officers and other ranks and trainees of the training Depot.
As regards the training, the Senior General said the courses are being conducted for enhancing individual capability, efficiently discharging the duties, and assigning proper duties discharging higher ranks duties. Every country and every organization is conducting trainings. As for Tatmadaw that is shouldering the national defence duty, it needs intensive training. So every soldier must be healthy, fit and strong. When it comes to health and strength of members of the Tatmadaw, health depends much on lifestyle and fitness is mostly related to exercise. Therefore it is necessary to encourage them to live and eat healthy and do individual and group exercises for fitness. When it comes to lifestyle, it is necessary to take weather, food and behaviours into careful consideration and to eat protein such us meat, fish and eggs that give strength to the body.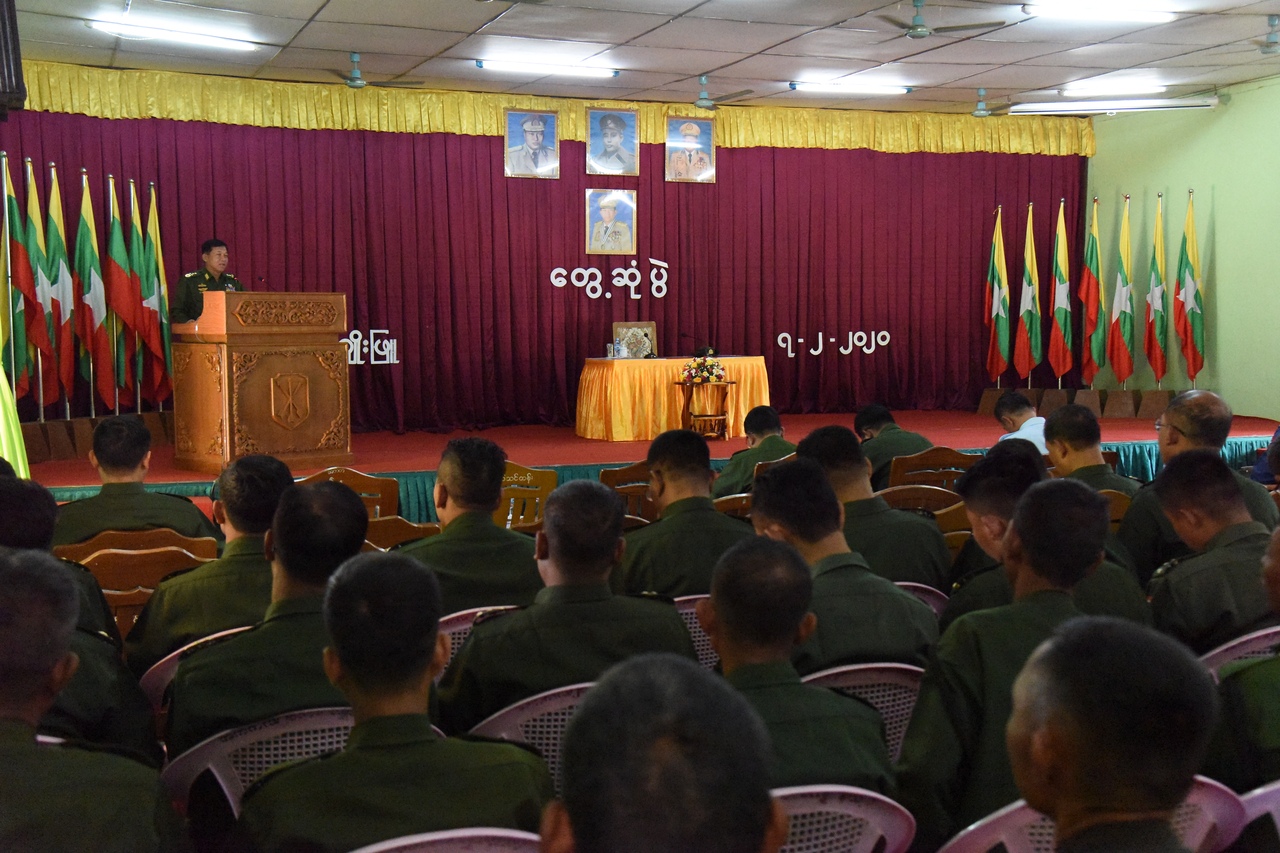 Doing regular exercises all are required to do amounts to enhancing the fighting capacity of the Tatmadaw. Since members of the Tatmadaw will not be able to fulfill their duties if they do not have full strength during fighting in the battlefield, they are required to do proper exercises individually and in teams. It is necessary for responsible officers to supervise every unit and member of the Tatmadaw so that they have full training. All must be able to
apply the strength they have developed and warfare they have learnt skillfully. Suitable members of the Tatmadaw must be assigned duties at appropriate and correct places based on their skills after they have completed trainings. On the other hand, it is necessary for members of the Tatmadaw to have courage. Courage can be developed through training, and it is necessary to fight a battle with courage gained through training in accordance with the moto "Fight bravely,advance bravely and defeat bravely." It is necessary for individuals to possess martial arts skills to develop courage and to protect oneself. Myanma Thaing, the traditional Myanmar martial art, has been promoted as major martial art of the Tatmadaw since he started assuming duties of the head of the Tatmadaw and now it is taught extensively in training depots of the Tatmadaw. The aim of such training is to give courage and ability and to help them overcome dangers.
Regarding turning out qualified soldiers and military units, the Senior General said as every Tatmadaw member joined the Tatmadaw as volunteers without any persuasion but with noble spirit, they need to try their best to fulfill the needs of the country. Our Tatmadaw is moving forwards in accord with multi-party democratic system so individuals must live under self-discipline. As discipline is the backbone of Tatmadaw, there must be discipline even in terms of minor things and individuals need to follow the prescribed rules and disciplines and act correctly in order to improve themselves and their own units. Dress code must also be systematic. Since I took office, military uniforms have been arranged in same colour and style. Tatmadaw factories are also selling casual clothes at cheap prices. As Tatmadaw provides meal, accommodation and clothing to the most convenient extent, they must try to live as a real Tatmadaw member.
As one is able to work only if one is healthy, individuals must take care of their meals. Chewing betel quid and smoking must be avoided as they yield no benefit at all. Instead of spending money on them, eggs, fish and meat should be consumed for their good health. Drinking alcohol reduces ability of self-discipline and can cause crimes. So they should avoid it as much as they can. They must try to stay fit and healthy so that they can look real soldiers. Things for health and fitness must be done on a daily basis.
As to Tatmadaw's agricultural and livestock breeding tasks, the Senior General said as Tatmadaw is a part of the State and the people, every military unit and soldier must understand that they are serving to facilitate the economy and development of such a developing country and to stand on their own feet. Meat, fish, vegetables and eggs produced from the Tatmadaw farms are being sold at cheap prices. Undertaking agriculture and livestock tasks aim to provide welfare of servicemen. They have to spend their income not only on food but also on clothes and accommodation.
With regard to the peace affairs, the Senior General noted it is important to secure peace and stability under the political trend as well as security measures. Peace and stability under the political trend depends much on political policies of the relevant government. The country needs rule of law for ensuring peace and stability under the security measures. If economy declines, it will harm process of rule of law without bringing about peace and stability. Although talks for restoring peace are held, some regions are kept away from peace and tranquility till today. Efforts are being made with consideration in all aspects such as military, political and diplomatic affairs for ending internal armed conflicts and for securing eternal peace. Armed conflicts in the country can harm defence capability of the State. Hence, realizing the geopolitically important role of Myanmar, armed ethnic organizations should abandon the ways of demand based on holding arms and fighting and restore peace through dialogues in conformity with democracy.
After inspecting the training depot in a motorcade, the Senior General and party had the lunch together with the trainees at the mess hall of the Sergeant Course and cordially greeted the trainees.
At the office of the training depot headquarters, Acting Commandant Colonel Moe Min Naing reported to the Senior General and party on the brief history of the training depot, general staff, adjutant and quartermaster matters, and training for officers and other ranks.
After hearing the reports, the Senior General gave instructions that it is necessary to improve capacity of individual servicemen, the training depot needs to give training to all officers and other ranks to have effective military
skills. Every military unit of the Tatmadaw must have combat ready. As training is important to do so, all servicemen must take continuously effective training. The trainees must be undergone to have obedience and good military discipline as the second nature. The Senior General urged instructors and trainers to meet the standards of trainers so as to secure training results in conformity with the respective positions.