NAY PYI TAW, February 10
As food is the most basic need among food, clothing and shelter of people, agriculture and livestock breeding tasks must be kept under systematic management so as to effectively fulfil the needs of food, said Commander-in-Chief of Defence Services Senior General Min Aung Hlaing on his inspection tour of Shwemuyin fish farming zone in Twantay Township of Yangon Region this morning.
Accompanied by Commanderin- Chief (Navy) Admiral Tin Aung San, senior military officers from the Office of the Commander-in-Chief (Army), Commander of Yangon Command Maj-Gen Thet Pon and members, the Senior General left for the fish farm along Zeephyukon Creek by river patrol boat from the Tatmadaw (Navy) and inspected progress of fish farming tasks and conditions of Shwemuyin region.
On arrival at Shwemuyin fish farm of Yangon Command, the Senior General heard reports on fish farming tasks, production of fish and selling of fish to families of servicemen, departmental personnel and local people at cheap prices by Commander Maj-Gen Thet Pon.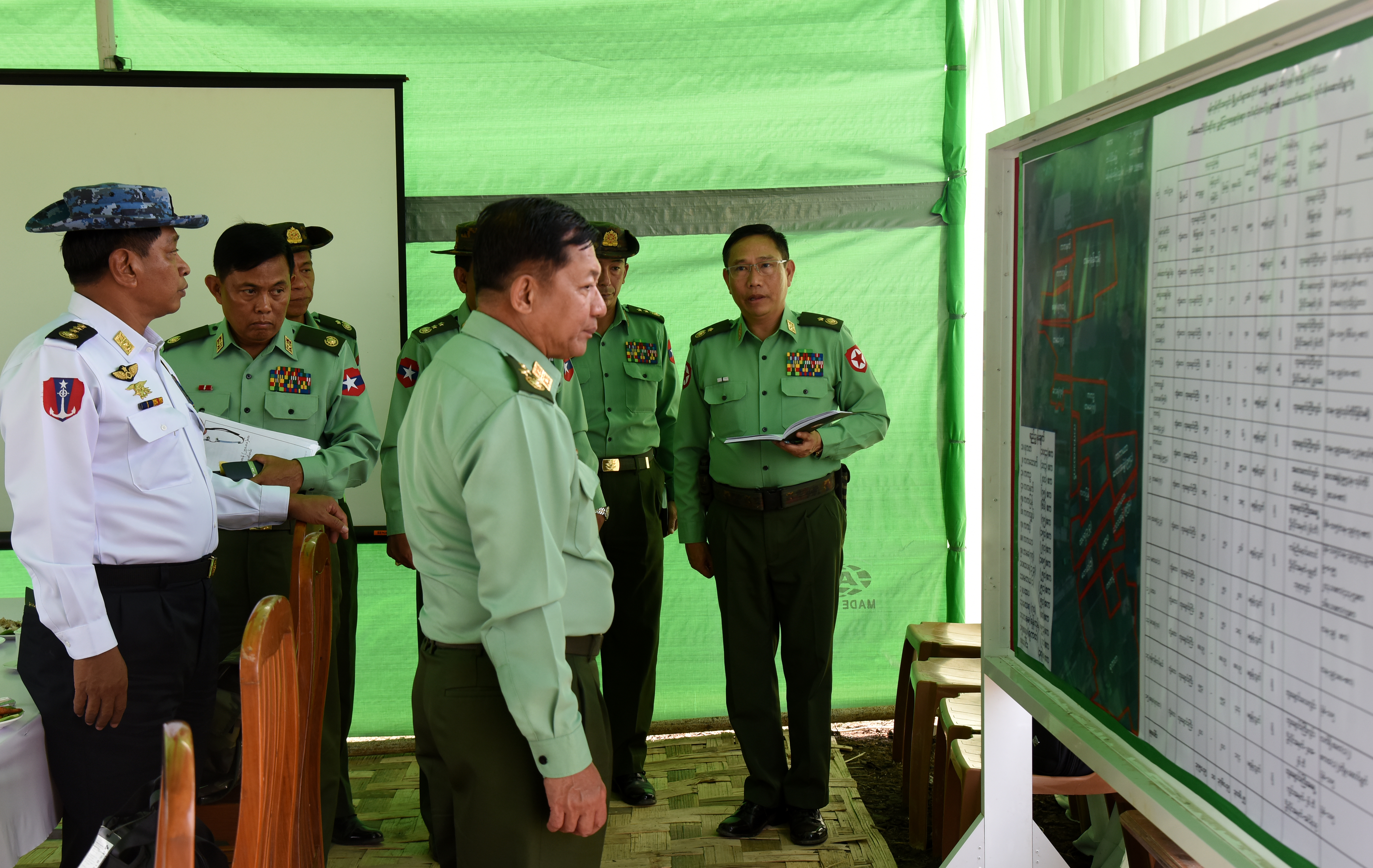 In response to the report, the Senior General pointed out that food is the most basic need among food, closing and shelter. He said as food is the most basic need among three basic needs, a saying "one can be honest only if he has a subsistent living" has come out. The statistics recently released by the Food and Agriculture Organization-FAO mentioned Myanmar's population reached 52.3 million in 2017. A total of 37.4 million of population, accounting for 70 percent, reside in the rural area. Likewise, rural population is the majority in neighbour countries and ASEAN countries. As such, no lifestyle can be kept away from agriculture and livestock breeding.
About six millions of people are residing in Yangon Region. If each person consumes five ticals of fish and meat per day, the region needs about 300,000 viss of fish daily.
Even if consumption of 10 percent of the region population based on rotating consumption of meat, fish and vegetables is estimated, the region may need some 30,000 viss of fish in minimum. The Senior General noted Shwemuyin fish farm zone should effectively be operated for having success to contribute to food supply of servicemen of the Tatmadaw, families and the people.
With regard to successfully undertaking livestock breeding tasks, the Senior General pointed out that systematic management plays a crucial role in securing achievement not only to operate livestock breeding tasks but also to carry out any tasks. It needs to systematically undertake man power management. If the farm carries out not only fish farming tasks but also production of aqua feedstuffs and semi product of fish at its industry, it will benefit local fish farmers, contributing to producing value-added products.
Livestock breeding industries can be classified as manageable scale farms, integrated farms and commercial farms. Nonetheless, it is necessary to undertake systematic process for public consumption. He urged officials to emphasize feeding and care for disease control in a correct way. As there are some different techniques between horticultural farming and cultivation of crops in agricultural tasks, it needs to choose correct techniques for having success in the work processes. Farm officials should release fingerlings into rivers, creeks and lakes in the regions in cooperation with the locals so as to contribute towards food supply for the public.
As for systematic livestock breeding and manufacturing of quality products, the Senior General pointed out that it is necessary to manufacture products that can be sold not only in the region but also in the country and other countries.
It is important to manufacture products that meet export standards as there is no demand for substandard products. Therefore, it is vital to manufacture products that are acceptable in foreign markets in accordance with good manufacturing practice (GMP) and set standards and measures must be taken for ISO certificates. Markets must be diversified without relying on only one market. In order to do so, systematic transportation, neat packing and manufacturing preserved products should be taken into consideration.
As for the economic development of the country, the Senior General said that it is necessary to provide products manufactured from livestock breeding to families of the Tatmadaw effectively. Measures must be taken for understanding of the nature of the market and striking the balance between demand and supply in order to gain benefits when there is demand for the products.
As carrying out livestock breeding tasks efficiently will benefit the country, measures must be taken to create systematic livestock breeding and agricultural farms. It is necessary to contribute to the food sector of the public in Yangon Region by selling meat, fish, milk and eggs produced from three livestock breeding and agricultural zones in Yangon implemented by the Tatmadaw in Thilawa, Shwemuyin and Hlegu 26th-Mile. As these zones are being implemented not for profit but for well-being of the families of the Tatmadaw and as contribution to the economy of the State in one way or another,  it is necessary to implement the zone effectively by bearing the objective in mind.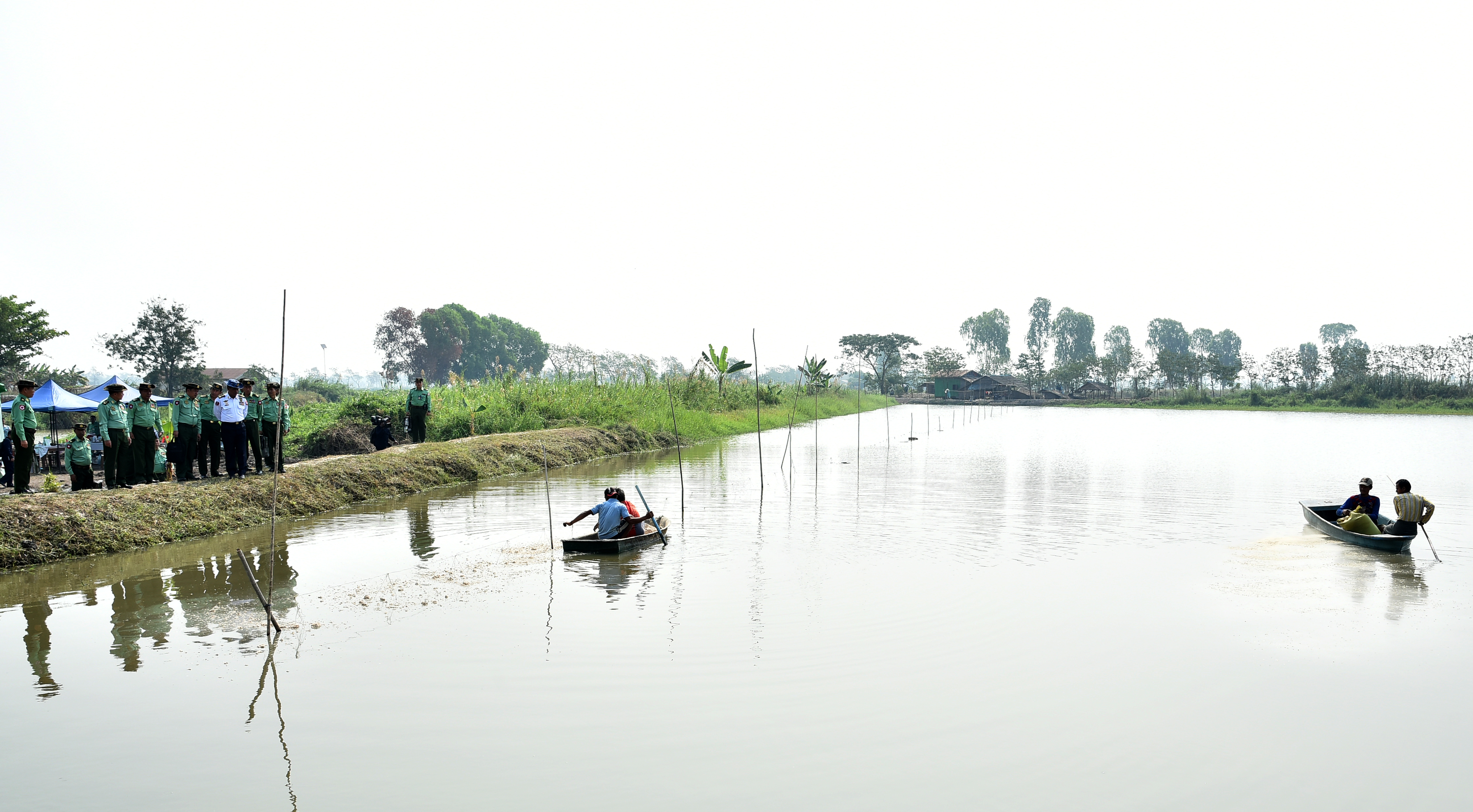 Afterwards, the Senior General and party observed fish farming and fish farms. They then inspected a naval base in Dala Station. At the meeting hall an official reported on progress in implementing the four military structuring tasks of the Tatmadaw. The Senior General made arrangements for work facilitation. The Senior General and party inspected crop and animal farming and military structuring tasks at the base and looked into the requirement. They left the base on board a fast attack craft of the Tatmadaw (Navy) and arrived back in Yangon in the evening.