Nay Pyi Taw February 16
Commander-in-Chief of Defence Services Senior General Min Aung Hlaing, accompanied by wife Daw Kyu Kyu Hla, Commander-in-Chief (Navy) Admiral Tin Aung San and wife, senior military officers from the Office of Commander-in-Chief (Army), Commander of Eastern Command Maj-Gen Lin Aung and officials, visited the local people of Ywangan Township and Bawsai Village-tract and surrounding villages of Kalaw Township in Shan State (South) receiving medical treatment provided by Tatmadaw mobile medical teams this morning.
First, the Senior General and wife and party arrived at YwanganTownship in Danu Self-Administered Zone, and were heartily welcomed by Chairman of the Leading Body of the Danu Self-Administered Zone UArkar Lin, Township Administrator U Soe Nyunt Oo and officials andresidents, with traditional dances to the accompaniment of traditional drums.
Accompanied by Sayadaw Bhaddanta Vamsapalalankara Tipitakadhara Dhammabhandagarika, the Senior General and party observed the progress in building the Ananta Zina Thanbuddhe Pagoda. Theywere conducted round the project site by head of the project U TunOo and officials. They went round the pagoda clock-wise. The Senior General supplicated on religious matters. He said pagodas should be built in accord with the religious and cultural traditions and Myanmar traditional architectural designs to be awe-inspiring in the hearts of pilgrims for the promotion and propagation of Theravada Buddhism. Builders should take time in building the pagoda to become a local landmark of Ywangan area, and the Tatmadaw will render necessary assistance.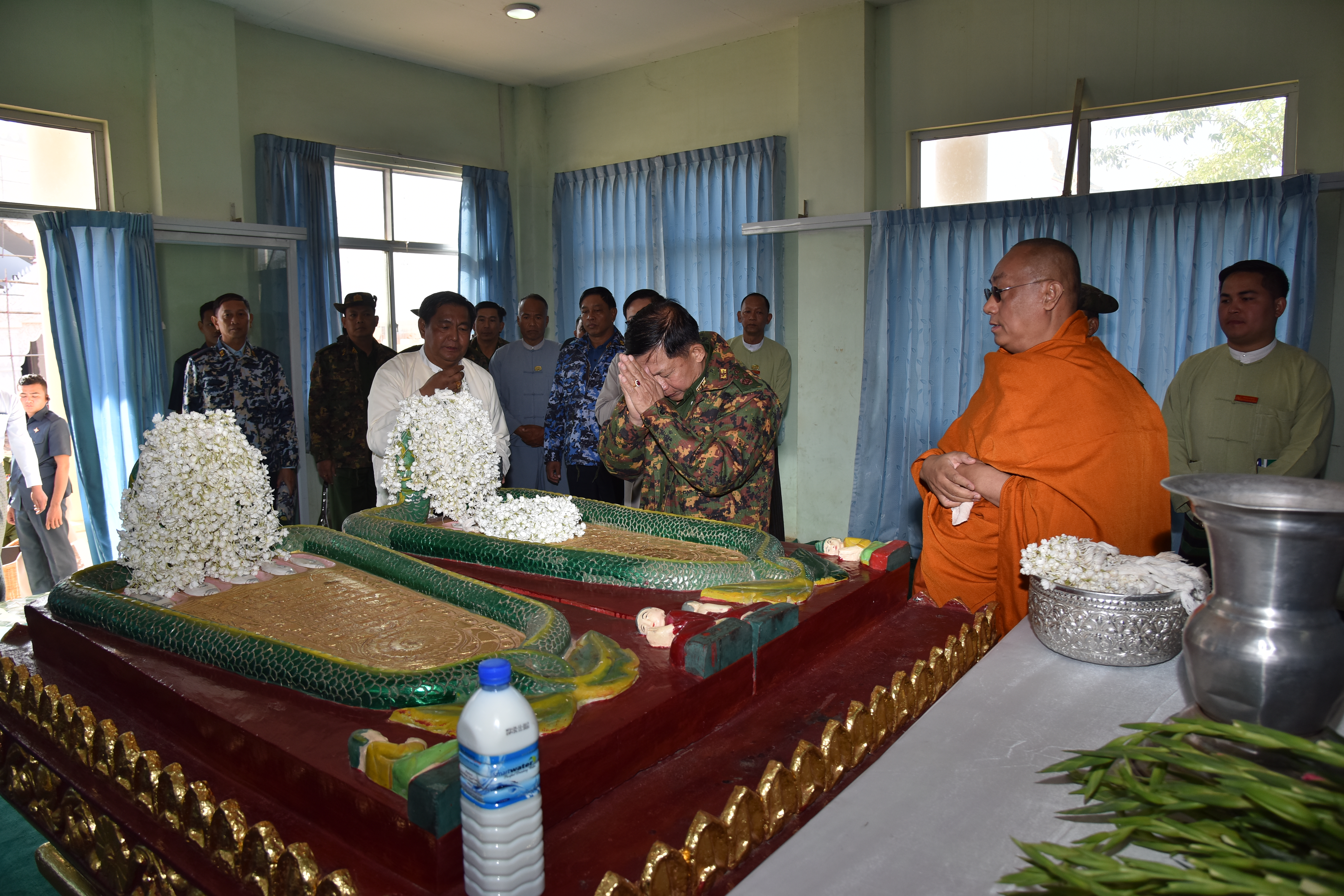 Afterwards, the Senior General and party paid homage to theAnanta Zina Buddha Footprint in the precinct of the Ananta Zina Thanbuddhe Pagoda, and offered flowers, water and lights. They then paid respects to the statues of eminent Sayadaws including former Secretary of State Sangha Maha Nayaka Committee Mingun Sayadaw Abhidhaja Maharattha Guru Abhidhaja Agga Maha Saddhammajotika Tipitaka Dhara Dhammabhandagarika Bhaddanta Vicittasarabhivamsa at Pandawmu Dhammayon, and supplicated matters on the pagoda project to Sayadaws. They then presented Mingala Aungmaung (gong) that will be placed on the pagoda platform and cash donations for multipurpose and offertories to the respective Sayadaws.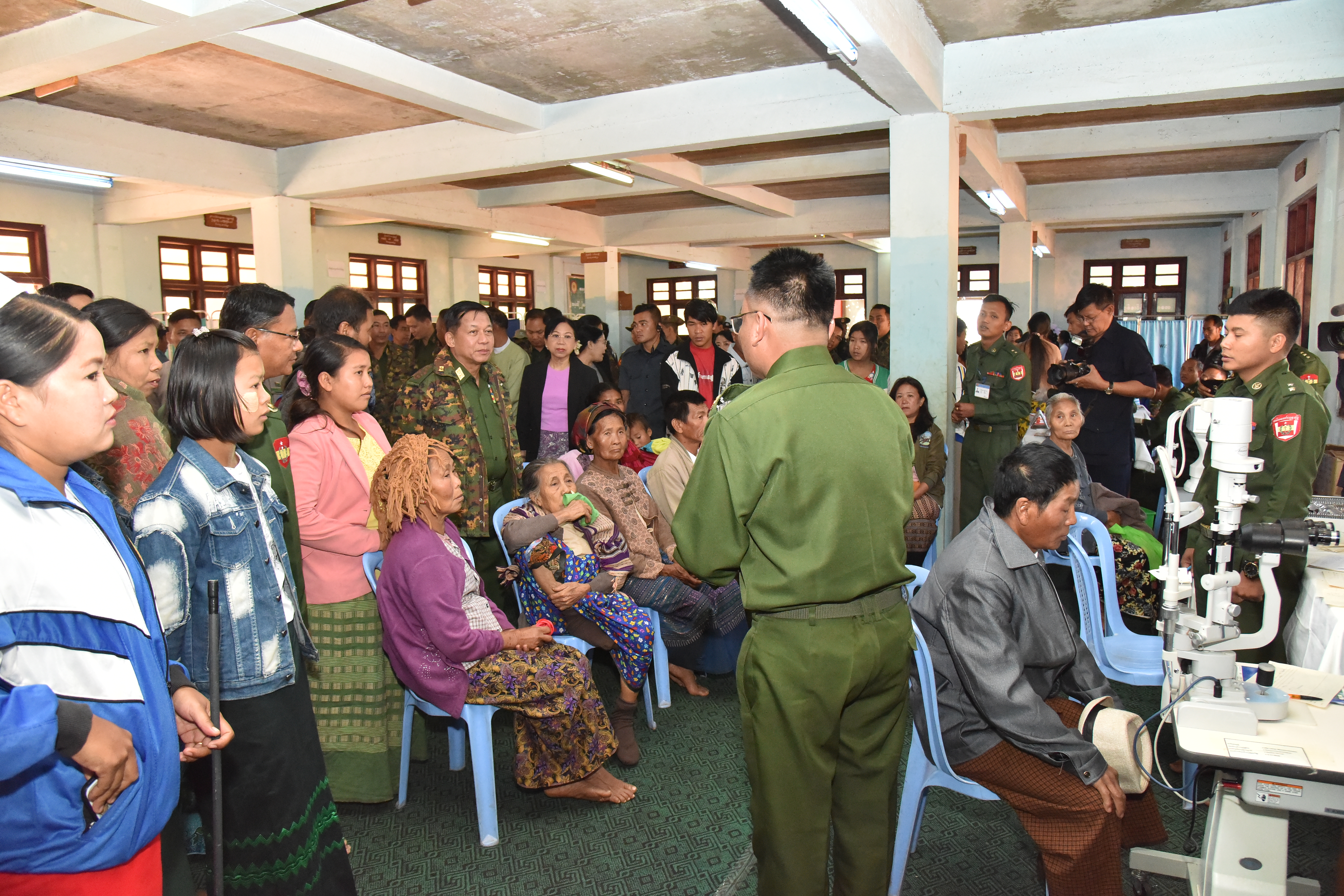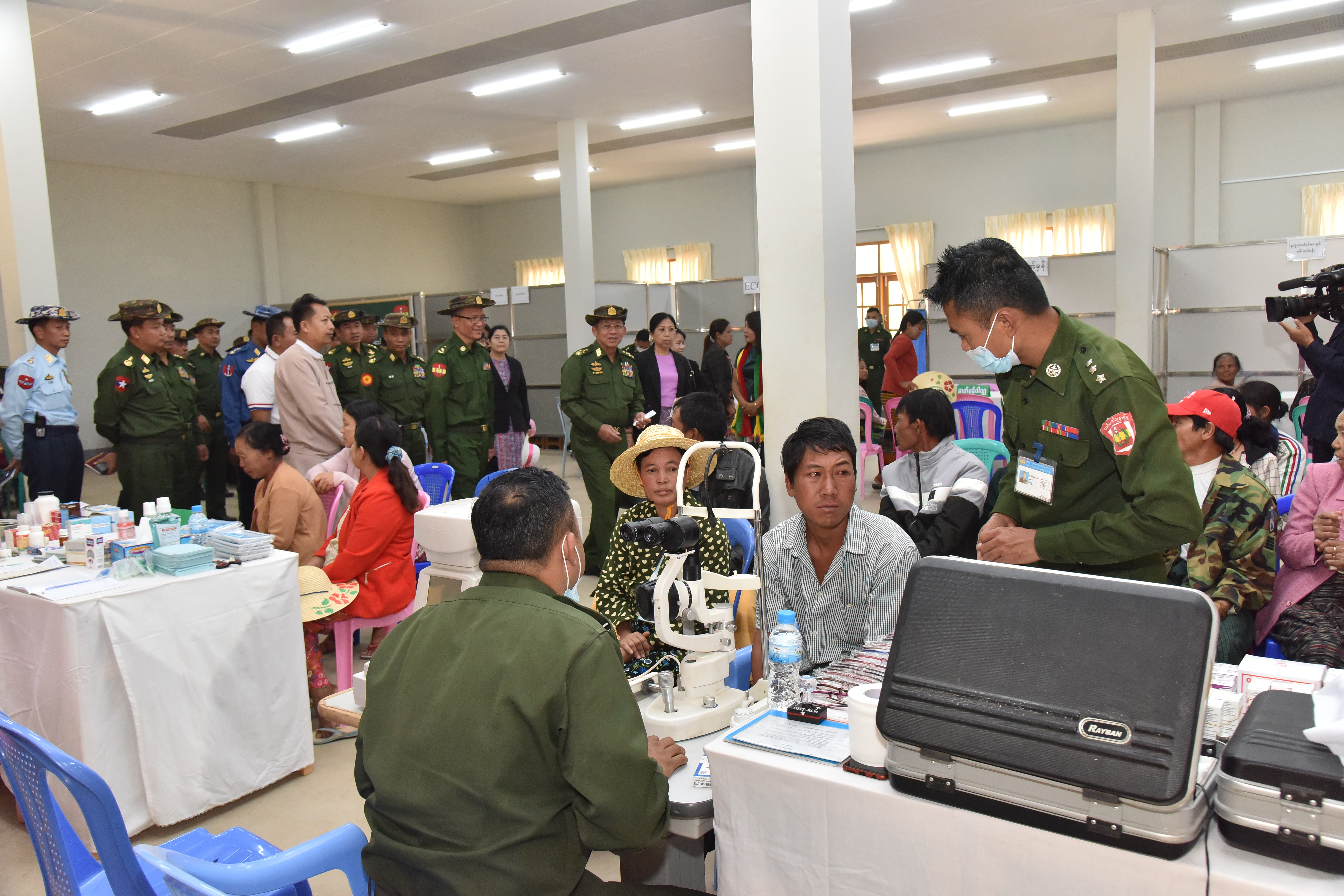 The Senior General and party went to Mingala MyoU Monastery in Ywangan and the basic education high school in Bawsai Village-tract in Kalaw Township, and gave words of encouragement to local peoplereceiving medical treatment provided by Tatmadaw mobile medical teams.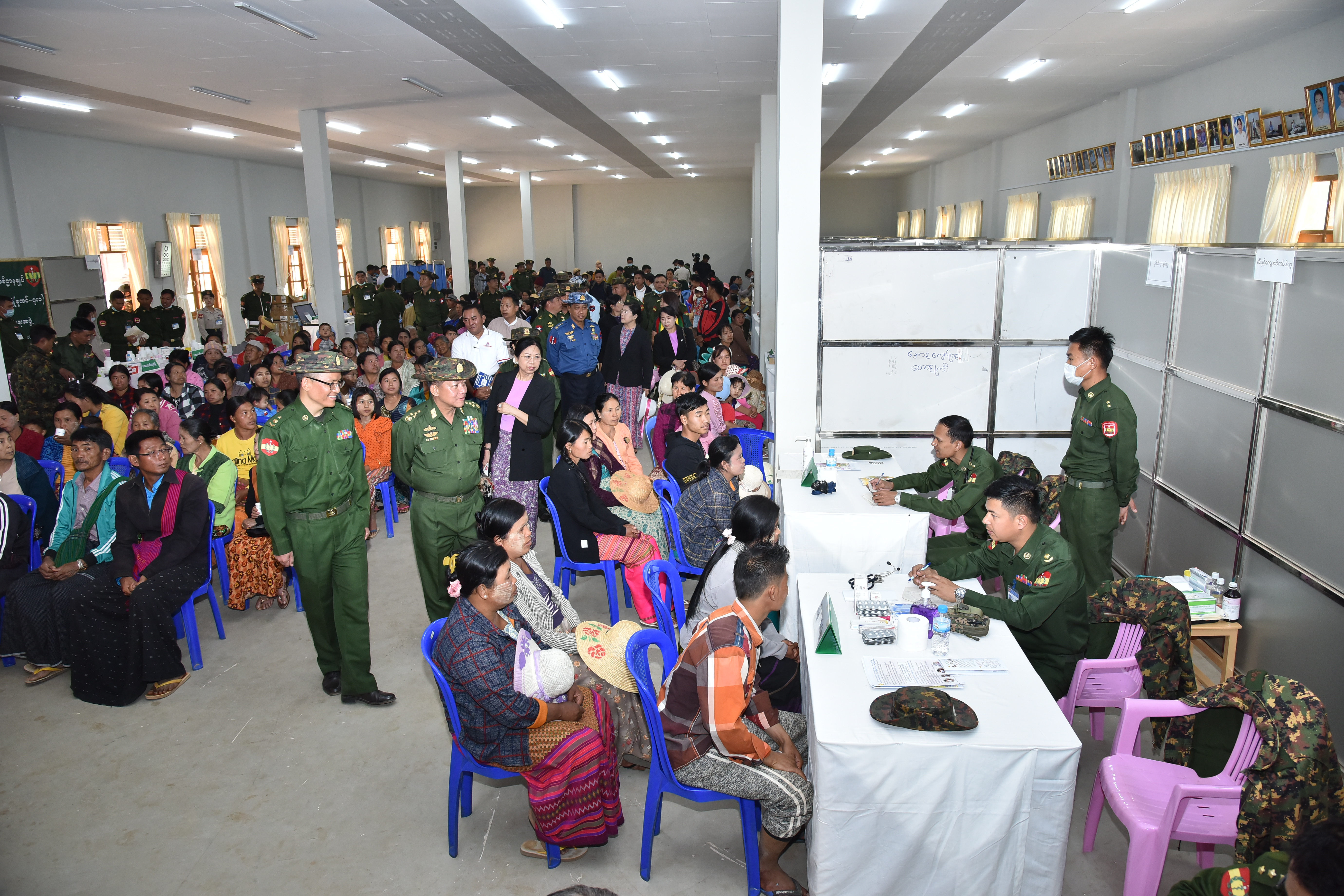 They were warmly welcomed by local national races. The Senior General and party cordially greeted the local people receiving medical treatment. Later, the Senior General and party met coffee farmers and residents and visited Coffee Research Farm in Ywangan, and residents at Myat Saya Hall in Bawsai Village-tract in Kalaw Township on separate occasions, and discussed regional development undertakings.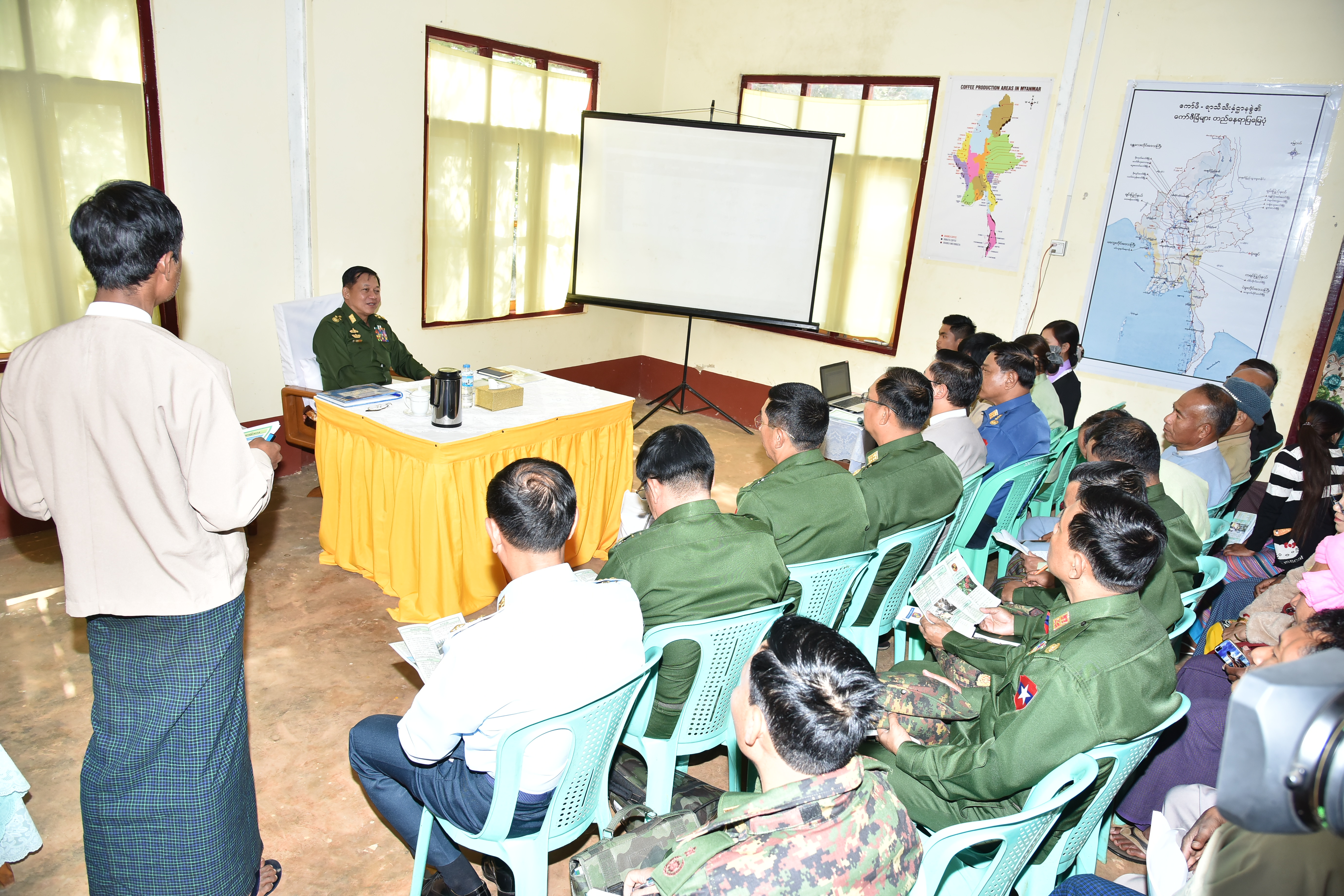 First, administrators presented reports on regional features, economy and farming and residents regional requirements. Concerning the reports, theSenior General gave his advice for regional development, saying that the Danu national race has a historical tradition of being pious and many opportunities to carry out regional development. As Danu Region is abundant in land resources, agriculture as well as livestock breeding can be carried out in the region and local residents should carry out appropriate agriculture and livestock breeding tasks. It is necessary to use agricultural land most beneficially and to systematically grow crops to meet the yield target. Agriculture needs proper use of food, water and pesticides and crop yields should be increased by proper care. As the use of chemical fertilizers is harmful to health, they must be used systematically in accordance with standards set. Natural fertilizer made of cow manure and fertile soil made of decayed leaves can be used in agriculture. Efforts must be made to manufacture agricultural and livestock products of high qualities so that they can be distributed not only in the country but also exported to other countries.
As man can work only when he is healthy, everyone wants to be healthy. Therefore, the Tatmadaw provides healthcare services to the public via mobile medical units to contribute in one way or another to public health. Despite medical care, healthy lifestyles must be developed as self-care is important for health. Income, which can help raise the socioeconomic status of the people, is vital for regional development.
As raising the quality of regional products calls for scientists and technicians, emphasis should be placed on education. Local authorities and local residents are required to cooperate for regional development unitedly. As the country has adopted the multi-party democracy system, the people are required to contribute to the system by respecting laws and properly behaving. Concerted efforts must be made by behaving properly with self-conscientiousness.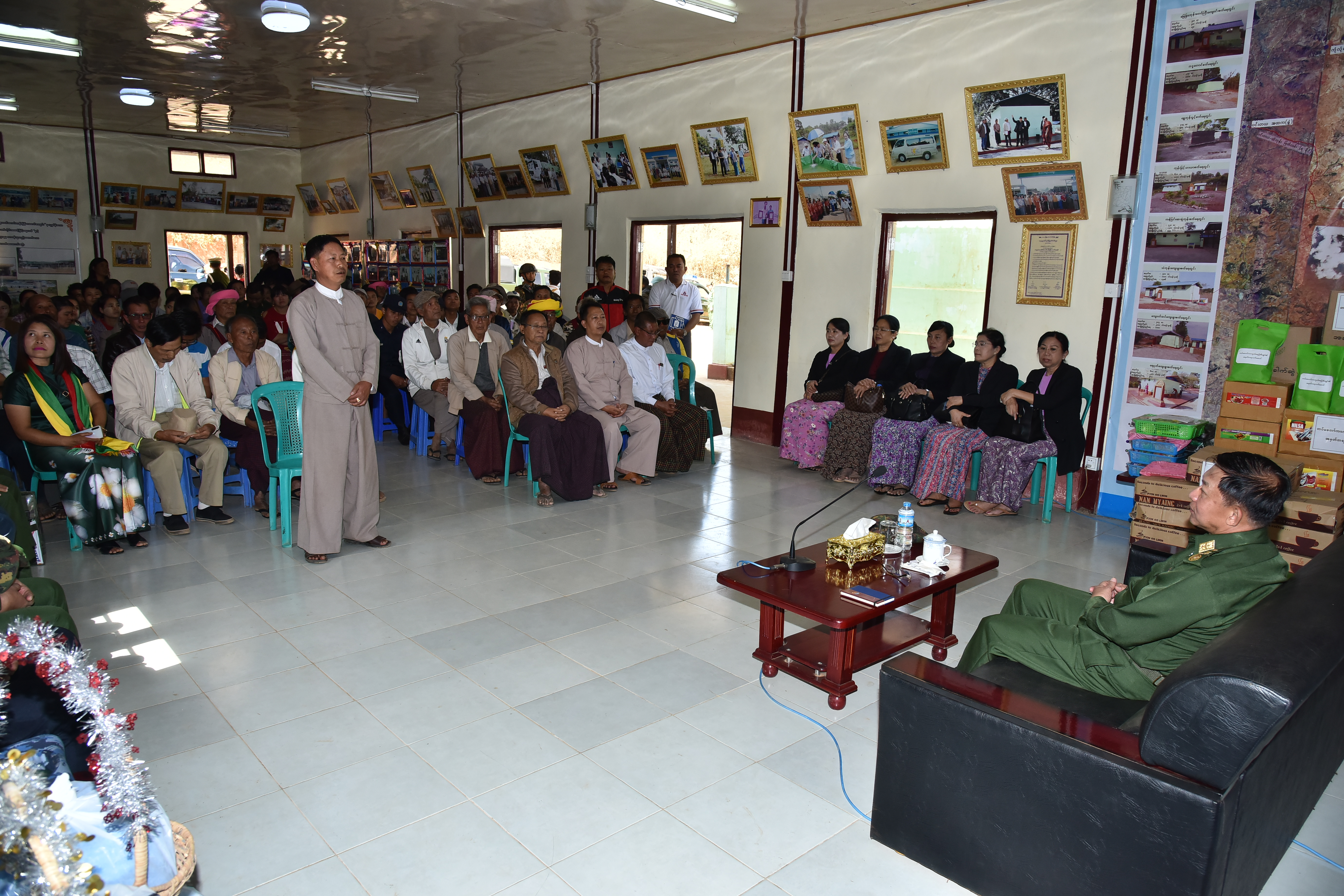 After the meeting, the Senior General presented foodstuff produced from factories of the Tatmadaw for local residents through officials, who gave the Senior General  gifts produced in the self-administered zone. Afterwards, the Senior General and party cordially greeted local residents.