Nay Pyi Taw March 11
Political stability and security are crucial for the development of a country or region. Moreover, departmental personnel and all local people in concert must cooperate with each other. Individuals' efforts will contribute to individuals' lives, there by helping develop their own regions and country, said Commander-in- Chief of Defence Services Senior General Min Aung Hlaing at a cordial meeting with town elders, local residents and departmental staff from Haka in Chin State at the town hall this morning.
Also present at the meeting together with the Senior General were his wife Daw Kyu Kyu Hla, Commander-in-Chief (Navy) Admiral Tin Aung San and wife, Commander-in-Chief (Air) General Maung Maung Kyaw and wife, senior military officers from the Office of the Commander-in-Chief (Army) and wives, North-West Command Commander Maj-Gen Soe Tint Naing and wife, town elders, local residents and departmental staff from Haka.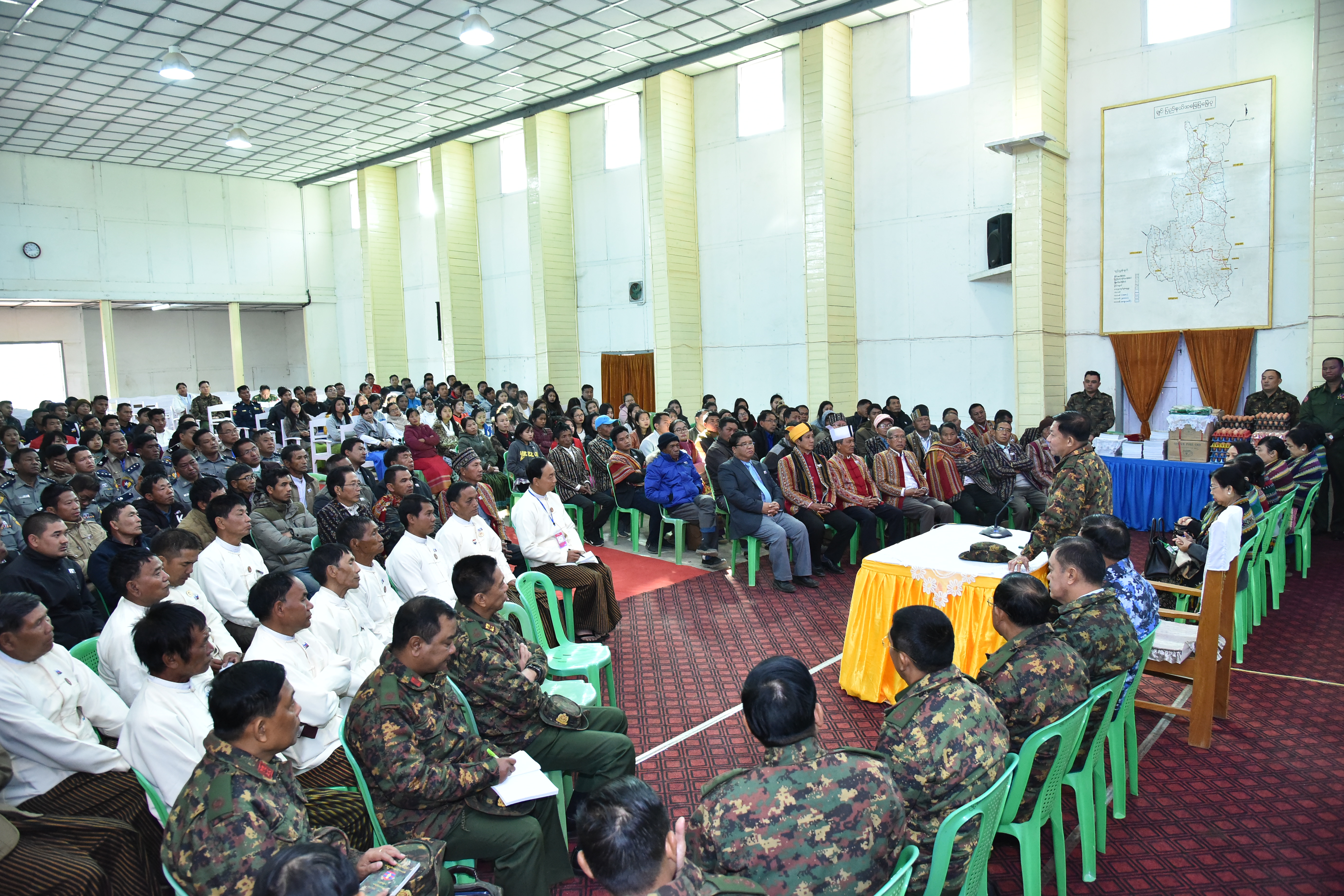 The Senior General and party arrived at the town hall where they were heartily welcomed by All Christians Association Secretary Venerable U Steven Lyan Hoke Lane, town elder U Ngun Hsan Aung and members. Next, U Steven Lyan Hoke Lane said prayers and the blessing.
In his discussion of regional development, the Senior General expressed his thanks and delight at the warm welcome and blessing. With its poor transport, Chin State still needs to develop. After nine years has passed since the country started practising multi-party democracy in 2011, it is heartening to see progress and changes in Chin State.
Those who made efforts to achieve such progress are praiseworthy. However, more has to be done to develop further. Political stability and security are crucial for the development of a country or region.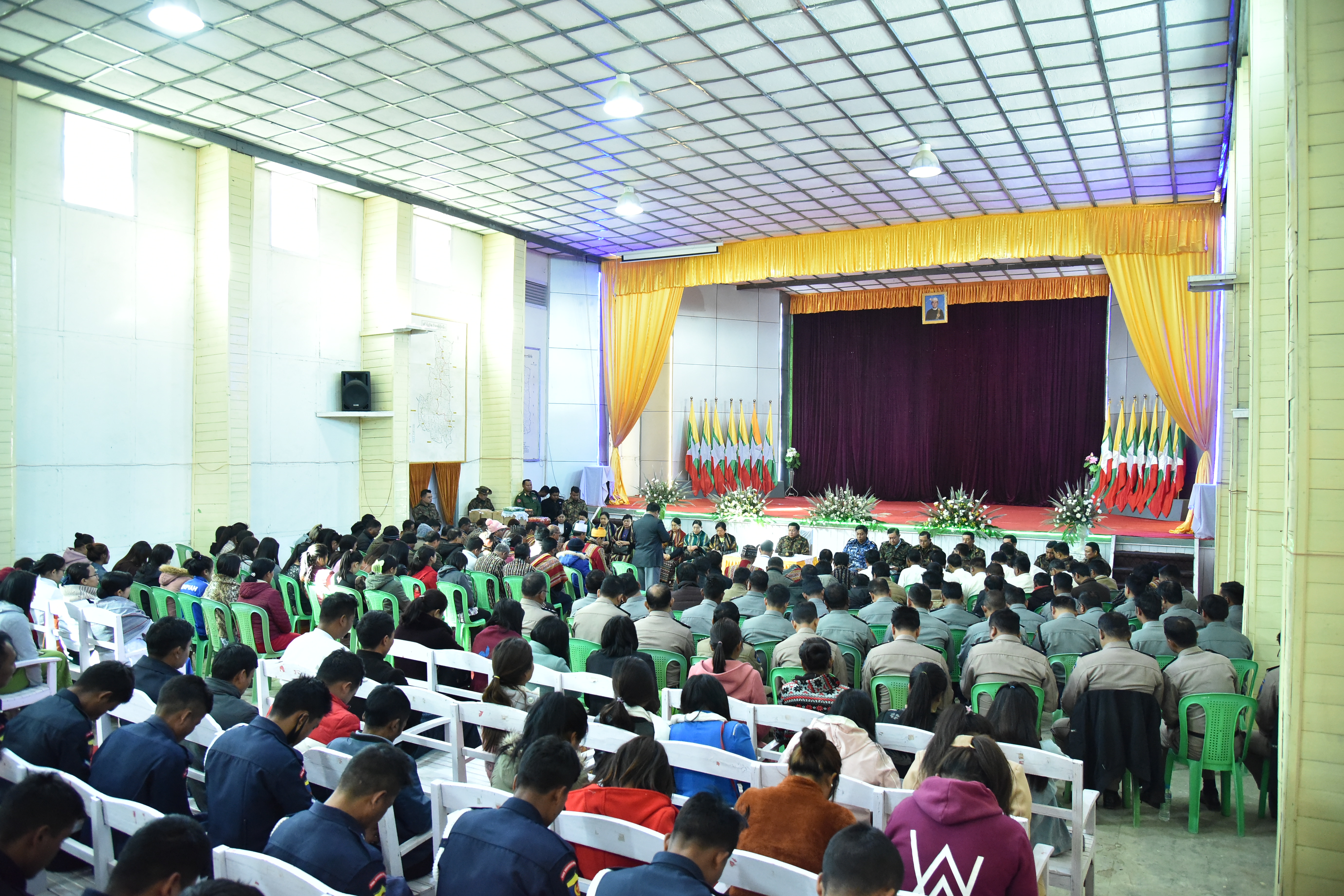 Moreover, departmental personnel and all local people in concert must cooperate with each other. Focus should be placed on education so intellectuals and intelligentsia can emerge for the regional development. Despite a vision towards a modern developed country, agricultural and livestock breeding tasks cannot be sidelined under current circumstances. So, people of younger generation in the region should prioritize joining technical institutes and agricultural institutes that are applicable to their own region. There should be no complaint about regional rice insufficiency. Instead, other products such as coffee, tea and
orange should be systematically produced to improve income. With increased income, rice demand can be met. As there are opportunities for engaging garden plantations, agricultural and livestock breeding tasks suitable for the region should be undertaken until success is achieved.
Health is of crucial importance in learning, and only when one enjoys good health, he may be able to learn and work. Health is therefore instrumental in producing intellectuals and intelligentsia. Tatmadaw also sends medics across the country in order to provide health care services. Forty-two medics of their own volition went to remote areas like Naga Self-administered Zone and villages in Chin State since 2015.
At the request of local residents for continued medical services in their areas, willing medics were sent to replace them. Tatmadaw is also providing medicines for those areas as possible as it can. No matter what medical services are provided, the key is oneself, and there is a need to exercise restraints and live a healthy lifestyle, avoiding alcohol, tobacco, and betel which are not good for oneself, one's families and wider society.
Electricity is the prerequisite for regional development, he said, and there will be less development without electricity. Therefore, people should review their opposition to electricity production, giving priority to regional interests over their individual interests. They should not oppose electricity production unless it can have serious potential impacts on the environment, health and socio-economy.
The lack of electricity can hinder economic development, he said, calling for effective utilization of electricity. There are options like hydropower, solar power and wind power, and options must be made through consultation based on consideration from all perspectives. Good transportation and telecommunications can contribute a great deal to regional development. Though smooth transportation and swift information flow can benefit individuals and the region, one should only use the social media to learn what is beneficial to him, and not waste their time on the social media, he said. If individuals control themselves, there will be improvement in their lives, which will finally lead to development of region and the country. He wished for greater development of Chin State.
On behalf of Haka residents, community elders U Lian Mann and U Ngun Hsan Aung spoke words of thanks for Tatmadaw's continuous provision of assistance in disaster response, healthcare services and other local requirements. They presented the difficulties and requirements of the region, and the Senior General coordinated essentials.
Then, locally made Chin traditional products were presented to the Senior General and party. The Senior General then returned foodstuffs produced by Tatmadaw-run factories and fiction and non-fiction books. The Senior General and party then cordially greeted local people, war veterans and government officials.