Nay Pyi Taw March 16
Income is a requisite for regional development, and the local products are the source of income. So, the products must be marketable. Traditional methods of cultivation and manufacturing must be modernized to improve the quality, said Comman-der-in-Chief of Defence Services Senior General Min Aung Hlaing in his cordial meeting with town elders and local residents of Chaungzon in Mon State at the parlour of the local battalion this afternoon.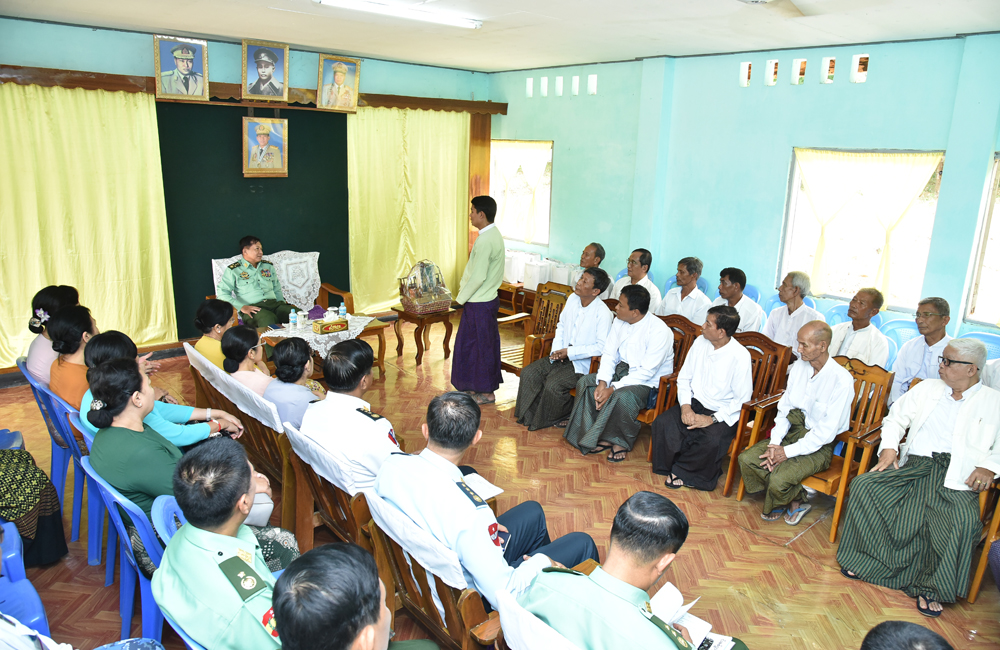 Also present were Daw Kyu Kyu Hla, wife of the Senior Gene-ral, Commander-in-Chief (Navy) Admiral Tin Aung San and wife, Commander-in-Chief (Air) General Maung Maung Kyaw and wife, senior military officers from the Office of the Commander-in-Chief (Army) and their wives, Commander of South-East Command Maj-Gen Myo Moe Aung and wife, the administrator of Chaungzon Township, Mon State, and town elders.
First, the Senior General and party arrived at the venue of the meeting, and were warmly welcomed by town elders and Township Administrator U Tun Aung Kyaw.
The township administrator reported on salient points of the township and regional economy. Town elders U Khin Maung Oo, U Nyunt Win, U Aung Thein and U Hla Myint in presenting their report said local residents are still thankful to the previous government for the improvement in transport and regional development of Bilu Island and Chaungzon region thanks to the Mawlamyine-Chaungzon river crossing bridge and power supply implemented by it. They then reported on requirements for agriculture and development of the region and the requirement of water for over 60,000 acres of paddy which is the main economy of the region. The Senior General looked into the requirements.
In his discussion for regional development, the Senior General said Chaungzon region in Mon State lacked development in the past due to poor transport. So, previous government prioritized the construction of the river-crossing bridge. Now, Chaungzon sees much opportunities for progress because of the completion of the bridge and the smooth transport. As for the regional development, it is necessary to earn, it is essential to manufacture local products, which can be sold and are of high qualities. For example, rice produced here should be marketable and of high qualities. In agriculture, water, land, seeds and techniques are essential. Land and water must be favourable. Seeds must be quality seeds with high yield. Techniques must be correct techniques. Instead of selling paddy to other regions, modern rice mills should be built to produce marketable rice and rice products. As animal feed from the rice mills will contribute to livestock breeding. The Tatmadaw is ready to offer assistance.
Rural development has gained momentum in Mon State, which is more developed than most of the regions in the country. As the state has nurtured educated people, they should be able to contribute to regional development. As regional economy is based on agriculture, agricultural and industrial techni-cians should be nurtured for regional development.
Traditional farming and manu-facturing local products should be replaced with modern ones that meet high standards. In addition to paddy, cultivation of sunflowers, pulses and beans, rubber and other crops under plantation systems successfully will contribute to regional development. Livestock breeding tasks should be carried out on land that is not used for cultivation. Beef cattle, dairy cows, broilers and layers should be raised to reduce the import of them from other regions. Moreover, handicraft industry in Ywalut should be changed into home industries of higher qualities. As water is vital for agriculture, it is necessary to implement river water pumping projects. Feasibility studies should be conducted to use solar energy instead of electricity in pumping river water. The Tatmadaw is ready to provide necessary assistance. It is necessary to carry out agriculture and livestock breeding tasks.
To carry out agriculture, livestock breeding and regional development tasks, health is essential. Only healthy people can work and pursue education effectively. It is necessary to abstain from smoking, drinking alcohol and chewing betel quid which are not beneficial for consumers of them as well as others. Money spent on them should be used in purchasing eggs and meat that are beneficial to all. The Tatmadaw has been offering assistance for healthcare as much as possible. No matter how the Tat-madaw provides health assistance, they should control themselves in daily lifestyle for their health. Local people were urged to maintain the roads and bridges not to be damaged to accelerate regional development.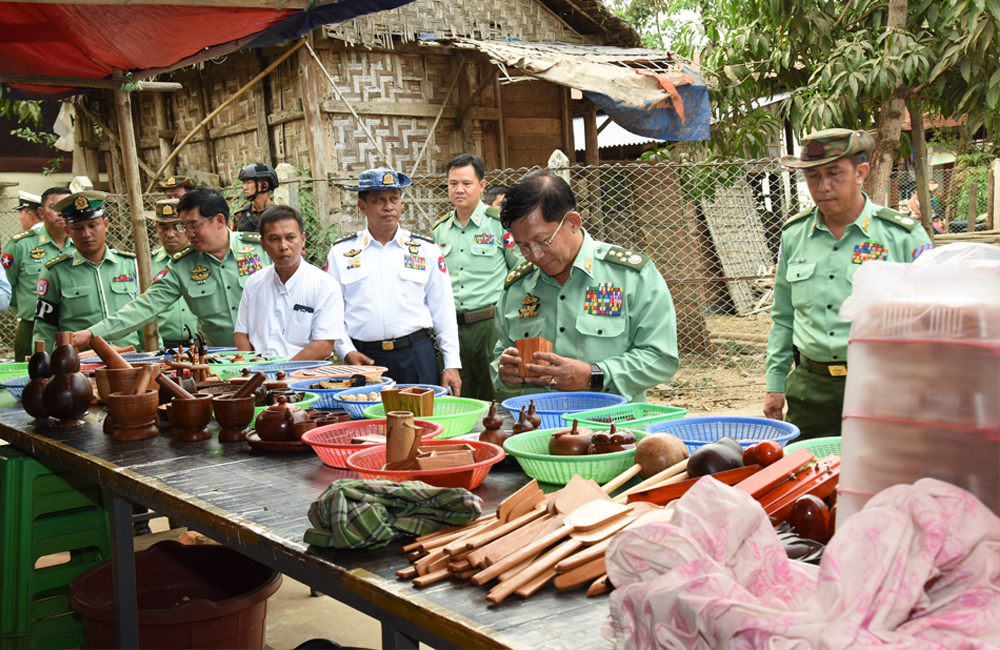 The Senior General presented foodstuffs manufactured by the military factories to the township administrator and town elders who returned domestic products and handiworks. The Senior General and party cordially greeted town elders and departmental personnel.
On arrival at the domestic pro-ducts shop of Ko Than Zaw and brothers in Ward 3 of Ywalut Village in Chaungzon, the Senior General and party viewed round domestic industrial products such as ball-pens made of wood, pipes, tea round containers, chilli mortars and equipment used in parlour. Ward administrator U Aung Zaw Oo reported to the Senior General on share of market, market requirement and demands. In his response to clarifications, the Senior General gave advice that efforts should be made for manufacturing quality domestic products in order to increase demand and asked about market situation.
At the rubber band industry of U Myint Aung in Ward 9 in Ywalut Village, businessmen U Myint Aung conducted the Senior General and party round the production processes such as keeping rubber in materials, drying, steaming and cutting tasks. The Senior General urged the businessperson to consult technicians for different steps of production to be able to manufacture higher quality products and to save time.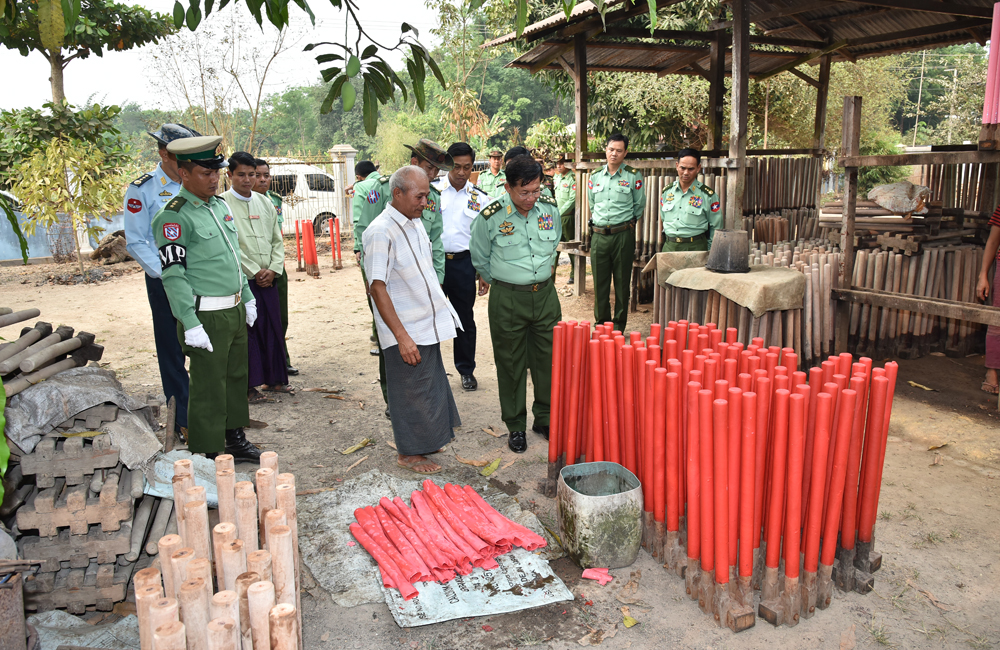 This morning, the Senior General, accompanied by the Commander-in-Chief (Navy), the Commander-in-Chief (Air), senior military officers, the commander of South-East Command and party, inspected local military headquarters and training depots in Mawlamyine station of South-East Command.
During his inspection tour, the Senior General instructed officials from regiments and units to syste-matically focus on welfare of officers, other ranks and families, unity in military units and military building tasks. He viewed round the family housings and cordially greeted wives of servicemen.
In the evening, the commander reported to the Senior General on security measures for regiments and units in the area of the military command and undertakings of four military building tasks at the meeting hall of the command headquarters. The Senior General gave necessary instructions.