Nay Pyi Taw, July 10    
Families of Tatmadaw (Army,Navy and Air) donated four kinds of food items  rice, cooking oil, gram and salt  to members of the press, artists and traditional boxing organization, for their food safety during the COVID-19 containment period at the Tatmadaw Hall in Dagon Township, Yangon Region. Commander-in-Chief of Defence Services Senior General Min Aung Hlaing attended the ceremony and presented the four items of foodstuff. Also present at the ceremony were Commander-in-Chief (Air) General Maung Maung Kyaw, senior military officers of the Office of the Commander-in-Chief (Army), Commander of Yangon Command Brig-Gen Nyunt Win Swe, Chairman of the Myanmar Press Council Hanthawady U Ohn Kyaing, Vice-Chairman of Myanmar Thabin Asiayon U Moe Win, Chairman of Myanmar Painting Association (Win Foundation) U Hla Tin Tun, President of Myanmar Sports Media Federation U Nyan Tun, Secretary of Myanmar Traditional Orchestra Association Ko Ko Naing (Mon State), President of Myanmar Traditional Boxing Federation U Thein Aung, Chairman of Myanmar Music Association (Central) U Tin Oo Lay, Chairman of Myanmar Motion Picture Association U Nyi Nyi Tun Lwin and well-known artists of the country. As regards the purpose of the donations, the Senior General said the donations were made for the organizations that may face food requirements during the period COVID-19 is occurring.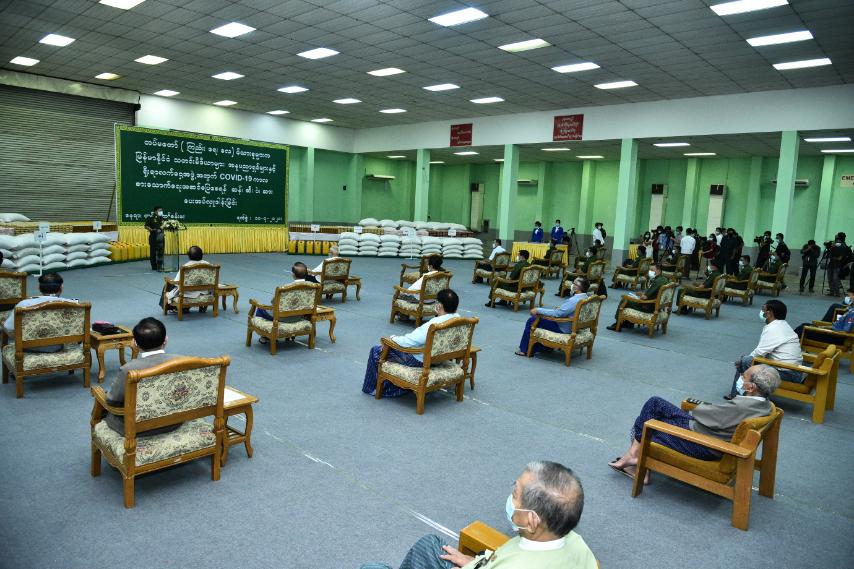 As members from all the organizations are present, the ceremony is held in accordance with the social distancing rules. Although the value of the donations will not be so high, they may be helpful. The Senior General then expressed pleasure for the donation ceremony. The number of patients infected with COVID-19 all over the world exceeded 12 million at 7 am today. In Myanmar infection began on 23 March, and till now the number of positive cases has reached 319, while six persons died of the infection, and 250 recovered from the virus. Collective preventive measures against the virus are needed as the infection is occurring in nearly all the world. Businesses came to a halt as there are restrictions because of the virus, and as there was no income, there was also no spending. People relying on a single business are facing hardships. Collective involvement of all the people is required to prevent the Families of Tatmadaw (Army, Navy and Air) donate four kinds of food items rice, cooking oil, gram and salt — to members of press, artists and traditional boxing organization, for their food safety during the COVID-19 containment period situation from becoming worse. The best way is to have awareness and to exercise caution to the most possible degree. Artists should encourage their fans to practice the said way, the Senior General said. The Tatmadaw has been taking precautionary measures since the infection started in January. As the infection rate was surging in the world, discussions were held, and even the 75th Anniversary Diamond Jubilee Armed Forces Day Parade was postponed. Medical units are doing their best while carrying out the disease prevention and sanitation at all public places.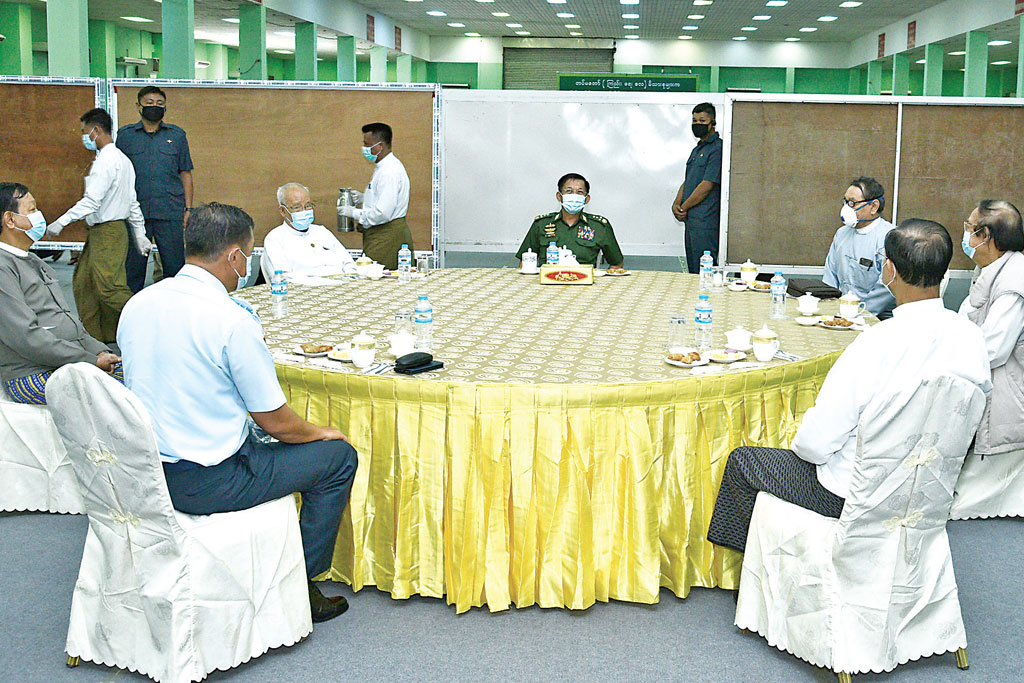 As the Tatmadaw is the part of the people and born of the people, it has the duty to protect the people and their lives and property, he said. The Senior General said as even the developed countries have requirements in implementing defence works, inclusive public participation is required in the developing countries like ours. Therefore, military personnel and civilian staff members who are appointed in place of military personnel made cash contributions for two times from their salaries worth over Ks-4.5 billion. Medical equipment and nutritious food were provided with those cash contributions. In doing so, priority was given to ex-military personnel and expolice. And commands were also instructed to provide assistance to struggling organizations in their respective areas. He said he is happy that Tat-madaw can contribute to a certain extent. Myanmar people have weaknesses regarding how they take care of their health, and they also live unhealthy lifestyle. It is important to avoid unhealthy lifestyle. It is important to abstain from smoking tobacco and betel chewing as such things can harm one's health. And regarding garbage disposal, beside the municipal garbage collection system, it is important that people dump garbage responsibly, only then will it contribute to sanitation, and prevent insects that cause diseases, he said. Food and consumer goods are the necessity for human beings, and Tatmadaw therefore made donations in order to contribute to food requirements of the people. This is the reason Tatmadaw is continuously engaged in farming and livestock breeding. Rather than being distressed by the disease, and do nothing, people should do what they can. As it is monsoon season now, preparations should be made for natural disasters, and Tatmadaw will continue to engage in disease control and public service as much as it can, he said. The Senior General then handed over 500 bags of rice, 1,000 viss of oil, 1,000 viss of beans and 1,000 viss of salt donated by Tatmadaw (Army, Navy and Air) families through chairman of Myanmar Motion Picture Association U Nyi Nyi Tun Lwin for Myanmar news agencies, artists and Myanmar Traditional Boxing Federation. Chairman of Myanmar Press Council Hanthawaddy U Ohn Kyaing on behalf of the association spoke words of thanks. He thanked the Commander-in-Chief of Defence Services and Tatmadaw (Army,Navy and Air) families for provision of food. Tatmadaw has stood firmly before the people whenever difficulties and challenges arose since independence in 1948. When some people including journalists moved into Yangon after the fighting in Insein in 1949, Tatmadaw was the first to provide food for the people. COVID-19 has forced some media agencies to reduce their workforce, and those who were made redundant faced financial hardship. The council collected funds and provided assistance for journalists at present. The council feels encouraged by the contributions of Tatmadaw at a time the council has received new applications for assistance, and is short on stocks of food to donate. He said he feels that Tatmadaw has become closer to the people, and that he is happy that Tatmadaw is providing assistance to all strata of life. After the event, the Senior General and members cordially greeted the attendees and hosted refreshment to them.