Nay Pyi Taw, July  17
Development of a nation depends much on the health and fitness and educational knowledge including technical and technological knowhow of the citizens. Nowadays, the global countries are prioritizing the health, fitness and education of the entire people, said Commander-in-Chief of Defence Services Senior General Min Aung Hlaing at the opening ceremony of a new building of the basic education high school (branch) (Shangon) in Hmawby Township this morning.
Also present on the occasion were Commander-in-Chief (Navy) Admiral Tin Aung San, Commander-in-Chief (Air) General Maung Maung Kyaw, senior military officers of the Office of the Commander-in-Chief, Commander of Yangon Command Brig-Gen Nyunt Win Swe, Deputy Director General (Admin) U Ye Lin Myint of the Basic Education Department, the Ministry of Education, Deputy Commissioner of Yangon North District General Administration Department U Soe Thein and administrators, members of Town-ship War Veterans Organization, Headmistress of the BEHS (Branch) (Shangon) Daw Su Su Tin, teachers, students and officials.
First, Commander Brig-Gen Nyunt Win Swe, Minister for Secu-rity and Border Affairs of Yangon Region government Col Win Tint and Deputy Director General (Admin) U Ye Lin Myint formally opened the new school building.
The Senior General then unveiled the signboard of the building, and later, was conducted around the science room, computer room, lan-guage-lab, library and classrooms in the building by the headmistress and teachers.
In his speech delivered at the school hall, the Senior General said the development of a nation depends much on the health and fitness and educational knowledge including technical and technological know-how of the citizens. Hence, the global countries are now prioritizing the health, fitness and education of the entire people in carrying out the development task. The country is on the path to multi-party demo-cracy, and the 75th anniversary of Independence Day falls in 2023. Although the country is enjoying progress to certain, it needs more. The section 28(d) of the 2008 Constitution states that "The Union shall implement a modern educa-tion system that will promote all-around correct thinking and a good moral character contributing towards the building of the Na-tion." It is a perfect provision and a guideline for education.
There are three parts, which are, an all-around correct thinking, a good moral character and a modern education system that benefits the nation-building tasks. All the tree tasks are a never ending duty for us. Our country is a Union, and it had lost independence once. So, the independence must be kept intact. There should not be any disagreements in views and ideolo-gies. All should shoulder the three main national causes–non-disinte-gration of Union, non-disintegration of national solidarity and consolidation of national sovereignty –which is im-portant for the country. Today's youth, who will have to shape the country's future in accordance with the saying, which goes, "Today's youth are tomorrow's adults" are the ones who pursuing education at present. The nearest situation of the future in the coming 10 to 15 years can be imagined by judging the knowledge and technology they are being taught at present. So, teachers must teach correct knowledge that is in accor-dance with the national culture.
It is not the backward thinking. Although modernization is accep-table, ultra forward thinking should not be encouraged. Correct thou-ghts should be included in the teachings to preserve the culture, because only then thoughts and views and morals of the countrymen will be correct, and they will be able to build a modern and developed nation, the Senior General said.
The Senior General continued that in accord with a saying which goes: "disciplines of national are originated from school", it is necessary to conduct the cultural courses and ethic courses suitable for the national culture for improve-ment of realizing the disciplines, codes of conduct and ethics. It means public ethics only, not religions. It is necessary to learn the ethics. Today, as some events are not in line with the social ethics, it is not satisfactory. It can be seen a large number of students dropped out from the school before completion of primary school education. Such event may cause weakness in learning of school education as well as abiding by the ethics. As such it is necessary to strive for students to complete at least primary educa-tion. Human resource is of great root cause in development of a country. In improving human reso-urces related to education, basic needs are human healthiness, mental health, schools with environs of widening scopes of knowledge, teachers and students with keenness of learning.
As a saying which goes: "Know-ledge is gems, teacher is key player", teachers need to have mental and physical happiness in the academic arena. To have im-provement of education for the children, it is necessary to create better environs of students, teachers, parents and administrative bodies. Those administrative bodies should manage good, safe and secure envi-rons for the students and schools. The good environs have been created at Tatmadaw Education Schools with arrangements for students to regularly attend the schools, for all school-age children to learn education and remove their worries in learning as much as possible. As the country is a developing country, the Tatma-daw on other hand gives a helping hand to sanitation of the schools. Moreover, school uniforms produced from the Tatmadaw factories were provided to teachers and meat, fish, eggs and vegetables from Tatmadaw agriculture and livestock breeding farms sold at fair prices for happily teaching the students. It is not enough but such supplies may partially contribute to them. So, further supplies will be provided to them.
Noisy sounds of aircraft disturbed the teaching, so the school was moved to new place. As of 1 January 2019, the construction started and it was completed by cent per cent on 30 April 2020. A U-shape school building and one canteen, two 10-unit toilets and two bike stands were built. It cost more than Ks-35 million for land preparations, more than Ks-850 million for building and over Ks-450 million for related works at a total cost of over Ks-1,340 million. Teachers including the headmistress will teach some 800 students from families of regiments and units and those from surrounding villages. If the school is extended with new classrooms under the KG plus 12 system, the land plots have been arranged for smooth process to construct the buildings.
Tatmadaw pays attention to education. Although Tatmadaw members come from various back-grounds and have to shoulder duties round the clock, education for them is not neglected and primary educa-tion is arranged for them. In April 2018, all Tatmadaw members com-pleted primary education. In 2019-2020 academic year also, 4,518 Tatmadawmen received education from sixth standard to tenth standard. Tatmadaw basic education schools trained about 30,000 Tatmadaw children and children from nearby towns and villages. To ensure all school-age children go to school, education in-charge officers are assigned in military units and regiments. Tatmadaw carries out sanitation tasks yearly before basic education schools in organizational and security areas of respective units and regiments reopen and provides necessary school equip-ment.
Tatmadaw has been awarding outstanding schoolchildren of Tat-madaw members and war veterans since 2011-2012 academic year. Outstanding students were presented with cash awards and students who got three distinctions and above with a quarter of one tical of gold. As of 2013, cash awards contribu-ted by well-wishers have also been awarded. Till 2019, 10,342 outsta-nding students were awarded gold and cash worth over Ks-6,800 million including gold worth over Ks-4,700 million. Thirty of outsta-nding students are yearly selected for excursions to Japan and Korea.
Education is wide and has no border. Brilliant human resources will emerge depending on physical and mental strengths of individuals. Therefore, constant learning is necessary. The best friend for skill and knowledge is fine literatures that have existed for successive eras. In this context, famous venerable monk Shin Maha Rattha Thara recited a verse saying that constant learning will make one brilliant, skilled and polite.
Changing political, economic, social and education affairs must be learned on a constant basis. No-wadays, it is necessary to constantly  seek skill and knowledge in order to catch up with the international community. They need to try to become scholars equipped with nationalistic spirit by recognizing State and Tatmadaw for presenting awards for their achievements in education. Parents, students and teachers alike must follow their ethics. All teachers need to serve the national interest by trying to promote national education.
Afterwards, an official from the Hmawby Station explained the brief history of the school and construc-tion of the new basic education high school (branch) (Shangon).
Then, Commander-in-Chief (Air) General Maung Maung Kyaw presented teaching aids and school furniture to Deputy Director General (Admin) U Ye Lin Myint of the Department of Basic Education. Adjutant General Lt-Gen Myo Zaw Thein presented school uniforms for teachers and students to SAT Daw Ni Ni Khin. Quartermaster General Lt-Gen Kyaw Swa Lin presented documents related to the new school building to Headmistress Daw Su Su Tin.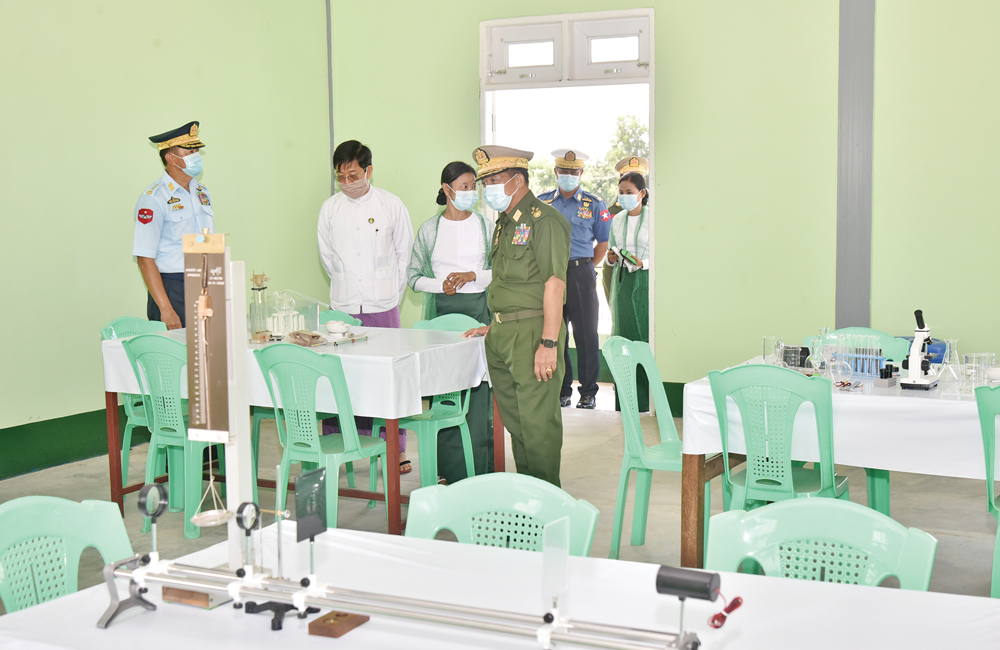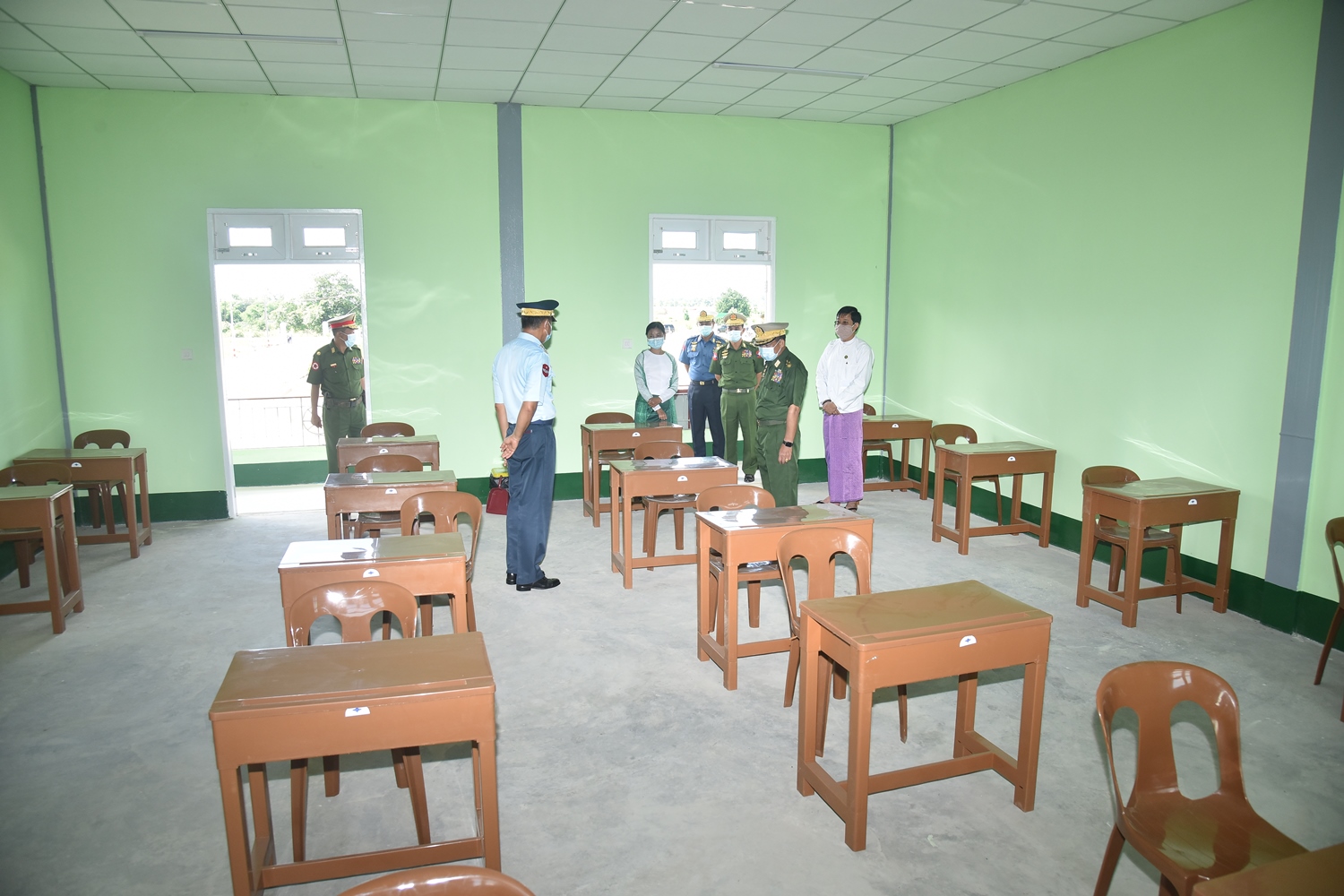 Afterwards, Deputy Director General (Admin) U Ye Lin Myint spoke words of thanks, saying it was a significant day for the school as the new school building was built at a new location and he was proud of speaking on behalf of the Ministry of Education. As the school building constructed by the Tatma-daw is a U-shape two-storey building which houses 30 classrooms and a hall, it will contribute a lot to the learning of students. It is learnt that in addition to five computers, three printers and one photocopier to facilitate office operations and teaching aids for the science lab, 26 sets of tables and chairs for teachers and 100 desks were also donated by the Tatmadaw, which will contribute to the effectiveness of teaching processes. Two drinking water stands, which are essential for health, and the bicycle stand, the canteen and the assembly ground were also constructed by the Tatma-daw. It is lucky for education staff and students who have chances to teach and study in such a standard school building. In conclusion, he said that he would like to thank, on behalf of the ministry, the Comman-der-in-Chief of Defence Services and families of the Tatmadaw (Army, Navy and Air) for donation of such a fully furnished school building.
Then, the Commander-in-Chief of Defence Services accepted the gifts commemorating the opening of the new school building presented by the headmistress and cordially greeted the guests.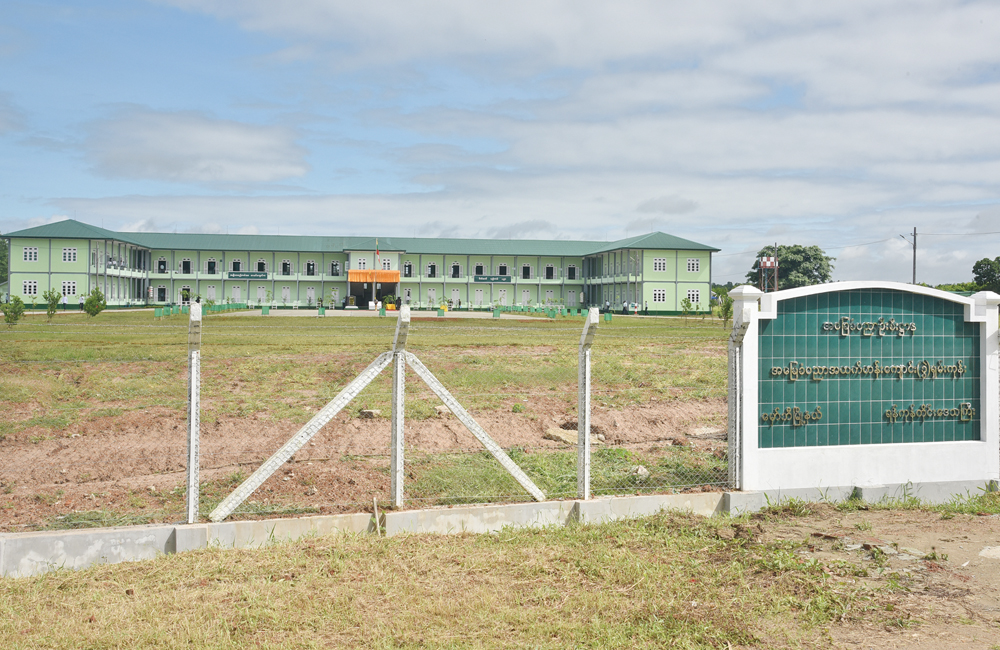 The basic education high school (branch) (Shangon) was built in Hmawby Air Base near Shangon Vill-age, Satthwadaw village-tract as a primary school in the base in 1958 and it was upgraded to a middle school in 1979. It was moved to the entrance to the military unit from the inside site in 1991. The school was upgraded to a high school (branch) in 2006. The school was moved to a new place under the instruction of the Comman-der-in-Chief of Defence Services so that students can learn their sub-jects without any noise by building it in a new place as a model school and it will admit 20 students in each classroom in compliance with the instructions of the Ministry of Health and Sports starting from 21 this month.