Nay Pyi Taw August 14
Election of candidates for people's representatives is of great importance in building a modern, developed democratic country, and it is necessary to elect not only candidates but also good representatives. It is necessary to correctly choose people's representatives who must be qualified for six points to practically serve interest of the respective areas, to abide by laws, rules and regulations with outlook of rule of law, to have capability to safeguard Our Three Main National Causes which are national interest of the State, to understand national politic role of the Tatmadaw, to systematically preserve nationality, language and religion through correct ways and means and to restrain influence of external organizations and foreigners. The Tatmadaw is carrying out national politics. Political parties are engaging the politics. Although those political parties are different in nature as they do politics, they have the common ground to develop their country and further the political cause. With regard to politics, all need to keep themselves in patience as much as they can with the attitude of improving the country, said Commander-in-Chief of Defence Services Senior General Min Aung Hlaing at the meeting with chairmen, vice chairmen, secretaries and officials of political parties who introduced themselves at the parlour of Bayintnaung Villa, here, this afternoon.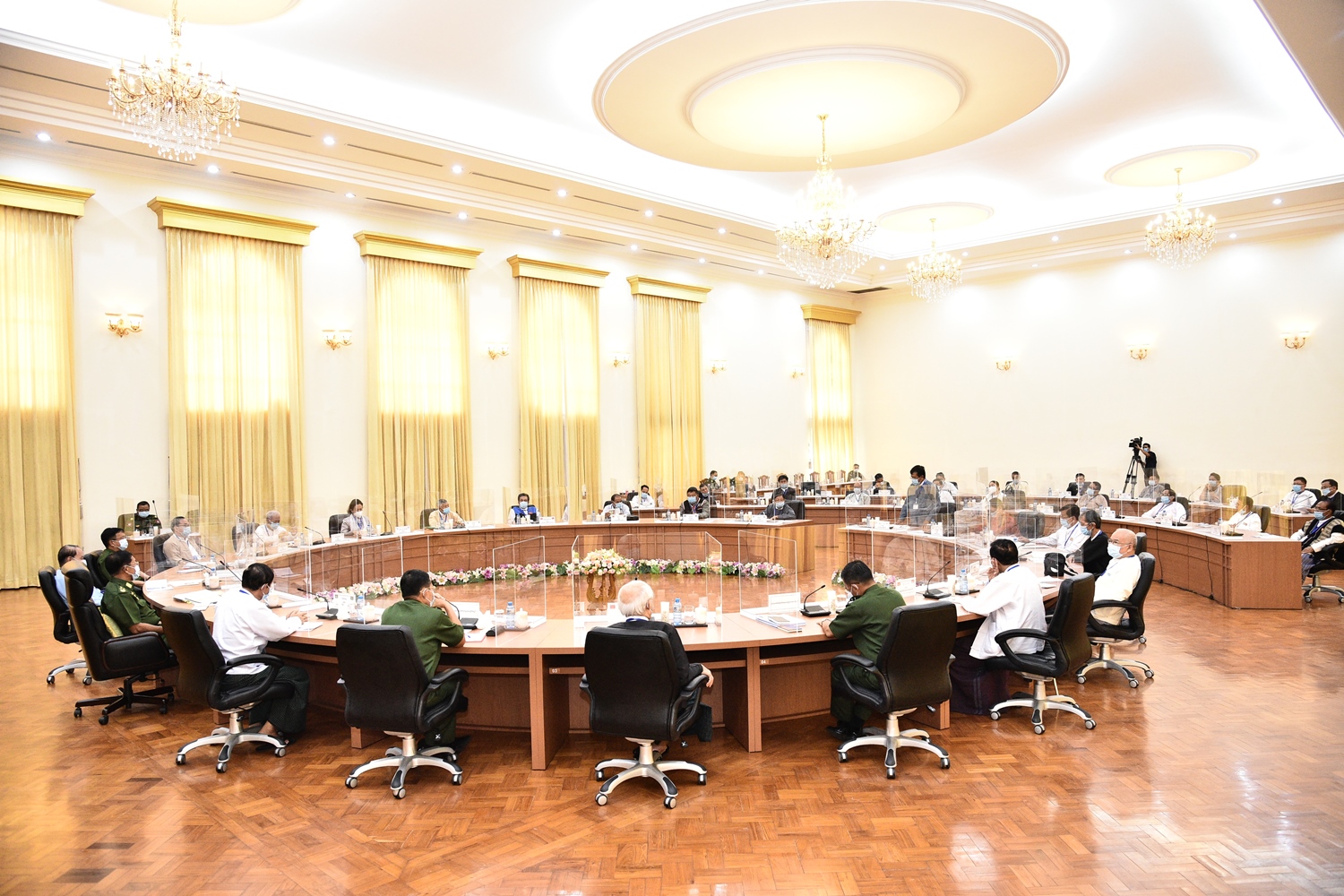 Those from the party organizations who introduced and met with the Senior General were Chairman of Union Solidarity and Development Party U Than Htay and Secretary U Paik Htway, Joint Secretary of National Unity Party U Nay Win, Chairman of New National Democracy Party U Thein Nyunt, Chairman of National Development Party Dr Nay Zin Latt, Chairman of New Age People's Party U Tun Aung Kyaw, Chairman of National Democratic Force U Khin Maung Swe, Chairperson of People's Pioneer Party Dr Daw Thet Thet Khaing, Chairman of Union of Myanmar Federation of National Politics Alliances U Thein Kyi, Chairman of Inn National Development Party U Win Myint, Vice Chairman of Democratic Party (Myanmar) U Tint Swe, Chairman of Lisu National Development Party (Dulay Party) U Shwe Min (aka) Hsi Pha Larlu, Patron of Karen National Democratic Party U Saw Tun Kyi, Chairman of Kayah State Democratic Party U Poe Yei, Chairperson of Wunthanu Democratic Party Daw Nan Shwe Kyar, Vice Chairman of Wa National Party U Yan Kyaw, Vice Chairman of Pa-O National Organization (PNO) U Khun Maung Thaung, Temporary Chairman of Democracy and Peace Party U Myo Nyunt, Vice Chairman of Mro National Development Party U Kyaw Tun Khaing, Chairman of Rakhine National Strength Party U Aye Kyaing, Chairman of New Age Union Party U Aung Than, Chairman of Bamar People's Party U Aung Than Tint, Chairperson of Peace and Diversity Party Daw Sanda Oo, Chairman of Kokang Democracy and Unity Party U Tun Naing, Chairman of People's Party of Myanmar Farmers and Workers U Aung Myo Khaing, Vice Chairman of 88 Generation Democracy Party U Thaung Oo, Public Party Chairman U Percy Pyi Hein (aka) U Myo Min Tun, Chairman of Myanmar People's Democratic Party U Htay Kyaw, Chairman of People's Labour Party U Kyaw Zin, Vice Chairperson of Public Service Students Party Daw Khin San Mu, Chairman of People's Force Party U Htay Aung, Chairman of Union Farmer-Labour Force Party U Min Thu, Chairman of National Progressive Party U Kyaw Sein, Chairman of Myanmar Farmer Development Party U Kyaw Swa Soe, General Secretary of Party for Uplifting the Life of Common People U Kyaw Myint (a) Michael Kyaw Myint. The meeting was also attended by Commander-in-Chief of Defence Services Senior General Min Aung Hlaing, Deputy Commander-in- Chief of Defence Services Commander- in-Chief (Army) Vice-Senior General Soe Win and senior military officers.
In his greetings, the Senior General expressed his delight and welcome to such a meeting. In February this year, some political parties sent letters saying that they would like to introduce themselves and discuss the ongoing situations in the country. A meeting was first planned to take place but it didn't due to the COVID-19 outbreak. Preparations are now being made to hold the multi-party democracy election.
As the concern for COVID-19 in the country wanes, the meeting has now come. Since 2011, the country has been on a track of multi-party democracy witnessing changes and developments as well as strengths and weaknesses. In the 2020 general election also, the winning party has to take over State duties by forming a government.
The parties have gone through the two terms of government. So they, based on their experiences, are urged to consider what they will do, what they can do and how they can do. As there are a lot of parties, they might have different views. The Tatmadaw welcomes every organization serving the best interest of the country and will cooperate in serving the national interest, he said. The Senior General then invited the parties to discuss their policies and political outlooks.
Next, chairmen, vice chairmen and officials from the parties in attendance introduced individually. On behalf of the political parties, Chairman U Khin Maung Swe of National Democratic Force, Chairman U Thein Nyunt of New National Democracy Party, Chairman Dr Nay Zin Latt of National Development Party, Chairperson Dr Daw Thet Thet Khaing of People's Pioneer Party, Vice Chairman U Khun Maung Thaung of Pa-O National Organization and chairmen, vice chairmen, secretaries and officials from respective parties discussed their party policies, matters related to the multi-party democracy general election to be held on 8 November 2020, views on the Union Election Commission, ensuring a free and fair election and request for Tatmadaw's assistance and understanding of the fact that Tatmadaw is playing a national politic role with a sense of duty.
The Senior General expressed thanks to the political parties for their open discussions and outlooks. Reviewing their discussions, they have a real desire to develop their own country. Tatmadaw is engaging in national politics. Although those political parties are different in nature as they do politics, they have the common ground to develop their country and further the political cause. They need to work together for a peaceful, modern and developed democratic State.
Generally, democracy means electing candidates in accordance with the will of the majority of the people and federalism means sharing. There are many countries that adopted democratic systems in the world and they have chosen a democratic system that matches the reality and social, economic, and cultural characteristics of their countries. Therefore, it is necessary for us to adopt an administrative system that matches with our country. It is necessary for all of us to cooperate in order to create a better present by learning lessons from the past without arguing.
Despite adopting democracy and human rights, priority should be given to stability, tranquility, and development of the country. For the development of the country, it is essential to promote economic development. For economic development, it is important to nurture scholars and experts. It is vital to create job opportunities for economic development. No one should forget the Myanmar proverb that says one can keep ethics only when one's stomach is full. We need scholars and experts to establish a disciplined administrative system. Only when education is developed, a modern and developed nation can be built. As about 70 percent of the population of the country are rural people, the industrial economy cannot be established immediately and it is necessary to create industries based on agriculture and livestock breeding step by step. He urged political parties to narrow the gap between rural and urban areas and regions and states as much as possible, to alleviate poverty and to reflect the reality.
He urged political parties to carry out political activities with the commitment to the betterment of the country. In politics, words are required to reflect deeds and vice visa. It is of utmost importance to elect genuine candidates of the people in building a modern and democratic nation and to elect better candidates. The Tatmadaw will cooperate with all to make the upcoming elections a free and fair one. It is necessary for all eligible voters to cast their votes in the upcoming election and candidates who should be elected will not get votes if eligible voters refuse to cast votes in the election. It is necessary to persuade voters to cast their votes for candidates who should get votes. The Tatmadaw is ready to cooperate with any organization that is doing national politics for the development of the country.
After the meeting, the Senior General and party cordially greeted the chairmen, vice chairmen, secretaries, and officials of the political parties who came to the meeting.