Nay Pyi Taw August 25
Ceremonies to make cash dona-tions by families of Tatmadaw (Army, Navy and Air) to tar the Mingan Village main road from the Taungniaye Monastery where Moegaung Pagoda built by King Alaungsithu is located at Mingan Village, Taungtha Township, Man-dalay Region, and to upgrade the mountain road leading to Phaung-dawU Pagoda built by the King on top of the 1788-foot high Taungtha Hill near Myingyan-Taungtha road, repair the roof of the Gandakuti Chamber and pave a concrete road were held at Pyilon Aungchantha Dhamma Beikman and Taungniaye Monastery this morning. Commander-in-Chief of Defence Services Senior General Min Aung Hlaing attended the ceremonies, presented donations and cordially conversed with the local people.
Accompanied by Commander-in-Chief (Navy) Admiral Tin Aung San, Commander-in-Chief (Air) General Maung Maung Kyaw, and senior military officers of the Office of the Commander-in-Chief (Army), the Senior General arrived at Taungniaye hillock at Mingan Village, Taungtha, and was warmly welcomed by administrator of Mingan Village U Win Oo and the local people with the accompaniment of Ozi dances.
The ceremony to present cash donations of families of Tatmadaw (Army, Navy and Air) for the tarring of Mingan Village main road from Taungniaye Monastery where Moegaung Pagoda built by King Alaungsithu is located was held at the stand of Phayapwegone, Taungniaye Monastery, with an address delivered by the Senior General.
The Senior General then pre-sented Ks-32.4 million contributed by families of Tatmadaw (Army, Navy and Air) for tarring the Mingan Village main road linking Taungniaye Monastery and Taungtha-Mahlaing road to village elders U Win Oo and U San Tin Aye.
Administrator of Mingan Village U Win Oo on behalf of the locals expressed words of thanks for the cash donations.
The Senior General and party observed the developments of Taungtha in a motorcade. Local people accorded a rousing welcome holding placards that said "We warmly welcome Commander-in-Chief of Defence Services Senior General Min Aung Hlaing," "We are Myanmar" and " We love Army".
On arrival at the top of Taungtha hill, the Senior General and party were welcomed by Ma Aye Win Shwe (Shwe Myaing Theikpan Family), the donors of the mountain road. They then paid respects to Sayadaw Bhaddanta Silacara, the head monk of the monastery on the mountain, donated Waso robes and offertories and supplicated on religious matters. Afterwards, they offered flowers, water and oil lights to the ancient PhaungdawU Pagoda built by King Alaungsithu, and went round the pagoda clock-wise. The Senior General enjoyed the scenery of Taungtha from the hill, and coordinated greening arrangements for Taungtha. He then observed the documentary photos of the remaining parts of the old pagoda that collapsed due to natural forces and the tarring of Mingan main road linking Thaungtha-Mahlaing road. U Thant Swe, a Taungtha local and officials presented a report on the event and the project.
The Senior General and party arrived at Kyaungthit Monastery in Taungtha, paid homage to 23 members of the Sangha led by Chairman of Taungtha Township Sangha Nayaka Committee Agga Maha Pandita Bhaddanta Nandabhasabhivamsa of Kyaungthit Monastery of Taungtha, supplica-ted religious affairs and donated offerings.
At Pyilon Aungchantha Dhamma Beikman, the Senior General viewed health care services being given by members of mobile medical teams of the military command and presented medical glasses to eye patients.
The cash donation ceremony of families of the Tatmadaw (Army, Navy and Air) and well-wishers for improving the uphill road to PhaungdawU Pagoda followed. The Senior General explained the purpose of donation presented bags of cement and Ks-50.4 million donated by families of the Tatmadaw (Army, Navy and Air) for upgrading of uphill road onto Taungtha Hill, repairing of the roof of Gandakuti Chamber and construction of a concrete road to U Hla Myo Naing and U Thein Swe of the trustees board, medical supplies for pre-vention of Covid-19 and foodstuffs for Taungtha Township Public Health Department to Township Medical Officer Dr Cho Cho Win, aid for prevention of Covid-19 and foodstuff for Taungtha Township Education Department to Township Education Officer Daw Sein Sein Myint and foodstuff for Taungtha Home for the Aged to Chairman of the Home U Ba Hlaing who returned certificates of honour.
Officials also accepted cash donated by well-wishers in indivi-duals and gave certificates of honour to them.
On behalf of the locals, Admini-strator U Thein Swe of No 3 Ward in Taungtha spoke words of thanks while Head of Taungtha Township Information and Public Relations Department U Htein Lin reported on salient points of the area.
At the cash donation ceremonies, the Senior General gave suggestions for cash donations and regional development. First, he prayed for mental and physical wellbeing of local people. He said he had visited Taungtha in taking military exercises when he was attending the Defence Services Academy. According to the clarification of local U Thant Swe, he knew requirement of the township, so families of the Tatmadaw (Army, Navy and Air) collectively participated in upgrading the uphill road onto Taungtha Hill, repairing of the roof on Gan-dakuti Chamber and construction of a concrete road.
It was known that Taungtha region is home to more than 200,000 people engaging in agriculture sector, especially cultivation of beans and sesame. Water is of great importance in agricultural task. As such, it is necessary to accept much rainfall. As it did not rain in some areas of Magway Region in early monsoon period, local farmers faced great loss. Taungtha, having about 20 inches of rainfall, is a lesser rainfall area. Lesser amount of rainfall depends on geographical conditions as well as lesser forest area, so local people need to encourage cultivation of trees. Lesser amount of trees is based on much extraction of timber. As such, it is necessary to regrow the trees despite extraction due to local demand. Human consumes nutrition for recovery of lost energy. So also, all should supply the need of nature after using materials. Although growers cannot enjoy benefit of growing trees immediately, new generations are sure to enjoy it. On his arrival, he saw thriving toddy palm plants which are invaluable. Roots of toddy palm plants can extract water from 200 feet deep underground. So, they were urged to conserve toddy palm plants and extend cultivation of more plants.
Despite income from agricultural undertakings, conventional farm-ing is not enough and correct and modern cultivation methods are necessary to produce high yield. To do so, agricultural techniques must be learned. Education must be emphasized as the skills syste-matically learned and conventional ways are different. Generally speaking, the population census taken in 2014 shows that when people aged between 5 and 21 were divided into five groups, about 5.6 million people were found to have learned no school education at all. Without having school education, one can find it difficult to learn skills. So education must be encouraged.
One must be healthy to work and pursue education. When it comes to health, the Tatmadaw is providing healthcare services across the country. To provide healthcare for local people in faraway regions such as Sagaing Region, Chin State and Naga Self-Administered Zone, military medical doctors are being sent as they wish to the required hospitals. In four years, healthcare was provided for over 300,000 local people. As the country sees the Covid-19 outbreak, cases are increasing in Sittway Township of Rakhine State. Before the start of the outbreak in Myanmar, meetings and discussions on preventive measures were held in respective military command areas. The diamond jubilee anniversary parade of the Armed Forces Day, crucial for the Tatmadaw, was postponed. Tatmadaw is actively participating in the Covid-19 preventive, control and treatment measures. With salaries of Tatmadawmen and civilian (substituted) appointees cut for a one-day portion two times, medicines and medical equipment are being provided. Cash donations were also made for ethnic regions, war veterans, retired police, artistes, and sport contingents. Moreover, supplement nutritious foods are being provided to patients and hospital staff.
In building a country, anyone wants to see development. Although Myanmar has regained indepen-dence for 73 years, there is still a lack of progress due to internal armed conflicts and other various reasons. Currently, the country is on a track of multi-party democracy and democracy is being practised in accord with the desire of the majority of the people. The State must be built with good persons. Voters must choose representatives as they like as the general election is due to be held on 8 November. As no vote campaigns are heard in the country, people from respective regions need to considerably choose without causing any loss of good persons capable of serving the national interest. Those capable of serving the best interest of the country must be considered while party polices are necessary to be good. The representatives voters have chosen need to be good. Eighty seven percent of the population are Buddhists and there are also other faiths. There is no religious extremism but it is necessary to value one's own nationality, language, religion, culture, tradition and national character.
It is important to have unity among all the ethnic people as Myanmar is a Union. Taungtha region cannot sustain alone, as it is formed by a group of villages. Towns collectively form a region, and regions and states collectively form a Union. So, it is important to maintain unity and select candidates who have the will to establish and maintain unity. I am explaining these out of my genuine will for the country to develop. I would like to urge you to use your rationality to elect good candidates who can improve your region and the country.
The Tatmadaw will continue to provide assistance in development and health sectors of Taungtha. But how much progress it can make will mainly depend on the efforts of local residents, no matter whatever assistance the area receives from any organizations. I would like to urge the residents to do their fair share in regional development works based on their love for region.
In response to donations, administrators of Mingan Village U Win Oo and Taungtha Ward 3 U Thein Swe spoke words of thanks, saying that the Tatmadaw has dispatched mobile medical teams to Taungtha Township. They said they are very grateful that Tatmadaw (Army, Navy and Air) families have made donations under the leadership of the Commander-in-Chief of Defence Services to build a tarred road from Taungniaye Monastery which houses Moegaung Pagoda to Mingan Village, and to upgrade the mountain road to PhaungdawU Pagoda built by King Alaungsithu on 1788-foot-high mountain near Myingyan-Taungtha road, to repair the roof of the shrine and to build concrete road. The mountain road to PhaungdawU Pagoda is steep, narrow and slippery, and cars therefore cannot drive on it. It is also risky to climb the mountain by motor bike. It is time-consuming as visitors can only walk to there. Again as it is tiring, devotees only paid visit to the pagoda occasionally. Now, in response to the request of local resident U Thant Swe, the Tatmadaw has come and made donations. The donations will make the pilgrimage easier and the region will also benefit from local and international visitors who will come and visit the pagoda. The administrators said they hoped that the Commander-in-Chief of Defence Services and the Tatmadaw (Army, Navy and Air) families could enjoy good health and better serve the interests of the country and the people, and protect nationality, language and religion.
After the donation ceremony, the Senior General and party cordially greeted the attendees. Local re-sidents also conducted them round the display of the products of Taungtha, and the Senior General asked questions for his knowledge.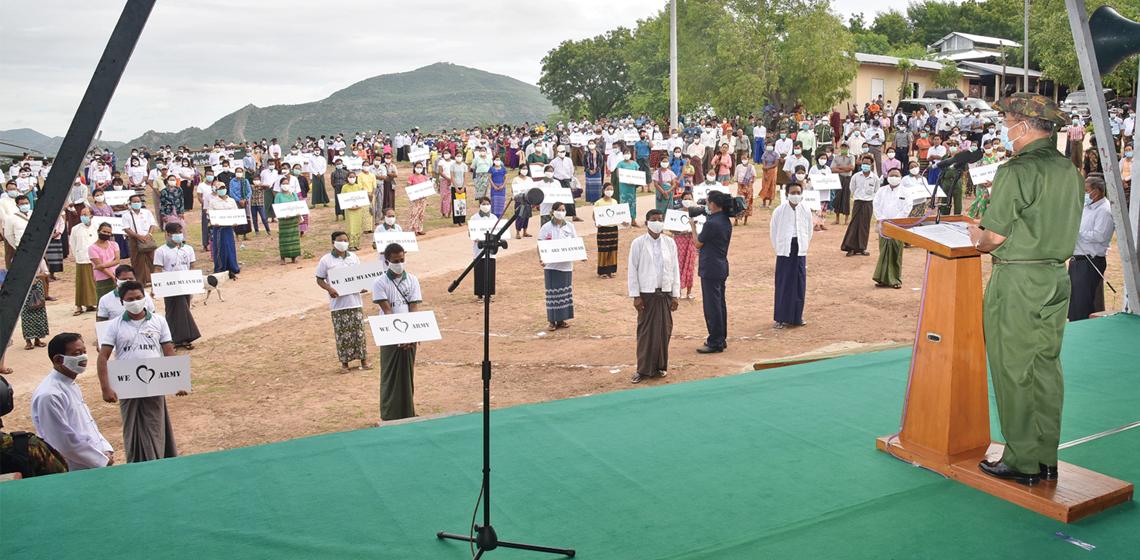 As the Senior General and party left Taungtha at noon, and local residents cordially saw them off, waving their hands while playing traditional drums and dance.
PhaungdawU Pagoda built by King Alaungsithu sits on 1788-foot-tall Kyaukyinn Mountain near Kyaukyinn Village, a mile in the west of Taungtha. In the past, the mountain was called 'Kyaukyit', as well as 'Moungma Ngo' because women were not allowed to participate in pagoda festival held on the mountain. It was also called 'Khwaytamaw' as the mountain is too steep for even dogs to climb. In 481 ME, when King Alaungsithu travelled around the country to learn the socio-economic life of his country folks, he named Taungtawtha as 'Kyaukyit'. At the place where his Thitkanat royal barge arrived, he had a pagoda built by threading stones and joining them to one another. He named it PhaungdawU Pagoda. The ruins of the weather-torn pagoda remain today. Then, the current pagoda was built based on what was left of the foundation of the original pagoda by enshrining gold Buddha status and Buddha relics which King Alaungsithu had conveyed from Thaton so that people of future generations can pay homage to the pagoda. The pagoda was maintained in successive periods by local residents, community elders and well-wishers. As such Tatmadaw (Army, Navy and Air) families have also provided cash donations for sustainability of PhaungdawU Pagoda and to provide visitors with easy access to the pagoda.
Then, the Senior General and party proceeded to Hsimeekhon Port in Myingyan District in Mandalay Region and inspected the arrangements for transportation of parts of the marble Bhumi Phassa Mudra Sitting Buddha Image to be built in Nay Pyi Taw.
At the meeting hall of the port, Lt-Gen Kan Myint Than and Maj-Gen Myo Thant from the Office of the Commander-in-Chief reported to the Senior General on conveying parts of the throne of the Buddha image aboard Pyigyimon Royal Barge from the jetty of Sagyin Village to Hsimeekhon Port along the Myaung River and Ayeyawady River, conveying the main parts of the Buddha image and conveying the Buddha image from Hsimeekhon to Nay Pyi Taw and arrange-ments for reducing the weight of the Buddha image.
The Senior General pointed out the need to transport the Buddha image in accordance with the tradition in conveying the Buddha image, to negotiate the route for conveying the Buddha image with relevant departments and to calculate the strength of roads along the route and to use the marble that is left after the building of the Buddha image for floor tiles of the Buddha image.
Afterward, the Senior General and party inspected round the parts of the throne of the Buddha image already arrived at Hsimeekhon Port.