Nay Pyi Taw September 8
Commander-in-Chief of Defence Services Senior General Min Aung Hlaing presented cash awards to members of Myanmar Police Force who made achievements in effective anti-narcotic drugs in Shan State at the meeting hall of Eastern Command Headquarters this morning.
Also present together with the Senior General were Commander-in-Chief (Navy) Admiral Tin Aung San, senior military officers from the Office of the Commander-in-Chief (Army), Eastern Command Commander Maj-Gen Lin Aung, Commander of Shan State Police Force Police Brig-Gen Tin Ko Ko and police members.
Police Brig-Gen Tin Ko Ko explained measures for anti-narcotic drugs and psychotropic substances by launching special operations, incineration of the seized drugs, review of drug smuggling in various ways, continued combat of narcotics, elimination of poppy cultivation and dissemination of knowledge to local people about poppy-substitute cultivation.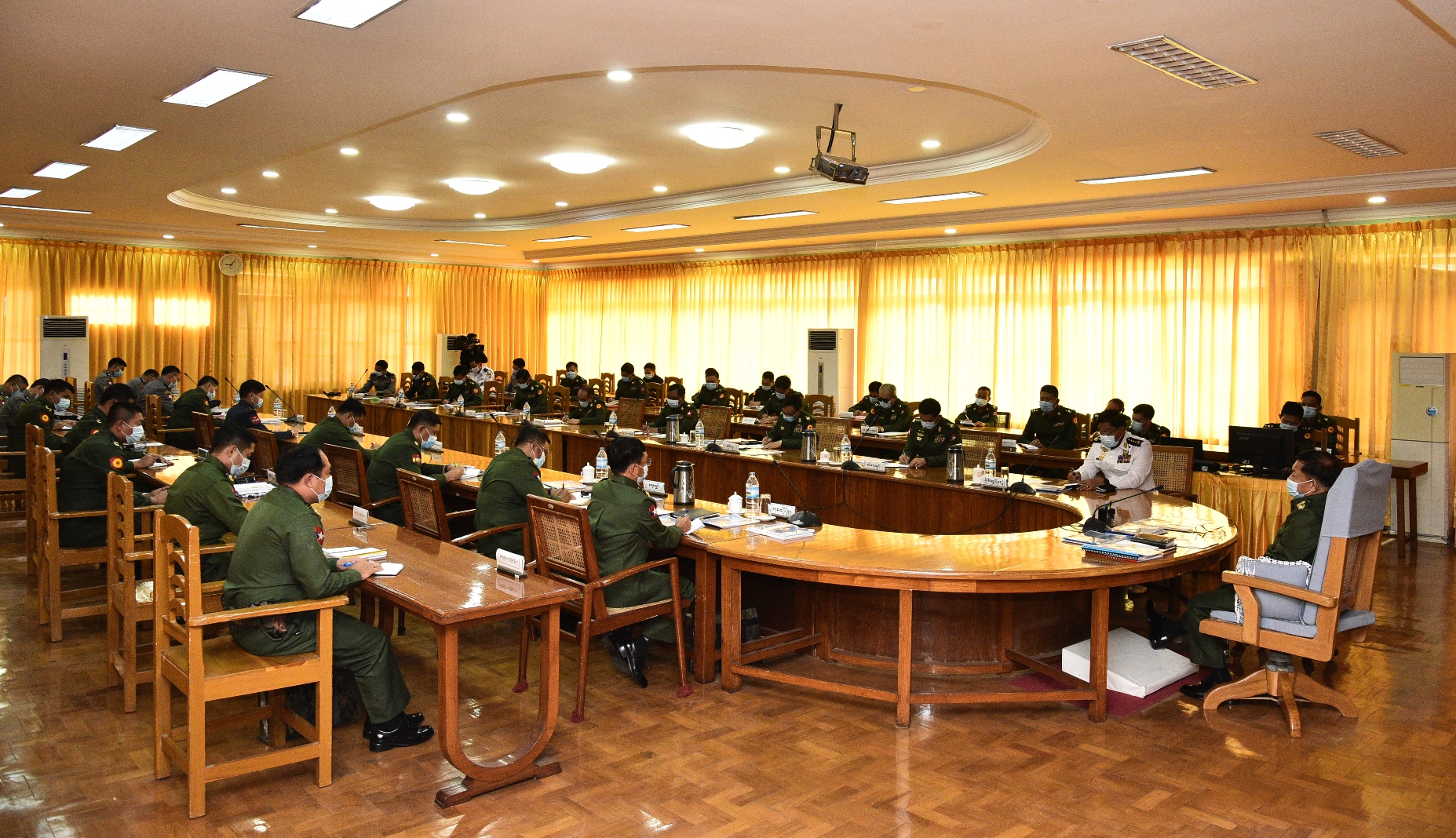 The Senior General said it was a great result to have destroyed a large haul of narcotic drugs worth over US$-651 million seized in 2019 and early 2020 at a recent drug incineration ceremony. Myanmar Police Force, Shan State Police Force and anti-narcotic drug squad deserve praise for their achievements in busting such drugs. Some illegal armed groups are earning a main source of income from narcotic drug production and smuggling. Therefore, emphasis has been placed on combating narcotics since early 2018-2019 fiscal year.
This why information seeking, the very basis in such efforts, is necessary through local and international cooperation. Inside the country, Tatmadaw and Myanmar Police Force must work together and practically. Information is being shared with China and ASEAN countries. Information availability is crucial and as soon as information comes, effective action must be taken. Record keeping and registration must also be systematic. For community security and prevention of narcotic drugs, notorious smugglers and smuggling routes must be recorded. Then, other related cases can be exposed quickly.
Such a large seizure of narcotic drugs should not lead to complacency and elimination is necessary. It is illegal armed groups that aid and abet drug producers. Under their protection, such large amounts of narcotics are being produced. So it is required to terminate armed conflicts.
Tatmadaw and police must work together by regarding anti-narcotic measures as causes for the area, State and the national. The education, health and economy of the regions they serve must be promoted while it is also necessary to end armed conflicts.
Then, the Senior General presented cash awards to the Myanmar Police Force members who made achievements in anti-narcotic drugs in Shan State through Commander of Shan State Police Force Police Brig-Gen Tin Ko Ko.