Nay Pyi Taw September 17
Commander-in-Chief of Defence Services Senior General Min Aung Hlaing cordially conversed with Tatmadaw members based in Lashio in Shan State (North), members of Myanmar Police Force, health and education officials of the township and town elders at the hall of North-East Command Headquarters this afternoon, and provided honorary cash awards to security forces for their success in the drug seizure operations and donate medical aids for COVID-19 prevention, containment and treatment.
Also present were Commander-in-Chief (Navy) Admiral Tin Aung San, Commander-in-Chief (Air) General Maung Maung Kyaw, senior military officers of the Office of the Commander-in-Chief (Army), Commander of North-East Command Maj-Gen Aung Zaw Aye, Deputy Commissioner U Kyaw Thu Zaw of Shan State General Administration Department, Commander of the Office of Deputy Commander of Shan State (Lashio) Police Col Banyar Oo, departmental personnel, local area based Tatmadaw members, Myanmar Police Force members and town elders.
Senior General Min Aung Hlaing and party were welcomed by town elders and officials. As regards the purpose of his visit including regional development, the Senior General recounted his military service in Shan State as a junior officer, and said that the visit is to honour in the person the police personnel for their brilliant efforts in seizing drugs, chemicals and arms and ammunition and related equipment during their duty to secure the area and enforce the rule of law in the surrounding areas of Lwekham Village, Kaungkha Village-tract, Kutkai Township and to provide medical aids for COVID-19 prevention, containment and treatment for local people and departments.
Narcotic drugs at a street price of about Ks-495.50 billion (about USD-330.33 million) were seized in Shan State (North) in the 931 raids during the period from 1 January to 15 September 2020; and narcotic drugs at a street price of about Ks-88.16 billion (about USD-58.76 million) were seized in Shan State (North) in the 1,270 raids in 2019. It is indeed honourable, but the events also indicate that the country is still not free from drugs. The elimination of drugs in the country calls for collective efforts. Instead of blaming the past, the present generation must take it as a lesson in creating a better future. Anti-drug drive must be carried out as the concern of the country and the national cause. The national cause should not be wrongly defined as racism, as serving the national interest is the national cause. As any nationality living in the Union is a Myanmar nationality living on the same land and consuming water from the same source, harmonious efforts should be made for the betterment of the country, he said.
He said till this morning, the country has 3,894 confirmed cases of COVID-19, and 46 died of the virus. Although the infection rate is low in Shan State (North), awareness is required. Infection rate was low in the country in the early period, but the rate has surged since late August. As the rate may future rise, every individual needs awareness. The health sector has three parts—awareness, prevention and treatment. As regards the virus prevention, directives, prohibitions and dos and don'ts must be observed. COVID-19 prevention, containment and treatment aids are brought for distribution. Although the aids would not be enough for the region, they will beneficial for the region to a certain degree.
The Tatmadaw has already provided protective medical equipment, nutritious food and other necessities to service personnel and their families as well as to the public, government employees, war veterans and retired police personnel even before the outbreak of COVID-19. Moreover, the Tatmadaw has also provided four essential food items such as rice, edible oil, salt and pulses and beans to the members of the grassroots, artistes, musicians, artists, journalists, athletes and other people who do not have regular income sources. As people can work and study only when they are healthy, the Tatmadaw has provided healthcare services consistently. The Tatmadaw has exerted such efforts not because it is affluent but because it wants to help the people by empathizing them for each and every one of their difficulties.
Shan State (North) possesses favourable conditions for agriculture and livestock breeding and is abundant in natural resources. As agricultural produces and livestock products have their markets, they can be sold not only at the local market but also be exported to other countries if they meet standards. It is undesirable to carry out agriculture and livestock breeding tasks without any benefit. Rice, maize, broilers, beef cattle which have high demand in neighbouring countries must be grown and raised. The Tatmadaw iscarrying out agriculture and live-stock breeding tasks comprehensively by establishing agriculture and livestock breeding zones and is ready to offer necessary assistance for establishing such zones in Shan State (North). It is necessary for local residents to contribute to regional development by manufacturing marketable local products.
As highly competent technicians are essential for manufacturing quality products, it is necessary to promote education and to enhance human resources. Local technicians are required to make concerted efforts for the benefits of the region. It costs a lot of money to buy foodstuffs from outside the region. The production of foodstuffs in the region will contribute to regional development and prosperity. Such advice is given based on the desire for the development of the region and the country.
Only when the country is peaceful, will development gain momentum. Ending internal armed conflicts and restoring peace is the utmost desire of the Tatmadaw. As armed ethnics are citizens of Myanmar and the country has suffered losses, it is necessary to make efforts for restoring peace. It is important for the people, the government and the Tatmadaw to cooperate hand in hand for the development of the country.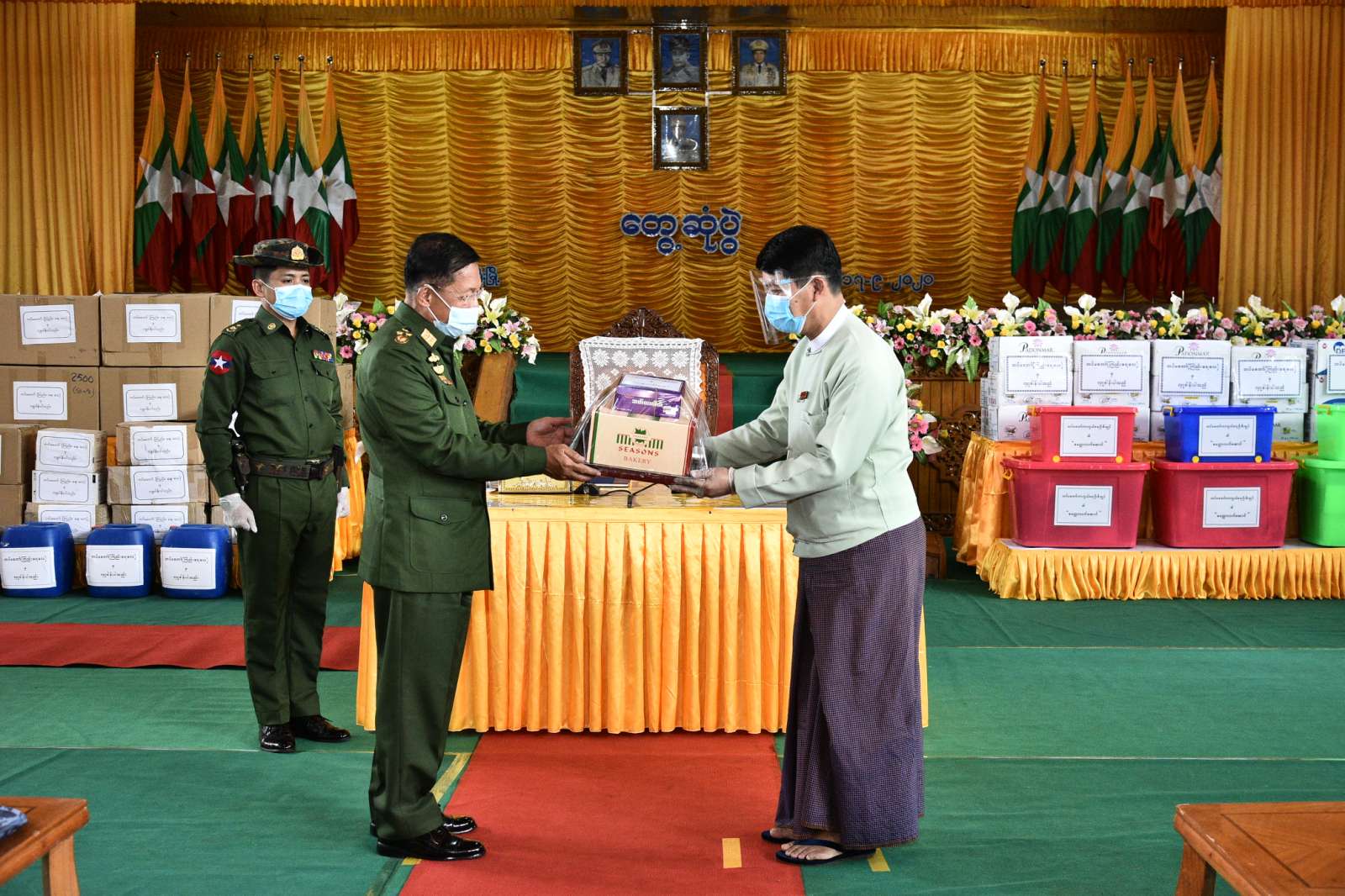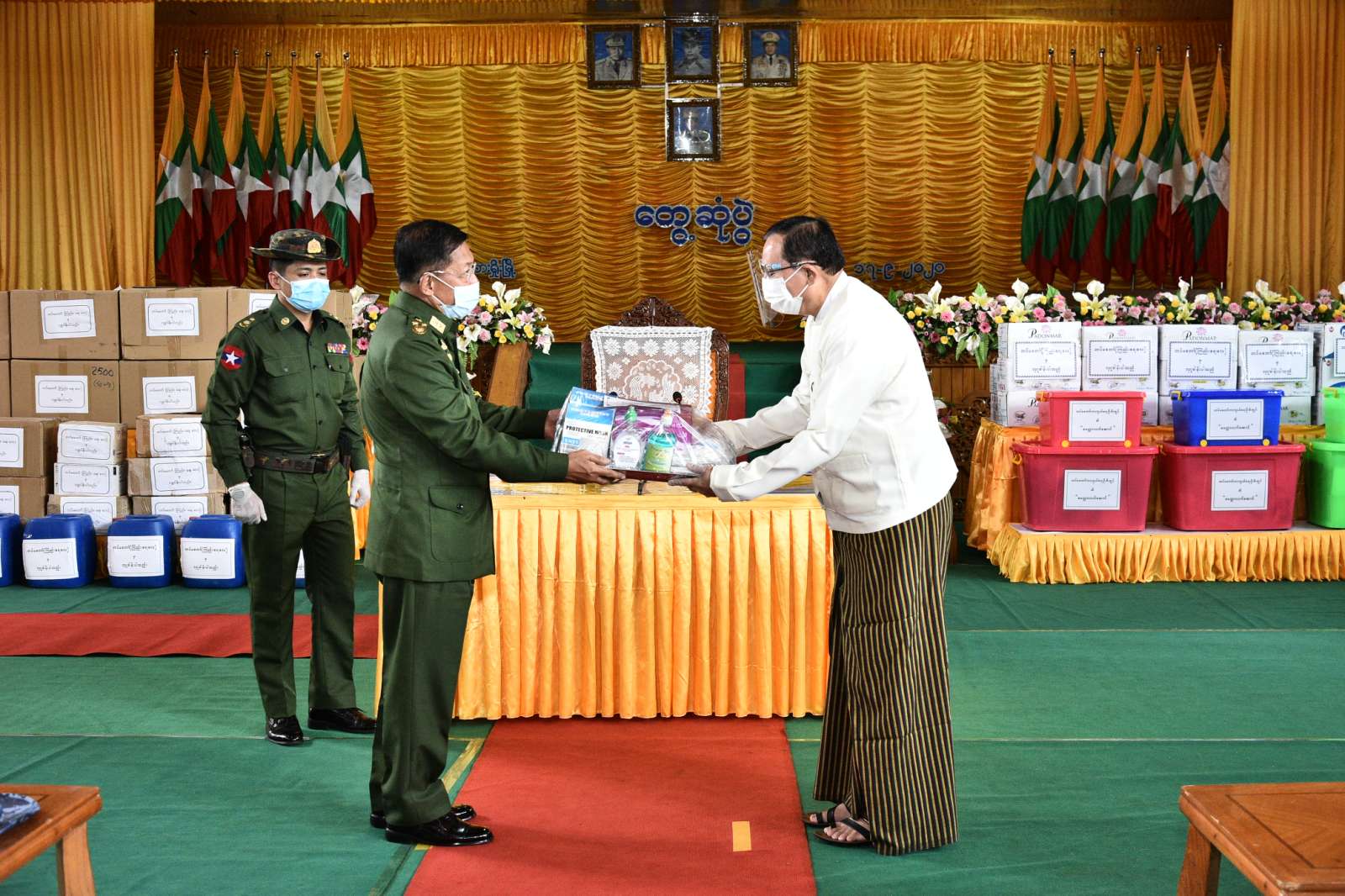 Afterwards, the Senior General presented cash rewards to the Myanmar Police Force, which successfully performed duties to combat narcotic drugs in Shan State (North), to Police Colonel Banyar Oo of the Office of Deputy Commander of Shan State Police Force (Lashio).
Then, the Senior General presented assistance for the prevention, control and treatment including 20,000 surgical masks, 500 N 95 masks, 250 face shields, six 25-litre capacity containers of sodium hypochloride, 1,000 pairs of examination gloves, 150 bottles of hand gel, 150 bottles of hand sanitizer, 300 sets of personal protective equipment (PPE), foodstuffs and household products manufactured by factories of the Tatmadaw to Shan State Health Officer Dr Tin Maung Nyunt, town elders Dr Dipa and U Sai Kyu and Deputy Commissoner U Kyaw Thu Zaw.
Then, the Senior General and party cordially greeted the town elders and departmental personnel who attended the event.