Nay Pyi Taw  December  11
The passing-out parade of the 21st Intake of Defence Services Medical Academy established with the aim of turning out skilful medical officers imbued with physical and mental capabilities for the Tatmadaw (Army, Navy and Air) took place at the parade ground of the Defence Services Medical Academy in Yangon this morning.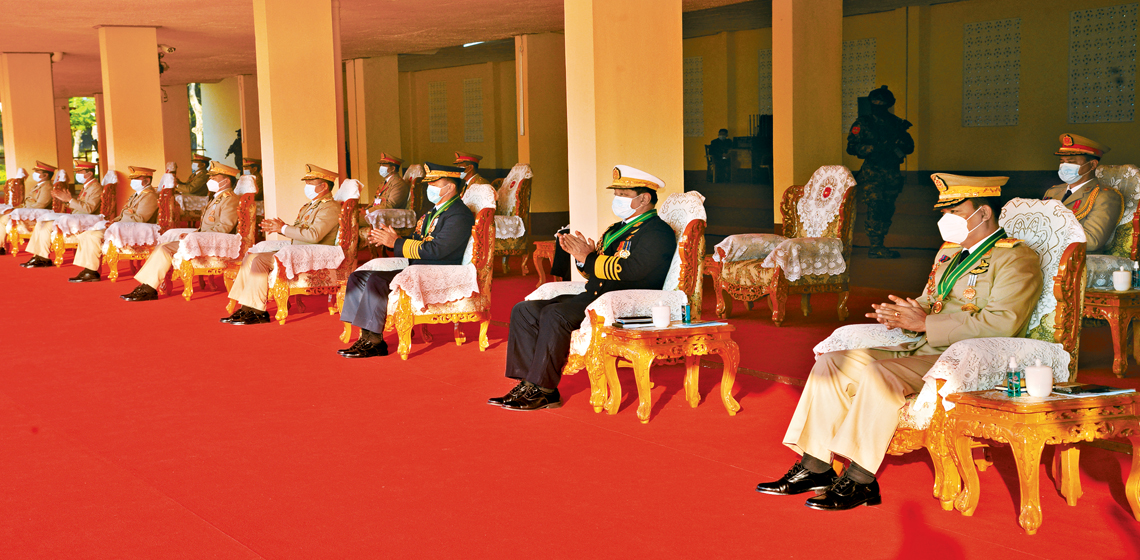 Commander-in-Chief of Defence Services Senior General Maha Thray Sithu Min Aung Hlaing delivered an address at the parade, and it was also attended by Commander-in- Chief (Navy) Admiral Zeya Kyawhtin Tin Aung San, Commander-in-Chief (Air) General Zeya Kyawhtin Maung Maung Kyaw, senior military officers from the Office of the Commanderin- Chief (Army), the commander of Yangon Command, the commandant of Defence Services Medical Academy and senior military officers from Mingaladon Station.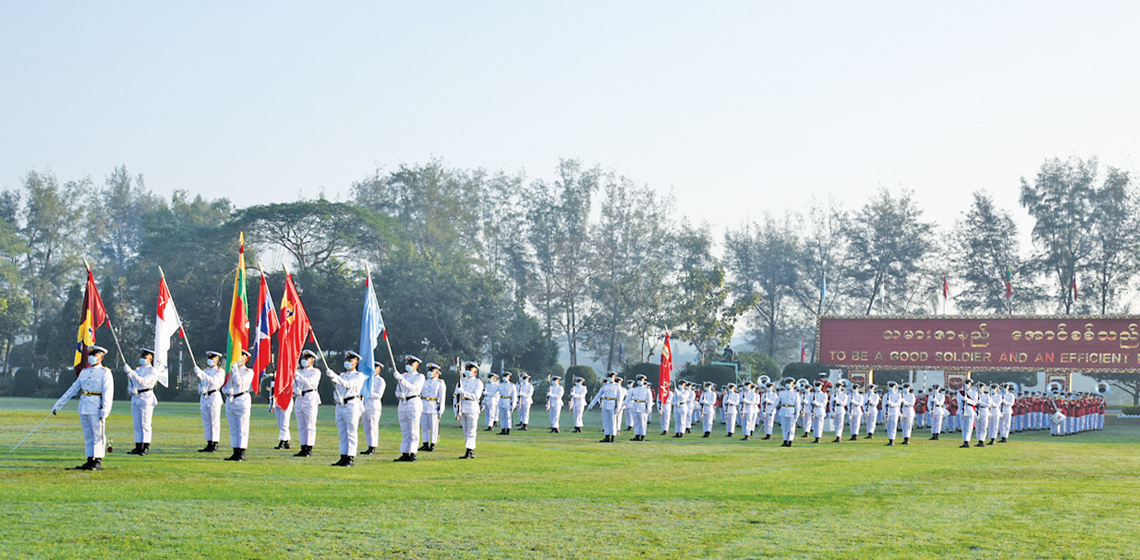 First, Senior General MahaThray- Sithu Min Aung Hlaing took salute of graduate cadet company and presented Best Cadet Award to Cadet No. 5471 Cadet Pyae Phyo Win, Excellent Award in Training to Cadet No. 5460 Cadet Zeyar Min Lwin and Excellent Award in Studies to Cadet No. 5481 Cadet Lin Pyae Phyo respectively. In his address, the Senior General said: From today onwards, you all are to hand on carrying out the duties of giving medical services,medical education and treatments for certain diseases of the nationalities, apart from Tatmadaw members and their family members, where you are assigned and served. To become a good army man, it is necessary for him to try hard all the time so that he would be able to carry out the duties assigned. By doing so, you all would be successful in life. As a Tatmadaw member, it is really important for you to abide by the rules and to stay fit and healthy. Only when you are well-disciplined, then would there be mutual respect between seniors and juniors so that it would lead you to accomplish your mission in unity. If you are healthy and fit, you would become a competent soldier.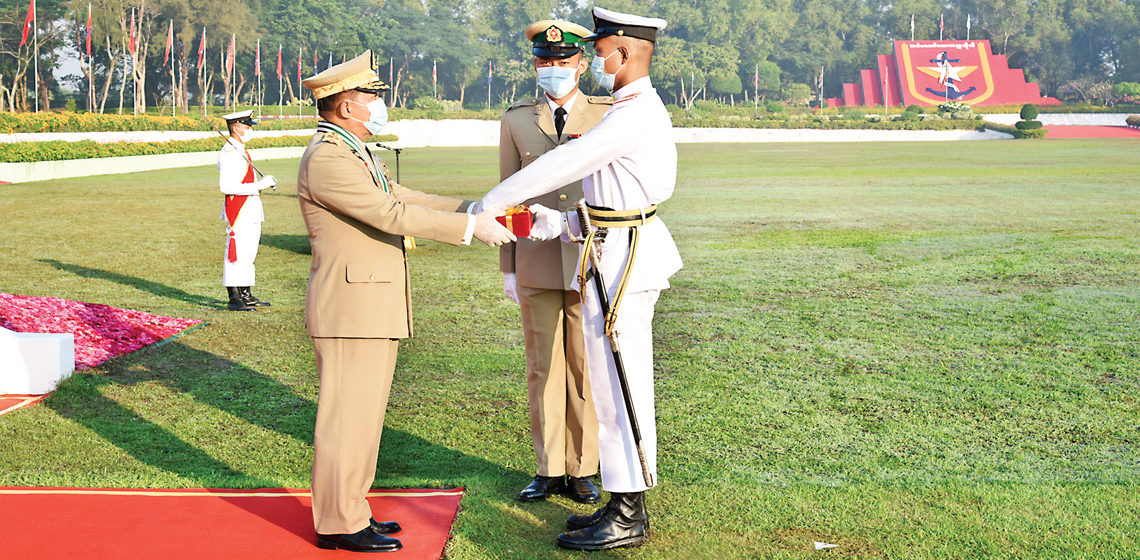 All military persons have a basic noble spirit as they all have voluntarily applied this post to carry out national defence duties. By strengthening these basic spirits, it is essential for you to practise to achieve such abilities of a good army man like being fit, proficient and courageous. Good discipline and obedience are the norm of our Tatmadaw. You should breed yourselves to have the spirits of a good military person like abiding by the rules,being obedient to orders, having mutual respects between seniors and juniors. Even when you all are well-disciplined, then would the strength of our Tatmadaw become stronger and more efficient. In this way, our Tatmadaw will become reliable for the nation as well as trustworthy for the civilians. Moreover, it is necessary for you all to have the spirits of a good doctor. Therefore, you all must not only know and abide by the military disciplines for military personnel but also know and observe the medical ethics for doctors.
By the time the Defence Services Medical Academy was established, teaching methods and administrative supports were systematically laid down and now it spouts as an Academy which produces successful ones like you all. This is because it has good systems of an institute. Similarly, there are already systems for medical treatments, prevention and emergency services in the military hospitals and field military battalions where you are going to Passing-out Parade of 21st Intake of Defence Services Medical Academy held serve. Due to these good systems, all military persons and their family members are given effective medical cover. Moreover, it can clearly be seen that, for the public,they all have well performed in the task of giving health care services, protecting natural disaster as well as rescuing and caring. In the Tatmadaw, there is a good tradition that is in order to have a good set system, projects which are to lay down and then into action. Therefore, not only in the affairs of medical treatments but also in other important affairs, it is really necessary to be careful as there would be no effective success if there is no planned system in advance.
As you all are military medical leaders known as "good soldiers and efficient doctors",you all must train yourselves to become professional by learning step by step what you should know and what you must study in your profession. So also in the practical field, you should keep on learning modernized and developed medical science subjects. In this way, you all would still be as medical profession who can keep abreast with the international standard. Moreover, as you all are military leaders, you should study leadership skills and then apply them pragmatically. You all are going to serve in respective battalions as young commission medical officers who were taught and trained the ideology and process of leadership skills during your academic years. Military strategies and leadership skills taught in this academy are just the basic and so you should keep on studying yourselves for much more when you are in real life working environment. The field of leadership is so large so that in your respective fields, you should apply prescribed and practical theory very well and would be able to accomplish dutifully the targeted tasks assigned. Thus, while serving in your real life working environment, it is necessary to give the right leadership to those under your command. You should work hard to become a dutiful officer leading your subordinates to accomplish the aim or objective of the Corps under your command. To become good leaders, you must carry out the tasks with great efforts, honesty, good will, contentment and understanding human nature.
From the 1st intake to the 20th intake,Defence Services Medical Academy has already produced many military doctors and they all are giving health care services to local civilians, taking care of health and fitness of the family members of the military persons who are carrying out the three main duties such as national defence duty, practice duty and duty of performing public benefiting services. In this way, the need of medical staff can be fulfilled from one corner and to a certain extent, and the Academy is also fulfilling the health sector to the most possible degree to obtain the booming socio-economic life of nationalities.
Our Tatmadaw has been giving health care services in the border zone, even remote areas and all over the nation. The reason why we are doing these tasks is carrying out one of the main duties which is public benefiting services dutifully in good will. Staff in Military Medical Corps like you are giving free of charge treatment and protective care to the public, applying your medical knowledge learnt and it is actually performing the national defence duty successfully as well as paying gratitude to the public which is to protect for the sake of the public. There are still the needs in the sectors of the health, education and transportation at the borderland where the majority of ethnic groups are living. Therefore, you all have to give health care services to those living there with your proficient medical knowledge.
COVID-19 pandemic broke out in December 2019 and now it is spreading all over the world including Myanmar. Starting from the time of the pandemic, the Tatmadaw has kept an eye on this crucial situation and necessary negotiation and preparation were done. The reminder for COVID-19 preventive measures has been released to the entire Armed Forces and taken precautions in advance after figuring out the potential consequences due to this pandemic. From one hand, in order to prevent from the spread of this pandemic among the public, regardless of race and religion, health care services like spraying antiseptic, educating and supporting aids are done. Moreover, to know the infection cases in no time not only military personnel and their family members but also war veterans and national ethnic groups living in the country are diagnosed with the help of machines at the military hospitals. Some national ethnic siblings have worked abroad for different reasons and on their return, it can clearly be seen that the Tatmadaw has established COVID-19 centres giving them shelter and food as well as taking every responsibility and care. Thus, the Tatmadaw, concerning with COVID-19, has been giving help to the nation and the public by figuring out from all corners.
It can also be practically seen that members of the military medical corps are, not only at the COVID-19 clinical hospitals and clinical centres administered by the Tatmadaw but also together with health workers from the Ministry of Health and Sports and volunteers, giving help. The reason is according to the Section 341 of the Constitution, "The Defence Services shall render assistance when calamities that affects the Union and its citizens occur in the Union" and keeping this national duty in heart, with no hope in return, the Tatmadaw has been helping with all their might, in order to protect the nation and the citizens. You all should take your role actively in these noble works.
For the development of a country, good health and fitness of all the citizens plays a great role.According to the saying,"Good health is a great blessing," only when one is healthy, he can study and work, and so everyone wants health and longevity. However, we can see that very few can live to their full life-span because there are infant mortalities, being unwell or even deaths due to different cases in the young adult age or middle age.Life expectancy in our country is only 66 years but in some other developed countries, it is over 80. Life-span in Myanmar is much shorter than that of other countries and it can simply be noticed that there are weaknesses concerned with health. Therefore, for the sake of our nation and nationalities, our Tatmadaw is giving necessary health care services for the public health as much as we can afford. While giving health care services to the public such as giving medical knowledge, preventive measure and effective treatment, you have to carry out these tasks with good will as the main duty of medical corps. In other words, giving health care services to the public with your proficient medical competence is actually carrying out national defence duty very well. For an organization to be strong and able to exist without falling down, unity in this organization must also be strong. To be strong like this, all of you, who are going to serve in respective battalions, regiments, hospitals or medical corps, must give health care services to military persons and their family members as if they are your own flesh and blood and also share medical knowledge to them so that they will obtain health knowledge and health care. In this way, mutual respect, trust, friendship and attachment are getting strengthened and compact unity in the battalion could be built.
The public has begotten our one and only Tatmadaw which is composed of various national races so that it is for you not only to protect their lives and their property but also to help from every corner for the safety of their daily socio-economic life. From one side, our Tatmadaw, holding hands in hands with the public, is working up to the better future of the nation. Only when the Tatmadaw and the public are standing on the same side, campaigning in the outside of the battalion compound would get better and strengthened. The behaviour of the health workers are really important for the public and wearing a smile on your face and treating your patient with warm kindness would lead to the recovery of your patient. Therefore, while serving in your working environment, all of you must carry out every assignment with honesty, morals, good will and warm kindness for the public.
You all should strive to sustain good traditions of the Defence Services Medical Academy and work hard for the nation and nationalities, to give protective measures, with your proficient medical knowledge, to all the Tatmadaw members so that they would be fit and able to carry out their defence duty according to the motto, "be fit to fight," which is the aim of the medical corps, to keep on studying hard to become medical scientists who are reliable for the nation and the Tatmadaw by learning advanced medical science on and on based on medical subjects taught in Defence Services Medical Academy, and to become good leaders who could give right leadership to those under your command while trying yourselves hard to be well behaved, fit and healthy by precisely abiding by medical ethics together with the characteristics of the military leadership.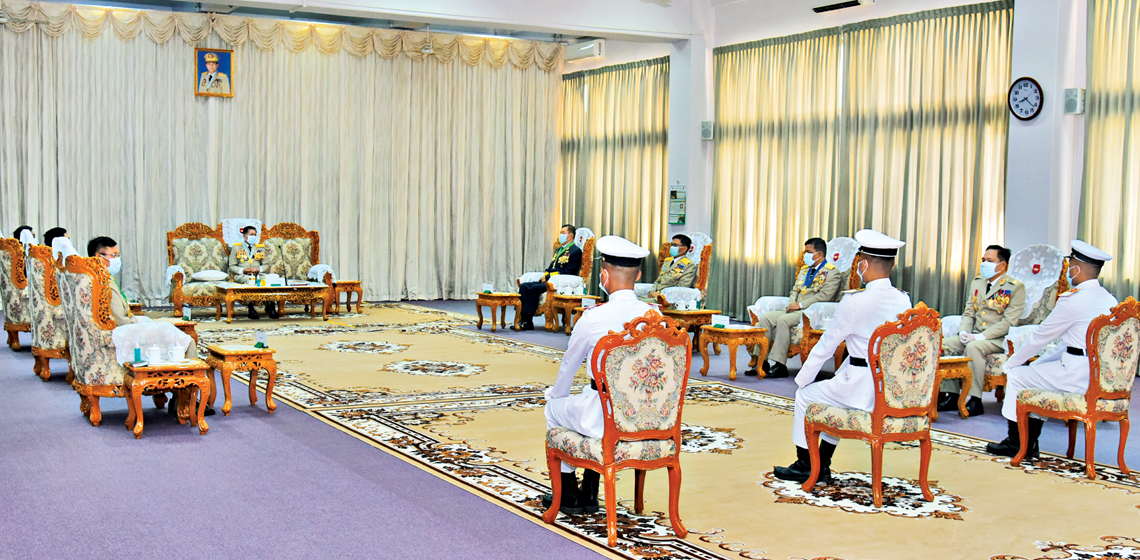 Then, the Senior General took salute of the cadet company and left the parade ground. After the parade, the Senior General met with the outstanding cadets at the parlour of Defence Services Medical Academy and made an honorary speech. In his speech, the Senior General praised the cadets for their outstanding performances and expressed delight as did their parents. Their parents are sure to take pride of their sons even though they could not be present at the parade due to the COVID-19 situation in the country. Their results came from seven years of their hard work with both theoretical and practical approaches. The DSMA, unlike other academies, has six years of theoretical study and one year of practical study at hospitals. If one cannot tend to have self-control, one will not achieve success. So, they must maintain their efforts they have been making throughout the course and try to become good leaders, good doctors and good soldiers. They also need to try to be good in morality and discipline.
They need to cultivate a sense of having a kind heart and stay healthy and strong. In accord with a Myanmar motto "Keep your honesty", they must live in a correct and disciplined manner. Making use of the skills the State and the Tatmadaw had taught, they must shoulder medical and healthcare duties conscientiously and successfully for Tatmadaw members and their families and public and disseminate health knowledge. Next, the Senior General prayed that they would become good soldiers capable of serving the best interest of the country and achieving success in life.