Nay Pyi Taw  December  23
In accord with the motto of the Defence Services Institute of Nursing and Paramedical Sciences "To turn out physically and mentally strong Tatmadaw nurses, pharmacists and paramedics for the national armed forces who will protect Our Three Main National Causes," nurse and pharmacist soldiers equipped with quality and good codes of conduct are being turned out for the medical corps. And the Passing-out Parade of 18th Intake of the Defence Services Institute of Nursing and Paramedical Sciences and the 5th Intake of Female Nursing and Paramedical Sciences was held at the parade ground of Defence Services Institute of Nursing and Paramedical Sciences in Yangon this morning, attended and addressed by Commander-in-Chief of Defence Services Senior General Maha Thray Sithu Min Aung Hlaing.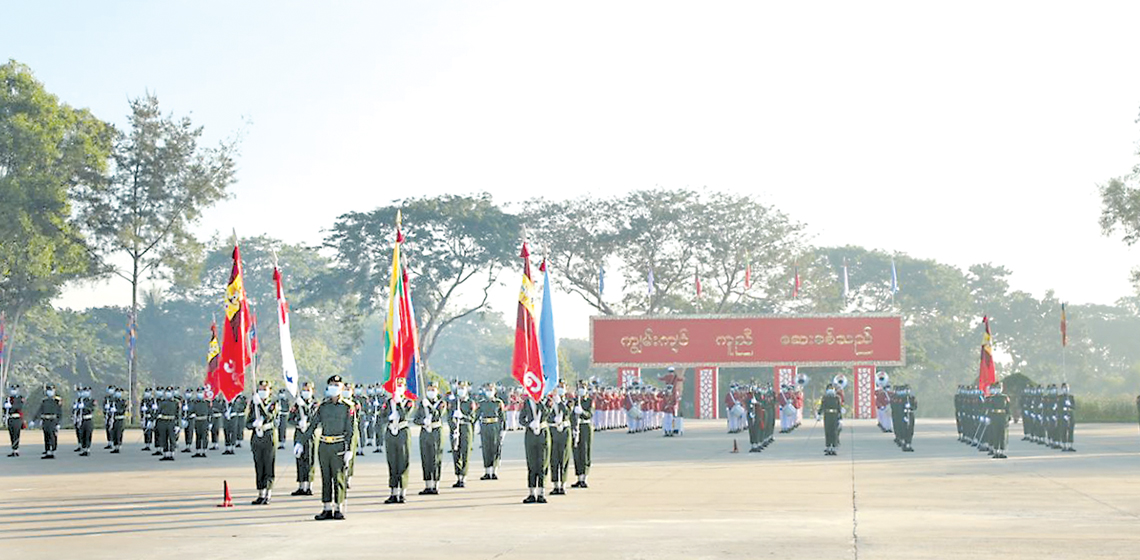 Present on the occasion together with the Senior General were Commander-in-Chief (Navy) Admiral Zeya Kyawhtin Tin Aung San, Commander-in-Chief (Air) General Zeya Kyawhtin Maung Maung Kyaw, senior military officers from the Office of the Commander-in-Chief (Army), the commander of Yangon Command, the commandant of Defence Ser-vices Institute of Nursing and Paramedical Sciences and senior military officers of Yangon Station.
First, the Senior General took the salute of the graduate trainee companies. Then, the Senior General presented Best Trainee Award to Trainee No. 3937 Trainee Aung Moe Naing, Excellent Award in Training to Trainee No. 3925 Trainee Hla Ko Oo and Excellent Award in Studies to Trainee No. 3933 Trainee Aung Kyaw Than of the 18th Intake of the institute.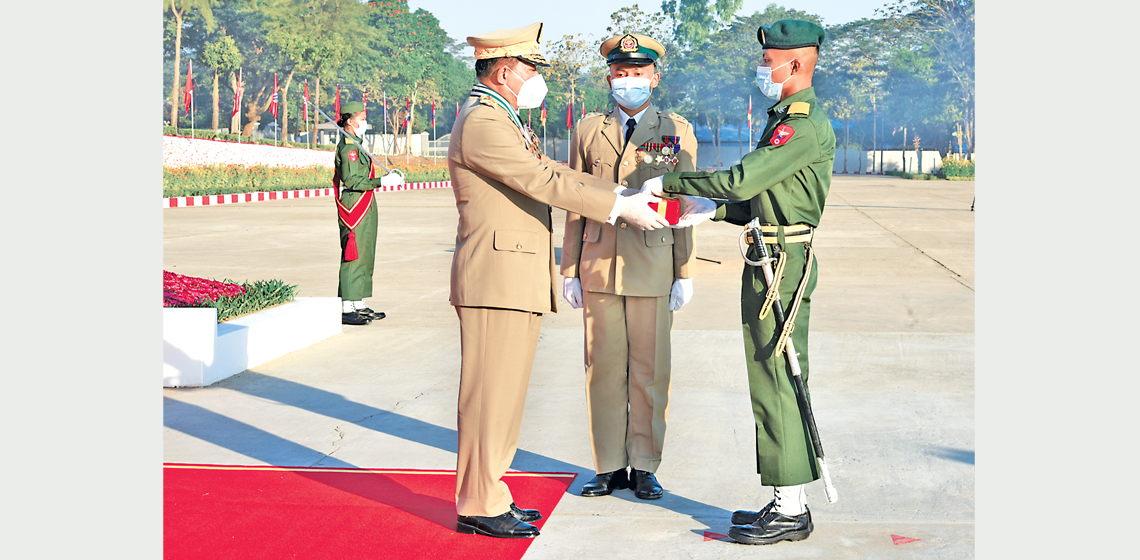 Next, the Senior General presented Best Trainee Award to Trainee No. 306 Trainee Shwe Zin Oo, Excellent Award in Training to Trainee No. 324 Trainee Ekari Kyaw and Excellent Award in Studies to Trainee No. 322 Trainee Eindra May Thu of the 5th Intake of Female Nursing and Paramedical Sciences.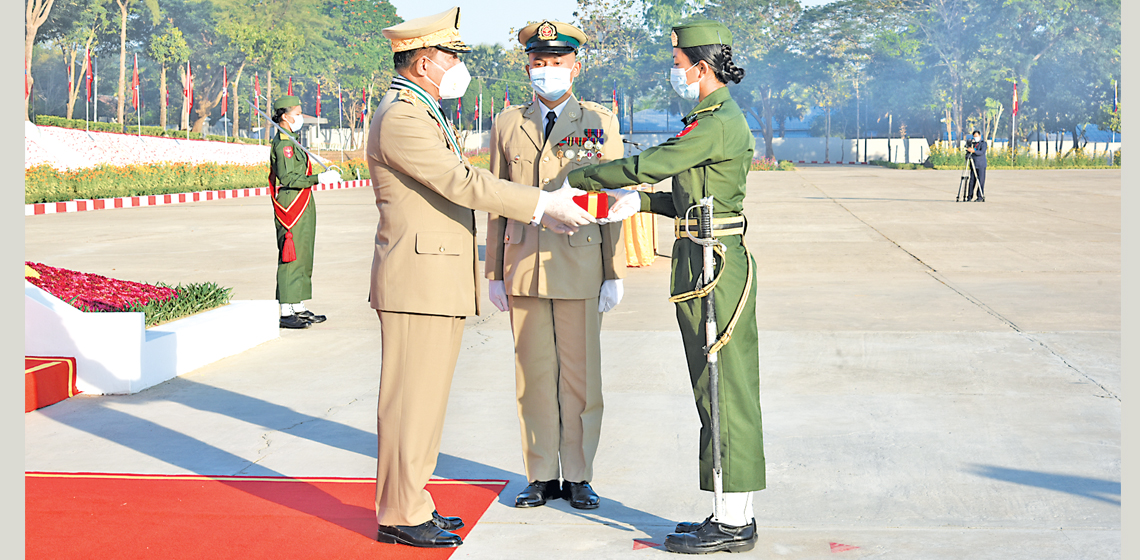 Afterwards, the Senior General delivered an address. The Senior General said it is very important to be both in good physical and mental health for our military personnel who are vigorously serving the three main tasks of the Tatmadaw—national defence duties, training duties and those for public interests. According to the saying, Health is Wealth, you all who are responsible for ensuring the health of military personnel and their families, have to treat patients with "natural bent, goodwill, compassion, sacrifice and role model" which are the basic qualities of a good nurse. The tasks of Nursing and Medical Cover play a very important role in operation areas. Providing the best possible medical care to the wounded can be a huge help to combatants, and effective medical care can greatly help to win the war so that I would like to exhort you all to strive to be qualified and skilled in the field of medicine.
At the present time, it can also be seen that today's nursing care includes management, control, sys-tematic documentation for patients and monitoring of nutritional status. I would like to exhort you to follow the code of ethics of a nurse, such as treat as a friend, support, honesty, patience, politeness, sympathy and kindness because the behaviour of a good nurse can reduce half the suffering of patients.
As part of the prevention, controlling and fight against the Current Respiratory Disease, COVID-19, military nurses and medical technicians have been participating in the process of identifying and isolating infected patients, educating public in wearing face masks and face shields, systematic hand-washing and avoiding crowded areas. They also have been enthusiastically cooperating with public health services in spraying Sodium Hypochlorite disinfection liquid in public areas like schools, markets and hospitals and more intensively, actively sharing their expertise in Phaunggyi Covid centre, Covid centre for Sanghas and the Military Covid  centres.
As regards the Tatmadaw's help in natural disaster prevention and rescue operations with family spirit based on loving kindness and goodwill, the Senior General said, "As Myanmar is prone to suffer from severe natural disasters like floods, storms, earthquakes, landslides, fire and other unexpected disasters, each and every military command has anticipated plans to overcome them. Thus, whenever such incidences are encountered, you all need not to wait for any command to perform search and rescue operations in every time, everywhere regardless of race and religion. Our Tatmadaw have always been rapidly and systematically countering natural disasters by adopting the noble spirit, based on compassion and willingness, and fulfilling the needs of the disaster-affected community as our bosom families. While doing so, I would like to urge you to apply your knowledge and skills effectively in healing the disaster-affected peoples' physical and mental needs by regarding as accomplishing a national mission."
The Senior General then said as our Tatmadaw was born abreast by the offspring of various national races, you all have to protect the citizens from both natural and manmade disasters at the assigned places by upholding the Union Spirit. Since establish-ment, the Tatmadaw was founded on keen nationalism and patriotism which led to regaining independence together with our national brethren and had been sacrificing lives and souls for the national duties and was also marked as the strongest institution throughout history. Furthermore, Tatmadaw is one part of the nation and soldiers are also parts of the national people. As the strength of the nation lies within, the Tatmadaw has to defend our Union by mobilizing the might of the nationals. We all have possessed this Union as an inheritance from our ancestors who sacrificed their lives and blood. Strength of the Union depends on all people who reside in all states and regions of the Union and if they all unite, the nation will also be strong.
In connection with the national solidarity and the dynamism of Union Spirit, the Senior General said, "Union stability and durability and constant unity are the obligation of all nationals imposed by their history and their Union Spirit. For all Myanmar citizens, it is vital to have a strong union spirit because Myanmar is a multi-ethnical State and preventing it from the disintegration will only be possible if there is a watertight national unity among us. For the sake of non-disintegration of the union and the consolidation of the national people, each and every national needs to maintain and foster the sense that We are Myanmar. Although there are differences amongst the numerous ethnic groups, factors that can mainly harm solidarity like worries, suspicions, weaknesses and inferiority could be eliminated and the common ground among the different nationals can easily be achieved with mutual understanding, trust and cooperation. In order to do so, union spirit plays a vital role, and thus, it is also important to raise the awareness of union spirit and national solidarity. Therefore, I would like to encourage all of you to organize and establish union spirit and national solidarity whenever you have to deal with ethnic people wherever you are appointed."
The Senior General continued to say that while performing your duties, you all must be competent in both physical prowess and mental faculty. As you all are in the military service, you are to abide by not only civilian laws but also military regulations and disciplines. For our Tatmadaw, discipline plays a main role, and as such, you need to be well-disciplined members of the Tatmadaw and as nurses and paramedical personnel you also need to be above average when it comes to adhering to moral and ethics. Since you will have to be in combat areas along with the infantry troops besides your services at the military hospitals and regiments esprit de corps founded on love, attachment and loyalty have to be cultivated. Our Tamadaw had achieved repeated victories because of facing battles in the spirit of camaraderie each risking life for the other. Esprit de corps is the basis for mental faculty, and those of high mental faculty naturally possess organizational competency. As you gain more experience, your administrative skills develop, and you will become military nurses, medical technicians and pharmacist of higher martial prowess and mental faculty.
The Senior General emphasized the need to never lose sight of the development and changes in the nursing and paramedical sciences and to utilize the knowledge gained through their studies for practical benefits in your work, to provide healthcare in line with the five basic qualities of good nursing, i.e natural bent, goodwill, compassion, sacrifice and role model, without any discrimination, and to perform the  assigned  duties  for  the nation  and  its  nationals in the spirit of sacrifice and valour whenever  circumstances call for.
The Senior General took the salute of the trainee companies and left the parade ground.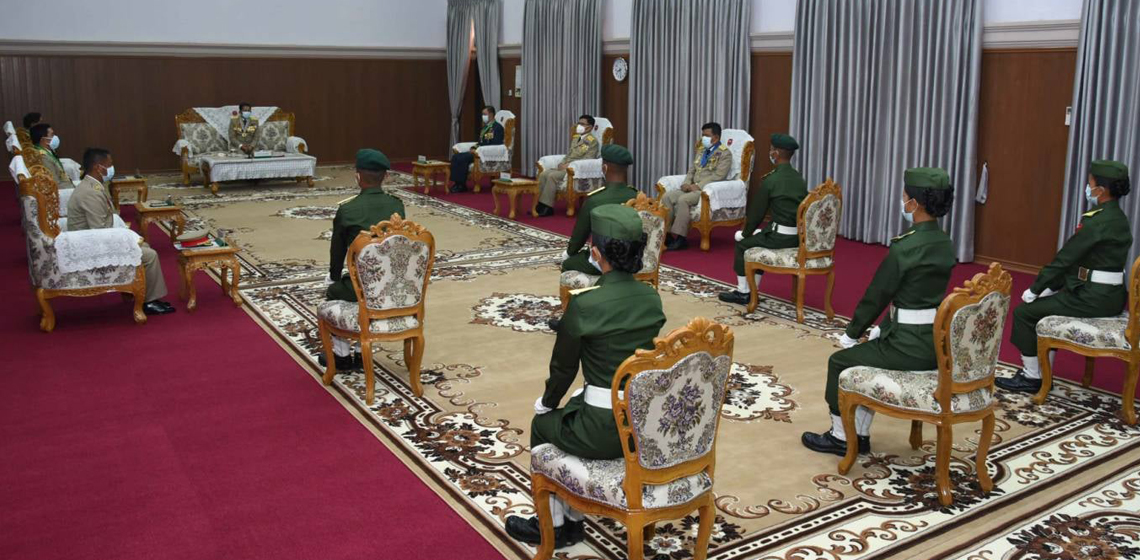 After the parade, the Senior General met the outstanding trainees from the 18th Intake of the Defence Services Institute of Nursing and Paramedical Sciences and the 5th Intake of Female Nursing and Paramedical Sciences and made an honorary speech at the parlour of the Defence Services Institute of Nursing and Paramedical Sciences.
In his speech, the Senior General said he was proud of each and every outstanding trainee, urging them to try to keep their hard work throughout their lives. Their parents will also be taking pride of them for their outstanding performances. As it is a fine record of theirs in life, they must continue to maintain it. Success was achieved thanks to their strong spirit, perseverance and constant hard work on military skills and course subjects as well as their good discipline throughout the four-year course. A lot of changes occur in life as the age and system changes. The trainees themselves have changed from young students to military nursing trainees. Upon training completion, they will be serving as military nurses in their assigned areas and promoted to higher posts. In passing through their lives, they must have the ability to judge themselves. They need to develop good habits and traditions for their development in life by staying away from bad habits and actions. They need to continue learning more advanced skills in their field and try to achieve their goals. For success in life, it is necessary to learn any new skills and try to be familiar with the skills they have learned. They must be able to apply what they have been taught in their practical workplaces and throughout their lives. The outstanding trainees come from ordinary families. So, they need to repay a debt of gratitude to their parents for take care of them from their childhood to matriculation. They also should be grateful to the State and the Tatmadaw for giving them four year's training of military and academic skills by trying to live in a correct and disciplined manner. They must continue to work hard to achieve success in life making the best use of the skills and knowledge they have learned with the help of their parents and the Tatmadaw. The Senior General then urged them to cultivate reading habit to achieve progress life.