Nay Pyi Taw January 8
According to the Tatmadaw's motto "From quantity to quality" to promote national defence capacity, a large number of Tatmadaw members must be turned into qualified ones. Likewise, for "From quality to quantity," efforts must be exerted to turn out a lot of qualified ones, Commander-in-Chief of Defence Services Senior General Min Aung Hlaing told senior officer instructors and senior officer trainees from the Command and General Staff College in Kalaw Station through video conferencing this morning.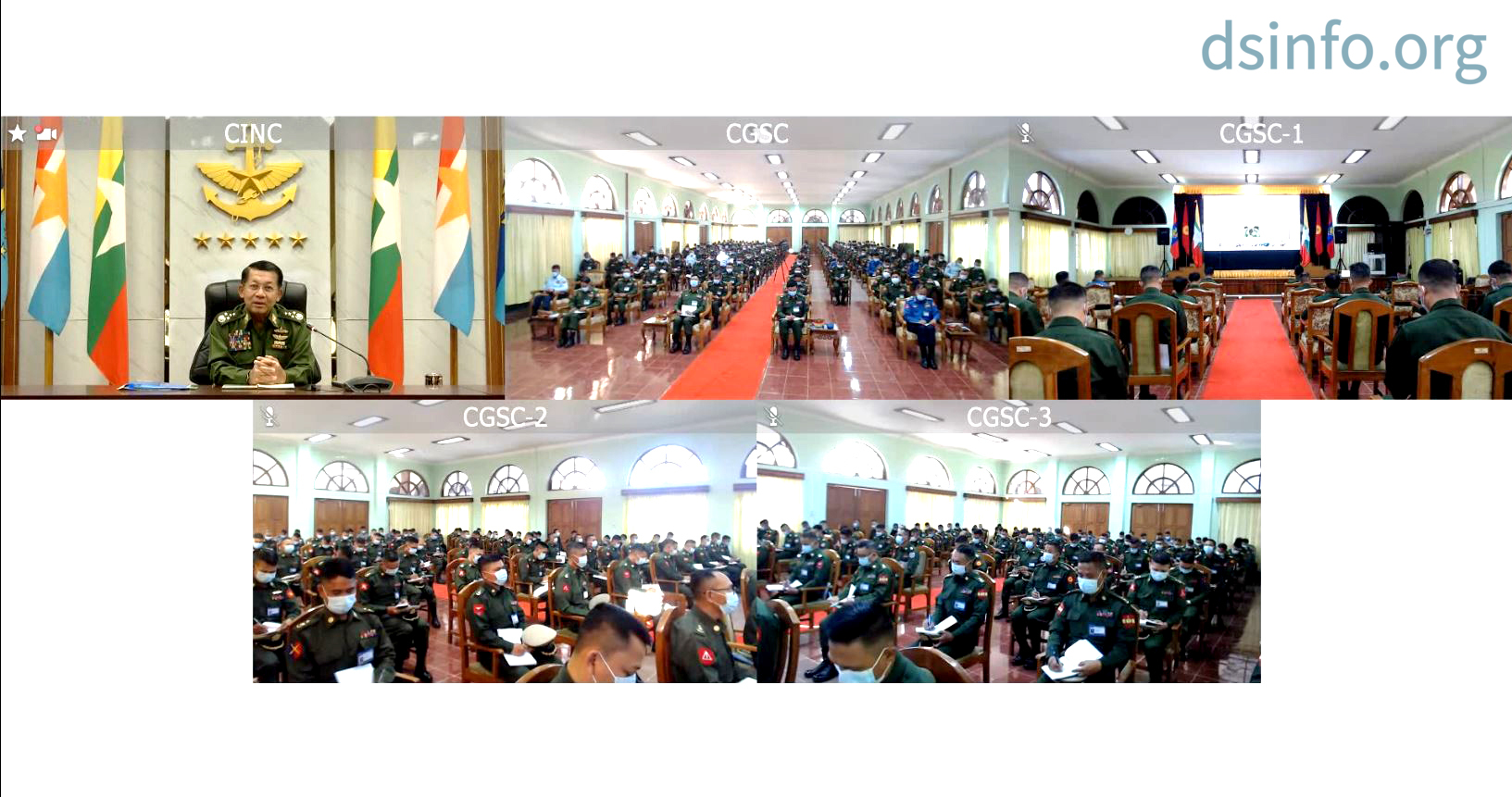 Present together with the Senior General were Lt-Gen Moe Myint Tun, Vice-Admiral Moe Aung and Lt-Gen Tun Aung of the Office of the Commander-in-Chief (Army, Navy and Air) and the commandant of the college.
In his speech, the Senior General said he was able to visit the Command and General Staff College about two times a year in the previous training courses to make speeches. However, he now has to deliver his speech via video conferencing due to the COVID-19 outbreak. The country started to see the infection on 23 March last year and there were also some cases in the Tatmadaw. Measures are being taken to reduce the out-break. Despite the emergence of COVID-19 vaccines, it is the best way to live with great care to avoid infection. Trying to improve immunity and following the prescribed rules and guidelines as much as possible can prevent oneself from getting infected. It is also necessary to take care of themselves as well as their subordinate officers and other ranks from the regiments and units for their prevention of disease.
It can be observed that the capacity building of a Tatmadaw is training which has been prioritized nowadays in global countries. Military operation cannot be performed by individuals alone so teamwork is necessary in training. Therefore, Tatmadaw members are being trained for their mental strength and forged for unity through a teamwork spirit.
Calling for hard work on learning skills and way of thinking during the training course and cultivating a reading habit, the Senior General said: "The fundamental duty of a regiment is to serve military operation duties. For this, the Command and General Staff College provides you all necessary things for your perfection. They also include critical thinking. As you even listen to lectures, you need to think. The university (Takkasila) teaches you a combination of skills, knowledge and critical thinking. You are taught military skills. You are trained to have critical thinking. What I want to say mainly is that you trainees here are tested how critically you can think. Here we teach you a combination of skills and way of thinking how to solve a problem. Not this college alone, the National Defence College and other universities also follow the suit. But, there is more study, not much teaching at university. You have to learn, study and read. You have libraries. You read at the libraries. Reading promotes your way of thinking. You have to read good books. You must be prepared now to give better leadership when you serve in practical field."
The Senior General continued to say that leadership is of great importance. Poor leadership can bring losses of lives, blood and sweat not only to themselves but also to subordinates. As such, they should try hard to have skillfulness for the subjects taught. It is necessary to apply experiences from techniques they learned for defending the State. Likewise, they have to constantly make studies to be able to apply experiences and knowledge. Moreover, they must prepare themselves to be healthy and fit with full strength of immunity and urge subordinates to practise the lifestyle for health and fitness. Only when they give training to subordinates to be mental and physical health and fitness, will those subordinates have high combat power and combat capability. The Senior General stressed the need to know capacity and behaviors of officers and other ranks under their control and understand their individual duties and functions. If so, leaders can deploy them correctly and assign correct duties to them. Leaders need to assess any issues they face with consideration in all aspects. Only when they systematically manage their strengths and equipment, will they achieve success.
Moreover, the Senior General said that they must build mental solidarity and unity. They need to control themselves and give advice to subordinates to thriftily spend salaries for their lives. To thriftily spend the salaries, personal goods and foodstuffs are being sold to them at fair prices via Tatmadaw factories and industries. In addition, the Senior General urged them to successfully carry out military own agriculture and livestock breeding tasks for enabling them to buy the goods at fair
prices. The leaders should head all to duti-fully undertake the assigned tasks. They must try to successfully accomplish the missions with honesty, collaboration and efforts.
Election is essence of democracy. The general elections were successfully held in the country recently. Tatmadaw members could cast votes freely. The Senior General said he has remarked it should be free and fair election for many times before the election. In conducting assessment after the election, as unfair and dishonest situations were found, criticism and indicating something are being undertaken. It is unsuitable for carrying out the tasks by applying the laws as they wish. Mistakes were pointed out because such mistakes may much tarnish prestige of the election of the country. Hlu-ttaw sessions will be convened soon. So, a statement was issued on 7 January to urge the relevant bodies to hold the election in the townships of Rakhine and Shan states where the election could not be held yet. The Senior General urged the senior officer trainees to make studies in the training as they can for dutifully carrying out the tasks assigned on completion of the training and to improve themselves and their military units.