Nay Pyi Taw January 12
Commander-in-Chief of Defence Services Senior General Min Aung Hlaing received State Councilor and Foreign Minister of the People's Republic of China H.E. Mr. Wang Yi at the parlour of Zeyathiri Beikman here this morning.
Present together with the Senior General were Lt-Gen Tun Tun Naung and senior military officers from the Office of the Commander-in-Chief (Army). State Councilor and Foreign Minister of the People's Republic of China H.E. Mr. Wang Yi was accompanied by Chinese Ambassador to Myanmar H.E. Mr. Chen Hai, Vice Minister of Commerce H.E. Mr. Qian Keming, Assistant Foreign Minister H.E. Mr. Wu Jianghao and senior officers.
Both sides cordially discussed further strengthening of cooperation in building a community of shared future as Myanmar and China have been friendly and good neigh-bourly countries with strategic partnership, continued implementation of bilateral agreements made during President H.E. Mr. Xi Jin ping's visit to Myanmar in January 2020, importance of providing necessary aid in building a community of shared future between the two countries, cooperation mainly in capacity building of the Myanmar Tatmadaw's sectors, Tatmadaw's prompt provision of medical supplies when China started to see the outbreak of COVID-19, China's provision of COVID-19 medical supplies to Myanmar and sending of medical experts by the Communist Party of China and People's Liberation Army of China, China's continued assistance for Myanmar in COVID-19 prevention, control and treat-ment measures, China's provision of 300,000 units of COVID-19 vaccines to Myanmar, the needs of peace, stability, unity and development for improvement of the country, the Tatmadaw's main role in ensuring peace and stability and cooperation in ensuring peace, stability and development, the Tatmadaw's statements of ceasefire in all parts of the country except places where the armed groups the State has declared as terrorist organizations have been active since 21 December 2018 and its continued measures for achieving eternal  peace and tripartite coordination among Myanmar, China and Bangladesh over the issue of the displaced in Bangladesh.
They then went on to discuss the holding of Myanmar's multi-party democracy general elections on 8 November 2020, a free and fair election being the essence of democracy in exercising multi-party democracy, the Tatmadaw's issuance of statements over the findings in scrutinizing the voter lists as there were mistakes and inaccuracies that could have led to electoral fraud and its continued measures in accord with the disciplines and laws in order not to harm democracy and the Tatmadaw's plan to provide necessary assistance in achieving success in cooperation as projects in various sectors on a basis of bilateral collaboration are directed towards the development of both countries.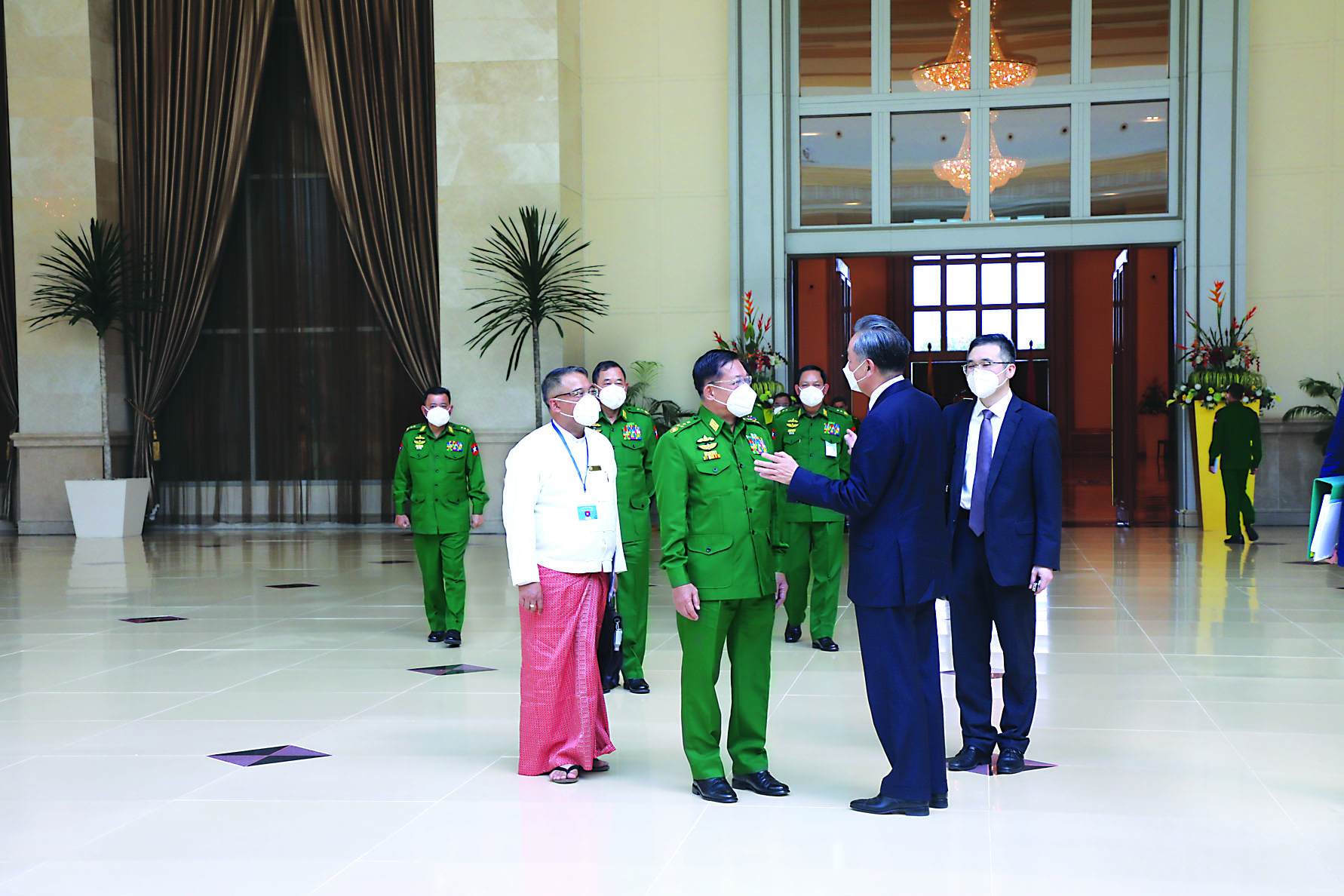 After the meeting, the Senior General and the State Councilor and Foreign Minister of the People's Republic of China posed for a documentary photo and cordially greeted each other.