Nay Pyi Taw March 25
Chairman of State Administration Council of Republic of the Union of Myanmar Commander-in-Chief of Defence Services Senior General Min Aung Hlaing and wife Daw Kyu Kyu Hla offered day meal to Sayadaws who will receive the religious titles for 2021 at the Sasana Beikmandawgyi in the compound of Uppatasanti Pagoda here this morning.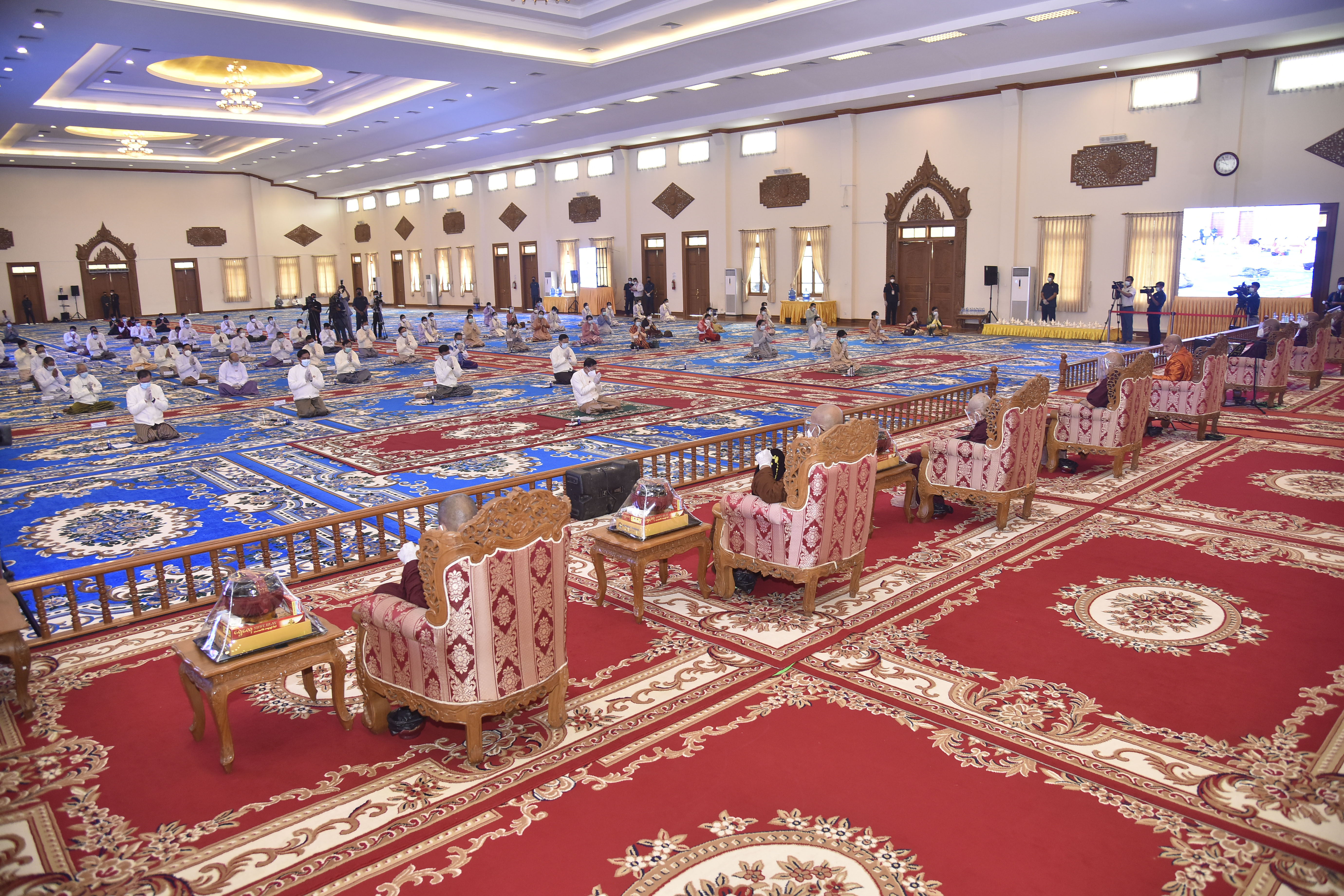 Present were Chairman of the State Sangha Maha Nayaka Committee  Presiding Nayaka of Bhamo Monastery, Mandalay, Abhidhaja Maha Rattha Guru Abhidhaja Agga Maha  Saddhammajotika Bhamo Sayadaw Dr Bhaddanta Kumarabhivamsa , Secretary Principal of Minkyaung Pahtamapyan Learning Centre, Thanlyin , Agga Maha Pandita  Agga Maha  Saddhammajotika  Dhaja Dr Bhaddanta Candimabhivamsa, members of the Sangha, the Senior General and wife, Vice Chairman of the State Administration  Council Deputy Commander-in-Chief of  Defence Services Comman-der-in-Chief (Army) Vice-Senior General Soe Win, council members General Mya Tun Oo and wife,  Admiral Tin Aung San and wife, General Maung Maung Kyaw and wife, Lt-Gen Moe Myint Tun, Mahn Nyein Maung and wife, U Thein Nyunt, U Khin Maung Swe, Daw Aye Nu Sein, Jeng Phang Naw Taung, U Moung Har and wife, Dr Banya Aung Moe and wife, Secretary Lt-Gen Aung Lin Dway and wife, Joint Secretary Lt-Gen Ye Win Oo and wife, Chief Justice of the Union at the Supreme Court U Tun Tun Oo, Chairman of Constitutional Tribunal U Than Kyaw, Chairman of Union Election Commission U Than Soe and wife, Union ministers and their wives, the chairman of Nay Pyi Taw Council, Chief of the General Staff (Army, Navy and Air) and wife, the Commander-in-Chief (Navy) and wife, the commander of Nay Pyi Taw Command and wife and officials.
Before the ceremony, the Senior General and wife offered meals in the Emerald Bowl, fruits, flowers, water and lights to Buddha images in the Sasana Beikmandawgyi.
After the inauguration of the ceremony, the congregation led by the Senior General and wife received Five Precepts from Bhamo Sayadaw. Sayadaws then recited religious verses.
The Senior General and wife presented offertories to Bhamo Sayadaw, the Vice-Senior General to Thanlyin Minkyaung Sayadaw, and the council members and dignitaries to other Sayadaws.
  Thanlyin Minkyaung Sayadaw delivered a religious sermon and merits gained were shared. Then, the ceremony came to an end in accord with the religious tradition.
Afterwards, the Senior General and wife, the Vice-Senior General and council members and their wives and dignitaries offered day meal to Sayadaws.