Nay Pyi Taw April 30
Chairman of the State Administration Council Commander-in-Chief of Defence Services Senior General Min Aung Hlaing, accompanied by SAC members General Maung Maung Kyaw and Lt-Gen Moe Myint Tun, Joint Secretary Lt-Gen Ye Win Oo, Chairman of Yangon Region Administration Council U Hla Soe, Commander-in-Chief (Navy) Admiral Moe Aung, senior military officers from the Office of the Commander-in-Chief, Commander of Yangon Command Maj-Gen Nyunt Win Swe and officials, inspected the progress in implementing the Thilawa multi-purpose farming zone located at a place between Yangon River and Hmawwun Creek in Kyauktan Township, Yangon Region this morning.
First the Senior General heard a report on the functions of Thilawa multi-purpose farming zone, 26th Mile multi-purpose farming zone, Ngwepinle Breeding and Fisheries Company Limited, and Shwemuyin fish farming in Twantay Township,implementation of multi-purpose farming zones, and work done and operations presented by Chairman of Myanmar Economic Corporation Lt-Gen Nyo Saw, Chairman of Myanma Economic Holdings Public Company Limited Lt-Gen Hsan Oo, Quartermaster-General Lt-Gen Kyaw Swa Lin and the commander of Yangon Command at the briefing hall of the farm.
In response to the reports, the Senior General said the establishment of agricultural and livestock breeding zones in Yangon Region is to ensure the food sufficiency for the local people. Measures are being taken to fulfil the needs of fish and meat for the region by raising fish and ducks in Thilawa multi-purpose farming zone and Shwemuyin fish farm and breeding meat cows and dairy cows, pigs, chickens and goats.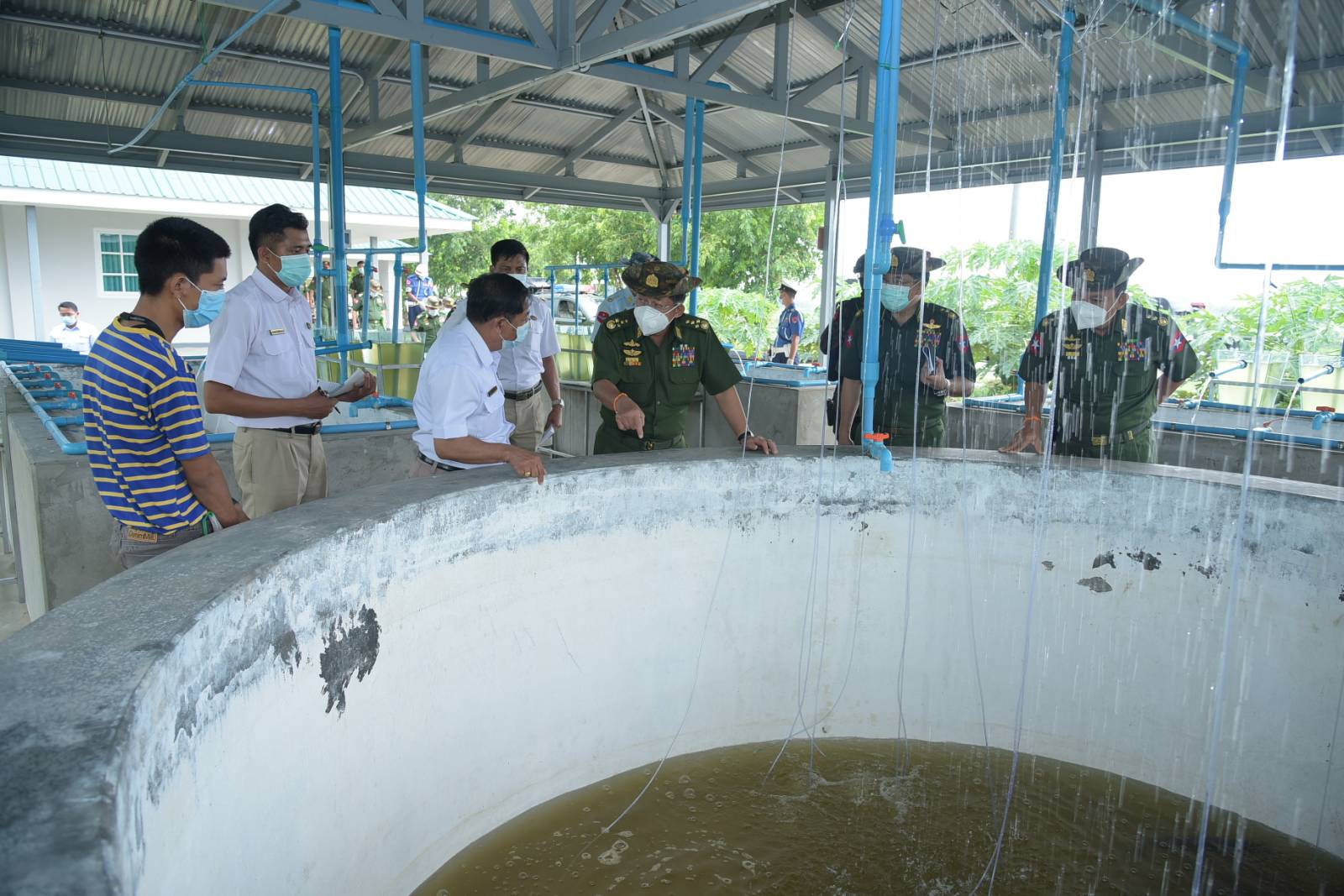 Increased production of quality fish and meat in respective regions will ensure cheaper prices and high public consumption, thereby contributing to public health and fitness. With good health and fitness, education and economic improvement measures could be taken to develop the country. Being able to sell fish and meat at fairer prices in local market will reduce high prices. Moreover, efforts must be made to export fish and meat products. As livestock breeding is on a long-term basis, systematic and ideal management is necessary. Research must be conducted on hatching for the development of quality species necessary for livestock breeding. Besides, various species of fingerlings are constantly being released into rivers and creeks to ensure abundant fish resources.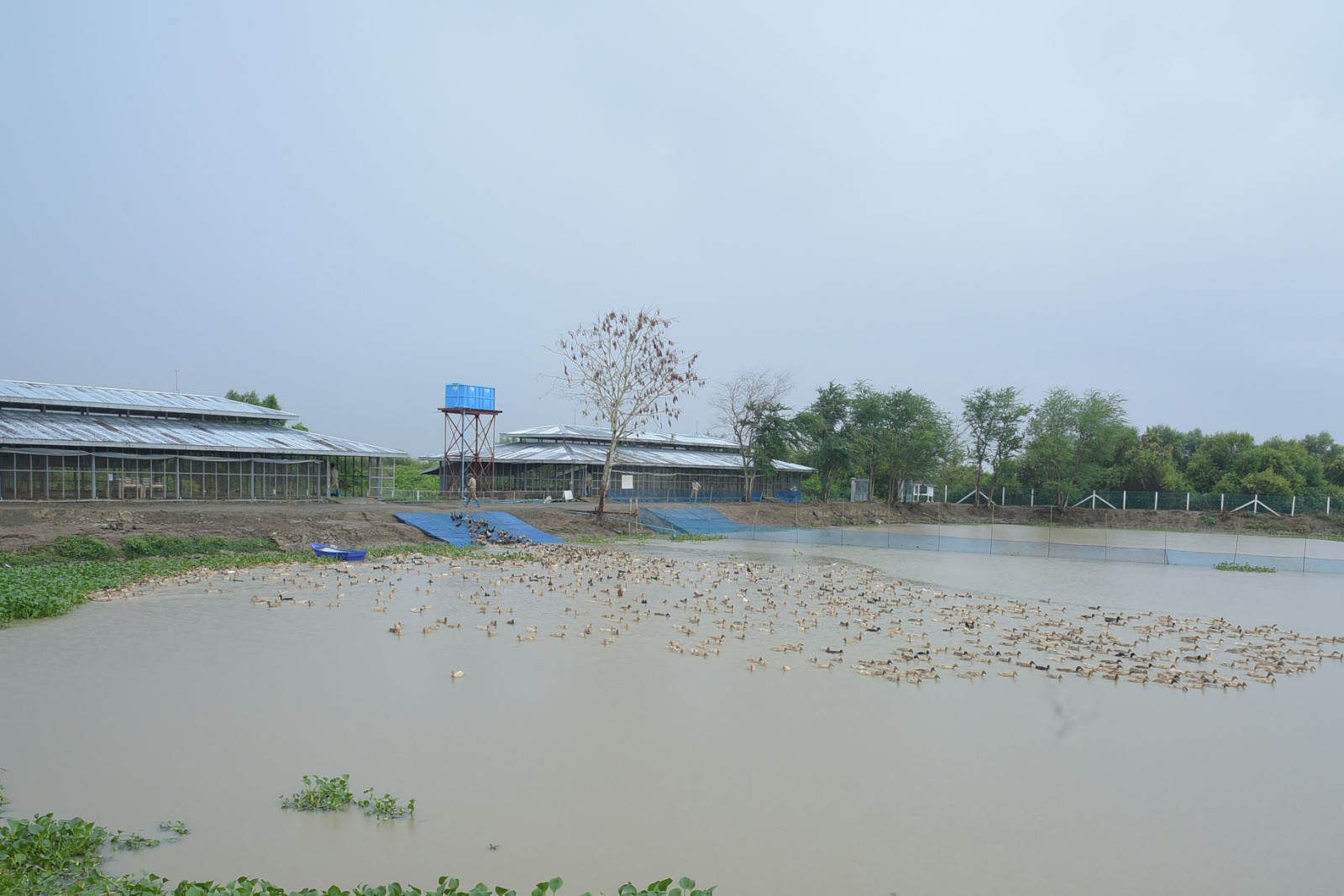 For ensuring quality rice which is a major item in agriculture, research plantations must be set up to get quality, high-yield paddy strains. Measures must be taken to ensure local rice sufficiency as well as export. Agriculture undertakings require quality strains, systematically-reclaimed land, correct cultivation methods and enough irrigation water. Only then, will the country be able to manufacture quality agricultural products. Efforts must be made not only to constantly provide fish, meat and other agriculture products for Tatmadaw families but also to sell them to the local people at reduced prices, the Senior General said.
Later, the Senior General and party inspected duck eggs produced by the duck farm of the multi-purpose farming zone, and fish hatching, fish farming and duck raising in the livestock breeding zone. They were conducted there by officials.