Nay Pyi Taw May 2
The opening ceremonies of Moe Kaung Treasure Maternal and Child Hospital and Myawady Media Centre on Moegaung Street, Yankin Township, Yangon Region, was held this morning. Chairman of the State Administration Council Commander-in-Chief of Defence Services Senior General Min Aung Hlaing attended the ceremonies and inaugurated the facilities.
Also present at the ceremonies were Daw Kyu Kyu Hla, wife of the Senior General, members of the Council General Maung Maung Kyaw and wife, Lt-Gen Moe Myint Tun, Joint Secretary Lt-Gen Ye Win Oo, union ministers U Win Shein, U Aung Naing Oo, U Chit Naing, Dr Pwint Hsan, Dr Thet Khaing Win, Chairman of Yangon Region Administration Council U Hla Soe, Commander-in-Chief (Navy) Admiral Moe Aung and wife, senior military officers from the Office of the Commander-in-Chief, Commander of Yangon Command Maj-Gen Nyunt Win Swe, invited guests and officials.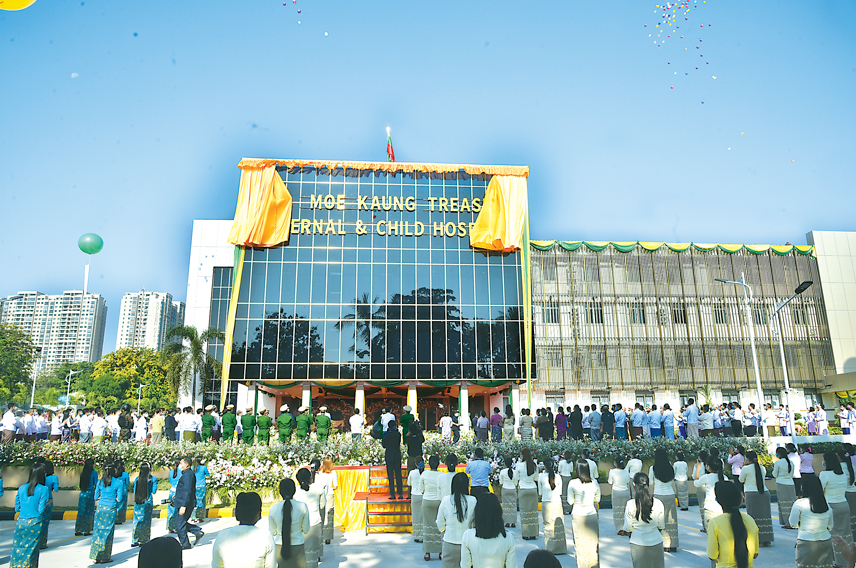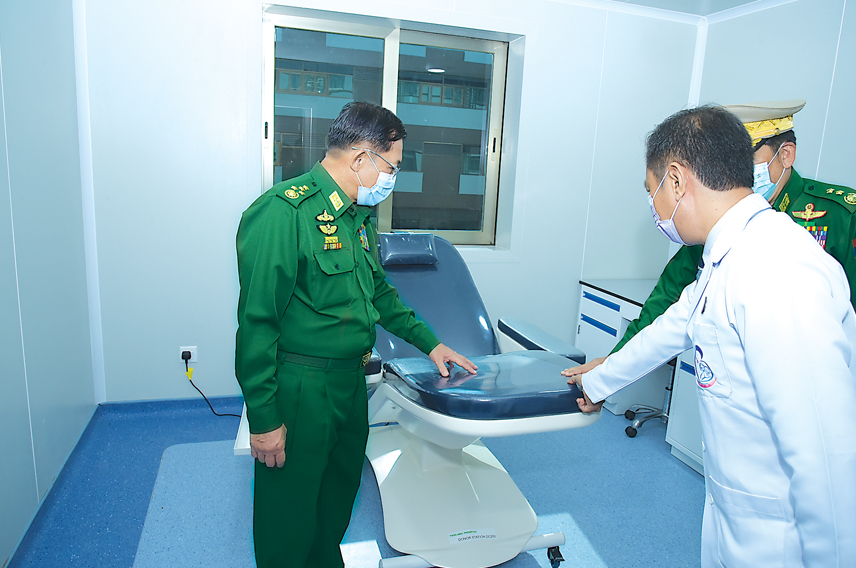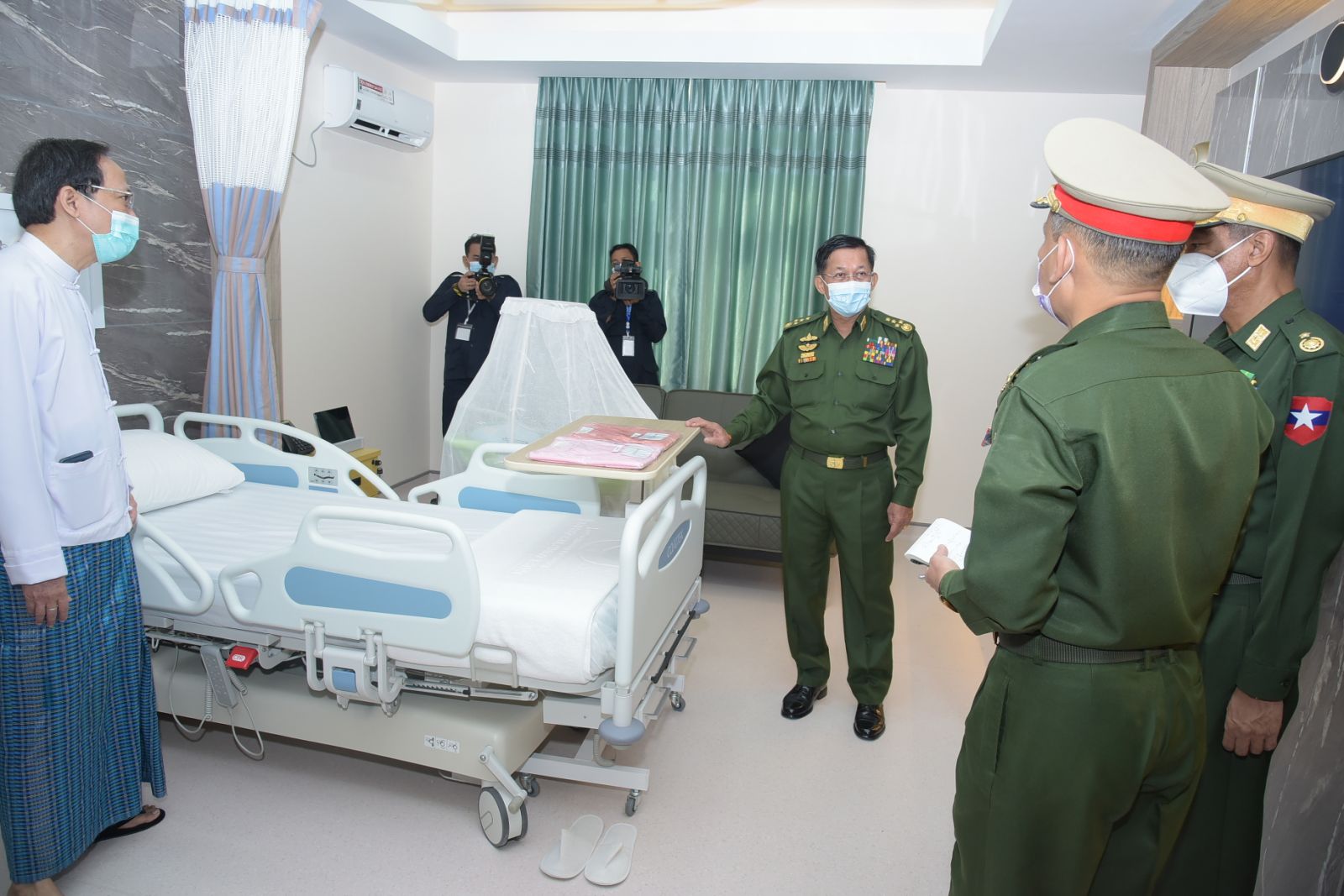 At the opening ceremony of Moe Kaung Treasure Maternal and Child Hospital, Union Minister for Health and Sports Dr Thet Khaing Win, Chairman of YRAC U Hla Soe and Chairman of Myanmar Economic Corporation (MEC) Lt-Gen Nyo Saw formally opened the hospital by cutting the ribbon.
Afterwards, the Senior General pushed the button to formally open the hospital, followed by a photo session.
Departmental official then con-ducted the Senior General and party around the hospital.
The hospital was built in accord with the guidance of the Senior General to support the private health sector as a globally recognized international level maternal and child hospital on which the citizens of the country can rely. Maternal and child health services available at the hospital includes test tube baby process, stem cell banking, genetic testing, lifelong vaccination, retarded child care, child nutrition counseling and special infant care and treatment. Seasoned nurses and specialist physicians skilled theoretically and practically in their profession, and technicians of the hospital will provide 24-hour special care services for mothers and their babies with state-of-art technology and equipment. Moreover, doctors specialized in gynecology and obstetrics, professional nurses and foetal medicine specia-lists will help solve the problem of primary infertility. The hospital also includes four mini gardens where visitors can get fresh air for health and fitness, outdoor and indoor playgrounds for children, hospital equipment, and hospital waste treatment system. As for general services, it provides ATM, Convenience Store, Food Court, Café Teria and shops.
At the opening ceremony of Myawady Media Centre, Union Minister for Information U Chit Naing, Chairman of Yangon City Development Committee Yangon Mayor U Bo Htay, and the MEC chairman formally opened the centre by cutting the ribbon.
Afterwards, the Senior General pushed the button to formally open the centre and sprinkled scented water on the plaque. Then a photo session followed.
In the mini theatre, the Senior General delivered an address for inauguration of the Moe Kaung Treasure Maternal and Child Hospital and the Myawady Media Centre. In his address, the Senior General said several coordination meetings were held with international experts and organizations in implementation of the project successful emergence of Moe Kaung Treasure Maternal and Child Hospital. According to the health data, Myanmar is the fifth largest populous country among the regional countries. Myanmar increases the healthcare expenditure year after year. Some 500 people per day went to neighbouring countries to receive medical treatments during the years before the outbreak of COVID-19. As such, a total of 217,951 people went to neighbouring countries with the purpose of receiving medical treatment in 2017. Number of patients going to Thailand accounted to 56 percent, India 19 percent and Singapore 11 percent.
Based on data of healthcare services, there are 1,301 hospitals across the nation, 1,115 of which are of public hospitals and 187, the private hospitals. In the entire nation, these hospitals can give 61,395 beds to patients, 55,895 of which can be seen at the public hospitals and 5,500 at the private ones. According to the census, some 72 percent of patients receive medical treatment at private hospitals and clinics. So, Moe Kaung Treasure Maternal and Child Hospital was established to contribute to the private health sector of Myanmar on one hand. Moe Kaung Treasure Maternal and Child Hospital set a vision to constantly achieve success as a maternal and children's hospital where experts can provide the best and safest maternal and child care services to the patients meeting the international standard round the clock. Moreover, the hospital aims to give the tertiary care to the patients and children referred from various parts of the country at suitable service charges and the efficient healthcare services in a single place as the one-stop service centre in providing treatment for the maternal and child diseases.
Efforts were made to occupy the market of receiving medical treatment abroad of the people. Moe Kaung Treasure Maternal and Child Hospital was built with the aim of overcoming challenges of language barrier, removing difficulties to urgently contact medical doctors, enabling the people to have international level medical treatment, enjoying the family-type treatment, contributing to unbalanced ratio of hospitals to patients, and providing highly-qualified treatments to the people with the use of modern medical equipment.
Arrangements were made to install the best brand medical equipment and modern technological machinery to be used for at least 10 years. A plan is underway to seek the joint commission international (JCI) based on six-point international patient safety goals (IPS Goals) for standing as internationally-recognized hospitals, reliable for patient safety and hospital quality. The Senior General said he inspected work process of the hospital since its establishment and installation of medical equipment for many times.
Regarding the Myawady Media Centre, the media inclusive of news, literature, movies, songs, music and television broadcasting is a force which will contribute much to the national culture and national interests of a country. The Senior General recounted that he was dissatisfied with the situation of the media created abroad without capacity to do so at home due to needs of advanced technology. So, the Senior General decided to make the arrangements for media at the opportune time.
In order to implement Myanmar's cinematic, theatrical, music and publishing tasks of international standard in one place and to catch up with the international community, world-class Myawady Media Centre was established. The objectives are to create a major media business on which the people have to rely, to help develop social lives of the people in the accord with the State media ethics, to widely develop news and media technologies and to enable those to study modern media technologies in accord with the international norms and ethics.
A country is built with the executive, legislative and judicial pillars. Ensuring that these three pillars go together with checks and balances is the essence of democratic practices. Another pillar watching and monitoring the said three pillars is the media, the fourth estate. Media has become an important role thanks to fast flow of the 21st century's news and information. At Myawady Media Centre, those from movie, Thabin and music worlds and private media companies can work together as an advanced network in the interests of the State.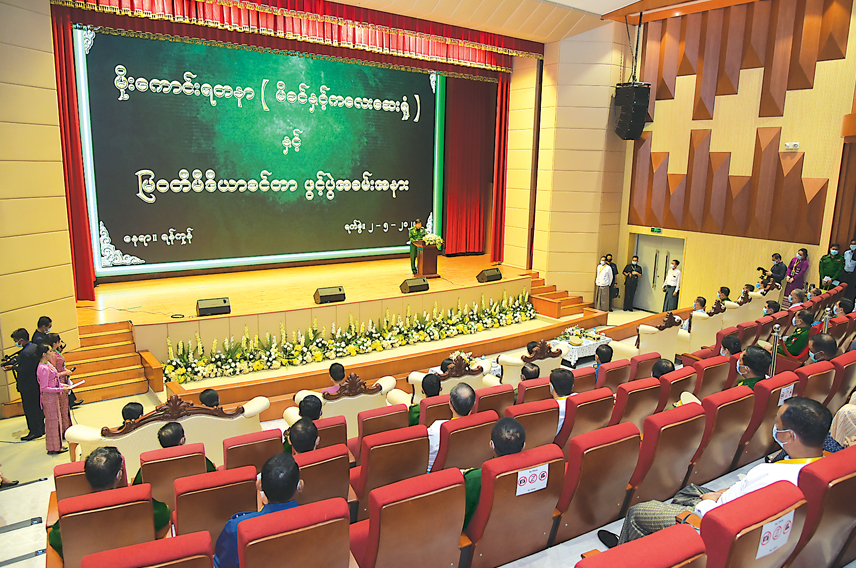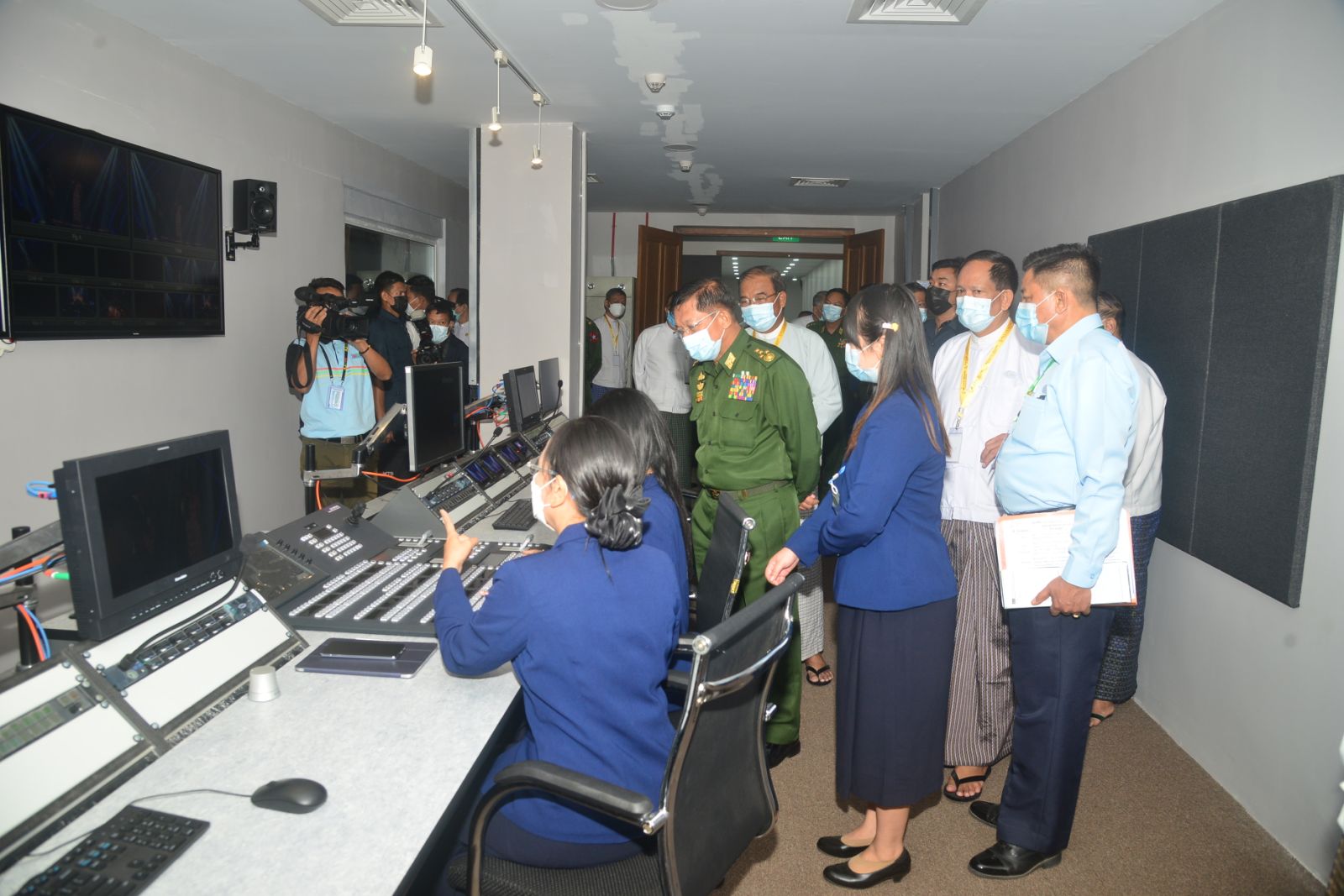 In a country, media, the fourth estate, not only plays a major role in promoting freedom of exp-ressing for democracy and but also promote government transparency by disseminating knowledgeable facts to every citizen. The Senior General expressed his wish for the development of media without deviating from their quality, the nation's history and Myanmar's traditions and customs. He said it means encouragement of modern thoughts and ideas, not old ways. With this end, physical strength and knowledge of the people must be encouraged. However, situations depend on prevailing conditions. Most countries of today exercise democracy. Myawady Media Centre opened today will play an active part in developing the State media as the media is regarded as the fourth estate following its ethics, disciplines and nature in addition to the three executive, legislative and judicial pillars crucial for a country.
In the developing media in this IT age, news coverage and publications are very fast while news and information technology is developing day by day. In the age of fast-developing and competitive media, authentic news is important. Fake news can lead to lawsuits. There are still many things to learn the developing media. Media and public relations are a task of informing the public about an organization concerned. Public relations involve various kinds of relations such as relations with the public, relations with one's own cycle and relations with those giving support. A certain matter a person is willing to let it know to others can be shared through media. So, media is a business of giving public knowledge. The media business must have good ideas, good machinery and good technologies. Pictures and sounds must be good in acting. Melodies must be harmonized. The audience must be given knowledge and aesthetic enjoyment as well as physical strength and persistence.
Myawady Media Centre is esta-blished with the aim of providing services by leasing studios for recor-ding and filming with advanced technologies to or forming partner-ship with artistes from various fields and media entrepreneurs to enable them to shoot and broadcast in accor-dance with international standards and leasing offices at reasonable rents. By doing so, quality media operations can be carried out by keeping abreast of international community.
As the maternal and child hospital is complete with inpatient wards, HDU, ICU, Day Care wards and Emergency wards to offer advanced healthcare services and preparations have been made to conduct general medical check-ups, it will be able to offer reliable healthcare services for mothers and children and delivery services under package and member card options. It is believed that the hospital will be of benefit for mothers, children and the country to some extent.
In the media sector, it is important to guard against imparting concepts, lifestyles and cultural values they prefer with the comprehensive use of modern multi-media by developed countries and attacks made from various sectors including political, economic and social ones. In conclusion, the Senior General said media entrepreneurs, enthusiasts and artistes are required to make concerted efforts firmly and unitedly with the assistance of Myawady Media Centre.
Afterwards, Director of projects of the MEC U Khin Maung Soe, with the use of video clips, reported to the Senior General on efforts made for opening Moe Kaung Treasure Maternal and Child Hospital, goals and objectives and services to be provided.
Then the chairman of the MEC presented commemorative gifts for the opening ceremony of the hospital and the media centre to the Senior General.
Afterwards, the Senior General and attendees viewed round the demonstration of airing television programs, broadcast programs, interview programs, television series, local and international news programs, talks of artistes on changing Myanmar films and the recording of entertainment programs with Myanmar traditional musical instruments.
The construction of Myawady Media Centre was started in May 2019 under the guidance of the Senior General on carrying out media operations as a major media enterprise trusted by the people and development of the media sector that meets international standards.
The media centre is a seven-storey building which houses a 200-seat cinema hall that can screen 3 D pictures at 4 K quality, a 300-seat theatre with a large LED Projector, two TV studios that can change their backgrounds as required for entertainment programs, song competitions, game shows and model shows, a talk show studio, a radio studio, a mini studio, a sound studio, a news studio, a music studio, a library and the training hall of the Myawady Media on its first and second floors, offices for businesses on its third, fourth and fifth floors and a ball room that can accommodate 120 people, a function hall that can accommodate 88 people and a 30-seat meeting room on its sixth floor.