Nay Pyi Taw May 17
The opening ceremony of Yadanabon Hall in Mahaaungmyay Township, Mandalay Region, was held this morning. Chairman of the State Administration Council Commander-in-Chief of Defence Services Senior General Min Aung Hlaing attended the ceremony and inaugurated the facility.
Also present were Daw Kyu Kyu Hla, wife of the Senior General, member of SAC Admiral Tin Aung San and wife, Lt-Gen Moe Myint Tun, Lt-Gen Soe Htut, Union ministers U Aung Naing Oo, Dr Nyunt Pe, Dr Thet Khaing Win, U Maung Maung Ohn, Chairman of Mandalay Region Administration Council U Maung Ko, Commanderin-Chief (Navy) Admiral Moe Aung and wife, senior military officers of the Office of the Commander-in-Chief, Commander of Central Command Maj-Gen Ko Ko Oo, departmental officials, social organizations, ethnic organizations, entrepreneurs and invited guests.
First, SAC member Union Minister for Transport and Communications Admiral Tin Aung San, the chairman of MRAC, Chairman of Myanmar Economic Corporation Lt-Gen Nyo Saw, and Chairman of Mandalay City Development Committee Mayor U Kyaw Hsan formally opened by the Yandanabon Hall.
The Senior General unveiled the signboard of the hall by pushing the button and sprinkled scented water on the plaque, followed by a photo session.
Speaking on the occasion, the Senior General said Mandalay is the junction and commercial hub of upper Myanmar. The city has seen economic growth alongside the infrastructure development. The hall will help improve the living standard in connection with the economic, social and cultural sectors of the ethnic peoples of Mandalay and its surrounding areas. It also promises high-standard quality services.During Amarapura period, the golden city was called Amarapura, the royal city Myananbonsan and the golden palace Aungnansanya.
During Yadanabon (Mandalay) period, the golden city was called Yadanabon, the royal city Laykyunaungmyay, and the golden palace Myanansankyaw. Mandalay was named Yadanabon when it was founded. But later, the name changed to Mandalay as it took the name of the Mandalay Hill. Mandalay Yadanabon city was established in 1221 ME, so it was also recorded as Oak-Kyit-Kyaw-Aye Mandalay. As it was the royal seat, Mandalay left behind a large array of cultural heritage including royal terms and historical buildings.
During Yadanabon period, the arts and crafts such as the art of creating paintings, sculptures, mason, stucco, turnery, bronze casting, stone curving, the art of making glass mosaic, gold jewellery, silk, tapestry and gold foils flourished.
As King Mindon was a religious monarch, he convened the Fifth Buddhist Synod in 1233 ME and inscribed the Three Pitakat on 729 stone slabs and erected them in the compound of Maha Lawkamazazein Pagoda. UNESCO kept the 150-year old Pitakat stone inscriptions as the world's largest book in its Memory of the World Register List as a historical heritage in 2013.This shows the recognition of the long-preserved culture of Mandalay not only by Myanmar but also by the world.
Due to foreign invasion in 1885, a large number of royal artifacts were destroyed or taken away. Arial bombing burned down the place during the WWII. Although it faced the war, Mandalay has remained religious, cultural, educational and economic hub till now since the country restored independence thanks to the work of handing down the traditional heritage. As Mandalay has been renowned since ancient times, Bithia Mary Croker (U.K) published The Road To Mandalay – Tale of Burma in 1917 and depicted the grandeur, pleasantness, high cultural status of the city during the time. Being
popular, the book has been reprinted so many times since then. Moreover, American musician Oley Speaks composed a song titled On The Road to Mandalay in 1907 to depict the city and sang it. The song has been very popular around the world.
When it comes to Mandalay, famous musician Alinkar Kyaw Swar Sayagyi Myoma Nyein cannot be left out. The music of Sayagyi Myoma Nyein is still relevant and famous even today and has become classic. Similarly, when it comes to Sayagyi Myoma Nyein, Myoma Music Band founded by Sayagyi cannot be left out. Therefore, I felt like inviting the band to perform at today's opening ceremony and I would like to thank the band for its performance.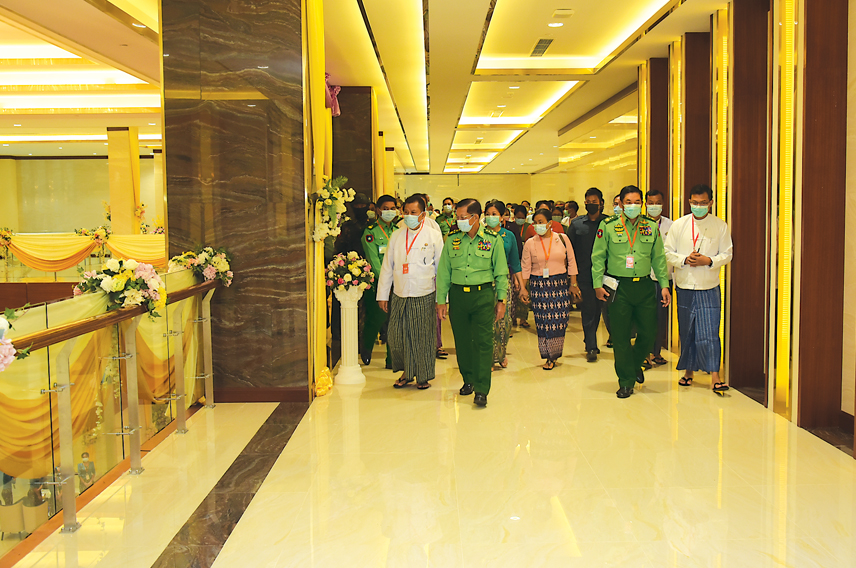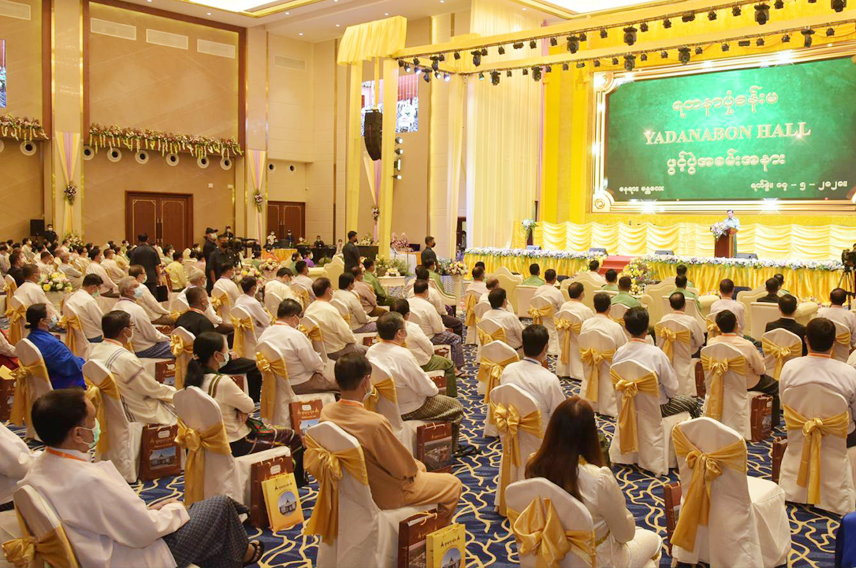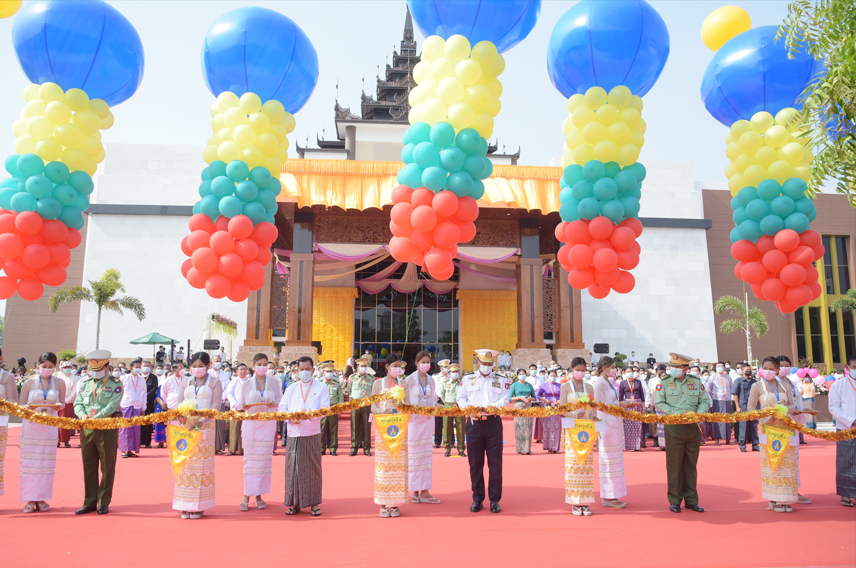 Mandalay, the seat of the Konebaung Dynasty, was glorious with royal palace and as trade prospered in all four quarters outside the palace, as many as 200,000 people resided there. During the reign of King Mindon, the four quarters in Mandalay were lively with different peoples including the British, French, Italian, Portuguese, Thai and Chinese people as land had been allocated and jobs had been provided for them while they were allowed to enjoy religious freedom and to build pagodas, temples and churches, according to historical records. Mandalay is located at the centre of the country and a centre of Myanmar culture. It is also an economic hub for upper and central regions of Myanmar and has a population of 1.4 million, according to official records. As for religious affiliation, Buddhists make up 93.8 percent of the population while Christian, Hindu, Muslim and others account for 0.6 percent, 0.8 percent, 4 percent and 0.8 percent respectively.
The aim of building Yadanabon Hall with enormous amount of investment in Mandalay, an cultural and economic hub of upper Myanmar is to contribute to the economic development of the country, socioeconomic development of local residents and to create a landmark of the city or a grand venue for economic, social, education and cultural events including state-level ones. Despite many halls in Mandalay, it is found that Mandalay needs a more spacious and modern hall complete with advanced technologies and best services due to its increasing population, rising living standards and economic development. Having grown up in Mandalay, a decision was made in 2016 to build a grand hall at the current place at the corner of 78th Road and 38th Street one day and had the plan realized. The ground breaking ceremony for the hall was held on 17 February 2018 and the construction of the hall completed on 30 November 2020. Located on 6-acre of land at the corner of 78th Road and 38th Street at the hub of Mandalay the hall has been designed on a grand scale with the use of modern technologies and Myanmar traditional architecture compatible with features of acity.
The hall can accommodate 1,200 people and a variety of events can be organized there including meetings and workshops on economy, health, education and technology, novitiation and ordination ceremonies, wedding receptions, annual dinners, variety shows, music performance, promotion fairs and international trade fairs and escalators, elevators, sound systems, extinguishing systems and security systems with modern technologies have been installed in the hall.
Having been the seat of the Konbaung Dynasty, Mandalay is famous for its historical and cultural status. Moreover, as Mandalay and its vicinity are tour destinations for foreigners, it is an honour to open a glorious landmark building compatible with the features of the city. The land on which the 38th Street next to the hall is located was owned by the Tatmadaw, which transferred the land to the city development committee to build a road for the public under my leadership. Similarly, according to a report presented, a road was built across the Kantomin land owned by the Tatmadaw near the World Treasure Bank to link between the two roads as people and vehicles were to use a bypass to go from Myothit near Kywesekan Industrial Zone to Yangon-Mandalay Highway. The road is now seen as 117th Street. Moreover, as the entire Phonetawtoe Ward near the foot of Mandalay Hill having 611 houses and 789 households is located within development area of Kantomin Military Town, it has been transferred to Mandalay Region Government for enhancing development of urban region and interests of the people, which means it is helpful to ensuring improvement of living standard, urban development, smoothness in transportation and communication, and systematic city design.
Through building the infrastructure necessary for Mandalay City having historical tradition and good potential for economic growth, local people are able to grandly hold their economic, social, educational and cultural events. Besides, it will substantially contribute towards ensuring development of the nation as well as development of local people in all respects. Although what we are taking responsibility is just for emergency period, we will make efforts for the region as much as we can in order that it will enjoy economic growth and that its education sector will not lag behind. Mandalay Region is a place where perennial crops including beans, sesame and chili are mainly grown and where enterprises of textile including traditional attires, animal husbandry and handicraft are operated on a extensive scale.
As Mandalay has a large number of industrial businesses based on local products and other industries, efforts are to be made for Mandalay to be a region that is dependable to the nation.
Then, Director of Planning of Myanmar Economic Corporation U Khin Maung Soe briefed on building Yadanabon Hall and its capacity of rendering services with the help of video clips.
Afterwards, Chairman of Mandalay Region Administrative Council U Maung Ko expressed words of thanks for building a graceful hall for Mandalay City saying that it could be able to hold various types of event related to religion education, health and social and economic services. He also thanked for permission by the Senior General to build magnificent hall and a road on the land owned by the Tatmadaw saying it is helpful in enabling Mandalay residents and students of Mandalay University go and move smoothly.
Then, the Chairman of MEC presented the Senior General souvenirs to mark opening of the Yadanabon Hall.
Afterwards, troupe of the Fine Arts Department and Myoma Music Band entertained the dignitaries who were present at the event. Then,the Senior General presented awards in cash and kind to the troupe and music band. They also have a souvenir group photo taken.
Afterwards, officials concerned took the Senior General and party on a tour of the hall.