Nay Pyi Taw May 18
Chairman of the State Administration Council Commander-in-Chief of Defence Services Senior General Min Aung Hlaing, accompanied by his wife Daw Kyu Kyu Hla, Council members Admiral Tin Aung San, Lt-Gen Moe Myint Tun and Lt-Gen Soe Htut, Union Ministers U Aung Naing Oo, Dr Nyunt Pe, Dr Thet Khaing Win and U Maung Maung Ohn, Mandalay Region Administration Council Chairman U Maung Ko, Commander-in-Chief (Navy) Admiral Moe Aung and wife, senior military officers from the Office of the Commander-in-Chief, Commander of Central Command Maj-Gen Ko Ko Oo and party, this morning paid homage to Maha Myat Muni Buddha Image which is the symbol of Mandalay City.
First, the Senior General and party were welcomed by Chairman U Soe Lin and members of the Image Board of Trustees. The Senior General offered flowers, water, oil lights and gold foils to the Maha Myat Muni Buddha Image after paying homage. They then signed the visitors' book and presented cash donations for all round renovation, and the chairman of the board accepted the cash donation and returned a certificate of honour.
The Senior General and party viewed renovation of the posts and ceiling in the precinct of the image and visited the bronze statue museum and the historical arts showroom.
The Senior General instructed the image board of trustees and officials to systematically keep historical works, maintain Tri Pitakat treatises described on the palm leaves and other invaluable Buddhological records, systematically store the copying the historical records with developing the programmes, and take care of systematic writing norms in Myanmar language in expressing the display of historical records.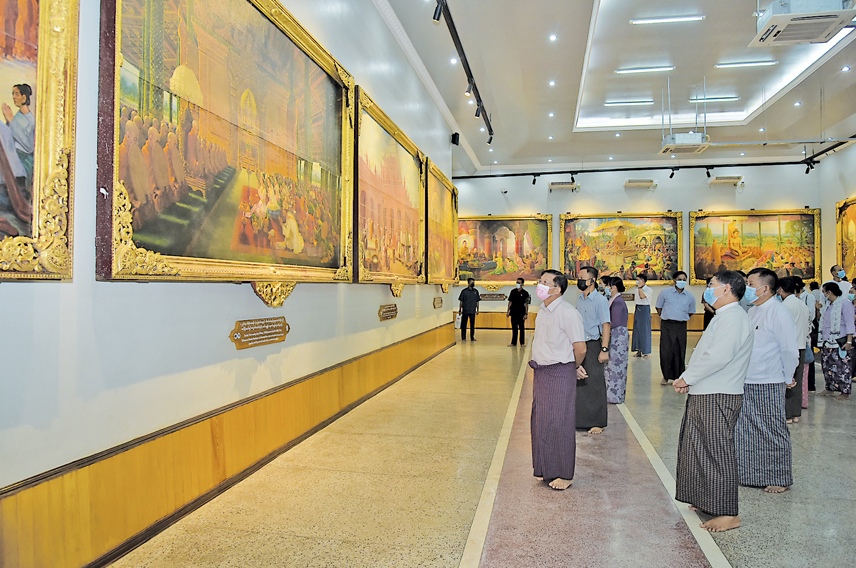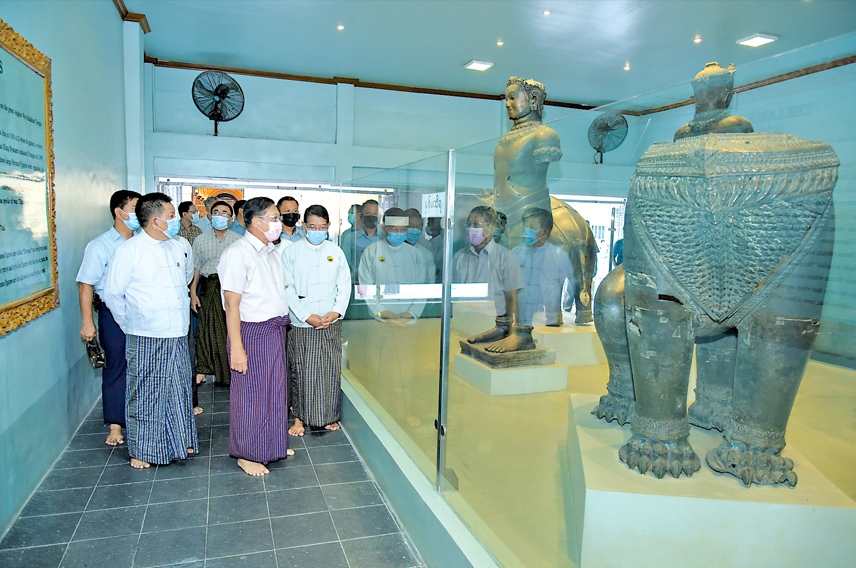 In the afternoon, the Senior General and party went to Sitagu International Vipassana Academy on Sagaing Hill of Sagaing Region where they paid homage to Chancellor of Sitagu International Buddhist Academies and Sitagu Hospitals Abhidhaja Agga Maha Saddhammajotika, Agga Maha Pandita, Maha Dhammakathika Bahujanahitadhara, Joint Shwegyin Sangharaja Sitagu Sayadaw Dr Bhaddanta Nyanissara.
The Senior General, his wife and party took the Five Precepts from the venerable Sayadaw and shared merits gained. The Senior General and party offered alms to the venerable Sayadaw who returned Dhamma gifts.