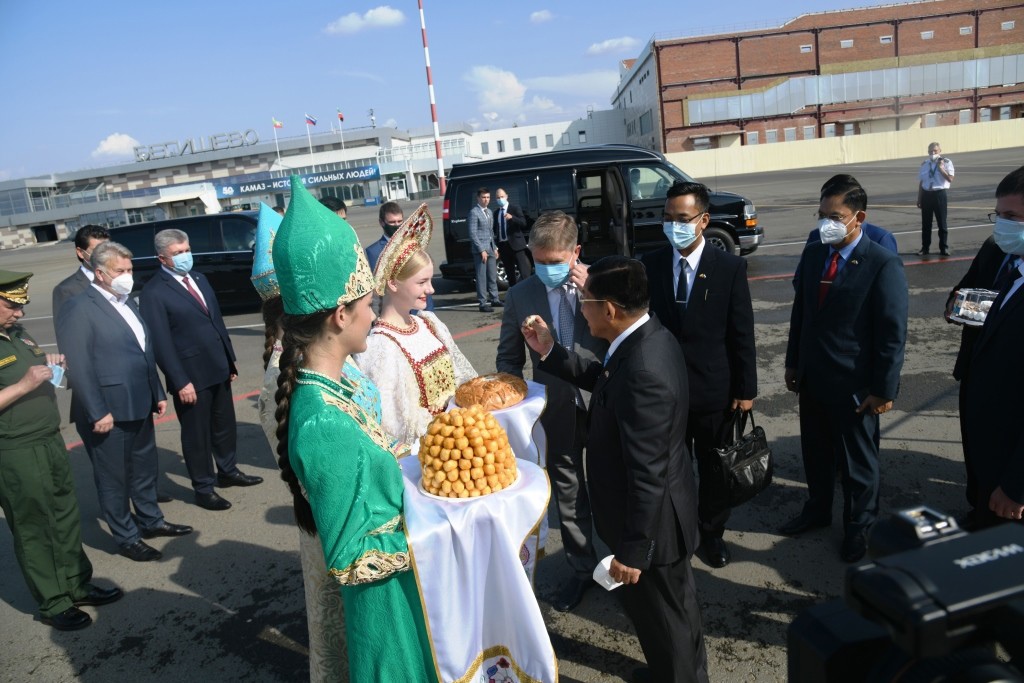 NAY PYI TAW June 25
The delegation led by Chairman of the State Administration Council Commander-in-Chief of Defence Services Senior General Min Aung Hlaing, currently in the Russian Federation, accompanied by Military Attaché Brig-Gen Kyaw Soe Moe and officials, left Sheremetyevo International Airport in Moscow for Republic of the Tatarstan yesterday morning and was seen off at the airport by Major General Alexander Lopilin, Deputy Chief of Main Directorate for International Military Cooperation of the Ministry of Defence of Russian Federation, Counsellor U Zaw Lin Oo of Myanmar Embassy in Russian Federation and officials.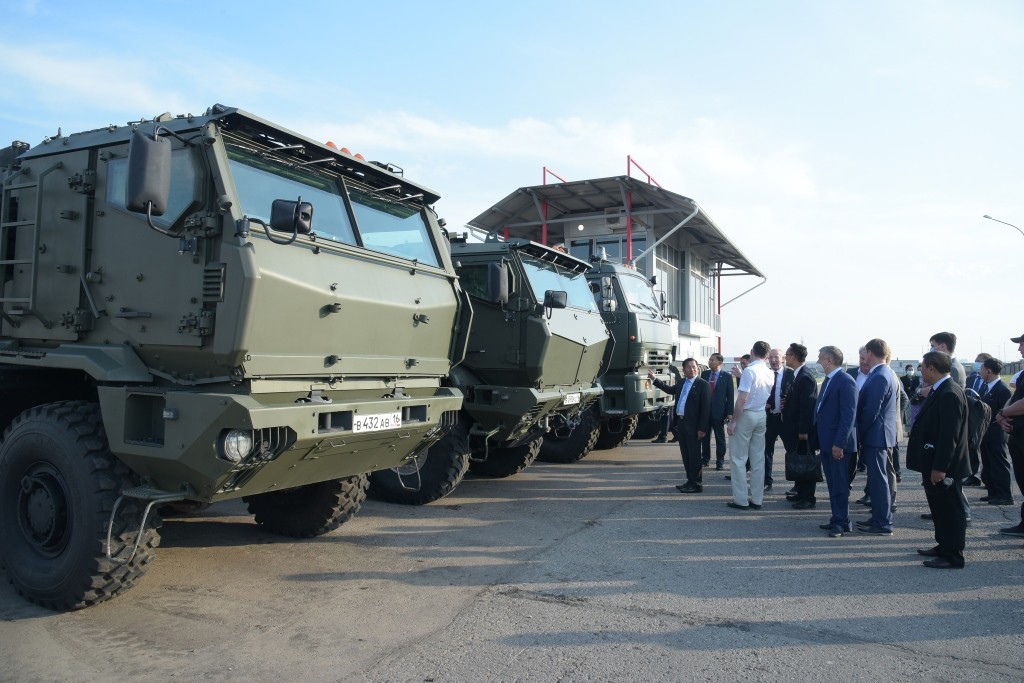 On arrival at the Begishevo airport in Naberezhnye, the Republic of the Tatarstan,the Senior General and party were welcomed by Deputy Prime Minister H.E. Mr. Nigmatullin Rustan Kamilievich and officials in accord with the traditions.
At the KAMAZ Holding company's auto assembling plant in Naberezhnye, they observed the production of trucks, buses and diesel engines. They were conducted by Deputy Director General of the plant Mr. Gera-simov Yuri Ivanovich, Chief of Design Engineering Mr. Makarov Evgeni Gennagievich and officials around the parts production division and the different stages of the assembling lines from engine heads and car bodies to complete cars.
The Senior General asked for more information. Later, the Senior General and party observed capacity demonstration of trucks and Typhoon armored military vehicles produced by KAMAZ Holding.
The Senior General then viewed the production of heavy trucks, battery electric garbage collection vehicles, mini personal cars and other vehicles and asked what he wished to know. He then exchanged gifts with the deputy director general of KAMAZ Holding company.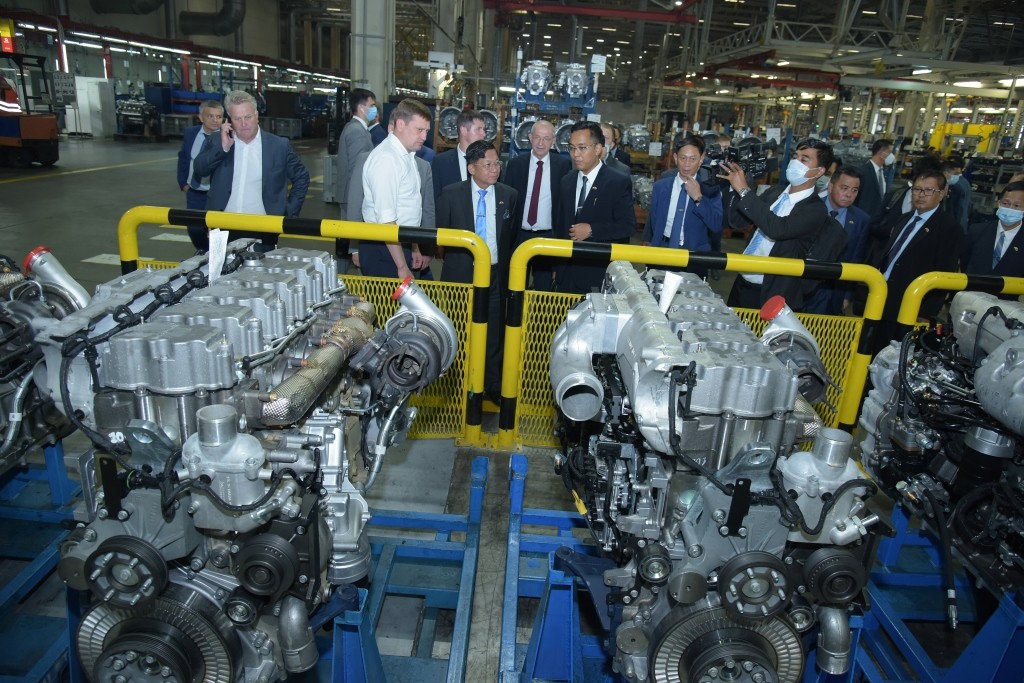 The KAMAZ factory was established by Central Committee of the Communist Party of Soviet Union and the Legislation Council of the Union of Soviet Socialist Republics in Naberezhnye Chelny in February 1976 with the aim of producing heavy trucks. Oka midget (VAZ-1111) vehicles were first produced on 21 December 1987. It was reformed as a joint stock company on 25 June 1990.A fire broke out at KAMAZ engine factory in 1993 and in 2006, it was estab-lished jointly with Cummins Inc., a partner company, as CUMMINS KAMA Joint Venture. It is now exporting heavyduty trucks to various places of the world. KAMAZ company won 18 times at Dakar Rally. According to 2020 list, it is producing over 43,000 vehicles a year. Most of the trucks used by the Russian Armed Forces are produced by KAMAZ company.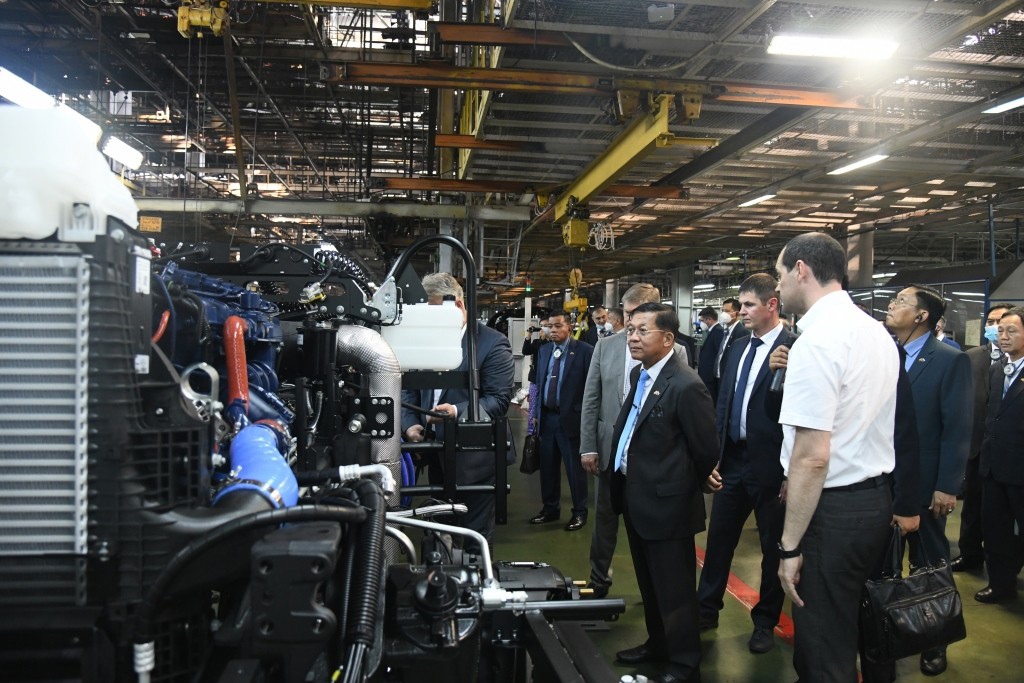 Afterwards, the Senior General and party left Naberezhnye for Kazan, the capital of Republic of the Tatarstan. They spent the night at special villa of the President of Republic of the Tatarstan.