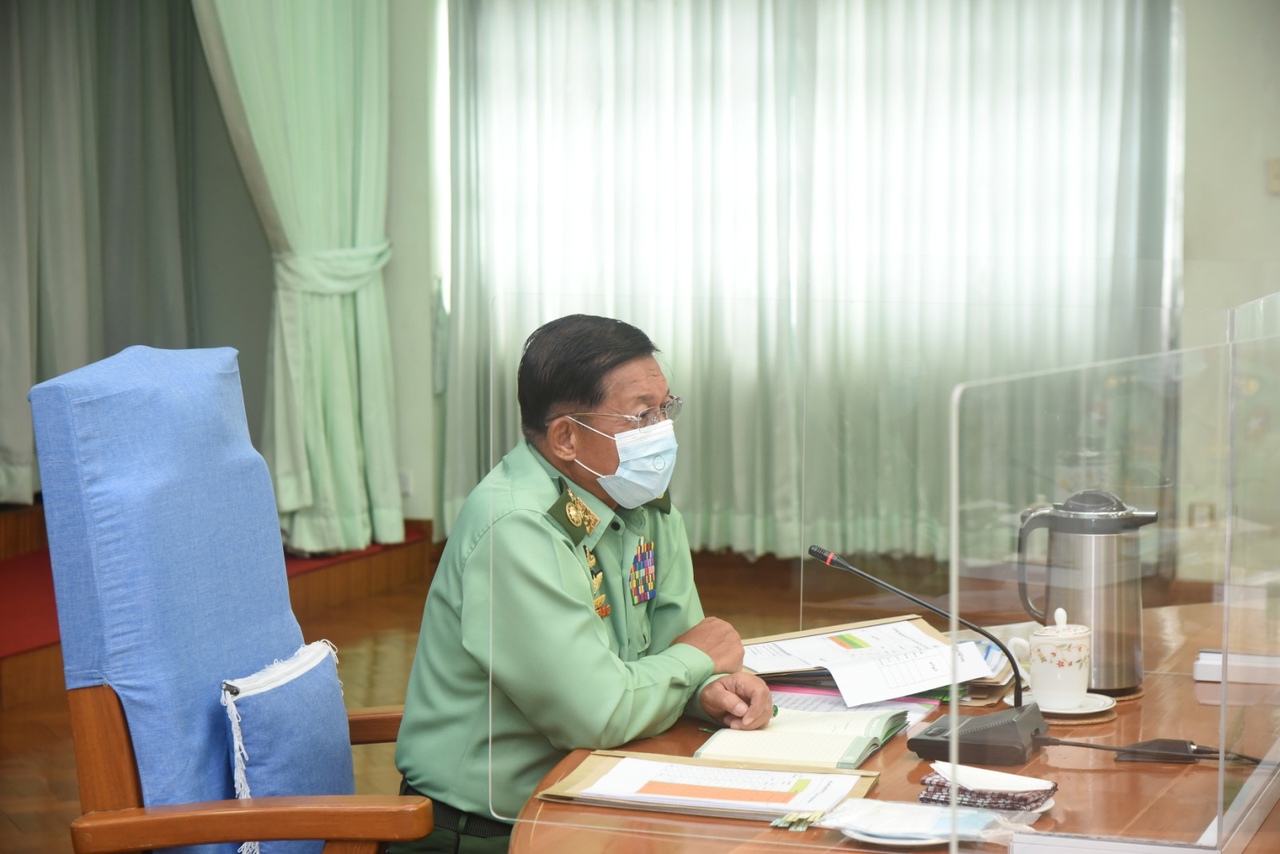 NAY PYI TAW July 12
The second coordination meeting on COVID-19 prevention, control and treatment was held at the meeting hall of the Office of Commander-in-Chief (Army) in Nay Pyi Taw this afternoon, with an address by Chairman of the State Administration Council Commander-in-Chief of Defence Services Senior Ge-neral Min Aung Hlaing.
Also present were Vice Chair-man of SAC Deputy Commander-in-Chief of Defence Services Commander-in-Chief (Army) Vice-Senior General Soe Win, SAC members General Mya Tun Oo, Lt-Gen Soe Htut, Secre-tary Lt-Gen Aung Lin Dway, Joint Secretary Lt-Gen Ye Win Oo, Union Ministers U Wunna Maung Lwin, U Win Shein, U Ko Ko Hlaing, Dr Pwint Hsan, Dr Thet Khaing Win, Chief of the General Staff (Army, Navy and Air) General Maung Maung Aye, senior military officers of the Office of the Commander-in-Chief (Army) and officials of the Ministry of Health and Sports.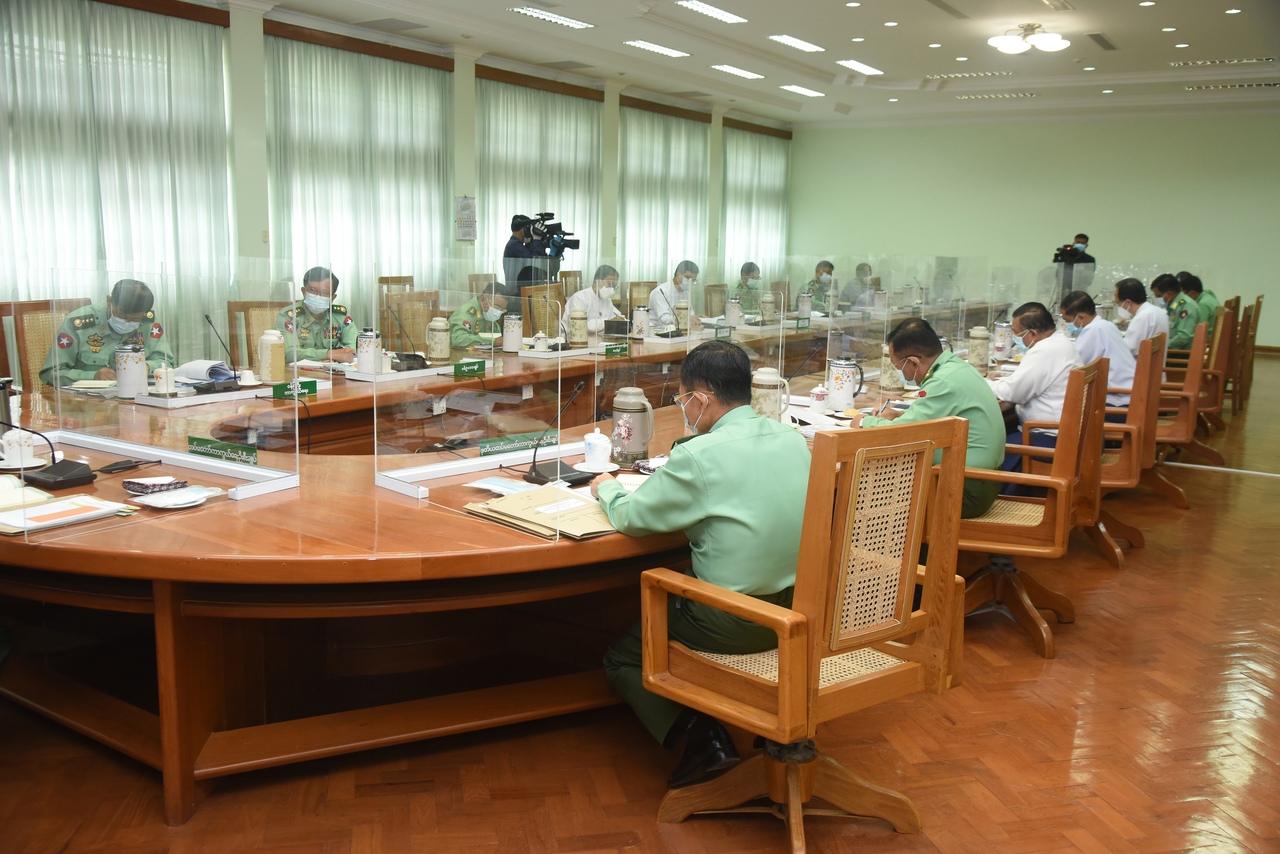 In his address, the Senior General said Myanmar had 192,213 positive cases or 0.35 percent of the population since the out-break began. The country is at the fifth position among the ASEAN. Neighbouring countries are also facing a rise in infection rate. The government needs the real ground situation to control the virus. People should not rely on local treatment methods. They should undergo test at the regional health centers in respective townships. The regional health center will transfer the patient to hospital if necessary as its test is effective. People should be sincere in informing about the cases. Infected persons should stay at a separate place that is sui-table for them. All should work with health awareness. The relevant committees will be able to act correctly and precisely only if they have the true information. So, correct information is supportive for prevention and treatment undertakings of the State. People must tell the absolute truth and the check teams must do the right thing.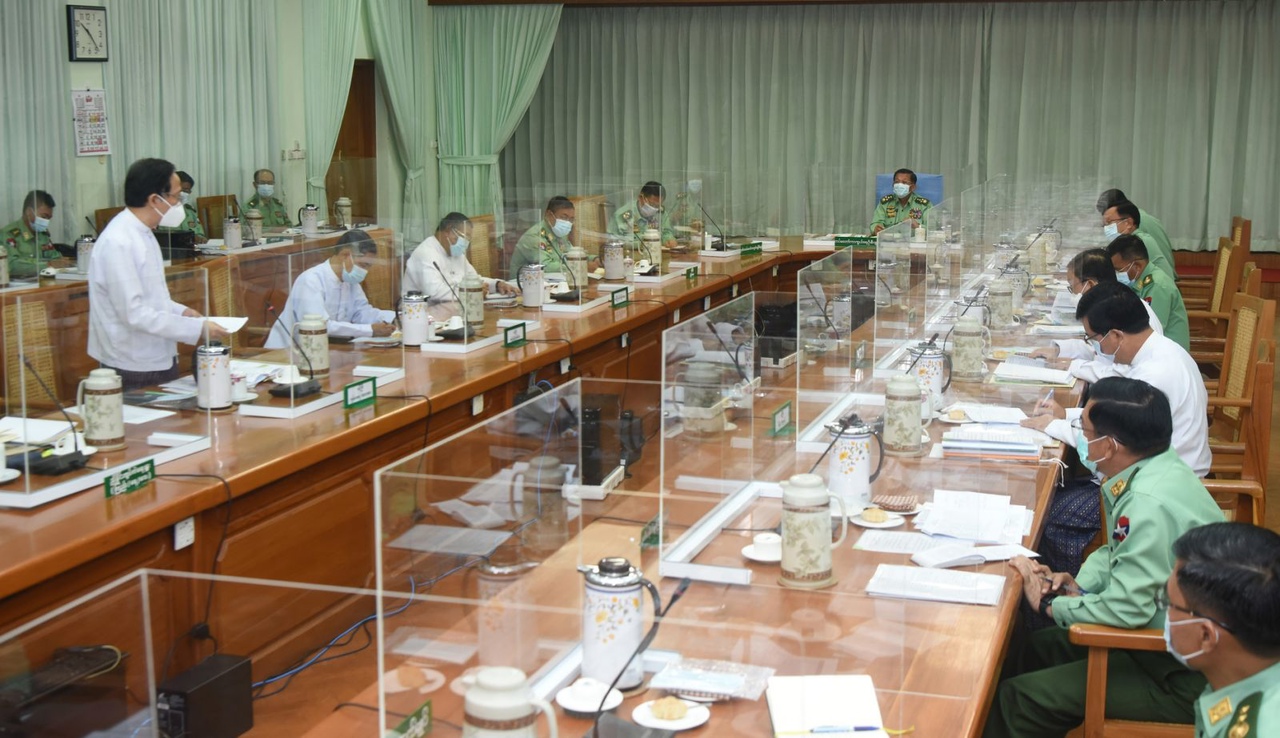 In dealing with false information on oxygen demand that may cause panic among the people, the Senior General said "People are worried about oxy-gen these days. In fact, there is enough oxygen now. There is some panic buying. And there are also unscrupulous plots. There are also persons trying to gain political benefits. They store oxygen cylinders. Then rumors came out that oxygen supply has interrupted. One or two days ago, news surfaced that oxygen plant in PyinOoLwin faced a mechanical breakdown. When we asked, the officials said that it was still running till noon; and that nothing happened. I asked to check the plant, and according to the latest information nothing happened there. In fact, some quarters are generating rumors to cause public panic to take advantage of a situation. They are trying to create disturbances. People must be aware of their misdeeds. After the meeting on previous Friday, a donor offered to transfer an oxygen plant to the government. We accepted the offer. So, we have now started the project. We will complete it within a month. We have already laid the foundation. The second stage will take two weeks. The work is heavy as it includes installation tasks. So, we may begin production process in a month. It will produce 1,440 cylinders a day. The project is in Yangon. So, there should not be worries about the matter. Rumors must be stopped. People should join hands with the government. No one should seek political gains from this situation. It is a social affair and a health concern that involve human lives. It is not a political issue. So, there should not be any attempts to cause anxieties because it's a silly and foolish act."
Two million doses of COVID-19 vaccine donated by China will arrive soon for greater success in the country's prevention, control and treatment measures. News reports say China is selling and donating its vaccine to global countries. As a neighbouring country, it is also rendering help to Myanmar. China is helping with COVID-19 preventive measures in border areas especially in Shan State (North) and Kachin State. In Myanmar, people need to exactly follow the prescribed health instructions for COVID-19 prevention. They need to go outside only if it is necessary. Manufacturing businesses are allowed to cotinue operation and they need to exactly follow the COVID-19 preventive rules and disciplines. Preventive measures are also required in agricultural under-takings. For COVID-19 prevention and treatment, the Tatmadaw have prepared to accept 38,972 people at 1,278 sites. Like-wise in civilian communities, preparations have been made to accept 71,475 people at 1,453 sites. Preparations must go on continuously. The Senior General expressed his belief that with public cooperation and effective coordination from responsible organizations, the COVID-19 outbreak can be controlled to a possible certain degree. As COVID-19 is assumed to be a disease that cannot be completely cured, vaccines are constantly required. To be able to produce vaccines in the country, the health ministry concerned and Tatmadaw medical research corps must cooperate with each other. Since the COVID-19 prevention is a national issue, private sectors also need to cooperate. Only then will it contribute much towards the State, the Senior General said.
Then, the Vice-Senior General, council members, union ministers, senior military officers
and those present reported on requirement of health staff and volunteers for COVID-19 prevention, control and treatment, difficulties facing those in real need of oxygen as unscrupulous per-sons procure stockpiles of oxy-gen, daily production and distribution of oxygen by Tatmadaw and private factories and measures for ensuring enough oxygen, permission given to private hospitals for COVID-19 prevention, control and treatment, preparations to vaccinate the people as quickly as possible when vaccines arrive, tax exemptions for import of preventive medical equipment not for commercial purposes and measures to be taken for enough supply of oxygen machines and COVID-19 testing machines to faraway areas.
After hearing reports, the Senior General said that it is important for responsible officials to make oxygen produced from private plants available to the public at reasonable prices, to supervise imports of medical equipment that meet standards and to make them available to the public at reasonable prices. Doctors from the Tatmadaw will be sent to remote areas where there are no health personnel and medical equipment will be transported by aircraft and helicopters of the Tatmadaw to such areas as soon as possible. It is vital to constantly launch awareness-raising campaigns on healthcare as fake news is fabricated to make people worried.
Then, the Senior General delivered concluding remarks, saying it is necessary to know the needs of respective regions in real time and to take urgent measures to fulfil the needs, to collect data about the production of oxygen in all oxygen plants, ,military hospitals, public hospitals, private hospitals in the entire country, to transport oxygen as soon as possible to places where it is needed, to constantly monitor the spread of the pandemic in densely populated Yangon and Mandalay without losing sight in order to curb the outbreak as quickly as possible, to take measures to provide food and cash to volunteers who are performing duties at community COVID positive centres, which are beneficial for the public and to accept cash, medical equipment and food-stuffs donated by well-wisher for the prevention of COVID-19. Measures are being taken to bring back citizens who are stranded in other countries, especially in neighbouring countries. It is important to handle the returnees by strictly following COVID-19 rules and regulations. It is also necessary to bring back citizens from remote countries as living in one's own country is the best for any-one.
With regards to measures to go from one place to another at night for health reasons in areas under curfew, the Senior General said, "The joint secretary pointed out the need to go outside at night in emergency in towns under curfew. It is right. In towns under curfew, the public are worried about security forces preventing them from going to hospitals at night. At the same time, it is necessary to worry about undesirable incidents committed by unscrupulous persons who take advantage of the situation. Therefore, it is necessary to strike the ba-lance between the two situations. Therefore, we will take measures to allow emergency patients to go to hospitals without any hindrance at night. For example, they may be going within their own township or to another township. It is necessary to check this and permit them to go at once. It may take about 30 seconds or two minutes to check the matter. It is necessary to ask where the patient is and if there is any doctor or health personnel. If so, they can be allowed to go to the hospital at once. That is all, isn't it? It is necessary to establish contacts among security forces. I would like to point out that the problems caused by curfew can be overcome in this way.
The Senior General spoke about the responsibility and requirement of the media to publish news reports for the interests of the people. He said, "Another thing is about Media. It was mentioned in an earlier discussion. If I talk about the spread of CO-VID-19, it is a disease affecting the public. Unlike news on terrorism and politics, it is a separate topic. Measures being taken to respond to it are for the public interests. It is required for the media to truly and correctly publish news about the situation on the spread of COVID-19 here. It is needed for the media to publish true reports about it. There is no-thing we cannot accept for constructive reports about the COVID-19 situation in the country. But, it is seen that some wrote and published certain reports from a destructive point of view. Lately we have seen many of such styles of reports. The way they report is so selfish that they don't care about whatever causes to any-one. It is quite bad to go that way to do it having such thoughts. Majority of Myanmar nationals are Buddhist. There is no religion that accepts it. No religion accepts things that make other people in trouble, especially in our religion of Buddhism. Myanmar is a nation that respects that way of thinking more. In the area of social matters, as I said the other day, we, Myanmar people, are more generous in donations and have a sense of volunteerism as well. Acts to ruin such a sense of mind is improper. All need to make efforts with a sense of consciousness and attentiveness."
It is needed to effectively use the strength of forces in the hands in the measures to prevent and curb spread of the COVID-19 and to give medical treatment to patients. It is needed to correctly and quickly carry out tasks to acquire adequate oxygen, to produce adequate amounts of protective gears and medicines and to import them from abroad. If administrative measures are correctly taken, that will be helpful to the State. Therefore, ministries concerned need to make reports from time to time and to assist the Ministry of Health and Sports through working together, the Senior General said. 100