NAY PYI TAW February 15
Chairman of the State Administration Council Prime Minister Senior General Min Aung Hlaing this afternoon inspected the construction of Sattasattaha Mahabodhi Pagoda in the compound of Buddha Park near Pankwe Village about 15 miles southeast of Kengtung under the patronage of the presiding monk of Thiladhammakontha Tawya Monastery (Wazippeik) Sayadaw Bhaddanta Kovida.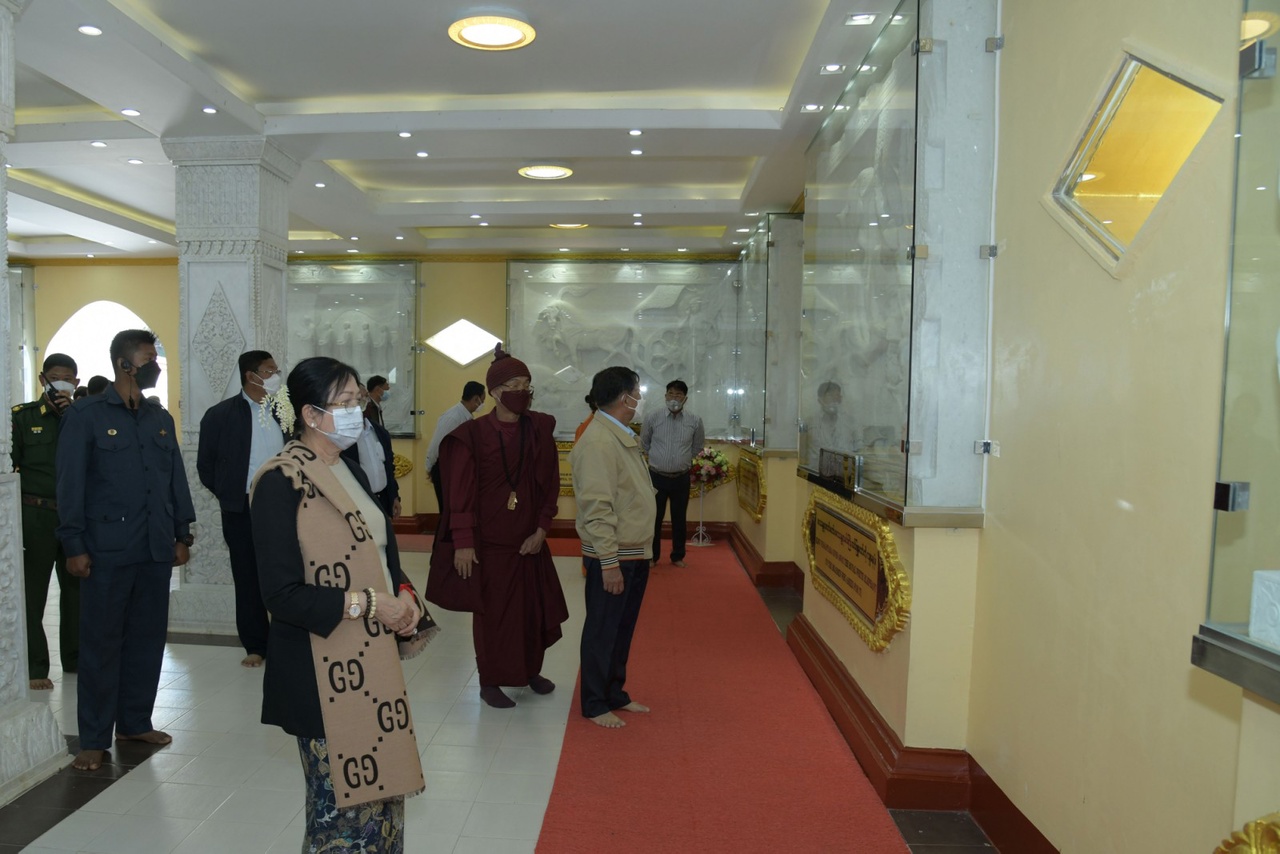 First, the Senior General and party paid obeisance to Abhayarajamuni Buddha Image in the compound and offered flowers and water. They then went around the Image clockwise, rang the bell of peace and prosperity and viewed the marble stone carvings depicting the life of Buddha.
The Senior General looked into the requirements while inspecting the sky train project to link the Buddha Park and Loimwe hill station.
The Senior General and party observed the view point in the Buddha Park and a dam project to supply water to the park and the surrounding villages.
Officials reported on the dam project and financial-year-wise dredging and widening of the watercourses to prevent floods in Kengtung Township.
In response, the Senior General said the use of underground water must be reduced to the most possible degree while storing nature-provided water in dams and using it systematically.
Proper dredging in the open season is required to increase the inflow capacity of rivers and creeks in the rainy season. Officials must prioritize the work of initiating a smallscale solar power pumping project to cultivate crops at any season in the Kengtung region.
If the Kengtung project proves success, it must be extended to the whole country, as the success of agriculture helps improve the socio-economy of farmers.
Hence, the project calls for collective involvement of officials.
Afterwards, the Senior General looked into the requirements.
The Senior General inspected the progress in building the pagoda and Kammavisuddhikhanta Ordination Hall under the patronage of the Sayadaw,
and made arrangements to facilitate the work.
Later, the Senior General and party looked around the park.